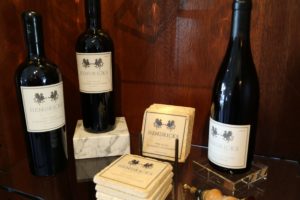 Hope & Grace Wines is located in the Beard Plaza shopping area on the East side of Washington Street in Yountville and opened for tasting in early 2007.
They have since moved to a much larger facility within this shopping plaza which has allowed them to showcase additional works of art as well as antiques. Guest artists often display their works here. This tasting features wines from their Hope & Grace label along with their other label – Hendrick's Wines. This the only winery/tasting room we know of in Napa Valley that has combined wine tasting with selling antiques! Yountville is not a big town and their central location puts them within walking distance of the French Laundry, Bouchon Restaurant and other well-known area restaurants.
Hendricks is owned by winemaker Charles Hendricks whose wine making history in the Napa area dates back to the early 1980's. Since his initial start in the valley he has consulted for a number of high end well known area wineries including Viader, Barnett Vineyards and Regusci. His philosophy with wine making is to conduct minimal intervention in the wine cellar, but as he says, "if we leave nature completely on its own, we would be in the vinegar business." Good point!
Hendricks specializes in serving Hope & Grace Wines – named after his two daughters. Typically four wines will be on the tasting list, Chardonnay, Pinot Noir, Malbec, and their Cabernet Sauvignon. As of press time most of their wines are sourced from premium vineyards in the Napa Valley but they do source fruit for their Pinot's from Monterey and Sonoma Counties.
We enjoyed their 2006 Sleepy Hollow Vineyard Pinot Noir; the fruit comes from the Santa Lucia Highlands in Monterey County. This wine has a great mouth feel and fruitiness with earthy and subtle floral aromas on the nose. Be sure to also try their 100% Malbec; very few Napa wineries produce a straight varietal Malbec (think Mendoza Argentina – typically used for blending in the Napa area) and this wine does not disappoint. The 2005 vintage is from Oakville with notes of raspberry and with pepper along with vanilla and a hint of oak on the palate.
The fruit for their Cabernet Sauvignon comes from an excellent location in the upper Napa Valley, this wine has a great nose; the good acidity, weight and tannin structure will allow this wine to age gracefully for many years. Note their artistic label, it was taken from one of Charles' favorite paintings which hangs on the wall near their actual tasting bar. Click on the photos link to see an image of this painting.
Also note that once a year (in March) the Taste of Yountville is held downtown where the main street is closed and area wineries and restaurants showcase their products to the public. Hendricks is open year round but during this event is especially a good time to visit should you be in the area as quite a few of their wines are available for tasting. Visit: www.hendrickswines.com and www.hopeandgracewines.com
NOTE: this review was one of the earlier ones we wrote and has been identified as needing a *major* update.