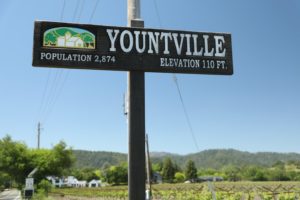 Hope & Grace Wines is located in the tiny Beard Plaza on the east side of Washington Street in Yountville; their original tasting room opened in 2004. Along with Hill Family Winery, Hope & Grace was the second winery to receive their tasting room permit in Yountville (the first being Jessup Cellars in NoYo (North Yountville).
The tasting salon features wines from Hope & Grace and very limited production wines bottled under the Hendricks label. In addition, works of art are displayed from guest artists and a variety of wine accessories are for sale. Yountville is not a large town; the central location of the tasting room is within walking distance of the French Laundry, Bouchon and other well-known area restaurants.
Visitors to the tasting room might be drawn to the large painting titled, Figure in Red. Painted by Oakland born artist Charles Eckart, this painting has been in Charles' collection for many years. And the painting has become iconic around these parts – it is used as the label on all the Hope & Grace wines.
Hope & Grace was founded by winemaker Charles Hendricks – the first vintage was from 2001. Charles was raised in Anaheim (Orange County). His father was a veterinarian and Charles was introduced to his father's practice at an early age, helping sometimes during surgeries and later working at a local vet hospital. Thinking about following in his fathers' footsteps, he enrolled in the UC Davis School of Veterinary Medicine – the largest such program in the country.
After a year and a half, he began to rethink his major – and about this time he enrolled in an introduction to wine making class. Finding the course stimulating he decided to change majors and ultimately graduated with a degree in Viticulture (while taking many wine making courses).
After graduating UC Davis in 1982 Charles took a job as an assistant enologist at Robert Mondavi owned Woodbridge followed by a cellar position at California's oldest continuously family-owned winery, Gundlach Bundschu in Sonoma County. A job at The Bottling Room, one of only several mobile bottling companies in existence in the Napa/Sonoma area at the time proved to be a great introduction to a number of vineyards, wineries and owners including Randy Dunn (Dunn Vineyards) and John Williams (Frog's Leap).
In a career that has spanned nearly 40 years, Charles has made wine at a remarkable number of Napa based wineries – sometimes working multiple winery jobs at once like when he was cellar master at Chateau Montelena during the day and working the nights in the cellar at Barnett Vineyards. He was the founding winemaker or helped oversee the start of several Napa wineries including Barnett Vineyards, Paoletti, Regusci, T-Vine, James Cole, Kuleto Estate and Mendelson among others.
While working at Barnett Vineyards he was introduced to the Sleepy Hollow vineyard located in the Santa Lucia Highlands of Monterey County. In 2001 he was offered fruit from this vineyard – and quickly moved to establish Hope & Grace (as prior to this offer he had not yet made any wine under his own label). He named the wine after his two daughters.
His philosophy with wine making is to conduct minimal intervention in the wine cellar, but as he says, "if we leave nature completely on its own, we would be in the vinegar business." His ideal wines showcase texture, great fruit, excellent acidity and are a representation of both variety and place or terroir if you will. All his wines are 100% varietal.
Select Wines

It is rare to find a 100% varietal Sémillon much less a Sémillon dominated wine from Napa grown grapes. The 2016 Sémillon is from the Stags Leap District. It was barrel fermented in neutral oak and aged Sur Lie (with minimal battonage). Shows a mix of tropical aromas including lychee, guava, honeysuckle and citrus blossom. Supple from start to finish – reveals rich flavors of citrus throughout the palate with some mineral nuances on the finish. A very balanced wine.
Based on the relationships that Charles has developed with numerous vintners and vineyards over the years – he can be selective on which vineyard sites he works with. Case in point is when vineyard manager Doug Hill was getting ready to plant three acres next to the Napa River in the Oak Knoll District, he talked to Charles first. Charles told him he was interested in Riesling, so Doug planted this variety.
The 2016 Riesling (smartly called a Dry Riesling, to clarify for people who are used to drinking sweet wines of this variety) saw no malolactic fermentation. Charles compares his Riesling as "California ripe but made in a Chablis style" – barrel fermented and aged on the lees. It is golden color in the glass with initially a slight nuance of the petrol notes that Rieslings can develop with age. Shows some intriguing baking spices on the bouquet with fruit aromatics being green apple and lime. Very balanced and very crisp on the palate.
Another variety that few Napa wineries produce without blending is Malbec and this wine does not disappoint. The 2013 vintage is from Oak Knoll; is dark ruby in the glass with dark fruit aromas that are slightly earthy at times along with a sweetness of fruit (black berry and plum). Flavors of black cherry, tobacco leaf and assorted spices show on the palate. The tannins are somewhat earthy and are very well integrated.
Charles makes two wines under the Hendricks Label – a Pinot Noir and a Cabernet Sauvignon. He only makes these wines during special vintages when the quality of the fruit is exceptional. As of our latest update to this review, the Hendricks Reserve Cabernet Sauvignon has only been made in 2004, 2005, 2009, 2012 and 2014.
The 2014 vintage is from the historical and acclaimed Lewelling Vineyard near the town of St. Helena. Along with the Hope & Grace St. Helena Cabernet Sauvignon, this wine is made from the same block within this historic vineyard each year. Lewelling Vineyards is one of the oldest continuously owned family vineyards in the Napa Valley with family roots dating back to 1864 when the family patriarch John Lewelling moved to St. Helena. The vineyard itself is located at the base of the Mayacamas mountains on the western side of the valley. The vines grow on rich bench-land soils; several premium producers' source from this vineyard and there is a waiting list to purchase their grapes.
The 2014 St. Helena Hendricks Reserve Cabernet Sauvignon spent slightly more than 30 months in both new and used French oak barrels. Reveals interesting spices on the bouquet including tobacco leaf, crushed pepper and a savory component featuring both red and darker fruit aromas including blackberry and boysenberry. Bright and lively, this wine sings on the palate. Has beautiful texture, excellent acidity and an intensity of fruit. Lingering notes of vanilla and toasted oak spice show on the finish. The tannins are pronounced but not harsh. Has all the hallmarks of being an extremely age-worthy wine, a Cabernet Sauvignon worth seeking out.
Also note that Yountville Live is held once a year (in March) this is an excellent opportunity to try wines from a number of area wineries including Hope & Grace (not only Yountville based wineries but also from wineries in other parts of the valley).
As of our latest update to this review most of their wines are sourced from premium vineyards in Napa Valley but vineyard sources also include fruit from Monterey, San Luis Obispo and Sonoma Counties. Total production each year is around 4,000 cases. For more information and or to join their mailing list or the appropriately named SWIRL wine club, visit: www.hopeandgracewines.com and www.hendrickswines.com.