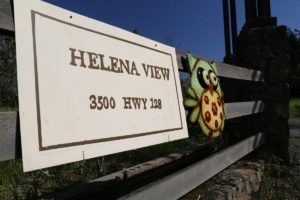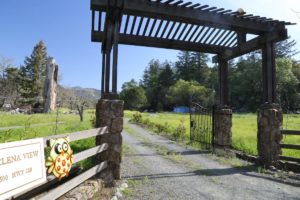 Helena View Johnston. We always enjoy visiting the northern part of the Napa Valley; as you drive beyond the cozy confines of tiny Calistoga the wineries become more spread out, the hills begin to pinch into the valley, the population drops and it feels less touristy. Helena View Johnston is one of the most northerly located wineries in Napa Valley and a visit here does not disappoint. A tasting at the winery is for serious wine enthusiasts; because of its northerly location it is an ideal winery to either start or end your day at.
Weekend visits are recommended for tasting with the owner and winemaker Charles Johnston. Charles is involved in a number of various wine projects (including in China) and at times maintains a rigorous travel schedule. The property is quiet and a visit is very personalized. Expect to arrive as strangers and leave as friends. Charles often spends several hours with visitors – a visit here is certainly educational. Charles also has a strong International perspective on wine and various wine regions around the world – in particular he spends significant time consulting in China at several wineries.
Margarit Mondavi (Robert Mondavi's wife) provided her input for the name of the winery. Helena View is named for the great views of nearby Mt. St. Helena and Johnston is Charles' last name.
The winery was built into the edge of a forested hill in 1988; their first vintages were released in the early 1990's. A small tasting room is on site – although you will probably be tasting in their barrel aging room at some point during your visit.
Helena View has very forward thinking philosophy on farming and conservation. Their estate vineyards are entirely dry farmed and are 100% certified organic both CCOF (Federally), as well as being Internationally certified. Not many Napa Wineries are certified organic and to be certified Internationally shows a true dedication to environmentally conscious farming and awareness. In addition they purchase re-sterilized wine bottles for use as the cost is not that much different from buying new bottles; it would be great if more wineries would do this.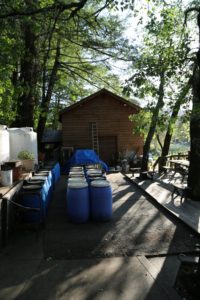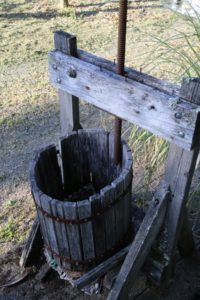 Helena has three labels, their Helena View Estate, Helena View sourced fruit from local vineyards and an affordable priced Moon Mountain Bordeaux style blend. Their on site vineyards are planted to Cabernet Sauvignon and Cabernet Franc.
We tasted a large variety of early and mid 1990 vintages starting off with a 92′ Cabernet Franc. Helena View's wines age considerably well especially the wines that undergo extended maceration in which the skins are allowed to remain in contact with the post fermentation wine for up to several months. This elegant Cabernet Franc had lost a bit of its color but who cares after 15 years when a richness of flavor is still present.
Another wine we thoroughly enjoyed was their estate 1995 Cabernet Sauvignon. This is a very full bodied well balanced wine that has still retained its excellent fruit characteristics. Helena View tries to make their wine in such a way that they reflect the location in which they were grown. Charles often experiments with different types of yeasts and varieties. Their unique labels are created by hand by Edward Rooks.
NOTE: Unfortunately the winery, cellar and various surrounding buildings on the property completely burned to the ground in the 2017 Tubbs Fire (one of 4 Napa based wineries to suffer total winery building loss) and tastings are no longer conducted at the winery.
Of the four Napa based wineries that suffered total winery building loss (Helena View Johnston, Signorello Estate, Sill Family Estate, and Wing Canyon), Helena View Johnston probably got hit the hardest because his vineyard was also completely burned. Most vineyards acted as fire breaks during these fires, but this fire was so devastating combined with the organic approach to maintaining this particular vineyard – the vines were mostly all destroyed.
Tragically Charles' significant wine collection including rare bottles from Europe also burned included in the 30,000 bottles of red wine and 12,000 gallons of wine in barrels all lost.
We will update this review as we find out more information.