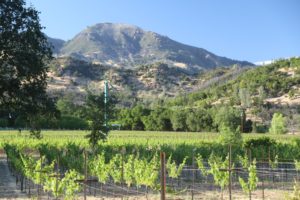 Helena View Johnston. We always enjoy visiting the northern part of the Napa Valley; as one drives beyond the cozy confines of tiny Calistoga the wineries become more spread out, the hills begin to pinch into the valley, the population drops, and it feels less touristy. Helena View Johnston is one of the most northerly located wineries in Napa Valley and a visit here does not disappoint. A tasting at the winery is for serious wine enthusiasts; because of its northerly location it is an ideal winery to either start or end your day.
Weekend visits are recommended for tasting with the owner and winemaker Charles Johnston. Charles is involved in a number of various wine projects (including in China) and at times maintains a rigorous travel schedule. The property is quiet, and a visit is very personalized. Expect to arrive as strangers and leave as friends. Charles often spends several hours with visitors – a visit here is certainly educational. Charles also has a very strong international perspective on wine and various wine regions around the world – in particular he spends significant time consulting in China for several wineries.
Margarit Mondavi (Robert Mondavi's wife) provided her input for the name of the winery. Helena View is named for the great views of nearby Mt. St. Helena and Johnston is Charles' last name.
The winery was built into the edge of a forested hill in 1988; their first vintages were released in the early 1990's. An area next to where the side of the hill begins to rise is available for a potential tasting room. Until this is built out, visitors will be tasting outside next to the vineyards.
Helena View has very forward-thinking philosophy on farming and conservation. Their estate vineyards are entirely dry farmed and are 100% certified organic both CCOF (federally), as well as being internationally certified. Not many Napa Valley based wineries are certified organic and to be certified internationally shows a true dedication to environmentally conscious farming and awareness. In addition, they purchase re-sterilized wine bottles for use as the cost is not that much different from buying new bottles; it would be great if more wineries would do this.
In the past, Helena View Johnston produced three labels: Helena View Estate, Helena View sourced fruit from local vineyards and an affordable priced Moon Mountain Bordeaux style blend. The estate vineyards are planted to Cabernet Sauvignon, Cabernet Franc and a tiny block of Marselan.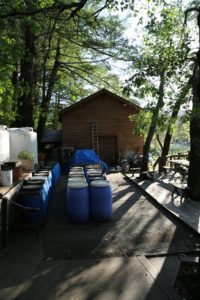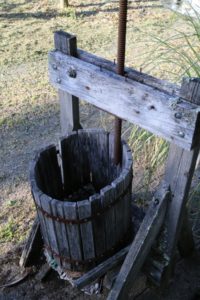 During our first visit with Charles, we tasted a large variety of early and mid 1990 vintages starting off with a 1992 Cabernet Franc. Helena View's wines age considerably well especially the wines that undergo extended maceration in which the skins are allowed to remain in contact with the post fermentation wine for up to several months. This elegant Cabernet Franc had lost a bit of its color, but this characteristic is less important 15 years post vintage date – considering a youthfulness and balance across the palate.
Another wine we thoroughly enjoyed was their estate 1995 Cabernet Sauvignon. This is a very full bodied yet well balanced wine that has still retained its excellent fruit characteristics. Helena View tries to make their wine in such a way that they reflect the location in which they were grown. Charles often experiments with different types of yeasts and varieties. Their unique labels are created by hand by artist Edward Rooks.
The Tubbs Fire, 2017
Unfortunately, the winery, cellar and various surrounding buildings on the property completely burned to the ground in the 2017 Tubbs Fire (one of 4 Napa based wineries to suffer total winery building loss) and tastings are no longer conducted at the winery. This fire stared very close to the Helena View property.
Of the four Napa based wineries that suffered total winery building loss (Helena View Johnston, Signorello Estate, Sill Family Estate, and Wing Canyon), Helena View Johnston probably got hit the hardest because his vineyard was also severely burned. Many vineyards acted as fire breaks during these particular fires, but this fire was so devastating combined with the organic approach to maintaining this particular site – that about 30% of the vines were severely damaged or destroyed.
Tragically Charles' significant wine collection including rare bottles from Europe also burned included in the 30,000 bottles of red wine and 12,000 gallons of wine in barrels all lost. Plus, multiple vintages of Helena View Johnston were also completely lost.
Select Wines
Due to the loss of both product and vineyard damage in the 2017 Tubbs Fire, Helena View Johnston sourced wine from other parts of the Napa Valley for several subsequent years. 2021 was the first harvest from the estate property since the fires. The last estate produced wine that was bottled was in 2013.
The 2020 Helena View Johnston Napa Valley Rutherford Rosé of Cabernet Sauvignon (Vibrance) is medium to dark salmon in color; the subtle aromas offer notes of lime zest, citrus blossom, mineralities, wild strawberries, raspberry and watermelon jolly rancher candy. If we were to choose one word to describe the aromatics, it would be elegant. Crisp, clean and balanced with a light creamy texture, this bottling offers flavors of strawberry, red berries, mandarin and a very subtle hint of fennel deep on the palate. This wine finishes bright with a lingering intensity of fruit.
The 2016 Helena View Johnston Chardonnay is golden in the glass with aromas of tangerine, dried hay, a minerality nuance and as the wine opens further, notes of lemon curd/meringue aromas are revealed. The texture is a hallmark aspect of this wine; it is almost oily, creamy with memorable viscosity. It features flavors of red delicious apple on the palate along with some citrus nuances and hazelnut. Both a richness and slight perceived sweetness of fruit linger on the finish.
The 2019 Helena View Johnston Sonoma Coast Pinot Noir (Sophistication) is pale to medium ruby in color; the bouquet offers a meaty note, a forest-floor earthiness, notes of mushroom and tobacco pipe. In addition, other aromatics include plum, dark cherry and darker spice notes including white pepper and old cedar box. One can smell the varietal characteristics in this wine. Rounded across the palate, it offers flavors of plum and raspberry and a noticeable spiciness and savory character on the finish including peppercorn. This is a more robust showing rather than an elegant one. 14.8% alcohol.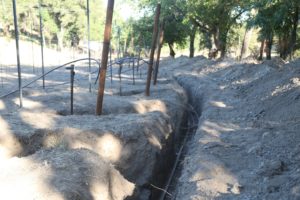 The 2015 Helena View Johnston Stagecoach Vineyard Cabernet Sauvignon is medium ruby in color; this bottling shows a pleasing spicy note on the bouquet (think Santa Rosa plum skin). The aromatics are darker and slightly savory showing both red and darker fruits. There are hints of dried tobacco leaf, dust, pepper, old leather and parchment paper. This bottling features plenty of fruit across the palate including cherry and currant. It is nicely balanced with well-integrated tannins. The texture is pleasing on the finish with a skosh of red fruit lingering tartness. Very approachable (we tasted about 6 years post vintage date).
The 2016 Helena View Johnston Red Blend is composed of 7 varieties including Grenache. Fruit forward on the bouquet and on the palate, one could describe this wine in technical terms as a 'crowd pleaser'. Between medium and deep ruby in color, the aromatics show a nice play between barrel influence and ripe fruit. Offers maraschino cherry, cassis, boysenberry and some sweeter desert spices along with notes of Graham Cracker as the wine opens further. Not overly complex on the palate but it is very flavorful with notes of red cherry and raspberry. Juicy. Lingers with a darker spice note, pepper, cedar, dried tobacco leaf and a hint of mocha sweetness on the finish. Ripe, yes, but one doesn't immediately notice the high alcohol until later after multiple glasses. This wine is nearly 16% alcohol.
—
Resilience Block, Marselan
In fall 2020, Charles with the help of Mario Tedeschi Vineyard Management Company, prepared the soil in a small section of the property to be planted in part to Marselan. The vineyard layout was conducted in May 2021 and the first 413 vines went into the ground in early morning of Monday June 14th that same year, prior to a heat wave, as bench grafts from Sunridge Nursery in Bakersfield (some 58 vines never grew and were replanted in summer 2022). A freak hailstorm with larger than marble sized hail balls severely damaged the young Marselan vines in April 2022. This drastically set the plants back. A second planting of 400 potted Marselan vines on 1103P rootstock was done next to the existing Marselan vines in late August 2022 bringing the total Marselan planting to approximately 800 vines.
This variety is among the first ever plantings in Napa Valley; however, Spottswoode Winery in St. Helena may be the first producer to ever plant Marselan in Napa Valley. They planted 75 vines in 2019 as part of an experimental section of their vineyard that includes a total of 12 varieties. John Caldwell of Caldwell Winery also planted Marselan a little bit after Spottswoode – a tiny experimental block of only about 40 vines at his vineyard in Coombsville and planted 1,017 more vines with tight spacing in late summer 2021 on a gentle hillside next to Kreuzer Lane in Coombsville. As of 2022, Pine Ridge is also considering planting this variety, potentially in Oakville in 2023. Napa Valley based winemaker, Barbara Spelletich of Spelletich Cellars was importing Marselan bottles from France as early as 2013.
Marselan is a 1960s cross between Cabernet Sauvignon and Grenache. We first discovered and tasted this variety at Bodega Garzon in Uruguay – we mentioned this variety to Charles and later helped organize a Marselan tasting in July 2020 at a cabin above the Russian River among the redwoods. Prior to this tasting, Charlie flew to Arizona to pick up some domestically produced bottles and to also see existing plantings. The tasting included select 100% varietal wines from the domestic market as well as several from France and Israel.
Regardless of their origin (granted, the sample size was very small), we noticed savory earthy notes throughout almost all the wines – the ones that had more oak were definitely more complex and these wines showed off a bit nicer than the wines without any oak. The wines from France – to varying degrees offered earthy, dark, somewhat tar-like notes on the palate. The wines ranged the gamut from not very interesting to more complex.
The one wine from Israel in the tasting (2017 Binyamina Reserve) was the crowd favorite, balanced, bigger, with more oak. The one from Paso Robles (Sextant Vineyards) – there was no mistaking it against all the others. That and the Israeli wine were probably the most marketable of all the wines to the American palate. Noticed a bitter finish, not pleasing finish on a number of the cheaper wines. Possibly look at blending some Cabernet Sauvignon or Merlot eventually to increase complexity and interest. None of the wines showed harsh tannins. Some of the cheaper French wines lacked acidity. For more information about this variety, visit: www.worldmarselanday.com and an article written for The Drinks Business by wine writer, Elizabeth Gaby.
A second, larger and much more in depth tasting of Marselan occurred on Saturday August 14, 2021, at Caldwell Vineyards in southern Napa Valley. Wines from 14 different producers were tasted including based in the United States (California & Arizona), Israel, France, Uruguay, Chile and Brazil. The event started with a Zoom call to Beijing based winemaker and grower, Lili Tong who discussed her background and experience growing and producing this variety.
One interesting aspect of this tasting was the remarkable differences between all the wines tasted, despite all the wines being 100% varietal Marselan. Following the completion of the tasting, all those attending voted for their favorites. The 2018 Recanati Gris de Marselan, Israel received the most votes. Of the red wines both the 2017 Binyamina Reserve Marselan, Israel and the 2019 Bodega Garzon Marselan, Uruguay were the clear top two favorites. An article on the Grape Wall of China was written regarding the Helena View planting and references to this particular tasting: Napa Marselan Project | Vines planted near Calistoga by Helena View and Dr. Liz Thach wrote a related article for Forbes here.
Marseillan, France
The namesake town for the variety is located in southern France about 50 minutes' drive from Montpellier. It's protected from the Mediterranean Sea as it sits on the edge of the coast next to Étang de Thau, a large lagoon or salty lake (due to its influence from the nearby sea). We first visited Marseillan many years ago as friends of the family were storing their catamaran in the dry dock in the marina in next door Agde. We later made a special trip directly to Marseillan and spent part of a day exploring this old city in more depth.
The center of town is located within a short walk of a marina housing a number of sailboats. The center of town is like looking back in time – with many of the buildings dating from the 12th to the 17th century. The town is popular with tourists (especially in the summer), due to its port and proximity to the water is also a popular fishing destination – and as visitors drive into town, they will undoubtedly pass numerous vineyards and some wineries.
Domaine de Vassal, France
The roots of Marselan, so to speak began here. This site (founded in 1949) is located on a sandy strip of land that forms the eastern side of Étang de Thau (a large lagoon that is one of the largest lakes in all of France) about a 10–15-minute drive from Marseillan. The final stretch of the road leading to the site is closed to general public automobile traffic but open to foot traffic and bicycles. A resort with its own parking is located within a short walk of the site. An outdoor public parking area is located within about a 10-minute walk of the site.
From Domaine de Vassal one can, be on the beach by foot in a matter of mere minutes. As a result of the maritime influence and sandy soils, phyloxxera does not thrive here and the grapes can be own-rooted; the site still maintains several nurseries with a diversity of vines along with established surrounding vineyards.
This site provided the original bud wood from Cabernet Sauvignon and Grenache for the first Marselan. French ampelographer Paul Truel (1924-2014) made this successful cross in 1961. It was one of a number of new varieties that he created during his career. Truel was the director of the Domaine de Vassal site and collection from 1952 through 1985. Marselan continues to grow in popularity considering it was only released and approved to be grown in 1990; in 2019 it was listed as one of the new grapes that can be used in Bordeaux. And it has become a popular variety in China. It was only in 2007 that the TTB approved its varietal labeling for production and sales within the United States. There are no other clones of this variety – however according to UC Davis there are two selections within the United States (980 and 980.1 – both brought over in the year 2000 from France).
—
Florida Family Restaurants
Charles' daughter Sarah Marie and her husband, two-time James Beard nominee chef Chef Tom Gray (who grew up in Jacksonville) own and operate two restaurants in Jacksonville, Town Hall in the San Marco neighborhood less then 10 minutes from downtown and Prati Italia Restaurant in the St. Johns Shopping Center. Chef also oversees his own product line with a number of sauces, pantry items (pastas) and pizza kits. And if running two premium restaurants wasn't enough to keep one busy – they also own and operate CuliVino, a local hospitality management and consulting company.
Town Hall
Located in the hip and happening San Marco neighborhood (and a short walk to St. John's River – a popular sunset watching spot), Town Hall opened in 2017. Parking is curbside (if available) or during most other times in the parking lot of the nearby Southside Baptist Church. The restaurant offers limited outdoor seating but with plenty of indoor seating – the feeling of the interior is welcoming and casual yet simultaneously upscale. Open daily for dinner but also for brunch and lunch on Sundays. Happy hour runs daily from 430 to 6pm.
The menu offers a nice diversity of both sea and land-based products from both local farms and other artisan businesses. During a recent visit one of the culinary highlights was the seared octopus as an appetizer and the seared scallops as the main course. They offer a number of in-house specialty cocktails – we opted for a traditional mule. Also, a decent selection of local craft beers. The Wednesday and Thursday wine tastings offered from 5-7pm are especially popular. Each tasting offers a special theme – usually centered around a variety or region.
Prati Italia
This sizeable restaurant in a major upscale shopping area (St. Johns Town Center) opened in January 2020 in place of Tom and Sarah Marie's former restaurant, Moxie Kitchen + Cocktails. Services both clients of the shopping center but also plenty of nearby offices. Prati means 'meadows' in Italian and is also a neighborhood within Rome. Plenty of parking; both indoor and outdoor dining offered – the outdoor space offers some nice views of a nearby waterway. The culinary focus is on Italian cuisine including handmade pastas, pizzas and like at Town Hall, some unique and specialty cocktails.