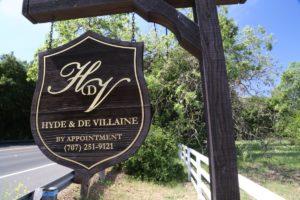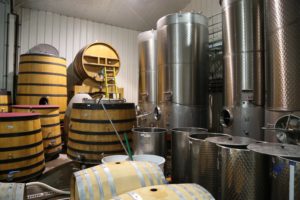 HdV Wines is located on the northern fringes of the city of Napa just west of the Silverado Trail. This winery was founded in 2000 and is a partnership between two extremely accomplished wine making families – the Hydes who are based in the Napa Valley and the de Villaines who are based in Burgundy, France. This partnership was certainly helped in part through marriage – Aubert de Villaine married one of Larry Hyde's cousins. Larry's wine making family history dates back to the early 1800's placing his family in a select position as being of one of California's oldest wine making families.
Larry manages the fairly well known Hyde Vineyard in the Carneros region (since 1979), which is the single source for their entire line of wines. Of this 179 acre property, approximately 19 acres are devoted to the HDV wines. The Hyde Ranch is located South and West of the actual HDV winery. The vines next to the winery are Syrah but these grapes are not used in their wines – rather are sold to other area producers. The Hyde Vineyard also supplies fruit to a number of other well-known Napa & Sonoma wineries.
One of the most sought after wines in the world is the small Pinot Noir and Chardonnay Burgundian based winery, Domaine de la Romanée-Conti (DRC). These extremely limited production wines often are some of the world's most expensive. Aubert de Villaine is co-owner of this storied and historically significant estate. So when these two individuals decide to partner and create a Napa wine, one does take notice – when visitors ask for premium Napa Valley grown and produced Chardonnay, invariably this winery is often right at the tip of our tongue.
This is very much a working winery and nothing here is about flash or visual appeal. The focus is on the wines and production – including several other small winery clients. As soon as you step inside the main building you will find yourself surrounded by wine barrels and a number of tanks.
Their approach to wine making here is somewhat minimal in nature as much of the work that goes into making these premium wines starts and ends in the vineyards. The wine making team handles the fruit as minimally and gently as possible although once its picked they have a rigorous sorting program in place allowing only the finest fruit to be used. Gravity flow is used as much as possible rather than pumps – each of the barrel lots is carefully followed throughout its aging and only the "best" barrels are used in their final blends.
They produce three types of wine including two Chardonnays (the HdV and the de la Guerra) – one from older vines and one from younger vines. Throw out any preconceived notions you have about Malolactic Fermentation and Chardonnay when you try these. These wines undergo 100% ML with neutral bacteria but are wines that are not characterized by the usual components when discussing ML (I.E. buttery, viscous etc). Their Chardonnays are rather crisp as the acidity plays a big part in this. They are well balanced delicious wines. These are wines that need full malolactic fermentation – prior to undergoing this secondary fermentation, their Chardonnay is so acidic it has been described as "being somewhat unpleasant on the palate".
The 2014 De La Guerra Chardonnay shows straw color in the glass with noticeable hazelnut, almond and a creme brule aroma on the bouquet – well framed by notes of lemon and apple nuances. The palate shows additional notes of citrus – it is rounded but not overly creamy. This freshness or crispness carries onto the finish for some time.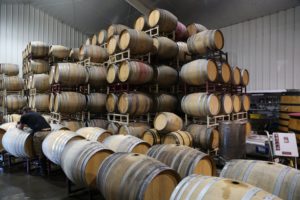 Their Syrah is 100% varietal featuring excellent floral & berry aromas. We tried the same Syrah from a barrel containing a vintage one year older than the bottle (their Syrahs are aged in large oak barrels). The differences between the two wines were very pronounced in the aromas and flavors and really gives one perspective of how quickly a Syrah can "come around" during its aging.
The 2012 Californio Syrah shows a mix of black cherry, cinnamon, sweet baking spices with slight floral notes – aromatically this wine shines well. It does not show a meaty/savory component that often is present in warmer weather grown wines of this variety. On the palate shows a richness of fruit – but is in balance between the structure and the acidity. The tannins are well defined but not overly robust in character. HDV holds their red wines back four years before releasing them to the consumer.
One last interesting note is they have donated a barrel of wine to the well-known Auction Napa Valley each year for the past few years. The unique part of this is their barrel was the only white wine out of 100+ barrels of red wines that were donated by Napa wineries! What is surprising (considering their wine is competing against some of Napa's powerhouse Cabernet Sauvignons) is that their wine has typically been in the top 10 highest receiving bids at this auction.
Because this is a small winery and they do receive a number of requests for tastings, you should schedule appointments well in advance. As with other small area wineries, they have more time constraints during harvest in September and October. This is a fairly small operation with few employees. The tastings are always conducted with one of their long time wine educators or perhaps their assistant winemaker. Tastings are either inside the winery over two wine barrels, in an adjoining private room or if weather permits, outside under the shade of a tree close to the banks of the Napa River.
To schedule a visit or for more information, please visit: www.hdvwines.com