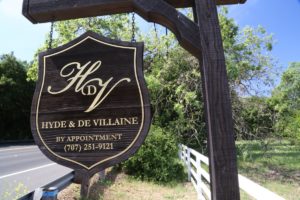 HdV Wines is located on the northern fringes of the city of Napa just west of the Silverado Trail. This winery was founded in 2000 (their first vintage) and is a partnership between two extremely accomplished wine making families – the Hydes based in the Napa Valley and the de Villaines, based in Burgundy, France. This partnership was certainly helped in part through marriage as- Aubert de Villaine married one of Larry Hyde's first cousins, Pamela.
Larry's family history in California dates back to the late 1700s. He is a descendant of José de la Guerra a prominent rancher and Spanish Military Officer who spent time in San Diego, Monterey and Santa Barbara in the early to mid 1800s. His namesake is on several Santa Barbara locations including the De La Guerra Plaza. This is a very historical part of town; it where the first Santa Barbara city council met in 1850 and is one of the Santa Barbara's original parks. And of course, one of the border streets is called de le Guerra Street. Incidentally the offices for the Santa Barbara Press newspaper are here, the oldest daily newspaper in Southern California (first published in 1855).
And the old 13-room family adobe home (with a sizable courtyard), Casa De La Guerra dates back to the 1828 and is where José de la Guerra lived until his passing in 1858 – although de la Guerra heirs lived here until 1943. His old house which survived several bad earthquakes including sustaining significant damage in the Fort Tejon earthquake of 1857 and surviving the terrible Santa Barbara earthquake in 1925 – this quake leveled much of the town which was rebuilt with old Spanish style architecture) is now a museum, a tribute this family, their contributions to California and an interior that represents how life would have looked like during those decades.
Casa De La Guerra, Santa Barbara

The coat of arms on all their wine labels is their family's original crest. And their family has been making wine for a long time – back to at least the 1870s. The family has records of one of their wines winning a Gold Medal at the Philadelphia Centennial Fair in 1876.
Larry's first wine job was working in the vineyards at Ridge Vineyards in 1970. Later he worked in the winery at Joseph Phelps (during their early years. With both vineyard and winemaking experience under this belt, he started Hyde Vineyard in Carneros in 1979 after his father Richard purchased their initial land. The ranch has since expanded to nearly 200 planted acres spanning both sides of Highway 12 – all on the Napa side of Carneros. Approximately 19 of their total planted acres are devoted to the HDV wines. There are a select few vineyards in this sub appellation that have immediate name recognition, Hyde certainly is one of them. After years of being a grower, Hyde and his family opened a physical winery in Carneros in 2017.
Hyde Vineyard is the single source for the entire lineup of HDV wines but also supplies fruit to a number of other well-known Napa, Sonoma and other California based wineries. Hyde Ranch is located south and west of the actual winery (about a 15-minute drive away).
The vines next to HDV's physical winery used to be Syrah, more recently were ripped out and planted to another variety. As of our latest update to this review, these grapes are not used in their wines but rather are sold to other area producers.
One of the most sought-after wines in the world are from the small Pinot Noir and Chardonnay Burgundian based winery, Domaine de la Romanée-Conti (commonly referred to as DRC). These extremely limited production wines often are some of the world's most expensive. Aubert de Villaine is co-owner of this storied and historically significant estate. So, when these two individuals decide to partner and create a Napa wine, one does take notice – when visitors ask for premium Napa Valley grown and produced Chardonnay, invariably this winery is often right at the tip of our tongue.
Early in his career, De Villaine worked in the wine business in both New York and California. A moment in time that elevated the perception of Napa Valley wines, referred to as the Paris tasting of 1976, was attended by De Villaine; he was one of the judges.
Wines + Winemaking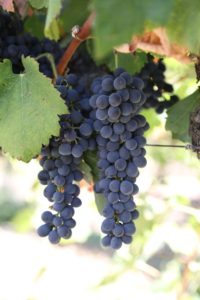 This is very much a working winery and nothing here is about flash or visual appeal commonly found at well-manicured tasting rooms. The focus is on the wines and production – including several other small winery clients. As soon as visitors step inside the main winery building, they will be surrounded by wine barrels and a number of tanks.
Their approach to wine making is somewhat minimal in nature as much of the work that goes into making these premium wines starts and ends in the vineyards. The wine making team handles the fruit as minimally and gently as possible although once picked they have a rigorous sorting program in place allowing only the finest fruit to be used. Gravity flow is used as much as possible rather than pumps – each of the barrel lots is carefully followed throughout its aging and only the "best" barrels are selected for their final blends.
They produce three types of wine including two Chardonnays (the HdV and the de la Guerra) – one from older vines and one from younger vines. Throw out any preconceived notions you might have about malolactic fermentation in regard to Chardonnay when you try these. These wines undergo 100% secondary fermentation with neutral bacteria but are wines that are not characterized by the usual components when discussing malolactic fermentation (I.E., buttery, viscous etc.). Their Chardonnays are rather crisp as the acidity plays a big part in this. And the reason their wines undergo full malolactic fermentation is prior to this secondary fermentation, their Chardonnay is so high in acid it has been described as "being somewhat unpleasant on the palate". The finished Chardonnay wines are well balanced, delicious and very food friendly.
The 2014 HDV De La Guerra Chardonnay shows straw color in the glass with noticeable hazelnut, almond and a creme Brulé aroma on the bouquet – well framed by notes of lemon and apple nuances. The palate shows additional notes of citrus – it is rounded but not overly creamy. This freshness or crispness carries onto the finish for some time.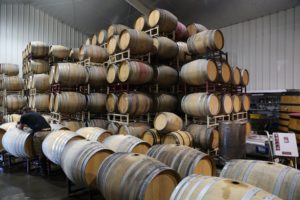 Their Syrah is 100% varietal featuring excellent floral & berry aromas. We tried the same Syrah from a barrel containing a vintage one year older than the bottle (their Syrahs are aged in large oak barrels). The differences between the two wines were very pronounced in the aromas and flavors and really gives one perspective of how quickly a Syrah can "come around" during its aging.
The 2012 HDV Californio Syrah shows a mix of black cherry, cinnamon, sweet baking spices with slight floral notes – aromatically this wine shines well. It does not show a meaty/savory component that often is present in warmer weather grown wines of this variety. On the palate shows a richness of fruit – but is in balance between the structure and the acidity. The tannins are well defined but not overly robust in character. HDV holds their red wines back four years before releasing them to the consumer. This wine is a tribute to the Hyde's heritage – a Californio is a person of Spanish heritage who spoke Spanish and who resided in what would become the state of California between the years of 1683 and 1848.
For several years, HDV donated a barrel of wine to what was Auction Napa Valley. The unique part of this is their barrel was the only white wine out of 100+ barrels of red wines that were donated by Napa wineries. What is surprising (considering their wine is competing against some of Napa's powerhouse Cabernet Sauvignons) is that their wine has typically been in the top 10 highest receiving bids at this auction. More wineries should take notice of this.
And HdV also produces a limited production Cabernet Sauvignon focusing on cooler site vineyards.
—
Because this is a small winery and they do receive a number of requests for tastings, you should schedule appointments well in advance. As with other small area wineries, they have more time constraints during harvest in September and October and they are already a fairly small operation with only a few employees.
Tastings are always conducted with one of their long-time wine educators or perhaps their assistant winemaker. Tastings are either inside the winery over two wine barrels, in an adjoining private room or if weather permits, outside under the shade of a tree close to the banks of the Napa River.
Total annual production is around 4,000 cases. The wines are sold direct to allocation list members, through visits to the winery and some distribution including to parts of Europe and Asia. To schedule a visit or for more information, please visit: www.hdvwines.com
Domaine Romanée Conti
When it comes to Pinot Noir and Chardonnay, Bourgogne is the 'mothership'. And within Bourgogne certain sites are more iconic than others including the cozy confines of Domaine Romanée Conti's hallowed vineyards.
One can't mention some of the world's greatest wine producers without mentioning this domaine. And there are reasons for this; they only produce wine from Grand Cru sites (in Bourgogne, unlike in Champagne cru refers to classification by vineyard, rather than village and Grand Cru wines comprise less then 1.5% of Bourgogne's total wine production), their history is remarkable, dating back to a vintage produced in 1232 when the Abbey of Saint Vivant purchased what is now known as Romanée-Conti, their commitment to quality and their extremely limited production.
Its modern-day history dates back to 1869. Presently, Domaine Romanée Conti is equally owned by two families; the de Villaine family has owned half of the estate's shares since 1887 and is the connection with Hyde Vineyards and HDV in Napa Valley and the Leroy family has owned the other half since 1942.
Total production each year across all their properties varies between 6,000 to 8,000 cases. Their vines are older with an average age of 44 years, are planted high density and are farmed biodynamically. Domaine Romanée Conti owns the following vineyards: Romanée-Conti, La Tâche, Richebourg, Romanée-St-Vivant, Grands Échezeaux, Échezeaux and Montrachet (their Chardonnay planting). They farm leased vineyards including in Corton, and in 2018 they began farming and producing another Chardonnay from Corton-Charlemagne. And Romanée-Conti and La Tâche are monopoles controlled entirely by Domaine Romanée Conti.
Visitors to the commune (village) of Vosne-Romanée (population, approximately 350) can make the short walk or drive to the 4.4-acre site of Romanée-Conti. Visually this vineyard may look no different than any of the other nearby beautiful sites. But this small parcel of land produces some of the most iconic and expensive wines in the world. And one knows its special when one sees all the tourists during certain times of the year, lining up across from the stone wall taking pictures including the famous stone cross next to the vineyard.
And this site is a five-minute walk from Domaine Romanée Conti's cellar; as one approaches the winery, if one knows where to look, one can see the winged angel sculpture in their courtyard – easier to see when there are no leaves on the nearby vines.
Depending on traffic, Vosne-Romanée is about a 3.5 to 4+ hour drive from Charles de Gaulle Airport in Paris or about a 30-minute drive from the center of Dijon.
Vosne-Romanée is a cute village and worth spending some time to walk its historic streets. For such a small town, it boasts an inordinate number of restaurants based on its tiny population. Also worth visiting is the ancient cemetery on the northern edge of town.
The best wine bookstore in Bourgogne is Athenaeum in Beaune, located across from the Hospices de Beaune (part of the world's oldest wine charity auction dating back to 1862 held every November). Athenaeum has previously hosted Aubert du Villaine for various wine events, the former co-director of this storied winery for 48 years before he stepped back to an advisory role starting in 2023. Several books worth reading relating to Domaine Romanée Conti are the following: The Prince of Romanée-Conti, Shadows in the Vineyard and Romanée Conti: the world's most fabled wine.
Wilson Daniels is the exclusive importer (since 1979) of the Domaine Romanée Conti wines into the U.S. For more information about Domaine Romanée Conti visit: www.romanee-conti.com