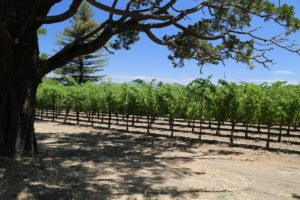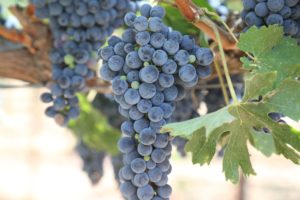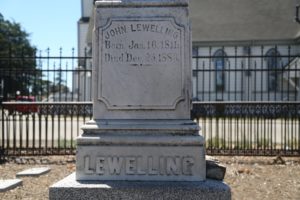 Hayfork Wine Company initially focused on Cabernet Sauvignon, crafting one wine from the same block within the historic Lewelling Vineyard in St. Helena each year. Over they years they now produce several wines from this property and also a wine from a very rare variety growing in the Napa Valley, Grenache Blanc.
This is one of the oldest continuously owned and family farmed pieces of land in the Napa Valley – therefore a little history is in order. John Lewelling came to the valley in 1864, built a house in 1870 (still there by the way) and planted vineyards along with prunes and walnuts. He built a winery just off of Main Street in St. Helena (now part of a residential property) and also owned a wine warehouse in town in partnership with several of the Napa Valley's other winery pioneers Charles Krug and the Beringer brothers. For more information about this historically rich and significant property, please reference our reviews, also on this site, of Lewelling Vineyards and also Taplin Cellars.
Phylloxera infested the vineyard in the late 1800's and the family switched to growing primarily walnuts. They also installed a dehydrator on the property; local farmers with other small orchards around the valley would bring their walnuts to be dried. This lasted until the 1970's. Cabernet Sauvignon was first planted on site in 1972. After realizing how well this variety grew on the property over the years the family continued to plant Cabernet Sauvignon and today this variety comprises about 95% of what is grown in the vineyard.
The original planting of this variety lasted well over 30 years until 2008 when production dropped to the point that these old vines were removed and replanted again. Eighty vineyard acres are planted including smaller amounts of Merlot, Cabernet Franc and Petit Verdot. The vineyard is located on alluvial soils that have drained down from the Mayacamas mountains over the centuries, coveted bench-land if you will.
Hayfork is run by the husband wife team of Erik Dodd and Haley Wight. Erik helps manage Lewelling Vineyard as well as another 500 acres up and down the valley for his father in law, Doug of Wight Vineyard Management. Haley is Hayfork's winemaker – she grew up on the property – spending one's formative years in agricultural settings are invaluable. To quote from Hayfork's website, she says, "As a child I roamed my family's ranch with a sense of freedom most children today are denied. I explored creeks, climbed trees, picked berries and walked through vineyard rows searching for arrowheads. I was grateful to know the land, but in my innocence did not realize how quite fortunate I was."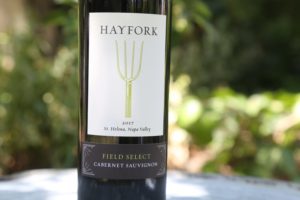 Haley's wine making experience in the Napa Valley was at Terra Valentine as well as at Ballentine Vineyards. Today she focuses her efforts on Hayfork and also makes the wine for Lewelling Vineyards.
As Erik told us, he considers Hayfork privileged to be able to source fruit from the Lewelling Vineyard. Top producers in the valley have and currently source from the vineyard including Caymus, Viader, and Beaulieu. Today there is even a waiting list for fruit from this vineyard.
Select Wines
The 2017 Hayfork Cabernet Sauvignon, Lewelling Ranch was blended with 4% Petit Verdot and aged for 20 months in 3/4 new French Oak. The wine is deep ruby in color. Initially immediately upon opening, aromas show of cocoa powder and mocha, toasted cedar, white pepper and dark plum. There is a 'deepness' to the bouquet but also an elegance. Opens up beautifully given time, showcasing the rich fruit – briary and brambly along with aromas of sweaty leather gloves. Showcases plenty of depth and ripeness on the palate with flavors of dark cherry and blueberry. Juicy with good acidity. Offers a framework of fine tannins with a light to moderate grip on the finish lingering with some darker spices including cedar. Drinks very well in its youth. It was nice to try this wine nearly 10 years after our last tasting.
The 2017 Hayfork Field Select Cabernet Sauvignon, (also from the Lewelling Ranch) is a blend of 90% Cabernet Sauvignon and 10% Petit Verdot. The wine was aged 20 months in 100% new French oak; it is very dark in the glass. Immediately offers a ripe yet elegant bouquet that is focused more on the richness of the fruit rather then secondary aromas. Ripe blackberry, with a chalky-like dustiness to the aromatics – one can almost picture being tangled up in blackberry patch, picking ripe berries on a hot dusty day. Also some notes of cigar smoke and mocha. Riveting. On the palate: a mouthful of fruit with intensity – including flavors of boysenberry, blackberry and dark cherry. Well integrated somewhat earthy tannins are moderate in their textural feel. Very limited production, only 80 cases. Somewhat Bevan-esque in its hedonism 🙂 A lovely wine.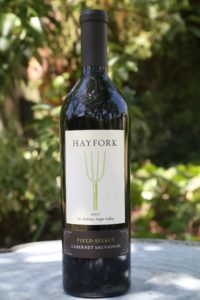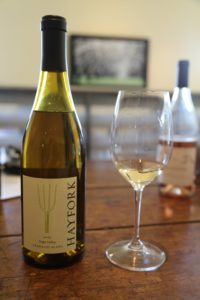 The 2008 Hayfork Cabernet Sauvignon is blended with 5% Merlot (also grown at the Lewelling Vineyard). At the time of we tasted this wine, it had not yet been released. It was aged in 75% new French oak barrels – the wine making style is more old-school – using small lot fermentation and relying mostly on management practices in the the vineyard along with a carefully chosen harvest date. The wine shows dark ruby color in the glass. The bouquet changes nicely as it breathes – showcasing aromas of vanilla, brown chocolate and fruit including black currant and red cherry. The wine features a soft mouth feel until mid palate where it gains in complexity – very flavorful, also nuances of cedar. Both dusty fruit and oak tannins (not huge tannins) linger for some time and anchor the very long finish.
The 2009 Hayfork Cabernet Sauvignon like the other wines we have tasted from the Lewelling Vineyard has an appealing earthy characteristic to the nose. It is quite dark in the glass with bold berry fruit flavors on the palate. Dusty tannins linger for some time on the finish complemented by just a nuance of cocoa powder. Like the previous vintage, this was bottled unfined and unfiltered.
—
Hayley and Erik chose the name "Hayfork" for a variety of reasons – and it has several related meanings. It is a play on Haley's name and is also a reference to the tiny town of Hayfork in the Trinity Mountains of Northern California where the family spends quite a bit of time fishing and relaxing. And the image of an actual hayfork, is a tribute to their long farming background. Their first vintage was in 2006.
With only 300 to 500 cases currently produced (depending on the year) as expected distribution is rather selective. Having the luxury of owning the vineyard and additional blocks to source from, they can expand their production as needed and have done so over the past few years. You can sometimes find the wine locally at Backroom Wines in Napa, V Wine Cellars in Yountville and ACME Fine Wines in St. Helena as well as direct through their website. Visit: www.hayforkwine.com
Hayfork, California
Photographs coming by late 2020.