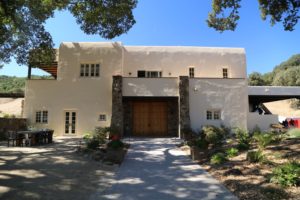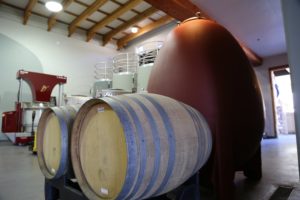 Hartwell Estate Vineyards is a gated winery located on the West side of Silverado Trail just north of Stag's Leap Wine Cellars. You can drive by many times and you will never see the gate open. That is because you must make an appointment for either a tasting or a tour and a tasting. Tours are small, exclusive (only offered at set times on certain days) and very personalized – no more than 8 people at a time.
Punch in the wineries' gate code, enter and drive through the cypress lined driveway until your waiting wine concierge greets you at the top of the hill in front of the actual winery. In previous years, during your drive in you might have seen long horned, long haired Highland Cattle. These are huge majestic creatures from Scotland and were the only Napa winery to have these on site. Hartwell's first vintage dates from 1990 from a clone that was given to founder Bob Hartwell (deceased in June 2016) by Dick Grace of the well known Napa winery, Grace Family Vineyards.
Hartwell makes one white, a Sauvignon Blanc but their specialty is really estate grown Cabernet and Merlot and they are very good at hand-crafting both of these types of wines. Their grape production is lower than many wineries as they actually heavily thin back the vines to produce smaller quantities of grapes, resulting in higher quality fruit. All red wines produced come from their hillside estate and their Sauvignon Blanc is sourced from property they own in the cooler Carneros region to the south. This is a small family owned winery and you may get to meet the actual winemaker on your tour. Bob had an aerospace background and when he owned this winery – visitors would see several aerospace air filters located within the wine caves.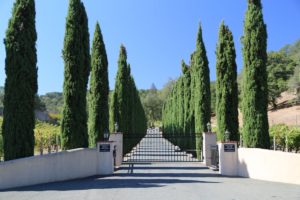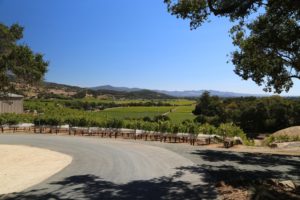 After you spend some time in the caves you will reach the "tasting grotto", their dimly lit VIP room with a romantic table set for eight people. Here you can really taste the quality of the wines; their Estate Cabernet is exemplary – we tried the 2004 vintage. Unlike previous versions which were 100% varietal Cabernet Sauvignon this vintage was blended slightly with Petit Verdot. There is great depth of flavor in this wine and it is very dark in color with layered flavors of ripe blueberry and blackberry. The finish is anchored with smooth tannins and just a bit of dustiness representing their unique terroir.
The Miste Hill 2004 is a Cabernet Sauvignon based blend; it is softer than the Cabernet Sauvignon we tried but with great acidity, this also has some ageability of ahead of it. This is perhaps the softest of their red wines. Have a sweet heart who likes sweet wine? Try the 2004 SweetHart, as in the Hart of Hartwell. This is a rare Napa Cabernet Sauvignon Late Harvest dessert wine. There is only one other winery in Napa we are aware of making this type of wine on a regular basis – lets hope Hartwell repeats the 2004 which was their first commercial vintage. Older vintages of their other wines are also available for purchase.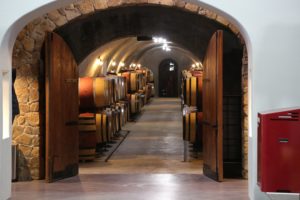 Also of note is the blending master Michel Rolland is their consulting winemaker. We read somewhere that Michel tastes between 30,000 and 35,000 different wines a year. Now that is impressive!
Hartwell also offers special gourmet cheese wine pairings. Inquire as to availability. On your tour, you might also try a barrel sample paired with a gourmet truffle (the truffles are available for purchase). Ask about their exclusive wine club. Visit: www.hartwellvineyards.com
NOTE: This review has been identified as needing a major update. Hartwell sold the winery and caves and part of their vineyards on site to Realm Cellars in early 2016. Hartwell will continue to produce wines from the portion of the vineyard they retained for themselves – and these wines will continue to be produced on site.