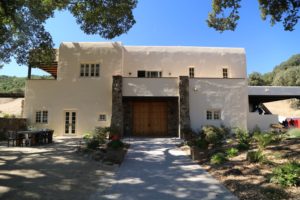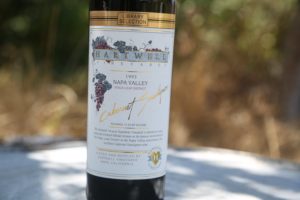 Hartwell Estate Vineyards is a gated property located on the west side of Silverado Trail just north of Stag's Leap Wine Cellars. The inception of Hartwell Vineyards was in 1986, when founder Bob Hartwell (died in June 2016) purchased 90 acres on what is called Wappo Hill, a small section of coveted land rising from the valley floor in the Stags Leap District. At the time the only other owner on Wappo Hill was Robert Mondavi (whose former house is located on the top of the hill, now owned by Jean Charles Boisset and Gina Gallo, both prominent vintners). Bob's first career was a successful one – having owned a company that manufactured plumbing equipment. In 1997 construction of the caves and the winery began – both were completed by 1999. Interestingly, this property used to be owned by Harry Sees, part of the Sees Candy family.
Hartwell sold the winery and caves and part of their vineyards to Realm Cellars in December 2015. Realm Cellars purchased a total of 20 acres leaving the Hartwell's still owning 70 acres. Hartwell continues to produce very limited production wines from the portion of the vineyard they retained for themselves – a two-acre vineyard next to the family home on the hill. They also still own the vineyard on the north side of their driveway – which they are currently leasing. Their wines continue to be produced in their former winery and cave. Bob's wife Blanca died in 2018 – today second and third generation family members are operating Hartwell Vineyards.
Their driveway used to be immediately recognizable when driving by either direction on the Silverado Trail; it was lined with cypress trees for many years, however since the sale to Realm Cellars, these trees have since been removed. Several long horned, long haired Highland cattle roam part of the Hartwell property. These are huge majestic creatures from Scotland and are the only animals of their kind we have seen at any winery in the Napa Valley.
Hartwell's first vintage dates from 1990 from a clone that was given to founder Bob Hartwell (deceased in June 2016) by Dick Grace of the well known Napa winery, Grace Family Vineyards in St. Helena. Their early vintages were made at the tiny winery at Grace Family Vineyards until the Hartwell Winery was completed. Several prominent winemakers have come through their doors over the years including Andy Erickson and since 2006, Benoit Touquette.
Hartwell produces two wines each year; a Sauvignon Blanc and their flagship estate grown T5 Cabernet Sauvignon (they used to produce a Merlot and several other wines). Production each year is often lower then yields in other vineyards due to the fact they prune heavily and thin clusters which produces smaller quantities of grapes, resulting in a higher concentration of flavor. All red wines produced come from their hillside estate; their Sauvignon Blanc is sourced from a separate property they own in the cooler Carneros region to the south.
Select Wines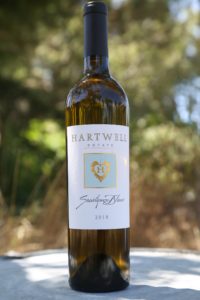 The 2018 Hartwell Estate Sauivgnon Blanc is sourced from the Hartwell's own property – almost across from Etude Winery in Carneros. Medium yellow in color offers beautiful aromatics – citrus driven with notes of pomelo, an orange peel zest, citrus blossom, lemongrass, guava and kiwi. Intensely flavored across the entire palate, delicious with a flinty type minerality nuance towards the finish. Rounded with pleasing texture, ripe but a brightness of acidity. A very balanced showing that drinks nicely by itself.
The Hartwell Vineyards Estate Cabernet Sauvignon is exemplary – we tried the 2004 vintage. Unlike previous versions which were 100% varietal Cabernet Sauvignon this vintage was blended slightly with Petit Verdot. This wine is noticeably dark in color; it shows a rich depth on the palate with layered flavors of ripe blueberry and blackberry. The finish is anchored with smooth tannins and just a bit of dustiness, a nod to their Wappo Hill terroir.
The Hartwell Vineyards Miste Hill 2004 is a Cabernet Sauvignon based blend; it is softer than the Estate Cabernet Sauvignon – with great acidity, this wine has some age-ability ahead of it. This is perhaps the softest of their red wines.
Have a sweet heart who likes sweet wine? Try the 2004 SweetHart, as in the Hart of Hartwell. This is an extremely rare Napa Cabernet Sauvignon Late Harvest dessert wine. There was only one other winery in the Napa Valley that made this type of wine on a regular basis (Van Der Heyden Vineyards sold their property years ago and are no longer in business). Hartwell produces this wine during only the best vintages – their most recent release at the time of our update is the 2010 vintage.
The T5 is their most premium Cabernet Sauvignon – always 100% varietal it is hand-picked from vines growing in their tiny vineyard. This wine ages in special Taransaud (the cooper) barrels for 2 years. These are rare barrels, this is rare wine indeed as only 100 six-bottle cases are produced annually. The wood is from trees that were planted during the time of Louis XIV (he was the King of France from 1643 until he died in 1715) and only the best French coopers are allowed to work with this wood. The staves are seasoned for a remarkable 5 years before being assembled (up to 3 years is more the norm for oak barrels being used for aging wine).
The 1993 Hartwell Vineyards Napa Valley Cabernet Sauvignon (tasted 17 years after vintage) still shows plenty of color – dark with a brickish red color. Initially one of the dominant aromas on the bouquet is leather – a sweaty baseball mitt that has seen plenty of use along with darker fruit notes including plum. Let this wine open – its reveals additional aromatics including clove and more subtle nuances of mocha. Very balanced with still a surprising amount of fruit showing on the palate – mostly cherry and berry flavors. Somewhat creamy in its textural feel – soft without a lot of complexity. Well integrated tannins linger softly with subtle hints of peppercorn and other dark notes. Drinks very easily at this age.
Also of note is that highly sought after French based blending master Michel Rolland was their consulting winemaker for some time. We read somewhere that Michel tastes between 30,000 and 35,000 different wines a year.
Visits:
NOTE: as of 2020, tastings are currently no longer offered – if this changes we will update this review once we have more details.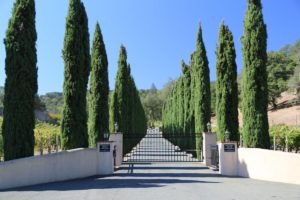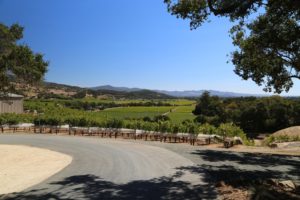 This is a small family owned winery and visitors often get to meet the winemaker during visits to the vineyard. During our first visit we saw a number of aerospace quality air filters located within the cave – filtering and keeping the interior air clean. We were told with Bob's background in manufacturing – he decided these units would be also be a perfect fit for his wine cave.
And for those in the Continental USA who can't make it to Hartwell Vineyards but would like Hartwell to come to them – private home visits/tastings can be arranged anywhere in the continental USA – with a minimum of a 5 case purchase.
—
Their exclusive "collectors club" is for serious wine enthusiasts and collectors and ships either 12 bottles or 24 bottles which ships twice a year. Remarkably Hartwell Vineyards has an extensive library collection with select bottles available for online purchase dating back to 1990. For more information visit: www.hartwellvineyards.com