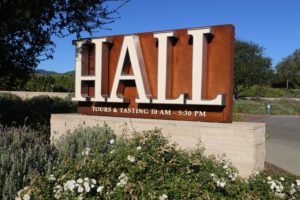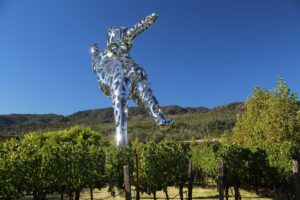 Hall Winery St Helena is owned by Craig and Kathryn Hall – both extremely accomplished individuals in a variety of fields. Kathryn was the Ambassador to Austria for several years, is a successful businesswoman, community activist and an attorney. In addition, Kathryn's family has been in the wine industry for several decades (grape growers in Mendocino County) – she and her brother managed that property for 10 years.
Craig was born in Dallas, Texas and in 1968 created the Hall Group – a business whose specialty was originally apartment buildings. Today he continues to stay busy with real estate, venture capital, technology and hotels. And he is an accomplished author, having penned several very well-known books about entrepreneurial practices which are available for sale in the tasting room.
Both Craig and Kathryn are also prolific art collectors; this will be quickly evident once you are on the winery grounds.
Hall Winery is located along the busy "wine strip" (a part of Highway 29 that features some of the larger, historic and more well known wineries in the valley) located south of the town of St. Helena. The actual winery and hospitality center are set back quite a ways from the main road so it doesn't have a "busy" feeling. Pull in the long driveway, wave to the giant metal rabbit sculpture on your left (or pull over for a photo as thoughtfully, the entrance driveway widens conveniently opposite this statue). Then pull all the way to the back and park next to the impressive glass windowed hospitality center.
Based on the clever raised landscaping near Highway 29 – it is very difficult to gauge the size of this winery, grounds and hospitality center from the highway.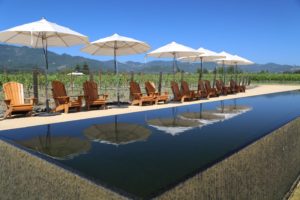 Spring is a great time to visit this winery – along with other large Napa properties that incorporate a variety of creative landscaping on their properties – the grounds of Hall Winery are really alive this time of year. A warm spring day combined with all the flowers and trees budded out in green makes for an ideal time to visit. Note the numbers of interesting sculptures and other artworks on the property. The Hall's collect elective and upbeat works of art from artists who are typically not well known. The paint on the white camel near the entrance is industrial paint used in high end automobiles. Don't try to ride this camel (we were told that apparently some guests try to do this!).
After a major multi-year construction project Hall opened a prominent modern and world-class Hospitality Center in early 2014 (of which there are few of in the Napa Valley). By Napa winery standards this is a very large building – it houses part of the winery as well as the tasting room and an outdoor terrace overlooking west onto their vineyards. The historic Bergfeld stone ghost winery was also restored and is located next to the Hospitality Center (dates from 1885).
The bathrooms in the hospitality center are not your normal Napa bathrooms. Perhaps they borrowed some ideas from Jean Charles Boisset at Raymond Winery's Red Room. One color dominates inside – red!
Hall offers plenty of tasting and tour options throughout the year ranging from their Wine Tasting 101 (an introduction to wine geared towards new wine enthusiasts), the Bergfeld Tour & Tasting (a guided tour on this historic property), Demystifying Wine & Food (farm to table culinary workshop), Wine & Art Exploration, a "Sunset Cruise" – no water involved but definitely a sunset – and a tasting called the Ultimate Cabernet Collector.
Hall concentrates on growing Bordeaux varietals, Cabernet Sauvignon, Merlot, Sauvignon Blanc, and Cabernet Franc which form what they call The Napa Valley Collection. They own a number of vineyard acres in the valley with their primary vineyards surrounding both this winery in St. Helena (all valley floor land) and their well-regarded hillside Sacrache Vineyard at their other winery in Rutherford.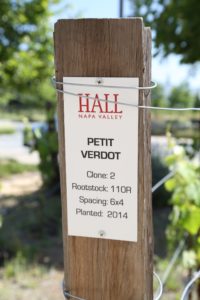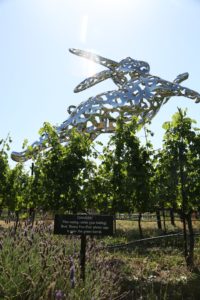 A tasting typically includes a choice from two offerings; their standard wines and their Reserve Wines. The Hall's also own a winery in Sonoma County (WALT Wines) which focuses on Pinot Noir and Chardonnay; these wines are available for tasting and purchase.
We've been here several times and during our latest visit we sampled two of their high quality Cabernet Sauvignons under their reserve tasting. You can't go wrong with either the 2005 Kathryn Hall Cabernet Sauvignon or the 2005 Bergfeld Cabernet Sauvignon, however the Bergfeld is one of those deep, earthy robust Cabernet Sauvignons that does no harm to Napa's Cabernet image. Soft, supple with a layered well rounded mouth feel makes this a joy to drink. Notes of cedar and baking spices are well integrated within this wine's fruit profile.
There is a reason why when people ask us for our top Napa Cabernet Sauvignon wines, we invariably recommend some of Hall's premium Cabernets. Most of their wines fit our palate like a glove, are sourced from carefully managed vineyards and in the winery are made with great attention to detail.
Also check out their popular wine club as many premium benefits are offered. If you purchase some wine ask for their "Hall Pass" which is a tasting card with either a complimentary tasting or a two for one tasting. Also note Hall winery used to be home of one of the two locations for the old Napa Co-Op – the Bergfeld building used to house this co-op winery. Before wines became as popular as they are today, vintners used to sell their grapes to the Co-Op and they used to take turns being the winemaker each year.
Hall is also known for hosting a variety of events throughout the year including probably the most well known event, the Cabernet Cookoff. Founded in 2011 this events features prominent chefs who create a variety of dishes – the top dish is voted upon by celebrity judges. All proceeds from ticket sales to this event are donated to Napa based charities and over the years hundreds of thousands of dollars have been raised.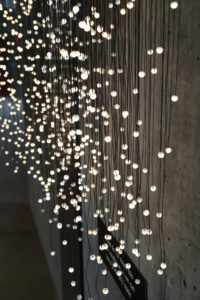 In July 2009, Hall Winery St. Helena received the prestigious Leadership in Energy and Environmental Design (LEED) Gold Certification, becoming the first winery in California to be distinguished as a Gold certified facility by the U.S. Green Building Council's LEED Green Building Rating System.
There are a number of requirements a winery must meet before becoming Gold LEED certified including radiant floors (allow for temperature control), solar energy (the cells are located on the top of the barrel cellar and fermentation building), local building materials (most came from within 500 miles of the winery), and water conservation (drought tolerant plants for landscaping and all water used in the vineyards as well as the landscaping is recycled).
As if they didn't have enough projects to focus on, the Hall's also operate a luxurious boutique hotel just north of the city of Napa (opened in 2014) called Senza. This has the classic 'HALLmark' with pieces of easily noticeable art in front of the hotel. For more information visit: www.senzahotel.com
In 2018 the BACA Lounge opened on site featuring BACA Wines (a California Zinfandel brand owned by the Halls with mostly non Napa vineyard sources). This lounge offers a number of experiences in addition to wine tasting including a number of games including Jenga, bocce ball, dominoes and dice. It is a space carefully crafted to facilitate conversation and interaction among guests.
In the spirit of being a "green" winery, Hall was the first Napa winery to install an ECOtality electric charging vehicle station on site. Visit: www.hallwines.com.
Bergfeld Winery

Grounds

Hospitality Center

BACA Lounge

Winery

Walt Wines The Hall's also own Walt Winery which maintains a tasting room just off of the main square in the town of Sonoma.