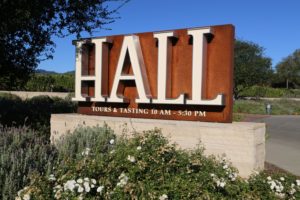 HALL Winery St. Helena is owned by Craig and Kathryn Hall; both are extremely accomplished individuals in a variety of fields. Kathryn was the Ambassador to Austria for several years under the Clinton administration. She is a successful businesswoman, community activist, attorney and in 1991 ran for mayor of Dallas. In addition, Kathryn's family has been in the wine industry for several decades (grape growers in Mendocino County) – she and her brother managed their family property for 10 years.
Craig was raised in Ann Arbor Michigan – his life is an incredible success story with a long list of accomplishments. At the age of 18 in 1968 he created the HALL Group – a business whose specialty was originally college rooming houses and apartment buildings. Over time the company has diversified into the HALL Park in Frisco Texas, the KPMG Plaza at Hall Arts in downtown Dallas and various financial services offered through one of his companies, HALL Structured Finance. In addition to real estate, over the years Craig has invested in a diversity of other businesses and ventures including oil, American Airlines and the Dallas Cowboys.
Craig remains active overseeing projects relating to real estate, venture capital, technology and hotels. He is also an accomplished author, having written a number of well-known books about entrepreneurial practices, several of which are often available for sale in the tasting room including A Perfect Score: The Art, Soul, and Business of a 21st-Century Winery which he co-authored with Kathryn and was a a New York Times best-seller.
Both Craig and Kathryn are prolific art collectors; this is quickly evident when guests visit the winery or any of the HALL Group owned properties – some 35+ pieces of art are on display at HALL Winery St. Helena.
HALL Winery is located a few minutes' drive south of the town of St Helena – along the busy "wine strip", a section of Highway 29 that features some of the larger, historic and more well-known wineries in the valley. And the winery is a short drive or walk north of Press Restaurant and Gary's Wine Shop with a short trail through a vineyard block access from the south parking lot on the property.
The winery and hospitality center are set back from the highway – with such a large property, it never feels overly busy here. Based on the raised landscaping near highway 29 – it is very difficult to gauge the size of this winery, grounds and hospitality center from the highway.
Pull in the long driveway, wave to the prominent Bunny Foo Foo metal rabbit sculpture on your left, or pull over for a photo as thoughtfully, the entrance driveway conveniently widens opposite the statue. This 35-foot-tall gleaming metal statue was created by the artist Lawrence Argent (died far too young at age 60 in 2017). The Halls were first introduced to his work when they saw one of his works at the Sacramento Airport.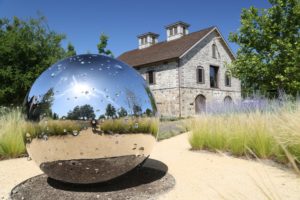 A warm spring day complemented by all the flowers and blossoming trees makes for an ideal time to visit. Note the number of intriguing sculptures and other art (both indoor and outdoor). The Hall's collect elective and upbeat works of art from artists who are typically not well known. Incidentally the paint on the prominent white camel near the entrance is industrial paint used in high-end automobiles. Don't try to ride this camel (we were told that apparently some guests have tried to do this).
After a major multi-year construction project Hall opened a contemporary and world-class hospitality center in early 2014 (of which there are only a few of this size and scope in the Napa Valley). By Napa winery standards this is a very large building – it houses part of the winery as well as the tasting room and an outdoor terrace overlooking west onto their vineyards. The historic Bergfeld stone ghost winery was also restored and is located next to the hospitality center.
The temporary tasting room which hosted visitors during construction has since been converted into an employee lounge (located slightly to the south of the existing hospitality center).
This old winery building is historically rich with a number of owners over the years. Originally built in 1885 by a sea captain named William Peterson – he did not enjoy the fruits of his labor very long. Phylloxera destroyed his vineyard, and he sold the property in 1894 to the second owner, a San Francisco based building contractor by the name of Robert Bergfeld. He soon changed the name of the winery, naming it after himself.
The next owner, Theodore Gier (used to own what is now the site of Hess Collection Winery). He operated Bergfeld Winery until the start of Prohibition. Immediately following prohibition in 1933, a select group of Napa Valley based vintners purchased this property and a year later founded the Napa Valley Cooperative Winery converting the site into a major production facility for some 60+ years. Members/vineyard owners would bring their grapes to be processed here – and then receive proceeds from the overall sales of the cooperative's wine production. Starting in 1955 all the grapes processed here sold to Gallo Family Winery who marketed the resulting wines as their own – the co-op at one point was producing over a million cases of wine a year and at the height of its production was responsible for producing about 40% of all the Napa Valley wines. The Hall's purchased this property in 2003 from Golden State Vintners (prior to their purchase the property was more recently known as Edgewood Estate Winery).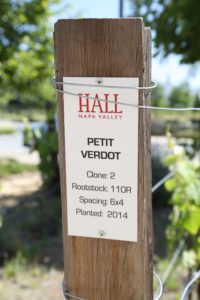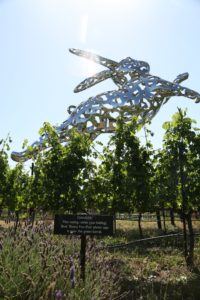 HALL focuses on growing Bordeaux red varieties including Cabernet Sauvignon, Merlot, and Cabernet Franc which form what they call The Napa Valley Collection. The Hall's own approximately 500 planted vineyard acres in the valley including the Bergfield Vineyard (surrounding the winery – all valley floor land) and the well-regarded hillside Sacrache Vineyard at their other winery in Rutherford (near Auberge du Soleil Resort) – see our review of that winery, also listed on this site.
For visitors, the property offers a diversity of spaces, and it is worth spending some time wandering the grounds either before or after a tasting. The Farm includes planter beds containing seasonal vegetables and annual herbs, the Olive Grove is a romantic place for couples especially for those younger couples who enjoy kissing and the Ocean View Terrace is an ideal place for relaxing and taking photographs especially selfies with the Reflection on Life Fountain and the rows of vineyards as the backdrop to the west.
HALL offers several tasting and tour options throughout the year ranging from their Wine Tasting 101 (an introduction to wine geared towards new wine enthusiasts), the Bergfeld Tour & Tasting (a guided tour on this historic property), Demystifying Wine & Food (farm to table culinary workshop), Wine & Art Exploration, a "Sunset Cruise" – no water involved but definitely a sunset – and a tasting called the Ultimate Cabernet Collector.
Select Wines
The HALL current releases tend to have a bit more age as compared to current releases at other wineries with the red wines often seeing 20 to 24 months in oak followed up by up to a year in bottled before being released. As a result, tastings are often of wines 4 years after their vintage date.
Jack's masterpiece was originally a painting created by then 18-month-old Jack, the son of HALL's former winemaker and current president Mike Reynolds. This vibrant and colorful piece of art is the label on a wine created in honor of both Jack and his artistic skills. While Mike is no longer directly involved in the hands-on day to day winemaking at HALL, he makes all the blending decisions for this particular wine. The 2015 HALL Jack's Masterpiece is 98% Cabernet Sauvignon and 2% Cabernet Franc. Noticeably dark red in the glass offers mostly dark fruit aromatics – the bouquet is a potpourri of both bright fruit aromas and dessert spices. Also dried rose petal and mocha as the wine continues to breathe. A sweetness of fruit shows on the palate with flavors of red licorice, blackberry and baking spices. Packs plenty of flavor anchored by a firm grip of finer grained tannins spread over a very long finish. A very nice showing.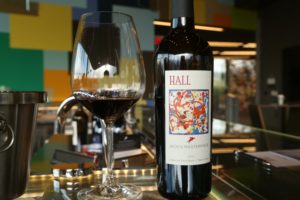 Their Bergfield Cabernet Sauvignon is from vineyards the surround the winery – with the majority of the vines directly to the west of the winery – this is the "sea" of vines as seen from the balcony outside of the tasting room. All valley floor fruit. The 2015 HALL Bergfield is initially savory or meaty on the bouquet – oak is a companion component of the aromas rather than imparting any dominating influence; offers subtle aromas of Graham cracker. The nose becomes less meaty and more elegant as it opens further. Shows plenty of red fruit on the palate including cherry, currant and dried cranberries – mouthwatering with excellent acidity. A slight tartness on the finish is anchored by a robust grip of slightly dusty tannins which linger for some time. Cellar this one for a few years.
The 2015 HALL Ellie's Cabernet Sauvignon (named after Craig's mother) shows a diversity of spices on the bouquet including cloves, a hint of mocha, brown chocolate along with aromas of cherry. A pleasing texture from start to finish on the palate – with a noticeable smoothness or softness if you will. Plush, ripe and slightly earthy tannins anchor the finish along with hints of cedar and a dark spice nuance.
The 2015 HALL 1873 Cabernet Sauvignon is named in tribute to when the first vines were planted on property. However, this wine is composed entirely of hillside fruit from the Vaca mountains (the mountain range on the eastern side of the valley). A sweetness of aromas (cassis) initially with hints of brown sugar, chocolate, vanilla black licorice and white pepper. Very approachable with flavors of plum – the tannins integrate nicely on the finish – a noticeable density with a firm grip but certainly not out of balance.
There is a reason why when people ask us for our top Napa Valley Cabernet Sauvignon wines, we invariably recommend some of HALL's premium Cabernet Sauvignon. Most of their wines fit our palate like a glove, are sourced from carefully managed vineyards and in the winery are made with great attention to detail.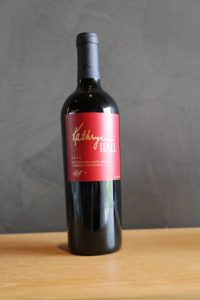 Hall is also known for hosting a variety of events throughout the year including probably the most well-known event, the Cabernet Cookoff. Founded in 2011 this event features prominent chefs who create a variety of dishes – the top dish is voted upon by celebrity judges. All proceeds from ticket sales to this event are donated to Napa Valley based charities and over the years hundreds of thousands of dollars have been raised.
In July 2009, HALL Winery St. Helena received the prestigious Leadership in Energy and Environmental Design (LEED) Gold Certification, becoming the first winery in California to be distinguished as a Gold certified facility by the U.S. Green Building Council's LEED Green Building Rating System. A winery must meet a number of requirements before becoming Gold LEED certified including installing radiant floors (allow for temperature control), solar energy (the cells are located on the top of the barrel cellar and fermentation building), local building materials (most came from within 500 miles of the winery), and water conservation (drought tolerant plants for landscaping and all water used in the vineyards as well as the landscaping is recycled).
The bathrooms in the hospitality center are not your normal Napa bathrooms. Perhaps they borrowed some ideas from Jean Charles Boisset at Raymond Winery's red room. One color dominates inside: red.
In 2018 the BACA Lounge opened on site featuring BACA Wines (a California Zinfandel brand owned by the Halls with mostly non-Napa Valley vineyard sources). This lounge offers a number of experiences in addition to wine tasting including several games including Jenga, bocce ball, dominoes and dice. It is a space carefully crafted to facilitate conversation and interaction among guests.
Kathryn Hall Harvest Celebration
Once a year in September (typically in the midst of the throes of harvest), Hall Winery St. Helena hosts a sizable harvest party to celebrate the release of Hall's flagship wine, the Kathryn Hall Cabernet Sauvignon. This lively event features loud live music and a dance floor accompanied with beach balloons hosted on the Great Lawn, lots of delicious food served by a variety of vendors, tastings of the Kathryn Hall Cabernet Sauvignon and access to a photo both to take home a souvenir photograph.
Several other passes allow access to more private areas within the winery including the Library Pass (access to library vintages) and the Platinum Pass providing access to a special tasting hosted of their Platinum Collection wines by Kathryn and her team of winemakers prior to the main celebration + access throughout the event to the Platinum Lounge located inside the historic Bergfeld winery building.
Hall Ambassador Program
This program was setup for Hall wine enthusiasts who maintain an audience of at least 7,500 followers on social media or other digital memberships. Personalities who work well for promoting and selling the Hall wines include lifestyle bloggers, wine experts and influencers, chefs and foodie enthusiasts and certain business owners.
For approved ambassadors, Hall sends quarterly shipments of select wines and offers educational information to help sell the wines. A dedicated marketing specialist is also available to assist with content and ideas.
—
In the spirit of being a "green" winery, Hall was the first Napa winery to install an ECOtality electric charging vehicle station on site. For more information or to join one of their wine club membership offerings (with membership perks provided at their other tasting rooms), visit: www.hallwines.com.
HALL WINERY, ST. HELENA
Historic Bergfeld Winery

Grounds

Hospitality Center

Winery

The Many Costumes of Bunny Foo Foo

OTHER HALL OWNED TASTING ROOMS
WALT Wines, Napa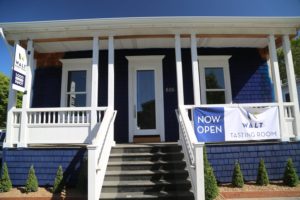 is the second tasting room for WALT Wines – this opened on June 22, 2019, at 605 First Street in the city of Napa. The Napa tasting room is conveniently located in Napa's Oxbow District – a short ride or walk from downtown crossing over the Napa River. WALT Wines is located almost across the street from the Oxbow Public Market and just down the street from the former COPIA property – now owned and operated by the Culinary Institute of America. A select number of parking spaces are available for tasting room customers in the small parking lot next to the tasting room.
This is a very centrally located part of town for both food and wine experiences – with numerous tasting rooms within easy walking distance of WALT Wines. Their tasting room is located in a historic home that dates from 1900 (part of 3 tiny homes that were joined together many years ago). This house has been remodeled several times and the prior tenant Uncorked at Oxbow, also operated a tasting room here. The interior offers a fun and cozy tasting atmosphere.
Tastings are held in several spaces inside including a sit down, side room next to the entrance and at the long bar. Walk in tastings are welcome – private tastings by appointment are held in the tiny tasting salon room in the rear of the home. Two special by appointment only tastings are offered including a chocolate pairing with select wines (partnering with Kollar Chocolate based in Yountville) and what is call a deconstructed wine + food pairing with small bites provided by Carpe Diem Wine Bar, based in downtown Napa. The focus of their tastings are the WALT wines, but tastings are also available for Hall and BACA Wines.
WALT Wines was founded in 2009 by Kathryn Hall to honor her parents, Bob and Dolores Walt (long time grape growers in Mendocino County). WALT is known for their Pinot Noir, but they also produce several Chardonnay wines from select vineyard sources in Sonoma County. With a tagline of, "1000 miles of Pinot" they source fruit up and down the west coast of the USA from prime Pinot Noir growing regions from the Willamette Valley in the north to the Santa Rita Hills in the south with a number of vineyard sites in between including in Mendocino, Sonoma, Napa, Monterey and Santa Barbara counties.
WALT owns several vineyards but also works with growers to purchase additional fruit. The largest of their properties, Walt Ranch is 2,300 acres, formerly known as the Miranda Leonard Ranch. This property is located in the Atlas Peak sub-appellation and after years of planning and preparation has not yet been developed to vineyards. We have been up to this property – parts of this land feature excellent views looking east and from select parts, one can even see into the Central Valley and on clear days parts of the snowcapped Sierra Nevada mountains far in the distance.
While most of their wines are not from the Napa Valley – the production for WALT Wines is at HALL Winery in St. Helena. The one Napa Valley vineyard they source from is the acclaimed 40-acre Brown Ranch Vineyard located on the Napa side of the Carneros District. This vineyard is owned by long time Napa Valley family, the Renterias (also vintners).
The WALT 2017 Brown Ranch Vineyard Pinot Noir is ruby red in color; the wine initially offers some earth and spice notes including aromas of white pepper, truffle oil, hints of cedar and perhaps a floral nuance. More fruit is revealed after the wine has had some time in the glass. Shows a density of flavor without any harsher wood tannins that sometimes can disrupt the finish of wines from this variety. Well layered and nicely balanced with darker spices and just a hint of a wood spice on the lively finish. Red cherry flavors. A very supple finish.
WALT Wines, Sonoma

is located about 1/4 a block off the main Sonoma Plaza (the northwest corner of the plaza)- about a 25–30-minute drive from the WALT Wines tasting room in downtown Napa. This is an ideal location – easy to walk to from anywhere in the Sonoma Plaza area with numerous other tasting room and close restaurant neighbors including the iconic girl and the fig. And Sonoma is home to the northernmost of the 21 California Missions (Mission Sonoma) – a series of missions built in the 1700s and 1800s about a day's wagon ride apart – with the southernmost mission located in San Diego.
One of the tasting experiences at this WALT Wines tasting room is even a pairing with select bites prepared by the girl and the fig. The tasting room is open daily from 11-6pm – reservations are recommended for busier weekend visits. Walk-ins are gladly accepted anytime during their normal business hours if they are not already full. Parking is available curbside or in several spots within an adjacent parking lot. Tastings are held either inside, outside on their front porch or on the north side of the building outdoors under giant redwood trees. The wooden outdoor tables used to be at HALL Winery in St. Helena.
WALT focuses on Pinot Noir; at the time of our last update to this review they were producing 14 different Pinot Noirs. We've tried a number of them, and these are absolutely not cookie-cutter wines from this variety – rather each is unique and very reflective of their particular terroir. The 1,000 Miles of Pinot Noir, a catchy tagline, references the approximate distance between their vineyard in the north (northern Willamette Valley, Oregon) and their furthest vineyard in the south (Sta. Rita Hills in Santa Barbara County). One of the tasting room staff told us the actual mileage is 1,038 but 1,000 is a catchier number! But in actuality, if you map the distance between Portland and Santa Barbara (distances slightly longer than the distance between their two furthest located vineyards) the mileage calculates to 939. In some of their literature, each of their vineyard sites is labeled with its own mile marker.
WALT owns several estate vineyard properties and also sources from premium vineyard sites. The 2016 WALT Corners Pinot Noir (Anderson Valley) is made differently than most of their other Pinot Noir wines. After the grapes have been removed from the stems, the stems are roasted separately in a chili roaster and then about 15% of the stems are put back into the fermentation. On the bouquet, offers ripe raspberry and cherry, red licorice, and rhubarb framed by notes of brown chocolate, baking spices and just a hint of mushroom and old cedar box. Very appealing texture – shows an ethereal density which is both noticeable yet not heavy at the same time. Balanced across the palate, lingers with darker notes on the finish including flavors of cloves, white pepper and tasted oak and baking spices.
A couple of other standouts include the 2015 WALT Bob's Ranch Sonoma Coast Pinot Noir (easily the most robust of the wines we tried) and both the 2016 WALT Rita's Crown Sta. Rita Hills Pinot Noir and the 2016 WALT Clos Pepe Sta. Rita Hills Pinot Noir – both for their wonderful mouth feel – featuring very fine-grained chalk-like tannins.
WALT/BACA Wines, Healdsburg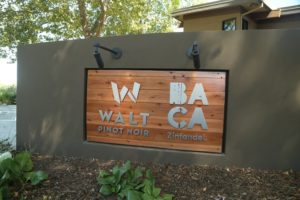 A tasting room for BACA and WALT Wines opened in mid-September 2019 at 776 Westside Road mere minutes from downtown Healdsburg in neighboring Sonoma County. This tasting room is located in the Dry Creek appellation within a short walk of the storied Madrona Manor, a gorgeous Victorian mansion that dates from the early 1880s.
BACA means 'berry' in Latin. This space was the former tasting room of Uptick Vineyards. No winery is currently on the property although there are plans to build a winery which will be exclusively used for the BACA wines. The property is 22 acres and was planted to Chardonnay and Pinot Noir (the grapes were sold to other producers for several years after BACA purchased the property). Once the contracts for these grapes ended, 13.5 acres were replanted in 2022 to Zinfandel, Carignan, Petite Sirah and Alicante Bouschet, all head trained.
Several tasting experiences are offered including a single-vineyard WALT Pinot Noir and Chardonnay flight, a BACA flight and The Crossroads tasting focusing on wines from all three of their brands. The tasting room and bar faces to the north with views overlooking their vineyards and an outdoor patio with seating also offers similar views along with a select number of games (non-digital) that guests can enjoy playing.
BACA focuses entirely on single vineyard Zinfandel sourced from vineyards as far south as Paso Robles and as far north as Sonoma County. Several of the BACA wines are sourced from premium vineyards in the Napa Valley. Every BACA wine is named after a game and perhaps a bit surprising, these wines are all in Burgundian bottles.
The 2017 BACA I Spy Howell Mountain Zinfandel is sourced from the Black Sears Vineyard. The name of this wine pays homage to the elevation of the Black Sears Vineyard – its uppermost vines top out at 2,500 feet, although the 10-acre block of Zinfandel that BACA sources from is around 1,800 feet in elevation. The 2017 BACA I Spy Howell Mountain Zinfandel, according to the tasting room staff is a terroir driven wine. And after smelling and tasting this wine the description is an appropriate one. Reddish purple in color the bouquet shows darker spice notes with raspberry aromas. Fairly soft and supple across the palate, the wine drinks nicely in its youth. Very balanced with flavors of red cherry and lingering notes of darker spices including tobacco leaf and dust. Features earthy tannins with a lively finish.
The 2017 BACA Marbles Pocai Vineyard Zinfandel is from a vineyard on the Silverado Trail owned by the Ballentine family (same family that owns Ballentine Vineyards just north of St. Helena). Fairly purple in color offers pleasing aromas including violets, dried and fresh rose petal and a sweetness of fruit including raspberry. Lovely texture with fine-grained well-integrated tannins anchoring a lively finish. Mouthwatering acidity.
The oldest vineyard they source from as of the time of this review is the Maffei Vineyard in Sonoma County's Dry Creek Valley – the oldest of the vines date from 1928 and are still under the Maffei family ownership (since 1922). Appropriately named Tug O' War – the earliest game known to humans, chosen for this wine to honor the vineyards' age. This vineyard typically produces only 1.5 to 2 tons per acre. The 2017 BACA Maffei Vineyard Tug O' War Zinfandel shows pretty fruit aromatics on the bouquet, a sweetness of cherry and raspberry – riper than the other showings we tried, but not overly ripe. Superbly balanced across the palate, this wine drinks very well in its youth. Offers a clean finish, fine tannins and a noticeable an intensity of fruit that lingers for some time.
NOTE: plans are currently underway to potentially open another tasting room in Sebastopol (Sonoma County). This may still be a few years out. We will keep a close eye on this and will update this review accordingly if/once this tasting room opens.
—
Senza Hotel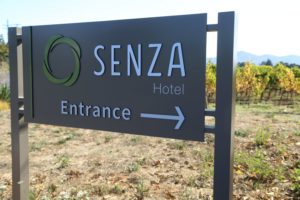 This premium property is located only about 10-15 minutes north of downtown Napa along Highway 29. The property was formerly a Bed and Breakfast called La Residence – Kathryn and Craig purchased the B&B and set about completely renovating the structure and making significant improvements to the property. Today it is a luxury hotel on 2-acres – a peaceful space surrounded by trees close to the often-busy nearby highway 29. In mid 2023 Senza Hotel was sold by the Halls to Dallas based investment firms Cienda Partners and Pendant Capital. We keep our notes here for historical reference.
The 40+ rooms and suites are spread among five buildings including the Parker Mansion which dates from 1870; there are good views of the nearby vineyards from some of the suites. Very pet friendly. A spa room (offering a number of massage treatments), a pool and hot tub are also on site. Like at both of the Napa Valley based HALL wineries, art is an integral part of the property with select sculptures placed throughout the grounds.
And one can walk to lunch or dinner at the nearby long-time restaurant, Bistro Don Giovanni – or enjoy a tasting at Ashes & Diamonds, also within an easy and short walking distance of the hotel. Guests at Senza receive complimentary tastings at HALL St. Helena or WALT Wines in the city of Napa.
In the evenings, one-hour wine tastings are hosted in the lobby area with a representative from a local winery pouring wines. From personal experience, both from pouring wines and from being an invited guest of one of the hotel patrons, these are fun gatherings and a great way to meet other guests. We have noticed consumers at these events fall into two sets of interests: those who just want to drink and have fun and those who are more serious about the wine and want to learn more of the backstory of the brands represented.
—
TEXAS LOCATIONS
HALL Park, Frisco Texas

HALL Park is located in Frisco Texas, about 30 minutes north of Dallas via the Dallas North Tollway or a similar driving time from DFW International Airport. Originally called the Hall Office Park, the roots of this business park date back to the late 1980s when the HALL Group purchased 160 acres of open land in this part of Frisco. From then until now, Frisco has seen remarkable growth from about 6,000 people at that time to over 150,000 today.
With the vision to develop a premiere workspace, HALL Park has become an integral part of Frisco. The first building was constructed in 1997 – and in subsequent years additional buildings opened. Remarkably, today there are more than 2.5 million square feet of office space housed in 17 buildings with more than 180 companies located on site.
This is not your typical business park – driving through the park one is greeted by numerous pieces of outdoor works of art. Over 200 sculptures are located within the park – collected by the HALL Group from a diverse group of international artists. Most of the works are outdoors however, additional pieces are located within all of the office buildings. Several works among the 200+ pieces stand out including Rose Petals by Dennis Oppenheim, Jaguar, a massive linear piece all in red by John Henry and the visually intriguing and odd Giant fish eating a House by Joe Barrington.
In addition, the Texas Sculpture Garden (directly outside of the 6801 Gaylord Parkway building address) contains 4 acres of contemporary works of art featuring Texas based artists. Visitors can download the Otocast app for more information about each of the sculptures and artists – this can be used during a walking and or driving tour of the park. And Dances on the Prairie, filmed in 2001, is a 30-minute documentary highlighting the creation of the Texas Sculpture Garden (available as DVD on Amazon).
Numerous other amenities are on site including HALL ACTIVE – a large fitness center offering monthly membership options, HALL CAR a full-service car wash center, HALL MEET featuring five separate meeting spaces spread throughout the park and HALL SIP, a wine lounge with wine lockers. When looking for cheap eats, often business parks are good destinations! The HALL Art Cafe is an ideal spot to grab a quick breakfast or lunch – offering reasonably priced options – with sit down seating both in the cafe, in the adjoining HALL Sip Lounge and outdoors next to several pieces of art. In addition, a short drive away from the HALL Art Cafe, food trucks park in a coned off section of a parking lot near HALL CAR Care.
One can certainly get some exercise by visiting HALL Park – 3 miles of jogging and walking trails meander around the office buildings, past the art and along several ponds. Several bike share stations are located throughout the park – available for bike share services.
Outdoor

Indoor

HALL Arts Hotel, Dallas
After driving from the world-famous Napa Valley we pulled into downtown Dallas during one of the peaks of a *massively* over-hyped viral outbreak due to people's inability to rationally control their own exacerbated fears based on the warped realities of the actual situation, in part fueled by media. It was also during a multi-day curfew enacted due to sometimes violent riots.

This made for some wildly strange times but if we are healthy absolutely *nothing* will stop us from traveling and this was the 3rd extended Napa Valley focused domestic trip we took between March and June 2020 – taking full advantage of numerous Shelter in Place policies across the country resulting in wonderful traffic conditions and excellent gas prices, while staying in hotels and resorts connected to wineries in Napa Valley at significant discounts, and always one of only a handful of people booked each night.
Conveniently located in the 19-block Arts District in downtown Dallas (1717 Leonard Street) within walking distance of museums, the opera and the symphony – this modern arts focused hotel opened in late 2019. Features 183 spacious rooms (20+ room types) – all with large and comfortable beds, a workspace with plenty of outlets (great for business travelers) and various views of the city skyline. All rooms feature photos taken within the Dallas Arts District and a Leading Hotels of the World book, of which HALL Arts Hotel is a member.
The hotel also offers 6,000 square feet of meeting space, a well-stocked bar (including as expected, select HALL wines) and the airy Ellie's Restaurant and adjacent lounge (named after Craig's mother). Visitors should take advantage of small 'roof' pool – a lovely place to spend part of the evening, especially on a warm Dallas night. A fairly intimate space, it is easy to meet other travelers here and strike up a conversation. Also noteworthy is the large gym.
And the 28-story HALL Arts Residences adjacent to the hotel features a number of premium urban living spaces ranging in size from 1,600 to 10,000 square feet.
This is one of the country's most significant art districts; HALL Arts Hotel is the first hotel in this part of Dallas. Craig developed the high-rise KPMG building (which he later sold), located directly across from the hotel. Worth visiting is the KPMG Plaza at HALL Arts – a small outdoor courtyard between HALL Arts Hotel and the KPMG building housing a diversity of original pieces of art by Texas based & other artists. Arguably the most intriguing of these pieces is PATHS, by Icelandic sculptor Steinunn Thórarinsdóttir featuring 7 aluminum men, including several scaling one of the walls. Access to this courtyard is from the hotel or from one of two street entrances.
All parking is valet with cars parked overnight in the HALL Arts Garage located underneath the hotel – cars can be accessed 24/7. In September 2021, it was announced that HALL Arts Hotel became a member of the Curio Collection by Hilton.
HALL Arts Hotel

KPMG Building + KPMG Plaza at HALL Arts

Craig's First Real Estate Investment, House in Ann Arbor, Michigan
After visiting numerous other Hall properties, standing in front of this unassuming home is a humbling experience when one reflects on the fact that this was the space that began Craig's impressive and far-reaching real estate career when he was only 18 years old – a career originally focused on Michigan rooming houses and apartment buildings and then later diversified in Texas. According to Craig in Boom: Bridging the Opportunity Gap to Reignite Startups his companies at one point owned more then 72,000 apartment buildings and many millions of office space square footage.
Located in a residential college neighborhood serving the University of Michigan, during a recent visit, remarkably decades after Craig's purchase, it appears its main function is still a rooming house for college students.
—
WINE VIDEOS
Hall Wines

BACA Wines

WALT Wines

High-Powered High Heels