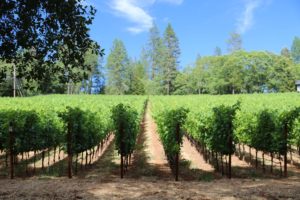 Haber Family Vineyards is owned by Ron Haber and his wife and partner Sue-Marie. We initially met Ron and Sue-Marie at their first California tasting in mid 2009. This was at the Taste of Howell Mountain where they were pouring a barrel sample of their estate Cabernet Sauvignon. This was still an unfinished wine of course, but we truly enjoyed it and made a follow up visit to their vineyards, high on Howell Mountain.
Ron is a native New Yorker and Sue-Marie is from California. Ron has enjoyed fine wines for many years and made a number of trips to the Valley before eventually moving here. He was involved in his family business, W&W Glass Systems in New York City for some 40 years until selling and "retiring" (although although he is still involved and working full time). Ron's father began this business in 1944.
It was during a wine dinner that Ron was running in New York where he met the owner of Napa's Clos Pegase Winery, Jan Shrem (as well as Dr. Mark Cohen, the owner of Howell at the Moon Winery.) They soon became friends and over the past several years they have advised Ron in a number of aspects of the wine business.
When looking for property to acquire in the Napa Valley, the Haber's were very specific on what they wanted – hillside property on Howell Mountain. Their real estate agent located a small property on Howell Mountain that was not yet planted to grapes – in fact there are currently no commercial vineyards planted in the immediate vicinity although just up the road there are some stellar vineyards (Lail, Cade). They purchased the 5.5 acre parcel in 2005; the Haber's soon planted vineyards and today have almost 3 planted acres. Their vineyard is entirely planted to Cabernet Sauvignon to a variety of clones. The vineyard is meticulously managed by one of the oldest families in the valley, the Pina's (Pina Vineyard management – also owners of Pina Winery). Ron enjoys "mountain" grown wines and the focus of Haber Vineyards is on single varietal non blended hillside grown wines.
While waiting for their own vineyard to mature, their first wine produced was a 2006 vintage from Diamond Mountain, released at the beginning of August in 2009. Their first Howell Mountain estate wine was from the 2007 vintage.
As of the time of this review they produce two hillside Napa Valley Cabernet Sauvignon wines (both very different from each other), a Diamond Mountain 100% Cabernet Sauvignon and their estate, also 100% Cabernet Sauvignon. They continue to produce 100% varietal Cabernet Sauvignon because these are the types of wines they enjoy drinking (and obviously their customers have discovered these beautiful hand-crafted wines). And since 2011 they have been producing limited quantities of a Chardonnay.
The Haber's do not own a winery – and have moved several locations over the years including at the old Cuvaison Winery in Calistoga and Bin to Bottle in South Napa. They finally have found what should be a long term permanent home – the exceptional winemaking facility at Brasswood in St. Helena. Timothy Milos has been their winemaker since the inaugural vintage. Timothy has produced wines for a number of clients including Bounty Hunter, Black Coyote, Rubissow and Howell at the Moon.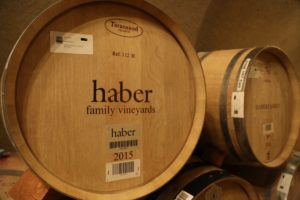 The 2006 Diamond Mountain Haber Family Vineyards Cabernet Sauvignon saw 85% new French Oak during its aging and was bottled un-fined and unfiltered. This is a big intense mountain wine both in flavor and structure. It is dark in the glass with blue fruit aromas including blueberry. The nose also shows notes of cedar and toasted oak. The palate displays complex rich flavors throughout including dark fruits – black cherry, black currant with some herbal characteristics. The finish is very long. This is a good wine to decant now – and with good acidity, fruit and structure certainly has excellent aging potential.
The 2007 estate Howell Mountain is a wonderful wine; it is 100% Cabernet Sauvignon and at that time of our tasting was still in barrel. Their estate vineyards were planted in 2004 and 2005 and this is wine from the "3rd leaf", i.e. the first real year of the vine's production. It is a wine that has come a long ways in a relatively short time and will only continue to improve by the time it is released to the consumer. In contrast to their big Diamond Mountain vintage this wine is already fairly soft and smooth and quickly coming into balance. It has a layered delicious core of fruit from start to finish including plum and red cherry. Hints of vanilla and toasted oak round out the palate with fine grained tannins providing a broad pleasing finish.
Note the label – it is a tribute to both Ron's family glass business and the terroir where their vineyard is planted; the image on their bottles looks through a window at night onto Howell Mountain which rises above the valley fog. They are currently working on distributing in select states and will be found at several wine shops and restaurants in the Napa Valley. The majority of their sales is direct to consumer; production is extremely limited – usually only several hundred cases of each wine. They also maintain a mailing list for direct sales and what is now a waitlist to signup for their Friends of the Vineyard program (a wine club type membership program).
For more information, visit: www.haberfamilyvineyards.com
NOTE: this review has been identified as needing a major update.