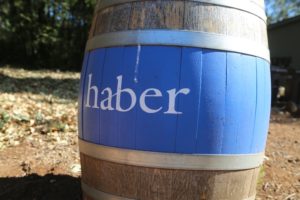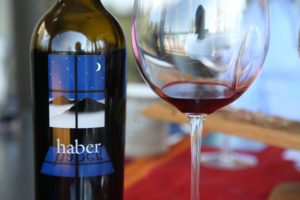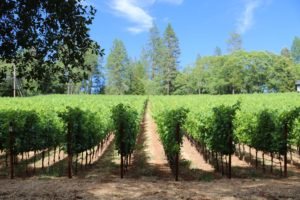 Haber Family Vineyards was founded by Ron Haber and his wife and business partner Sue-Marie. We initially met Ron and Sue-Marie at their first ever California tasting in mid 2009 at the Taste of Howell Mountain at Charles Krug Winery where they were pouring a barrel sample of their estate Cabernet Sauvignon.
Ron is a native New Yorker with an engaging personality and a continuing curiosity to explore both the numerous wineries and brands in Napa Valley and its diversity of personalities; Sue-Marie is from California and helps Ron with all aspects of the business. Both have enjoyed fine wines for decades and while living in New York, would frequently visit Napa Valley.
Ron's father William Haber began Haber & Henry, Inc in 1944 in New York City, a glass and materials company. Ron joined the company in 1968 and along with his brother Jerry, helped run the business for several years until selling in 1971 to a public company called Gemco National; after the sale the operations were moved out of New York City.
Ron and his brother stayed with Gemco National for several years but then both left the company and started W&W Glass in 1977, taking a similar name as one of their window dealers, Chicago based Walls & Windows, Inc. Ron became president of the company's specialty glass division. In 2005, he and Jerry sold the business to the next generation and Ron "retired". This well-known company has significantly expanded the scope of its projects over the years, from at one point being the largest builder of racquetball glass walls in the U.S. to working on a number of significant projects focused on New York but also many projects out of state including museums, airports, malls, universities and major hotels. Several examples of prominent individual properties they have worked on include the Willis Tower in Chicago, Four Seasons Hotel & Tower in Miami, the City Center in Bellevue Washington and the Equitable Insurance Building in Atlanta.
The unassuming headquarters for W&W Glass are located in a business park in Nanuet, New York (about an hour drive north of Manhattan, depending on traffic). W&W Glass owns their headquarters building. They are one of the largest metal and glass companies in the greater New York area and are the largest employer in the region of glazier and ironworkers.
Ron and Sue-Marie were first introduced to Howell Mountain wines during a 3-day wine event in Boca Raton Florida where Beth Nickel spoke (proprietor of Nickel & Nickel and Far Niente wineries) and then presented several of her family's single vineyard designate wines including a wine from the Vogt Vineyard on Howell Mountain. This was the wine that hooked both Ron and Sue-Marie to Howell Mountain. Later during a wine dinner that Ron hosted in New York City he met the founder of Calistoga based, Clos Pegase Winery, Jan Shrem as well as Dr. Mark Cohen, the owner of Howell at the Moon Winery. They soon became friends and in the ensuing years, both men advised Ron in a number of aspects of the wine business.
When looking for property to acquire in the Napa Valley, the Haber's were very specific on what they wanted – hillside property on Howell Mountain. In 2005 their real estate agent located a small property that was not yet planted to grapes – in fact there are currently no commercial vineyards planted in the immediate vicinity although just up the road there are some exceptional vineyard sites (Lail's Mole Hill and 13th Vineyard by CADE Estate). Both Ron and Sue-Marie were in other parts of the country when the real estate agent called them and said, "you have 3 hours to make a decision before the property is opened up to other buyers".
The Haber's quickly purchased the 5.5-acre parcel, sight unseen and before escrow closed hired several vineyard and geology experts to confirm this terroir would be good for growing grapes. Fortunately, it was. They soon planted vines on part of the property in 2004 and 2005 – where horses were previously housed. The vineyard is small, slightly less then 3 acres and is entirely Cabernet Sauvignon (three different clones). For a number of years, the vineyard was managed by one of the oldest families in the valley, the Pina's (Pina Vineyard management – also owners of Pina Winery); today Jim Barbour oversees the management of the vineyard.
Ron enjoys "mountain" grown wines; the focus of Haber Vineyards is on 100% varietal wines produced from hillside grown Cabernet Sauvignon. While waiting for their own vineyard to mature, their first wine produced was a 2006 vintage from Diamond Mountain (grapes they purchase every year), released at the beginning of August in 2009. Their first Howell Mountain estate wine was the 2007 vintage. These two hillside Napa Valley Cabernet Sauvignon wines are both very different from each other, despite as the crow flies, the vineyards are perhaps only a few miles apart. But when one looks at each of these two vineyard properties, one realizes there are numerous differences including elevation, exposure, amount of rainfall, proximity to the ocean and while both sites are volcanic in nature, the types of volcanic soils are remarkably different.
Since 2011 they have also produced limited quantities of a Chardonnay from several sites, at times in either the Carneros part of Napa Valley or from the Russian River appellation in neighboring Sonoma County.
The Haber's do not own a winery, rather they have produced wine in several locations including at the old Cuvaison Winery in Calistoga, Bin to Bottle in south Napa and Arkenstone Vineyards on Howell Mountain. However, they have finally found a long-term permanent home – the exceptional winemaking facility at Brasswood in St. Helena. Timothy Milos has been their winemaker since the inaugural vintage. He produces wines for a number of clients including several brands for Bounty Hunter, Howell at the Moon and several other producers (both Napa and Sonoma).
Select Wines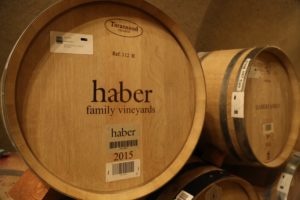 The 2017 Haber Family Vineyards Chardonnay, Los Carneros was not fermented or aged in any stainless steel. Rather it was fermented and aged 50% in new French oak and 50% in second used barrels. The fermentation went slowly at colder temperatures, lasting about a month followed by malolactic fermentation, also in barrel. This wine shows pretty aromatics including notes of dried hay, melon, caramel and various sweet baking spices. Immediately appealing is the wine's texture which is creamy with an almost oily-like viscosity; it is supple across the entire length from start to finish. But equally as impressive is the finish offering a brightness that 'pops' on the palate – a liveliness that lingers for some time with flavors of mandarin and other citrus notes.
The 2016 Haber Family Vineyards Diamond Mountain District Cabernet Sauvignon is dark red in the glass. The bouquet is an elegant one with aromas of sandalwood, sage, red fruits, red licorice, a hint of tobacco smoke and other darker spices – but it mostly shows a core of fruit. It offers flavors of blackberry and cocoa powder with a texture that features fine almost dust-like tannins. Very balanced for mountain fruit along with great acidity (a mouth-watering finish).
Unlike for the first few vintages, today they keep all three clones from their Howell Mountain vineyard separate during fermentation and barrel aging prior to bottling; then the clones are blended together to create the final wine. The 2016 Haber Family Vineyards Howell Mountain Cabernet Sauvignon offers an opulent bouquet with ripe blackberry, blackberry jam and brown chocolate. Smells like dessert in the glass. Well layered with an intensity of fruit and a sweet thread of fruit across the length of the palate. Features a density of tannins with some grip yet these are highly polished in their feel. The texture is an appealing attribute of this wine. Lingers with fruit, tannins and a hint of tobacco leaf on the finish. Has all the hallmarks to be quite age worthy.
The 2006 Diamond Mountain Haber Family Vineyards Cabernet Sauvignon was aged in 85% new French oak and was bottled un-fined and unfiltered. This is a robust and intense mountain wine both in flavor and structure (this east facing vineyard is at about 2,000 feet). It is dark in the glass with blue fruit aromas including blueberry. The nose also shows notes of cedar and toasted oak. The palate displays complex rich flavors throughout including dark fruits – black cherry, black currant with some herbal characteristics. The finish is very long. This is a wine that needs decanting in its youth – with excellent acidity, fruit and structure it certainly has long term aging potential.
The 2007 estate Howell Mountain is a gorgeous wine; it is 100% Cabernet Sauvignon and at that time of our tasting was still in barrel. This wine is from the "3rd leaf", i.e., their first harvest. It is a wine that has come a long way in a relatively short time and will only continue to improve by the time it is released to the consumer. In contrast to the Diamond Mountain wine this wine is already fairly soft and smooth and quickly coming into balance. It has a layered delicious core of fruit from start to finish including plum and red cherry. Hints of vanilla and toasted oak round out the palate with fine grained tannins providing a broad pleasing finish.
Their companion label wine is certainly an immediate conversation starter. Foreplay contains an image of a golf ball with the outline of a lipstick-stained kiss – the color at the end of the stylized putter on the wine label has changed several times over the years including blue to resemble a "blue pill" (a popular name for Viagra) and tan for Cialis. Additional iterations include grey, in tribute to the book and film, 50 Shades of Grey. And the Haber's have an intriguing collection of sometimes salacious quotes their customers and friends have given them in regard to this particular wine!
This wine was originally the result of a golfing and wine trip Ron and Sue-Marie took to Napa Valley with three other couples. During that trip they were introduced to the micro-winery program at Judd's Hill Winery. The couples ordered a barrel of wine and made a home label called Foreplay. Remarkably, one of these original bottles is still on display at Judd's Hill as part of their wall display of creative wine labels. Foreplay is styled to be approachable in its youth, a premium wine available at a very reasonable price point.
—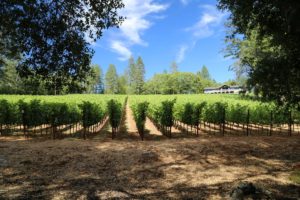 The primary Haber Family Vineyards wine label is a tribute to both Ron's family glass business and their Howell Mountain vineyard; the image on their bottles looks through a window at night onto Howell Mountain with the valley fog blanketing the lower elevations.
The focus of their sales is direct to consumer, through visits hosted at Brasswood Winery with very limited distribution to some of Ron and Sue-Marie's favorite restaurants in Napa Valley and in New York City. Production is extremely limited – usually only several hundred cases of each wine. They also maintain a mailing list for direct sales and what is now a wait list to sign up for their Friends of the Vineyard program (a wine club type membership program).
For more information or to purchase wine, visit: www.haberfamilyvineyards.com