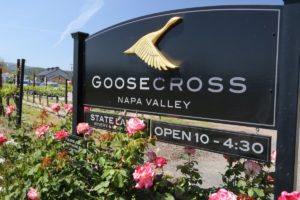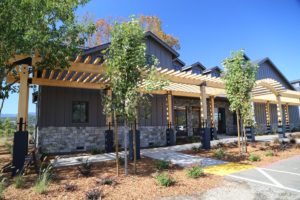 Goosecross Cellars (founded 1985) is small rustic winery well worth visiting. This was privately owned by the husband wife team of David & Colleen Topper for many years until they sold the winery and surrounding vineyard in Spring of 2013 to Golden Equity Investments, a Colorado-based investment firm. Today the winery is run by Christi Coors Ficeli, the great great granddaughter of Adolph Coors. Adolph immigrated from Germany to the United States in 1868 – with his first stop in New York (as was the case for many immigrants during those years). Eventually he ended up in Denver Colorado where he setup the Adolph Coors Company, today known as Coors Brewing Company.
Christi (a graduate of Santa Clara University) worked in the beer industry for some 14 years before getting the urge to make wine (although she did previously work for Gallo for 2+ years doing sales and marketing).
But back to the original founders of Goosecross. The Topper's business partner, Geoff Gorsuch was the winemaker and was David's college roommate down in San Diego many years ago. His family originally planted the estate with vineyards in 1978 and were growers for a number of years selling their fruit to premium wineries including Far Niente and Burgess Cellars. Wondering how they arrived at the name of the winery?…Geoff's last name literally translates to "where the goose crossed the stream" in middle-age English. As a result, you will see "geese crossing" branded onto their wine labels and other marketing literature. Goosecross defines the words fun and approachable with the very friendly & hospitable tasting staff and easy going intimate winery atmosphere.
A visit here is for someone who wants to get off the typical Napa "wine strip" of Highway 29 between St. Helena and Oakville. Harvest is always a good time to visit any small winery and its no different at Goosecross; if they are harvesting grapes you might even be put to work with a pitch fork or given a hose to wash down extra barrels. In our experience over the years and with several visits – the staff (which has changed over the years) as a whole is well trained and very personable.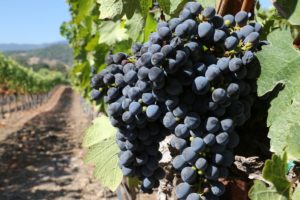 A large selection of distinctive wines are available. As of our latest update to this review, 9+ of the 12 acres are planted to vine on site and they also source some of their grapes from select other vineyards (Howell Mountain and Rutherford). Their focus originally and for a number of years was entirely on Chardonnay and as a result their signature wine is this variety. However, Goosecross is also known for producing a variety of wines from numerous varieties (both whites and reds). The 2006 Goosecross Cellars Chardonnay has a nice nose showing vanilla and notes of red apple – astute noses will even pick up some interesting spices. The palate is rich and somewhat creamy, in part from the sur lie aging in barrel.
They have an excellent Viognier, a not often Napa produced Tempranillo (a Spanish variety) and their V AmerItal which is a blend of Sangiovese and Cabernet Sauvignon. The 2005 Goosecross Celars Syrah is well balanced with a smooth rounded mouth feel and its about this time during your taste that the chocolate may appear from behind the counter. Might as well enjoy this wine with chocolate as it already has nuances of dark chocolate on the palate. It is a juicy wine, with just a touch of spice (this is not your typical peppery spicy grand-dad's Syrah), and currant fruit.
Both their Cabernet Sauvignons are great with food. The 2005 Goosecross Cellars Estate Cabernet Sauvignon has good fruit touched by just a bit of toasted oak with delicate tannins on the finish. The 2004 Goosecross Cellars Howell Mountain Cabernet is a bigger wine full of dark cherry with balanced but structured tannins anchoring the long finish. A sparkling rosé was made in 2004 to celebrate their 20th anniversary and was available for sale in the winery. Also note that some years the fruit is fantastic and they are able to select only the highest quality lots for a very limited production red wine called ÆROS.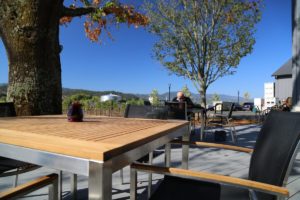 Previously, visitors to the tasting room were given a short questionnaire sheet by one of the staff – one of the questions was "how did you find us". During our several visits we've noticed the most common answer given was "online". The reason for this in the early years of the Internet, was that Goosecross was one of Napa's pioneer wineries in the world of online marketing. They were also the first Napa Valley winery to start their own Podcast feeds.
From May through October they offer something quite unique among Napa wineries – the "wine basics" class which is very reasonably priced…it is free! These classes are great for the wine novice as they cover tasting techniques, how to tell a wine's structure, wine storage and more. Additional very hands on tours and wine seminars are also offered – all by appointment only. Lastly, check out their chocolate coated wine bottles! We have only seen these in one other Napa winery. They make great conversational presents as well as delicious semi-edible gifts.
The house built on site in 1978 that was located next to the winery for several decades was torn down in late summer 2014 – as was the existing winery and tasting room. A new winery opened in time for the 2015 harvest and was built on the footprint of what used to be the gravel parking lot. In addition a small hospitality center was built and opened in September 2015. This modern tasting room is inviting with nice views to the west overlooking their vineyards – a small patio is located outside which offers seated tastings. Guests who remember visiting the old Goosecross tasting room and winery, will wonder if they are on the same property – based on all the changes that have since been made with the transition in ownership.
And like only several wineries in the Napa Valley that see visitors, Goosecross Cellars has no distribution and sells all of their wines direct to consumer (most often to guests who have visited the winery). Total annual production is around 5,000 cases per year. For more information or to join one of their wine clubs, visit: www.goosecross.com
NOTE: this review has been identified as needing a major update.