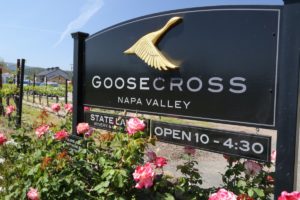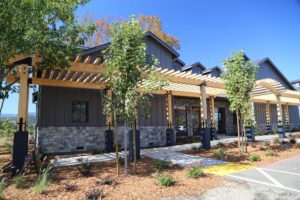 Goosecross Cellars is located only a few minutes' drive from Yountville, yet feels very much off the beaten path. This still small winery was founded by two couples in 1985, David & Colleen Topper and winemaker Geoff Gorsuch and his wife Karen. They operated Goosecross Cellars until the Spring of 2013 when they sold the winery and surrounding vineyard to Golden Equity Investments, a Colorado-based investment firm. In September 2021 the winery was purchased from Golden Equity Investments by Christi Coors Ficeli, the great great granddaughter of Adolph Coors and her husband David. Adolph immigrated from Germany to the United States in 1868; his first stop was in New York. Eventually he settled in Denver, Colorado where he began Adolph Coors Company, today known as Coors Brewing Company.
Christi (a graduate of Santa Clara University) worked in the beer industry for some 14 years before getting the urge to make wine, although she did previously work for E. & J. Gallo Winery in Modesto for 2+ years in sales and marketing and is where she and David first met. David's career has been in the wine industry since he graduated with his MBA from the Owen Business School at Vanderbilt University. After working at Gallo in marking for their brandy products, he founded a negociant wine company with domestic distribution and more recently served as the General Manager for Jackson Family Wines' Napa County.
But back to the original founders of Goosecross. Geoff (David's roommate at San Diego State – go Aztecs!) was their winemaker until 2013. His family originally planted the site (State Lane Vineyard) with vines in 1978 and were growers for a number of years selling their fruit to premium wineries including Far Niente and Burgess Cellars.
Wondering how they arrived at the name of the winery? Geoff's last name of Gorsuch literally translates to "where the goose crossed the stream" in middle-age English. And during the early years of their ownership, a pair of geese lived on State Lane; one of birds had an injured wing and both he and its mate ultimately settled here year round. Over the years numerous other Canadian Geese have lived on surrounding vineyards including in 2021 one goose nesting among Goose Cross's surrounding vineyards. An image of a goose is printed on their wine labels and other marketing literature.
Visits to Goosecross Cellars are defined by the words fun and approachable; we have visited the winery a number of times over the years and besides the quality of wines, the one constant is always the very friendly & hospitable tasting staff and easy going intimate on-premises atmosphere. Strong hospitality and customer relations dates back to David Topper; we found a quote from an article in the Napa Register years ago which sums this up nicely, "wine is my product and if I fall in love with my product, I'm in trouble. I need to fall in love with my customer's needs."
A visit here is for those who want to explore beyond the Napa Valley "wine strip", a section of Napa Valley between Yountville and St. Helena along Highway 29 featuring a number of prominent and iconic Napa Valley wineries. Harvest is always a good time to visit any small winery and it's no different at Goosecross; if grapes are being processed, one might even be put to work with a punch down tool or given a hose to wash down barrels 🙂
The old house built in 1978 and the previous winery were torn down in late summer 2014. A new winery opened in time for the 2015 harvest and was built on the footprint of what used to be a gravel parking lot. In addition, a small hospitality center opened in September 2015. This modern tasting room is inviting with picturesque views to the west overlooking their vineyards from a small patio located outside. And weather permitting, this is where seated tastings are hosted.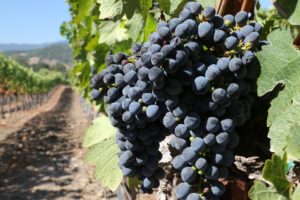 Guests who remember visiting the old Goosecross Cellars tasting room and winery, will wonder if they are on the same property – based on all the changes that were made with the transition in ownership.
Their focus was originally and for a number of years on Chardonnay; when the original owners purchased the property it was planted entirely to Chardonnay. In 2003 several red varieties were planted on the property. At one point Goosecross produced more than 25 different wines including several from outside of Napa Valley. Today the number of wines produced has been scaled down considerably and all wines are produced from within Napa Valley.
Goosecross produces four selections of wines including: State Lane Vineyard (the vineyard surrounding the winery), Micro Lot wines which are from single vineyard single sub appellations within Napa Valley including from Howell Mountain and Oakville, Napa Valley wines and Abstract. Wines bottled under Abstract are limited production blends or unique bottlings including their 'black Chardonnay', 02X in which the grapes are left on the skins for 24 hours, then foot treaded and the resulting oxidized juice turns dark prior to pressing and fermentation.
The State Lane Vineyard is planted to 9 of 11 total acres including Cabernet Sauvignon, Merlot, Cabernet Franc, Malbec and more recently, Chardonnay.
The Goosecross wines showcase both the variety, their terroir and vintage variations. Winemaker Bill Nancarrow is not a hands-off winemaker and his approach is heavily rooted in the details of winemaking – but with that said he is not manipulating the wines to be a certain style. Although if we were to categorize these wines into any sort of mold, they are balanced and food-friendly bottlings.
Select Wines
Goosecross
The 2022 Goosecross Rosé for Lucy is named in honor of Christi and Dave's daughter Lucy who loves the color pink. This wine is made from Pinot Noir growing off of Highway 12 cross from Sunrise Ranch Winery in a cooler climate southeast of the city of Napa. And these grapes are grown specifically for making this rosé; rather than bleeding off juice (Saignée). This wine was whole cluster pressed and fermented over three weeks in stainless steel. This is one of Goosecross's best selling bottlings and always sells out quickly. It is salmon color; the bouquet smells fresh and youthful with aromas of citrus, rose petal, bubblegum, a flintiness and some mineralities. It offers flavors of wild strawberry, lime, apple and an herbal note. Balanced, flavorful and easy drinking, we can see why this is a fan-favorite.
When accessing ripeness in Sauvignon Blanc, Nancarrow always looks for flavors of green apple followed by a development of flavors closer to lemonade. Goosecross continues to produce their Sauvignon Blanc from the nearby Yount Mill Vineyard (also in the Yountville sub appellation). These vines grow on flat ground in fairly uniform soils; complexities in the wine are contributed in part due to the variable vine age within the vineyard. These grapes are harvested in one pick.
The 2022 Goosecross Sauvignon Blanc is light to medium straw in color; the bouquet offers aromas of citrus blossom, papaya, passion fruit and a hint of lemon grass and juniper berry. As the wine evolves in the glass the scents become a bit more tropical and sweet. But these tropical influences on the bouquet do not necessarily continue onto the palate. Rather, this wine offers flavors of apple and citrus including lime and pomelo. This wine is beautifully balanced and doesn't cross over into green or grassy territory but offers a mouth watering and lively acidity across the palate including on the lasting finish. And like in the vineyard, in the cellar this is also a very thoughtful and carefully made wine.
81% of the 2022 Sauvignon Blanc was aged in stainless steel tanks, 13% in concrete eggs and 6% in neutral French oak with each vessel taking between 2 and 4 weeks to ferment to dryness. The three lots were then aged separately for 3 months before being blended prior to bottling. The oak aging helps add texture to the wine despite no battonage, while the eggs add a certain, "edge" as Nancarrow refers to it, and a rounded mid palate and the stainless steel highlights the varietal characteristics. The wine was aged in the barrels and concrete eggs on the gross less for as long as possible.
The 2018 Gooscross Sauvignon Blanc is straw color in the glass; this wine offers pretty aromatics including citrus blossom, goose berry, grapefruit, and a minerality nuance. Rounded across the palate, it's texture is slightly creamy accompanied by a sweet note of fruit on the finish and lively acidity. The flinty or mineral note on the bouquet also lingers on the finish. This is a very balanced showing that is not green nor grassy.
The 2019 Goosecross State Lane Vineyard Merlot (100% varietal). This wine is crafted from two distinctive clones of Merlot growing on the property; each harvest 3-4 separate picks are made of this variety, each 1-2 tons. The grapes are then cold soaked for three days and fermented separately from each other in open-top bins with a few punch downs daily and go through a soft press before being barreled down. This vintage was in barrel for 20 months in 100% French oak of which 40% was new. This wine is medium to dark ruby in color; the first descriptor we wrote to characterize the bouquet was spiciness. It offers aromas of white pepper, toasted oak, menthol, Asian spices, rose petal and raspberry. The palate offers a pleasing light tension between structure, fruit and acidity offering a slightly creamy mouth feel. This wine shows flavors of plum, dark cherry and currant. It finishes with well-integrated tannins and a light touch of spices including toasted oak and a lingering light dryness. And along with their Chardonnay and Zinfandel, Merlot is one of the three varieties that new customers are often surprised by in a good way (based on previous experiences of trying lesser quality bottlings of this varieties).
Nancarrow treats the Cabernet Franc similar to the how he crafts the Merlot including using barrels from similar coopers. The 2019 Goosecross Cellars State Lane Cabernet Franc (100% varietal) is deep ruby in color; the bouquet is immediately spicy including of white pepper, dried herbs along with plum and raspberry. Give it time to open as the fruit aromatics will become more expressive. The palate is balanced and offers flavors of plum, blueberry and currant. The tannins are medium bodied and are accompanied by a finish lingering with notes of pepper and dried herbs including sage. We noted the finish features a savory character supported by its lively acidity. This Cabernet Franc is well worth seeking out. For some reason, pairing this wine with grilled lamb immediately popped into our mind when we were tasting it. This wine was aged for 19 months in French oak barrels of which 50% was new.
Cabernet Sauvignon comprises about 50% of their total State Lane Vineyard including several different clones. The 2019 Goosecross State Lane Vineyard Cabernet Sauvignon is 97% Cabernet Sauvignon (clones 15, 169 and 337) and 3% Petit Verdot. Their Petit Verdot has since been pulled out of the vineyard. Each clone was fermented and aged separately before blending prior to bottling. This wine is deep ruby in color; the bouquet offers scents of darker baking spices, a light pepper note, wood spices, blackberries and as it opens, dark chocolate and a hint of vanilla. This bottling offers flavors of dark cherry, red plum and raspberry. The palate is ripe (but not overripe) and shows a light perceived sweetness of fruit. Structurally, this is a softer Napa Valley Cabernet Sauvignon but with plenty of complexity and intensity on the palate. The finish lingers with a note of dried tobacco leaf.
2011 is an excellent glimpse into a vintage that was more challenging than normal due to late rains into June and early rains during September as well as cooler overall growing conditions. As a result, vineyards in parts of the valley had a hard time ripening to optimum maturity. It was a vintage in Napa Valley that was generally panned by critics and a year where individual sites played an extremely important role along with winemaker skill including their ability to carefully sort the fruit prior to fermentation.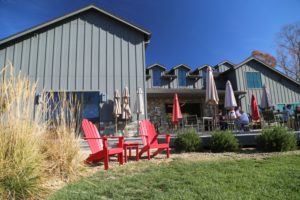 The 2011 Goosecross Cabernet Sauvignon is only 13.3% alcohol. Offers darker fruit aromatics including plum along with a hint of tobacco leaf, jalapeno pepper, cigar smoke and other darker spices. This is a wine that one can smell the vintage. Lighter in body, it shows more higher-toned red fruit flavors than darker fruit including red cherry and rhubarb. Offers a bright acidity with a cranberry tartness that lingers on the finish along with hints of chocolate. The tannins are so soft and finely integrated into the finish, one barely notices their gentle kiss.
Holly's Block is a small section of 6 rows within the vineyard next to the patio planted entirely to Cabernet Sauvignon clone 169. This tiny section within the vineyard produces their finest Cabernet Sauvignon on the property. When Nancarrow identified these special rows, he suggested they produce a stand alone bottling. 2014 was the first vintage of Holly's Block. The wine is named after Christi's grandmother, Holly Coors. These grapes are always harvested multiple times; in 2019 they picked twice and fermented each picks separately and then blended them together after pressing for 19 months in 100% new French oak barrels. The small grapes and resulting concentrated wine are complemented by a more aggressive new oak aging program.
The 2019 Goosecross Holly's Block Cabernet Sauvignon is deep ruby in color; the nose is immediately wide open offering a diversity of fruit aromatics including of dark cherry and blackberry. The fruit clearly outpaces the oak on the bouquet; the barrel influences are a complementary characteristic here. The richness of the aromatics carries on to the palate with mostly dark fruited flavors including of cherry, blackberry and currant. The lengthy finish shows both grape and oak tannins along with an accompanying woodsy spice. The wine's broadly distributed texture persists as an integrated character rather than an out of balanced one.
During very select years where the quality of grapes is exceptional, Goosecross creates a very limited production wine called ÆROS crafted from both the best blocks within their State Lane Vineyard and also a further barrel selection from those blocks. Each variety is harvested and fermented separately until the final blending. This wine is named after the Greek God of passion and features a metal winged label on the bottle – each one has to be adhered by hand. And because it makes more economic sense to order these 'labels' in volume, they order enough for several vintages. A current release of this bottling is usually around 4 years post vintage as it typically spends two years in barrel and two years in bottle.
The 2019 Goosecross ÆROS is a blend of 58.4% Cabernet Sauvignon, 25% Merlot and 16.6% Cabernet Franc. This wine was aged for 25 months in French oak barrels of which 90% was new. This wine is dark ruby in color; the bouquet is highly expressive including of both fruit and spices. It offers scents of blackberry, boysenberry, violets, darker spices and herbs. And as the wine opens it reveals additional notes of chocolate and a light woodsy spice. The palate is filled with fruit including of red and dark cherry, dark plum and licorice. Bright acid. The tannins hold up to the complexity and intensity of the fruit; they are not heavy but are certainly felt. This is a robust yet balanced wine, not words we often dovetail together in a description.
The 2015 Goosecross ÆROS Bordeaux Blend is dark red with purplish tinges on the rim; this wine showcases a diversity of aromatics most prominently it's fruit with notes of blackberry and a hint of red licorice. The bouquet also includes darker spices of cloves, cedar, toasted oak and chocolate. Well layered across the palate, this wine offers both simultaneous depth, structural power (chewy tannins) along with lively acidity. Darker spices linger on the finish including of crushed black pepper.
The 2005 Goosecross Syrah is well balanced with a supple and rounded texture. While tasting this wine one of the hosts may present small pieces of chocolate as this pairing complements this wine nicely. This is a juicy wine with flavors of currant along with a kiss of spice which is more subdued rather than exhibiting the characteristics more common in a peppery and spicy Syrah.
The 2005 Goosecross Estate Cabernet Sauvignon features an intensity of fruit on the palate complemented by a hint of toasted oak and delicate tannins which linger softly on the finish. The 2004 Goosecross Cellars Howell Mountain Cabernet Sauvignon is a more robust wine with flavors of dark cherry with balanced but structured tannins anchoring the long finish. Both bottlings are built to be enjoyed with food.
c. elizabeth

Available for tasting or purchase at Goosecross Cellars, but a separate label also owned by Christi and David, is c. elizabeth, a very limited production Cabernet Sauvignon. The first vintage of c. elizabeth was from 2014 but the inception of this wine dates back much further; Christi and Dave were introduced to wines produced from American oak throughout their travels around the country. In 2014 (the first vintage of c. elizabeth), they approached Nancarrow about producing such a wine using grapes from Napa Valley. He introduced them to the nearby Game Farm Vineyard in Oakville owned by long time Napa Valley grower Alex Vyborny. Its hard to validate something like this, but Nancarrow thinks this may be the rockiest vineyard site in all of Napa Valley. Call the site what you want, but for those who work with this site, it is commonly referred to as the Rock Pit, the Rock Pile and the Boulders. The sheer volume of and size of the rocks makes this a challenging site to farm; when pruning the cuttings are not left on the ground but rather are incinerated as they are being cut off the vines.
The property remarkably features a significant soil variation; within approximately 200 yards from the rocky section is another section called Trailside, featuring reddish rocky and iron-rich soils with an actual layer of top soil. Looking to producing as Nancarrow told us, "a more interesting and compelling wine with some texture" he sources grapes from both sections of this vineyard. While the grapes from each section are both the same clone of Cabernet Sauvignon, their resulting characteristics are different from each other especially in terms of their textural contributions to the wine.
Early on in the production of the c. elizabeth, Bill, Christi and Dave experimented with numerous types of American oak sourced from various coopers including some formerly used Silver Oak American oak barrels. They tried oak from Minnesota, Missouri and Pennsylvania, ultimately preferring water bent staves from Pennsylvania (with 48 month stave aging) but also using some barrels from Missouri. Their goal was to showcase more of the elegant side of American oak in this wine, similar to some of their favorite American oak aged wines including Penfold's Bin 707 and Ridge's Montebello. Total new oak in the c. elizabeth is typically less than 50% each vintage.
The 2018 c. elizabeth Cabernet Sauvignon (100% varietal) is deep ruby in color with an amaranthine rim; the bouquet offers a union of both fruit and barrel influence including raspberry and blackberry along with a tobacco spice, dried herbs and a light hint of dill. Give this wine time to breathe, the bouquet will continue to evolve and eventually reveal an aromatic layer of a light vanilla sweetness. The herbal notes on the bouquet are also represented on the palate, especially on the finish. This wine offers primarily red-fruited flavors including cherry and currant. One can feel the tannins but they are nicely integrated and linger softly with bright acidity, a note of toasted oak and a light pepper spice. This wine is generally held back an additional year before release.
The name C refers to Christi's name while Elizabeth is a tribute to a number of women named Elizabeth in Christi's own family. The label refers to their philosophy in life and also the style of wine. It is understated and elegant looking. The backward 'e' in the name acknowledges imperfection while recognizing the importance of always striving to improve in whatever one practices in life. And as Dave told us, "we produce this wine for us and for the people we care about, our family and friends".
—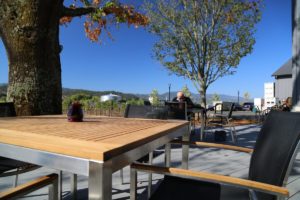 Goosecross Cellars offers a current release tasting either outside on the patio with bucolic views overlooking their vineyards (weather permitting) or indoors at the circular wine bar. Tastings typically include an older vintage or two and are by appointment only; during slower off-peak times, same day appointments can usually be arranged. For Cabernet Sauvignon enthusiasts, Goosecross provides a Cabernet Sauvignon only tasting. And Goosecross also offers a food and wine pairing, typically hosted in a private room.
During some of our original visits many years ago, we recall visitors were given a short questionnaire sheet by one of the staff; one of the questions was "how did you find us"? We always noticed the most common answer given was "online". The reason for this was during the early years of the Internet, Goosecross was one of Napa Valley's pioneer wineries in the world of online marketing. They were also the first Napa Valley winery to start their own Podcast feeds through their show, Napa Valley Wine Radio.
And until February 2022, similar to only a handful of wineries in Napa Valley who see visitors for tastings, Goosecross Cellars had absolutely no distribution and sold all of their wines direct to consumer (most often to guests who have visited the winery but also through their online store). In early 2022 Goosecross Cellars entered into a wholesale distribution partnership with Old Bridge Cellars for select wines and limited distribution.
As of our latest update to this review, total annual production is around 5,000 cases per year. In addition to their own production, a limited part of their winery is used for custom crush clients. For more information, to schedule a tasting or to join one of their wine clubs, visit: www.goosecross.com
Winery

State Lane Vineyard

Original Winery/House

Golden, Colorado