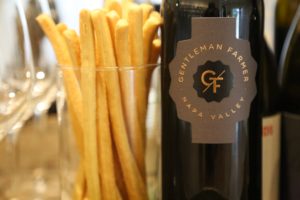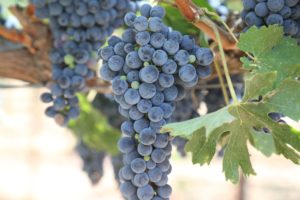 Gentleman Farmer Wines is a partnership between and Joe Wolosz and Jeff Durham – both who have long careers centered around hospitality and the culinary worlds. Joe grew up around hotels (his family owned two along California's coastline including El Patio Motel and The Wayside Motel); later he worked in restaurants and tasting rooms. Jeff's family used to farm 22 acres in Oak Knoll – Jeff has a degree in Hotel & Restaurant Management. And today Joe and Jeff also own The Redwood Fortuna Riverwalk Hotel (located in Fortuna, California).
Sommelier Scott Tracey used to be involved and is who we originally met with. Scott moved to the valley from Los Angeles and helped open La Toque restaurant. As he told us, he could always find a good job at a premium restaurant in Los Angeles and left that possibility open when he first came to the valley. However he realized the differences in lifestyle when during La Toque's first week of business a patron ordered a well-known Napa wine because "his daughter was on the same team as the vintner's daughter!"
Today Gentleman Farmer Wines produces around 600 cases (varies from year to year). Their first vintage dates from 2005 and they've had the privilege of selling out nearly everything they produce. This was part of the reason they recently increased their production. They focus on three red wines, two Cabernet Sauvignons and a Cabernet Franc. Their primary vineyard source is on the cooler part of the Napa Valley – the Oak Knoll District (including from the well-regarded Red Hen Vineyard, Boyd Vineyard and the historic Muir-Hannah Vineyard – which supplied some of the Chardonnay for Chateau Montelena's award winning 1973 Chardonnay from the Judgement of Paris tasting in 1976) and also from select vineyards in a warmer part of the valley, St. Helena.
With their backgrounds it is only natural the style of wines they produce are food friendly. As Scott told us, "our style benefits our story". These wines are not about the power and intensity of the fruit – rather they speak to the vintage. Several of their vineyard sources are constant from year to year but with many contacts in the valley they certainly are not opposed to using fruit from new sources.
Wines/Winemaking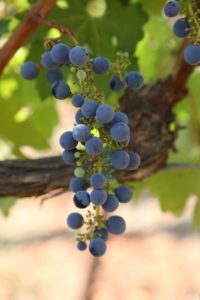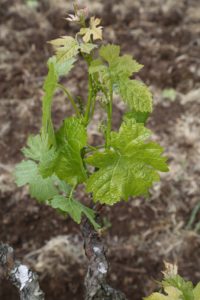 Winemaker Jason Moore has been making the wine since their first vintage. When Jason was attending classes at UC Davis he decided he wanted to live and work in Napa to be closer to the "vines" rather than live in the town of Davis (about an hour away). He worked for Scott at La Toque and appreciated the style of wines that are best paired with food.
Originally founded as Poem Cellars, the brand has since transitioned to Gentleman Farmer Wines. They strive to showcase the fruit in their wines rather than the oak – over the few years they have actually scaled back the amount of oak used for aging the wines.
The 2008 Poem Cellars Engaged Napa Valley Cabernet Sauvignon is from a dry farmed vineyard in St. Helena. The wine has good color – it is fairly dark. The bouquet is complex, intriguing and very aromatic – notes of raspberry, baked cherry and as the wine opens aromas of delicate vanilla show. The plate is rounded with layers of flavor – both red and dark fruit. Even some baking spices show. The wine has great acidity as well as a long and lively finish. Notes of black cherry linger along with the fairly soft fine-grained tannins.
Cabernet Franc is one of Scott's favorite varieties and in fact is blended in both of their Cabernet Sauvignons. The 2008 Poem Cellars Napa Valley Cabernet Franc is an elegant wine from the bouquet through the palate to the finish. The delicate perfume driven bouquet also shows a slight dustiness. Balance is the key to any wine and this Franc has plenty of it. It is soft and seductive throughout the palate. Notes of Raspberry and red currant show. Liquid velvet. The finish is clean and delicate. This is a beautiful representation of what this variety can do when it grows in an area where it can fully ripen. It is certainly one of the most inviting and pleasant Franc's we've tasted from Napa. Only 24 cases.
The Gentleman Farmer 2016 Cabernet Sauvignon is very dark red with purplish tinges on the rim – mocha, espresso, black licorice, cedar plank, black olive, spicy plum, ripe blackberry and milk chocolate – the bouquet delivers a wide diversity of aromas. Not heavy on the palate – features a fine grip of delicate and dry tannins which linger softly. The finish also features mostly darker fruit (plum). Nothing is out of balance with this wine – seamless from start to the finish. Also to be commended for its lovely texture.
The "little man" that appears on the label for the Cabernet Franc is iconic and quickly draws one's eye to the bottle. It is an image of a "paper doll" of a dapperly dressed man. The image represents celebration and elegance – qualities they wish to associate with this wine.
Gentleman Farmer Wines publishes short "haikus" or prose (3-4 lines) on their corks for every vintage. Looking to make "your mark" on their corks? You can enter your own lines for consideration.
Their wines are found throughout the Napa Valley at premium restaurants and at a number of wine shops as well as in Los Angeles. Locally certain vintages of select wines can be found at the Oakville Grocery. Tastings can be arranged by appointment and are typically held with Joe at Silenus Winery where they produce their wines (located just south of Yountville). Silenus Winery features a number of wines at their tasting room from producers who make their wine here – including select Gentleman Farmer Wines. The wines are mainly sold direct to consumer through their allocation list. For more information or to signup for their allocation list, visit: www.gentlemanfarmerwines.com
The Redwood Fortuna Riverwalk Hotel
Our visit, notes and photos coming by end of 2021.