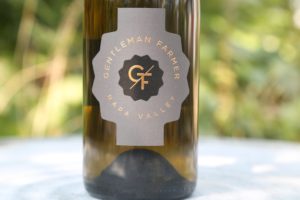 Gentleman Farmer Wines is a partnership between Joe Wolosz and Jeff Durham; both who have long careers centered around hospitality and the culinary worlds. Joe grew up around hotels (his family owned two along California's coastline including El Patio Motel and The Wayside Motel); later he worked in restaurants and tasting rooms. His first real estate purchase was the now closed Halcyon Hotel in San Francisco. Jeff's family used to farm 22 acres in Oak Knoll – Jeff has a degree in Hotel & Restaurant Management. And until selling it 2023, Joe and Jeff used to own The Redwood Fortuna Riverwalk Hotel (located in Fortuna, California).
Sommelier Scott Tracey used to be involved; we originally met with both Scott and Joey in Yountville. Scott moved to the valley from Los Angeles and helped open La Toque restaurant. As he told us, he could always find a good job at a premium restaurant in Los Angeles and left that possibility open when he first came to the valley. However, he realized the differences in lifestyle when during La Toque's first week of business a patron ordered a well-known Napa wine because "his daughter was on the same team as the vintner's daughter!"
Today Gentleman Farmer Wines produces around 600 cases (varies from year to year). Their first vintage dates from 2005 and they've had the privilege of selling out nearly everything they produce. This was part of the reason they recently increased their production. They focus on three red wines, two Cabernet Sauvignons and a Cabernet Franc. Their primary vineyard source is on the cooler part of the Napa Valley – the Oak Knoll District (including from the well-regarded Red Hen Vineyard, Boyd Vineyard and the historic Muir-Hannah Vineyard – which supplied some of the Chardonnay for Chateau Montelena's award winning 1973 Chardonnay from the Judgement of Paris tasting in 1976) and also from select vineyards in a warmer part of the valley, St. Helena.
With their backgrounds it is only natural the style of wines they produce are food friendly. As Scott told us, "Our style benefits our story". These wines are not about the power and intensity of the fruit – rather they speak to the vintage. Several of their vineyard sources are constant from year to year but with many contacts in the valley they certainly are not opposed to using fruit from new sources.
Select Wines/Winemaking
Winemaker Jason Moore has been making the wine since their first vintage. When Jason was attending classes at UC Davis, he decided he wanted to live and work in Napa to be closer to the "vines" rather than live in the town of Davis (about an hour away). He worked for Scott at La Toque and appreciated the style of wines that are best paired with food.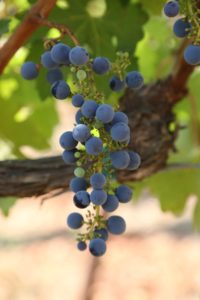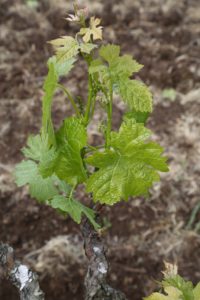 Originally founded as Poem Cellars, paying homage to Robert Louis Stevenson's famous quite, "and the wine is bottled poetry" but after discovering another brand owned the trademark to this name, Poem Cellars transitioned to Gentleman Farmer Wines. They strive to showcase the fruit in their wines rather than the oak – over the few years they have actually scaled back the amount of oak used for aging the wines.
The 2018 Gentleman Farmer Napa Valley Chardonnay is from the historic Muir-Hanna Vineyard in the Oak Knoll District. This vineyard is owned by John Muir's great grandson and family; it was one of the Chardonnay vineyards that produced the fruit for Chateau Montelena's 1973 vintage which won the "Judgement of Paris" tasting. The other vineyard source for this acclaimed wine was from the Russian River appellation in neighboring Sonoma County.
This 2018 bottling is medium golden in color; offers pretty aromatics including lemon/lime, honeycomb, honeysuckle, popcorn butter, and sweeter dessert spice nuances including a browned sugar note. Shows a softness and roundness of texture across the palate complemented nicely by flavors of mandarin and ripe golden delicious apple. Lingers with plenty of fruit along with pleasing notes of warm vanilla, butter and creme Brule. Drinks far too easily by itself 🙂 Only 168 cases produced.
The Gentleman Farmer 2016 Cabernet Sauvignon is very dark red with purplish tinges on the rim; the bouquet offers aromas of mocha, espresso, black licorice, cedar plank, black olive, spicy plum, ripe blackberry and milk chocolate. Its aromatic profile delivers a wide diversity of scents. Not heavy on the palate, this wine features a fine grip of delicate and dry tannins which linger softly. The finish also features mostly darker fruit (plum). Nothing is out of balance with this wine – seamless from start to the finish. Also, to be commended for its lovely texture.
The 2008 Poem Cellars Engaged Napa Valley Cabernet Sauvignon is from a dry farmed vineyard in St. Helena. The wine has good color and is fairly dark. The bouquet is complex, intriguing and very aromatic with notes of raspberry, baked cherry and as the wine opens aromas of delicate vanilla show. The plate is rounded with layers of flavor including both red and dark fruit. Even some baking spices show. The wine has great acidity as well as a long and lively finish. Notes of black cherry linger along with the fairly soft fine-grained tannins.
Cabernet Franc is one of Scott's favorite varieties and in fact is blended in both of their Cabernet Sauvignons. The 2008 Poem Cellars Napa Valley Cabernet Franc is an elegant wine from the bouquet through the palate to the finish. The delicate perfume driven bouquet also shows a slight dustiness. Balance is the key to any wine and this Franc has plenty of it. It is soft and seductive throughout the palate. Notes of Raspberry and red currant show. Liquid velvet. The finish is clean and delicate. This is a beautiful representation of what this variety can do when it grows in an area where it can fully ripen. It is certainly one of the most inviting and pleasant Franc's we've tasted from Napa. Only 24 cases.
The "little man" that appears on the label for the Cabernet Franc is iconic and quickly draws one's eye to the bottle. It is an image of a "paper doll" of a dapperly dressed man. The image represents celebration and elegance – qualities they wish to associate with this wine.
Gentleman Farmer used to publish short "haikus" or prose (3-4 lines) on their corks for every vintage. Looking to make "your mark" on their corks? One used to be able to enter one's own lines for consideration.
The Bungalow: A Studio for Gustatory Well Being, Downtown Napa
In early 2020 Joey and Jeff purchased an old Craftsman Bungalow house at 1564 1st Street in downtown Napa. They plan to open this for appointment only tastings in February or March of 2023 for Gentleman Farmer wines. The primary 'tourist' part of west 1st Street more recently has been east of Tarla Restaurant. But with the opening of Roots Run Deep tasting room and now this one, there are more reasons to continue a little further west on 1st Street.
The space contains a kitchen and will allow for pairings and or a homemade lunch with the wines. Music will also be a part of the experience with a piano and some other musical instruments on site. Once open, operating hours will be daily from 9-5pm and will focus on hosting wine club members and or wine club member referrals. We will visit and taste current releases, once this space is open – tentatively planned for the fall of 2023. Conveniently the space has several parking spots in a dedicated parking lot behind the building on Sam Lane.
And in 2023 Gentleman Farmer Wines purchased the neighboring historic house (dates from the late 1800s) at 1580 First Street. This home is currently in the process of being restored, and once finished it will be the Gentleman Farmer Guest House. This boutique will offer 5 guestrooms, a lounge and a kitchen.
The Redwood Fortuna Riverwalk Hotel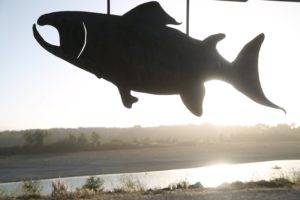 Originally purchased by Joe and Jeff in 2008, this comfortable hotel is located west of the 101 in Fortuna, California (Humboldt County) – about a 4 hour drive from Yountville. They sold this property in 2023 but we keep our notes here for historical reference.
Fortuna is located slightly inland near the Eel River and as a result of its geographical location thankfully receives less fog than nearby Eureka and Arcata which are right next to the chilly Pacific Ocean. Throughout its western history, Fortuna has inextricably been linked to nearby agriculture, lumber, dairies, fishing and served as a junction for the gold miners working the mines in the interior. Known as the 'friendly city'.
The two-story (stairs only – no elevators) Redwood Fortuna Riverwalk Hotel is conveniently located mere minutes from either the northbound or southbound exits off of the 101 freeway. And based on its location – is a close drive to a number of area attractions including numerous redwood sites, beaches and picturesque towns such as Ferndale, Eureka and Arcata.
When Joe and Jeff purchased the property, it was a Holiday Inn Express – and over the years they have added their own personal touches. Clean and comfortable with very welcoming staff and a homey reception area featuring a large regional mural on the wall, a wall of key chains, fishing reels next to the check-in counter (as an homage to the area's fishing industry), use of recycled redwood from an old water tower north of Arcata and plenty of books and other reading materials which can be borrowed by guests.
Several tables are located on the north side of the building along with a barbecue for guests. An indoor pool that staff refers to as the Swimming Hole is located in a side room adjacent to the lobby. Complimentary breakfast is included for each guest and is offered with a choice of two items along with select drinks. And as expected, several of the Gentleman Farmer wines are sold at the reception. The property features plenty of parking although we have seen the parking lot almost completely filled on busy summer weekends.
And a short walk to the west of the hotel is the picturesque Eel River accessed by the levy walk which runs along its shoreline for quite a distance. And along part of this trail (slightly northwest of the hotel) are a number of semi-wild chickens which roost in nearby trees during the evening. During a stay at the hotel, we hatched a wild plan to catch several of the hens for a friend's chicken coop in Napa Valley but were unsuccessful. These birds are much smarter and quicker than they look.
For more information and or to reserve a stay, please visit: www.theredwoodhotel.com
—
Gentleman Farmer wines are found throughout Napa Valley at premium restaurants and at a number of wine shops as well as in Los Angeles. Locally certain vintages of select wines sometimes can be found at Oakville Grocery. Tastings are arranged by appointment; for a number of years until mid 2022 tastings were held at Silenus Winery where they produce their wines (located just south of Yountville). Tastings are now held at the Bungalow.
The wines are primarily sold direct to consumer through their allocation list. For more information or to sign up for their allocation list, visit: www.gentlemanfarmerwines.com