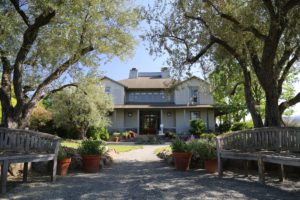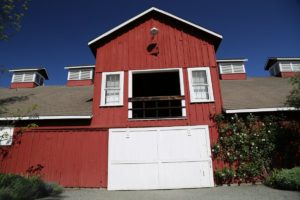 Frogs Leap was founded in 1981 and it is located on site of the old Adamson Winery in the Rutherford Appellation of Napa Valley. The original Adamson "ghost winery" dates from 1884. The winery does not have noticeable signs so look carefully for their sign painted on the white picket fence in front of their driveway.
The original location of Frog's Leap Winery (in St.Helena) used to be commercial frog farm in the late 1800's and is part of the inspiration for the name. Some intriguing more modern day Napa vintner history played an integral role in the founding of this winery. Founder John Williams (is still the owner) came to the Napa Valley in 1975 and became the first employee for Warren Winiarski at Stag's Leap Wine Cellars. John helped bottle the 1973 Stag's Leap Cabernet which won in the now famed Paris Tasting of 1976.
John and his friend Larry Turley (founder of Turley Cellars) made their first barrel of wine from grapes they sourced from Stag's Leaps Wine Cellars. Several years later they decided to make wine commercially and their first vintage was 1981 with a 700 case production of both Sauvignon Blanc and Zinfandel with grapes purchased from Spottswoode Winery in St. Helena. Winemaker Julie Johnson became their first employee in 1984 (she is the founder of Tres Sabores Winery).
Tasting and tours are by appointment and usually last about one hour. If you are visiting during the months of May through the end of Harvest (October) be sure to reserve well in advance as their tours are quite popular. Not only has Frog's Leap farmed sustainable and organically since they started (they are one of the champions of organic farming in the Napa Valley), but their entire operations are "green". They were Napa's first officially certified organic winery receiving this certification in 1988.
They have over 1000 panels of solar cells on 1/2 an acre which allows them to completely be off the grid, and all the gardens on site are also farmed organically. These cells when full producing at maximum efficiency, provide enough power to sustain the electricity for about 150 homes. The main Hospitality Center building is LEED certified (Leadership in Energy and Environmental Design) which maximizes water efficiency, energy storage and recycled materials used in the construction. Note the normal looking gravel parking lot – little do most people know that a series of wells go down 250 feet below this parking lot and act as the heat or cooling source for their hospitality center. Confused on how this works – ask one of the staff!
We've been here a number of times and it is always a peaceful experience away from the crowds you sometimes find at other Napa wineries (although note that there are usually plenty of visitors especially on weekends – but people tend to spread out and walk among the gardens especially if the weather is decent). This is an excellent winery to visit during the spring as the winery is surrounded by beautiful gardens as well as a plethora of flowering trees and other plants.
Hospitality is down to an art here, the staff is very helpful, friendly and knowledgeable. If you are visiting during the summer note that the bathrooms have lotions and Sunscreen. Perhaps you forgot your hat for the outdoor tour? Don't worry, they usually have a few hats on hand! If you arrive early for your tour you will typically be offered a rosé to sip either indoors on one of their plush seating arrangements next to the fireplace or on one of their rocking chairs outside on the deck.
If you take one of their tours, you will start with a sit down introduction of your wine guide as well as everyone else in the group. Your initial tasting will be inside the beautifully renovated main building. This was the most diverse group we've tasted with at any of Napa's Wineries. We had six countries represented among ten people in the group!
Your guide will ask if you know their wine motto – it is "Time's fun when you're having flies!" The tour will walk you among their 4 acres of organically farmed gardens. These gardens produce year round but the springtime is the best to see the many vegetables, herbs and flowers. We even got to sample one herb which is used in making sugar and as expected, tasted just like sugar.
There is so much space on the property that even if there are other groups of people walking around it never feels crowded. Unlike other Napa wineries a visit here feels like a trip to the farm with all their other agricultural selections aside from the vineyards. Look for the big "red" building; this was built in the late 1800's, houses a number of their wine making equipment including large tanks and a visit here is one of the highlights of the tour. There are good views (provided the huge cellar doors are open) overlooking the property from the second floor.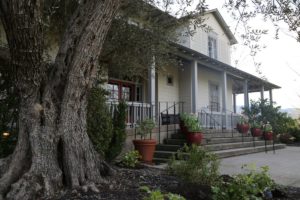 Note their wine corks, most of them say "ribbit" – this was originally conceived by the owner to "poke fun" at those who take wine tasting too seriously. The tour ends with every member of the group trying to shoot a basketball through their quite askew basketball hoop. If anyone actually puts the ball through the basket that person will receive a free 350ml bottle of their Sauvignon Blanc (one of their most popular wines) – this is quite novel as we haven't seen any other winery do something quite like this! Our favorite red wine is their Rutherford Cabernet Sauvignon. This wine sees no new oak and the 2005 vintage very well reflects its Rutherford terroir with dusty and earthy aromas that lead to a palate full of exotic spices combined with cherry and currant.
They exclusively dry farm on over 200 acres and you can almost taste the earthiness in some of their wines. Dry farming takes a lot more work then simply running water lines through the vineyards. The soils need to be built up organically so that they retain moisture – even after some serious heat and long dry spells, if you dig down just a foot or so in their vineyards you will find moisture. As they say, they are "farming for flavor" and you really get a sense of the terroir or where these wines were grown when you taste them.
Check out one of the more unique websites in the valley and if you plan to visit, try to educate yourself about this winery before hand. Your tour guide will typically ask a few trivia questions on the tour and if you are the first to answer correctly you may just be handed a prize! Visit: www.frogsleap.com