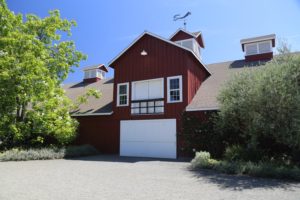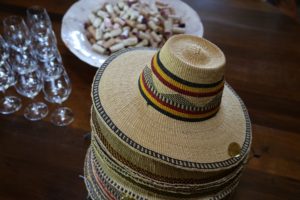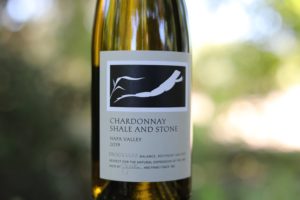 Frog's Leap Winery was founded in 1981 and is located on site of the old Adamson Winery in the Rutherford Appellation of Napa Valley. There are no highly visible winery signs so one has to look carefully for their sign painted on the white picket fence in front of their driveway. Due to demand for tastings and or tours, all visits are strictly by appointment.
Some intriguing more modern-day Napa vintner history played an integral role in the founding of the winery. Co-founder John Williams (is still the owner & winemaker) came to Napa Valley in 1975 from upstate New York where he was raised on a dairy farm; John became the first employee for Warren Winiarski at Stag's Leap Wine Cellars. John helped bottle the 1973 Stag's Leap Wine Cellars Cabernet Sauvignon which took the highest average score from the mostly French judges for red wines in the now famed Paris Tasting of 1976. The judges in this blind tasting evaluated California versus French wines. John also made wine at Glenora Winery in the Finger Lakes District in New York State (the oldest winery on Seneca Lake, founded 1977) in their early years and later was the head winemaker at Spring Mountain Vineyards in Napa Valley.
Frog's Leap Winery was founded by John and his wife at the time, Julie, and Larry Turley and his wife at the time, Jeannine. Larry, the founder of Turley Cellars and brother to well-known winemaker Helen Turley and John made their first barrel of wine from grapes they sourced from Stag's Leaps Wine Cellars. Several years later they decided to make wine commercially; their first vintage was 1981 with a 700-case production of both Sauvignon Blanc and Zinfandel with grapes purchased from Spottswoode Winery in St. Helena. Winemaker Julie Johnson became their first employee in 1984 (later she founded Tres Sabores Winery near St. Helena).
The wine was initially made at what is now a Turley Wine Cellars owned production facility several miles north of the town of St. Helena (the winery is still there but is not open to the public). This original Frog's Leap Winery location used to be a commercial frog farm in the late 1800s and is partly the inspiration for the name.
Not able to afford grapes for their first harvest John and Larry sold their motorbikes to finance their initial wine making efforts!
Larry sold his interest in Frog's Leap Winery in 1993; a year later John leased what is now the current location of Frog's Leap Winery and soon after that purchased the property from the owners of Freemark Abbey Winery.
Glenora Winery + Geneva, Finger Lakes NY

The Property
This historic property used to be home of the Adamson Winery (named after its founder Christian P. Adamson). Wine was made on site from 1884 until 1896 when phylloxera destroyed the vineyards. Wines from Adamson Winery were represented at the Mechanic's Fair in San Francisco in 1887 and at the World's Fair in Paris in 1889 and ultimately were awarded medals. His property was 175 acres and in addition to 140 acres of wine grapes also grew hay and grain. Not all his wine was made from grapes on site; he purchased grapes from other area vineyards including from Chiles Valley.
The red barn was built in 1884 by noted winery designer Hamden McIntyre who was in part responsible for the Greystone building (currently occupied by the Culinary Institute of America), Eschol Winery, (now owned by Trefethen Family Vineyards) and the Niebaum Estate. Hamden was the Howard Backen of the times. Howard is a well-respected contemporary architect responsible for some of Napa's most creative and innovative wineries.
Although in bad shape when Frog's Leap first leased the property in 1994, the red barn was soon remodeled (with most of its remaining wood kept intact) by Ned Forrest Architects, a firm that has designed numerous buildings, mostly in Napa and Sonoma County with select Napa winery clients including Luna Vineyards and Hudson Vineyards. They also boast an impressive interior design resume including for one of their most well-known clients, the French Laundry. The red building is one of the oldest and very few still standing wooden winery buildings in the Napa Valley built prior to 1900 still being used for wine making purposes (Trefethen and BRION being others).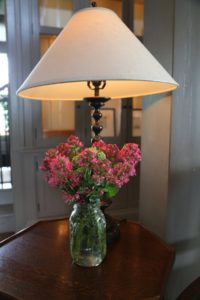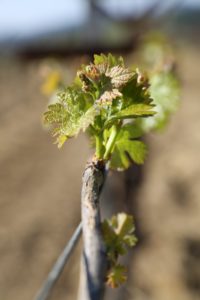 Over 1000 solar cell panels are located on 1/2 an acre; this allows the property to completely be off the grid (and even sell power back at times). When the cells produce at maximum efficiency, they provide enough power to sustain the electrical needs of about 150 homes. The Hospitality House is LEED certified (Leadership in Energy and Environmental Design), the most commonly accepted green building rating system in the world. The winery maximizes water efficiency, energy storage and uses recycled materials. Note the normal looking gravel parking lot, little do most people know that a series of wells are drilled 250 feet below this parking lot and act as the heat or cooling source for their hospitality center. Confused on how this works – ask one of the staff for clarification!
Not only has Frog's Leap farmed sustainable and organically since they started (they are one of the champions of organic farming in Napa Valley), but this philosophy extends to their entire operations. They were Napa Valley's first officially certified organic winery (CCOF), receiving this certification in 1989. All the gardens on site are also farmed organically.
We've been here a number of times and it is always a peaceful experience away from the crowds one sometimes finds at other Napa wineries (although note that there are usually plenty of visitors especially on weekends – but people tend to spread out and walk among the gardens especially if the weather is decent). Spring is an ideal time to visit as the grounds are planted to beautiful gardens as well as numerous flowering bushes and other edibles.
Hospitality
Tasting and tours are by appointment and tours usually last about 90 minutes. If you are visiting during the months of May through the end of Harvest (October) be sure to reserve well in advance as their tours are quite popular during this period, especially on the weekends.
Hospitality is down to an art here, the staff is very helpful, friendly and knowledgeable. Unlike some wineries, the tours are not scripted and that is refreshing – rather letting the conversation flow based on questions from guests. Hosts leading the tours often have experience making wine; during several visits to the winery, we have always found their tour hosts personable and extremely knowledgeable.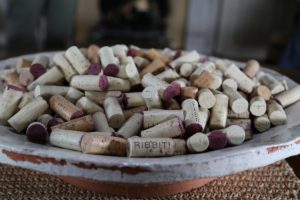 Frog's Leap understands the need for well-educated employees. Every year the winery shuts down for two days for employee training – they visit a number of their own vineyards and taste through their wines against other Napa wines. Frog's Leap Winery encourages employees to further their education outside of the winery and even pays for wine-related classes.
Guests visiting during the summer should note that the bathrooms have lotions and sunscreen. Perhaps you forgot your hat for the outdoor tour? Don't worry, they usually have a few hats on hand. If you arrive early for your tour, you will typically be offered a rosé to sip either indoors on one of the relaxing looking chairs next to the fireplace or on one of the rocking chairs on the exterior deck.
Tours begin with an introduction from the host who provides an overview of the winery, its history and their farming practices. The host carries a number of bottles for the duration of the tour and guests enjoy wines during select stops throughout the property. Unlike most other Napa wineries, a visit here feels like a trip to a farm (despite the property being surrounded by vineyards).
At some point in your tour, you may ask your guide for clarification about their wine motto, "Time's fun when you're having flies!"
The tour wanders through parts of 4 acres of organically farmed gardens. These gardens produce year-round but spring and into summer are the best times to visit (guests are encouraged to try some of the fruits and vegetables). The gardens are diverse with vegetables, herbs, flowers and plenty of fruit trees. Ask about the herb used for making sugar – as expected, it tastes very sweet.
The red barn houses wine making equipment including stainless steel tanks. From the second floor, one has excellent views of the gardens through the open cellar doors.
Many of their wine corks are printed with the word "ribbit" – this was originally conceived by the John Williams to "poke fun" at those who take wine tasting too seriously.
Vineyards/Winemaking

Frog's Leap Winery exclusively dry farms their vines on over 250 acres (175 of which they own). Dry farming takes a lot more work than simply not watering the vineyards. The soils need to be built up organically so that they retain moisture – even after intense summer heat and long dry spells, if one digs down just a foot or so in their vineyards, they will find moisture.
As they say at the winery, "we are farming for flavor"; one can interpret this as farming for balance and not over-ripeness and high alcohol.
And rather than contracting with a vineyard management company, Frog's Leap Winery employs an all-in-house vineyard team – many of whom have been with the company for years. They farm their vines for the long term; we have heard the average age of vines in Napa Valley is somewhere between 20 and 25 years before they are removed most often due to lower yields, but also due to health issues (ie virus). Frog's Leap Winery farms their vines to last much longer than the current Napa averages – ideally up to 80+ years. And if one can avoid vine disease (and phylloxera) there is no question vines can produce remarkable fruit for the long term – we have seen this in the Barossa Valley in Australia where there is a significant higher percentage of old vines compared to Napa Valley.
From vineyards to the winery, the focus is on growing and making balanced food-friendly wines. The wines are all made with non-inoculated (indigenous) yeasts. These are wines showing alcohol restraint; as of our latest visit, none of the wines were above 14% alcohol – a rarity these days in Napa Valley. And in addition, two other important words can be used to describe their wine making philosophy: affordable and accessible.
In addition to the 38 acres that surrounds the winery, Frog's Leap owns several other Rutherford vineyards including 52 acres at the end of Galleron Road and also the historic 52-acre Rossi Ranch in Rutherford right off of Highway 29. Those who live and work in this part of the valley commonly drive by this vineyard identifiable by its iconic white-water tower to the west of Highway 29 (easily seen from the highway).
Prior to purchasing this property from the Rossi family, Frog's Leap had been purchasing grapes from the site. The original Rossi Winery still stands, bonded in 1907 with its last vintage produced in 1949. Wine used to be pumped from the winery via an underground pipe to near the train tracks where it would then be loaded for transportation down to the San Francisco Bay. Walking into this old winery barn is like walking back in time with dusty old equipment still lying around and vintage notes from decades ago scribbled on a green chalkboard.
Select Wines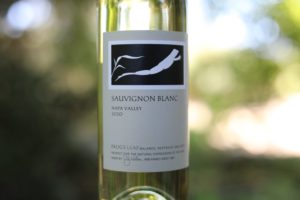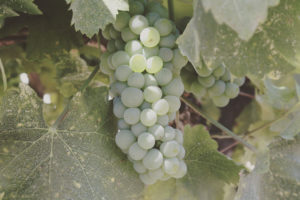 The 2020 Frog's Leap Chenin Blanc is from their Galleron Vineyard; we were told in the tasting room that the vines producing the grapes for this wine were pulled after this vintage because they became infected by a grape pest from a neighboring vineyard but have since been replanted. The grapes were whole-cluster-pressed, then fermented and aged sur lie for 10 months using a variety of small vessels of which 50% was in stainless steel, 35% in a concrete cube and the remainder in one neutral French oak puncheon.
This wine is between deep gold and pale amber in color; the bouquet is diverse and includes aromas of sweet honeycomb, honeysuckle, ripe melon, baked pear and ripe stone fruit including apricot and juicy yellow peach. The palate offers a supple texture with an immediately noticeable burst of acidity from the attack through to the finish. This wine offers flavors of bruised apple, ginger, lemon verbena (shoutout here to Napa Valley's Favia Winery and their ERDA teas including lemon verbena) and some other lingering citrus notes. This bottling showcases plenty of flavor and the richness of this variety.
The 2020 Frog's Leap Sauvignon Blanc, Napa Valley is pale to medium gold in color; the bouquet offers a grassiness, citrus notes including lime and a flinty type minerality. It is initially a bit shy but give it time and it will further evolve including showing aromas of apple, pear and a hint of honeycomb and vanilla. The palate is rich with a rounded and slightly creamy texture which is complemented with a persistent brightness of acidity. This wine shows flavors of green apple, lime and mint. Our pairing recommendation is with ceviche.
The 2020 Frog's Leap Chardonnay Shale & Stone, Napa Valley gets its name from the decomposed shale and sandstone soils located in the Truchard Vineyard in Carneros where the grapes for this wine are sourced. Frog's Leap has worked exclusively with the Truchard Vineyard for Chardonnay since they began producing wine from this variety in 1985. This thoughtfully made wine was harvested from 8 separate picks over a span of about two weeks. The grapes were pressed whole-cluster and then drained to tank where fermentation began and then soon racked to new French oak barrels while fermentation continued for 4-6 days. While not yet dry, the wine was racked one more time to a stainless steel-lined concrete tank where the primary fermentation was completed. This wine also went through full malolactic fermentation.
This wine is deep gold in color; the bouquet offers floral aromas including of honeysuckle and dried straw combined with appealing tropical fruit notes of pineapple and mango along with warm butter and vanilla bean. This wine's texture is supple and creamy; the palate offers flavors of peach, nectarine and tangerine. The finish is clean and mineral driven, but then a secondary burst of fruit flavor continues including of melon and tangerine along with a refreshing brightness of acidity. This wine is wonderfully balanced and is not an oaky bottling.
The 2021 Frog's Leap Valdiguié is produced from the oldest vines under Frog's Leap ownership, dating from 1947, growing on their Williams Rossi Vineyard in Rutherford. This vineyard is also planted to a small block of Valdiguié from 1954. This wine shows a noticeable purple color in the glass and offers a variety of lighter aromatics including of rhubarb pie, red cherry, red licorice, currant and dried herbs along with underlying ever-present baking spice aromatics. These scents include mocha, chocolate brownie and a shot of espresso. As the wine continues to open these aromatics become much more subdued.
When we first smelled this, we thought to ourselves, "why would Frog's Leap mask the fruit with oak barrels; this seems like such a non Frogsleapesque thing to do." However, this wine was not aged in oak barrels, rather it was fermented and aged in concrete. These aromas are all from the fruit. This bottling offers a variety of red berry fruits on the palate along with currant, sour cherry, cranberry, wild strawberry and a persistent note of Icelandic crowberries and their associated lingering astringency. Fresh and fruity, this wine is complemented by its lively and sharp acidity along with a textural lightness. This wine is only 11.1% alcohol: a Napa Valley contemporary red wine at this low level of alcohol? Almost unheard of! In a blind tasting against other Napa Valley red wines from 2021, one should be able to pick it out of a lineup due to its distinctiveness. It is bottled in clear glass.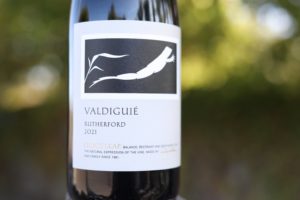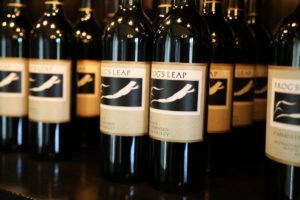 The Frog's Leap 2016 Zinfandel is blended with 28% Petite Sirah and 2% Carignane. This wine is 13.8% alcohol. Smells pretty on the bouquet showing an inviting sweetness of mostly red fruit. Unlike many higher alcohol Zinfandels, this wine is juicy but not jammy. By this we mean it has very good acidity and does not taste over ripe. Shows a pleasing roundness on the palate and an intensity of flavor that persists on a very long finish. Offers mostly red fruits including raspberry and strawberry.
The 2015 Frog's Leap Merlot shows a pleasing herbaceous quality including notes of jalapeno along with mushroom, a wood spice nuance and hints of lavender on the bouquet. It is aromatically intriguing. The wine is savory on the palate with flavors of red cherry and plum. This bottling is superbly balanced with well-integrated tannins. Finishes with a red cherry and cranberry tartness.
The 2015 Frog's Leap Cabernet Sauvignon reveals herbal notes on the bouquet with hints of cigar smoke. Complemented by red fruit, almost a spicy plum nuance. White pepper. Soft texture but with density of fruit. Dark chocolate. Cocoa powder on the finish. A hint of dust. Very good acidity with mostly darker fruit on the finish.
—
Total production is around 60,000 cases annually – with some distribution internationally including Sweden and Japan. And refreshingly, Frog's Leap bottles a number of their wines in half bottles with select bottlings available at certain retail outlets in Napa Valley including at Oakville Grocery.
Check out one of the more unique websites in the valley. For more information, to schedule a visit or to join their wine club, visit: www.frogsleap.com
Hospitality House

Grounds

Winery Barn

Barrel Chai