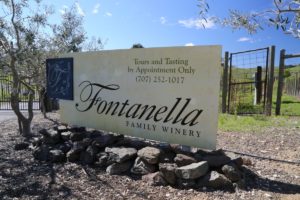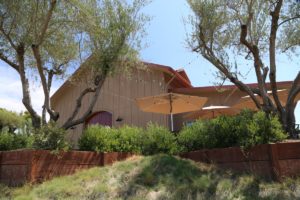 Fontanella Family Winery is located in the rolling hills of the southern part of the Mt. Veeder appellation almost on the AVA dividing line between Mt. Veeder and Carneros. This location is west of the town of Napa, located about 5 miles from Highway 29. Jeff Fontanella is the winemaker; he originally studied Bio Chemistry at UC Davis but ended up in the wine making program after he became interested in viticulture and enology. After graduating he worked for several high premium Napa wineries including Opus One and Saddleback Cellars.
Jeff is a busy guy and as of the time of this review, besides his own winery he is also the consulting winemaker for a number of other premium Napa producers. This is a very unique location in Napa and one of the last relatively undeveloped vineyard lands in the area. Historically this was grazing land for cattle and was never planted to vineyards until more recently.
The winery sits just down from a country road which used to connect Napa with the town of Sonoma thus providing a shortcut to the current main highway that cuts through the Carneros region to the south. Today this sleepy little road is rarely used as it dead ends at private property and there is no way to cut through the hills. Just over the hills that border their property you will find Artesa and Folio Wineries. While the winery is located in rural Napa – they are only about 15 minutes from downtown Napa.
Fontanella Family Winery is located at an elevation of about 750 feet and is more sheltered from the cooling San Pablo Bay breezes that come across the Carneros to the South. The elevation here ranges from about 500-1000 feet and is all rolling hills. These are the last hills of the Mayacamas Mountains (that form the north south spine of the west side of the Napa Valley) before they end in the relatively flatlands of Carneros.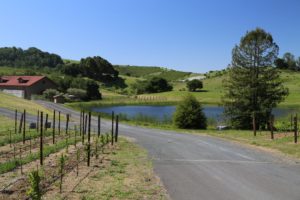 Jeff made wine commercially for several years before building this winery. He and his wife Karen purchased this 26 acre property in 2005. Building new wineries in Napa is today usually a gargantuan task that involves significant paperwork and time. Fortunately, Karen is a real estate lawyer and her knowledge about the permit process helped expedite things to the point that this winery was completely finished in merely two years. That is unheard of today in Napa!
As of the time of this review they focus on several different wines including Chardonnay, Cabernet Sauvignon and Zinfandel. We started our tasting with the 2007 Chardonnay, all this fruit is sourced from various locations in Napa. This wine was fermented in barrel and stirred on the lees for 8 months. Only a certain percentage of the wine was allowed to go through Malolactic fermentation. This wine shows a richness of fruit and some weight on the palate. There are nice honeysuckle, lime and nuances of caramel on the nose with an expressive palate that shows mineralities, nuances of tangerine, and caramel. It is well balanced with nice acidity.
The 2005 Cabernet Sauvignon was sourced from Rutherford and Mt. Veeder. Note that every bottle has its own number on the back. The wine is crimson red in color and has a bouquet that hints of sweet plum with floral nuances. The palate is rounded and smooth containing lots of fruit. The finish is somewhat smoky and very long. This is a good food fine.
We also tried the 2007 Zinfandel (not yet released) – a day after it was bottled. They tend to bottle the Zinfandel early to mitigate the oak used on this wine, rather allowing the true varietal flavors to show. With Zinfandel, the harvest time can always be a tightrope as when to decide to pick. Jeff has seen this varietal go from juicy grapes to dried up raisins in merely a week. Not yet suffering from bottle shock we picked out notes of cranberry on the nose with nuances of dried fruit and a palate that is extremely well balanced between ripeness, acidity and flavor. There are smoky Asian spices towards the finish.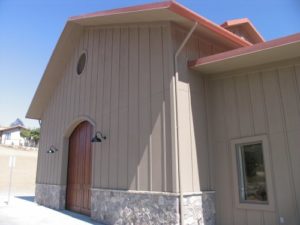 Many of the grapes they source are from either Mt. Veeder or more cooler sites in the southern part of the Napa Valley. However they also make a complex limited production Cabernet Sauvignon from the Andy Beckstoffer managed Georges III in Rutherford.
This part of Napa is well-suited for Chardonnay, Merlot and specific clones of Cabernet Sauvignon. Approximately five acres of Cabernet Sauvignon vines are planted on site. Their first commercial release was in 2005. A visit here is for serious wine enthusiasts (by appointment only) and has a feel of "old Napa" before all the new wineries and crowds arrived.
Wine enthusiasts who want to learn more about the art of blending can purchase one of Fontanella's Blending Kits. This unique offering includes several bottles of wine each containing a vineyard component used in the final blend for their Cabernet Sauvignon. A graduated cylinder is also included with directions on blending techniques and instructions from Jeff on how to create your wine. Once you have a blend you enjoy you can contact the winery with your desired percentages and they will produce and bottle your proprietary blend (1 case minimum). Some people get very creative with the names of their wines – which will go on the labels of each bottle.
Fontanella opened their tasting room (by appointment) in October 2008. The best way to acquire their wine is to join their mailing list. For more information, visit: www.fontanellawinery.com
NOTE: we heard that in 2017 Fontanella acquired or is leasing the nearby cave that was originally developed by Renteria. We will update this review once we have more details.