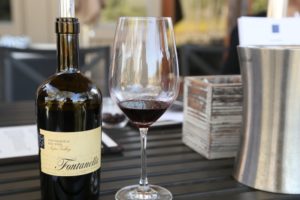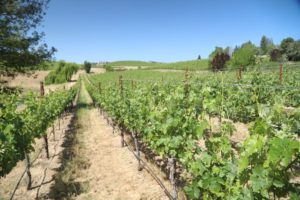 Fontanella Family Winery is located among the rolling hills of the southern part of the Mt. Veeder appellation almost on the AVA dividing line between Mt. Veeder and Carneros. Their property is west of the town of Napa, located about 5 miles from Highway 29. Jeff Fontanella is the winemaker; he originally studied Biochemistry at the University of California at Davis but enrolled in the college's wine making program after he became interested in viticulture and enology. After graduating he worked for several premium Napa Valley based wineries including his first harvest at Opus One in 1998 and later at Saddleback Cellars. Jeff is a busy guy and as of the time of this review, besides his own winery he is also the consulting winemaker for a number of other premium Napa Valley based producers.
This location is very unique and one of the last relatively undeveloped vineyard properties in this part of the Napa Valley. Historically this was grazing land for cattle and was never planted to vineyards until more recently. The winery sits just down from a country road which used to connect Napa with the town of Sonoma – at the time providing a shortcut to Highway 12 which currently bisects the Carneros region to the south. Today this sleepy little road is rarely used as it dead ends at private property and there is no way to access the town of Sonoma. Several wineries are located fairly close as the crow flies; Artesa and Ru Vango are both located on the other side of the hills that border the Fontanella property. While the winery is located in rural Napa Valley, in reality this property is only about a 15-minute drive from downtown Napa.
Fontanella Family Winery is located at an elevation of about 750 feet and is somewhat sheltered from the cooling San Pablo Bay breezes that blow across the Carneros District slightly south of the winery. The rolling hills that surround the winery are the southernmost extension of the Mayacamas mountains (that form the north south spine of the west side of the Napa Valley) before ending in the lowlands of the Carneros District.
Jeff made Fontanella wines for several years prior to building this winery. He and his wife Karen (they met at a Jimmy Buffet concert) purchased their original 26-acre property here in 2005. Over the years they have acquired additional acreage, including a neighboring parcel that used to be owned by the Renteria family (owners of a vineyard management company and a small wine brand); that property came with a cave which potentially can be used for wine storage or other wine related activities. Their total property is 80 acres of which 18 are planted to vines. This cooler part of Napa Valley is well-suited for Chardonnay, Merlot and specific clones of Cabernet Sauvignon. Their first commercial release was in 2005.
Building wineries in today's contemporary Napa Valley environment is usually a gargantuan task which involves significant paperwork and often years of waiting for the right permits. Fortunately, Karen is a real estate lawyer and her knowledge about the permit process helped expedite things to the point that this winery was completely finished in merely two years. While the focus of their production is on the Fontanella wines, a big part of their business is offering winery space for wineries who do not own physical wineries. As a result, Fontanella Winery also houses a number of small premium Napa Valley based producers.
Natural Disasters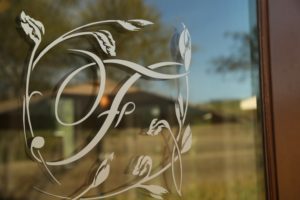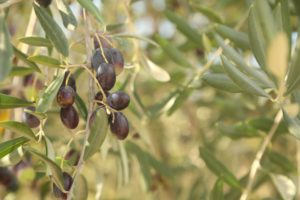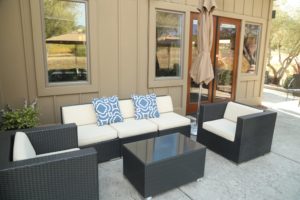 Within three years between 2014 and 2017 the winery experienced two major natural disasters. The first, the 6.1 Napa earthquake in August 2014 caused significant loss of product within the winery – including both several thousand cases of bottled wines and 80% of wine in barrel. It turns out the metal barrel stacking system mostly failed in an earthquake of this size.
Post-earthquake, Jeff and Karen changed their barrel stacking system. They tried out numerous systems, tested against simulations of earthquakes and settled on what is the only system of its kind that we have seen in Napa Valley. Their metal barrel supports are individual units each holding two wine barrels; each unit slips on top of one another adding more stability and flexibility during earthquakes – and theoretically providing more resistance to toppling over, especially with the upper most units.
And in October 2017 one of the numerous fires in the area (Carneros) burned all the way to almost the edge of the back of the winery building stopping just short – remarkably saved by a local Napa fire truck and firefighters who were on the scene. Following this fire, the Fontanella's printed tribute shirts in honor of these particular firefighters.
Hospitality
All visits are by appointment and while several parties may be tasting at any one time, each group has their own space, and it never feels crowded. Weather permitting, tastings are held outdoors on their patio next to the winery overlooking one of their vineyards.
While Jeff and Karen live on the property (their house is just up the hill next to the winery) they are usually at the winery but don't always host tastings. Rather, several knowledgeable and very personable employees lead the tastings. A visit to the winery has a feel of "old Napa" – far removed from the winery crowds and traffic often found along Highway 29 between Yountville and St. Helena. Visits usually start with a welcome white wine followed by a tasting of reds featuring their current release wines and a visit inside the winery for several barrel samples of components that will be blended together to create finished wine. Tastings are a relaxed, fun and unscripted experience.
Select Wines
As of our most recent update to this review they focus on several different wines including Chardonnay, Cabernet Sauvignon and Zinfandel.
The 2021 Fontanella Family Winery Chardonnay was 100% whole cluster pressed and then barrel fermented and aged for 7 months in French oak (of which 30% were new barrels). This bottling is deep gold in color; the highly aromatic bouquet smells wonderful and offers plenty of sweetness including scents of honeycomb, creme Brulé, honeysuckle, warm butter, vanilla bean, ripe peaches and apricots and also tropical (ripe mango and pineapple). This is not a shy Chardonnay; it smells like dessert. Its intensity of aroma continues on the palate with rich and intense flavors including of creme Brule, red apple, mango, yellow peach, poached pear and mandarin. Its texture is satiny and supple. The finish is long and filled with both fruit, baking spices and a brightness from the very much present acidity. One would not be wrong in calling this wine hedonistic.
The 2007 Fontanella Family Winery Chardonnay was sourced from various vineyard locations in the Napa Valley. This wine was fermented in barrel and stirred on the lees for 8 months. Only a certain percentage of the wine was allowed to go through malolactic fermentation. This wine shows a richness of fruit and some weight on the palate. Pleasing honeysuckle, lime and nuances of caramel show on the nose with an expressive palate that offers mineralities, nuances of tangerine, and caramel. The wine is well balanced with noticeable mouth-watering acidity.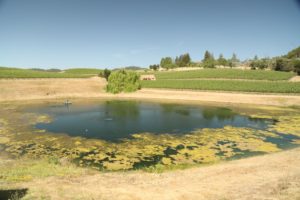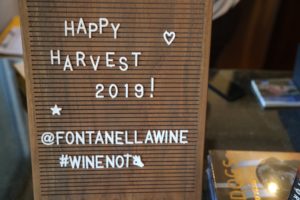 The 2021 Fontanella Family Winery Rebob Red was aged for 11 Months in French oak of which 33% was new. This wine is medium to deep purple in color; its bouquet is generous offering aromas of blackberry, boysenberry, violets and wintergreen chocolate patties. The palate is rich and layered revealing flavors of blackberry, dark plum and dark chocolate. This wine is juicy and lingers with a savory finish including some woodsy spice notes, a very subtle hint of dried tobacco leaf and earthy gravelly-textured tannins. Napa locals who frequent the end of Partrick Road know about the local legend of the rebob, a carnivorous flying monkey. Napa residents of a certain age (usually high school) would drive down to the end of Partick Road and hang out on the back of their trucks drinking or perhaps enjoying more intimate encounters. Supposedly these creatures only make an appearance at midnight; we have driven Partick Road numerous times, even to the end but have never witnessed these supernatural beings.
The 2017 Fontanella Family Winery Zinfandel is the only wine in their portfolio that they age in American oak. Sourced from four locations around the valley including Diamond Mountain, Chiles Valley, Atlas Peak and Oakville. Fruit driven but not overly ripe as sometimes wines from this variety are – the bouquet reveals aromas of plum, ripe blackberry and cherry along with brown sugar and mocha. A sweetness of fruit shows on the palate complemented nicely by dessert spices and a very supple finish featuring fine-grained tannins.
The 2007 Fontanella Family Winery Zinfandel was not yet released at the time of one of our earlier visits and had only spent a day in bottle. Jeff tends to bottle Zinfandel early to mitigate the effects of oak, rather allowing the true varietal flavors to show. With Zinfandel, the harvest time can always be a tightrope in deciding when to pick. Jeff told us he has seen this varietal progress from ripe and juicy grapes to dried up raisins in merely a week. Not yet suffering from bottle shock we picked out notes of cranberry on the nose with nuances of dried fruit and a palate that is extremely well balanced between ripeness, acidity and flavor. A hint of smoke and various Asian spices shows towards the finish.
The 2005 Fontanella Family Winery Cabernet Sauvignon was sourced from Rutherford and Mt. Veeder. The wine is crimson red in color and features a bouquet offering hints of sweet plum with floral nuances. The palate is rounded and smooth containing lots of fruit. The finish is somewhat smoky and very long. This is a good food fine. Also note that every bottle is individually numbered.
Many of the grapes they source are from either Mt. Veeder or more cooler sites in the southern part of the Napa Valley. However, they also make a complex limited production Cabernet Sauvignon from the Andy Beckstoffer managed Georges III Vineyard in Rutherford. This is one of Beckstoffer's Heritage Vineyards; a select number of Beckstoffer Napa Valley owned vineyards are identified as premium sites often with significant historical pedigrees.
Fontanella also produces a delicious fortified non-vintage wine called Portmanteau which is intensely flavored and complemented with a diversity of baking spices and a rounded texture. In addition, Fontanella produces a rare wine called Per Sempre (meaning forever in Italian), a non-vintage Mt. Veeder Cabernet Sauvignon with the first vintage dating from 2007. In 2020 the Fontanella's began bottling a small amount of this wine each year from their Solera-style system.
Blending Kit Service (No longer offered)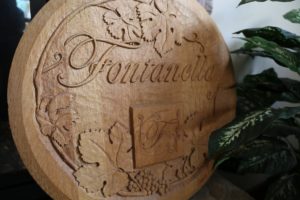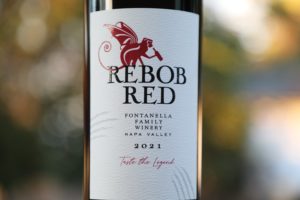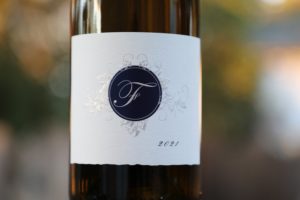 Fontanella used to offer a Blending Kit for wine enthusiasts who wanted to learn more about the art of blending. While no longer offering this service, at the time it included several bottles of wine each containing a vineyard component used in the final blend for their Cabernet Sauvignon. A graduated cylinder was also included with directions on blending techniques and instructions from Jeff on how to create the wine. Once customers created a desired blend – they would contact the winery and Fontanella would produce and bottle a proprietary blend (1 case minimum). Some people would get very creative with the names of their wines which would then be printed on each of the labels.
Fontanella opened their tasting room (by appointment) in October 2008. Total production each year is around 3,500 cases. The best way to acquire their wine is through visits to the winery or through joining their wine club ranging from 4 to 18 bottles per shipment. One of the perks of membership is that members are offered wine club exclusive limited production wines.
For more information or to schedule an appointment, visit: www.fontanellawinery.com