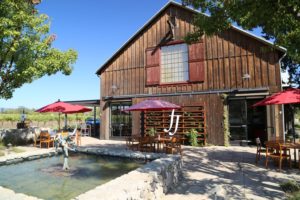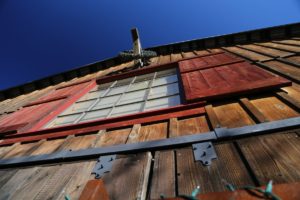 Foley Johnson Winery is one of several Napa wineries owned under the Foley Estates wine group. Proprietor William Foley II and his wife Carol Johnson Foley also own wineries in neighboring Sonoma County and on California's Central Coast. Bill graduated from West Point in 1967 and later earned his law degree from the University of Washington in 1974. Long since invested in a diversity of businesses – wine is only one of his passions.
He is also owner and founder of the Las Vegas Golden Knights National Hockey team. And in 2018 the team shocked the world of hockey fans by making it all the way to the Stanley Cup Finals in their first year.
Foley Johnson doesn't sit right on Highway 29 as some of the other nearby wineries do so keep a close look out when you get close (they are the next winery south of Peju Winery). The wood surrounded tasting room is located in an old 1920's totally renovated wooden "barn" and almost 50 acres of estate vineyards are planted on the property which surround the barn. The winery becomes 'newer' as you head east (it was built in stages over the years). As you walk away from the tasting room you enter the winery that the previous owners Charles and Joanne Sawyer built (the original Sawyer Cellars) – and as you continue walking you reach the newest part of the winery – a state of the art wine making production facility that was built by Foley Johnson.
Foley Johnson concentrates their wine making efforts on a number of Estate wines sourced from their surrounding vineyards. Several tasting experiences are offered including the Estate (wines from the property) and the Handmade which features very small production wines from select properties within the Foley Estates wine group.
If you are interested in a more in depth experience and education try either their Sensory tasting seminar or their blending seminar in which you help create wine that they will age for you. A tour and tasting combined along with a vineyard tram tour round out the select experiences offered here. The original barrel room is built below the winery/hospitality area and now serves as a space for private tastings.
Bill and Carol's son Patrick was the winemaker until very sadly, he passed far to young at age 31 in 2018 (from a freak accident involving head trauma while in Montana). Patrick's first harvest was in 2011 at Chalk Hill Estate in neighboring Sonoma County. Like other young winemakers in the valley had a fair share of international wine making experience with stints in New Zealand and Mendoza, Argentina.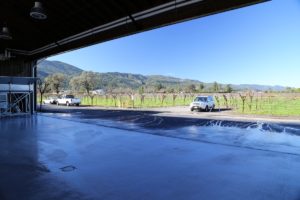 Look for two selections of wines available here – the Napa Valley (made from estate fruit from their nearly 50 acre property on site) and Handmade, wines from some of the other wineries in the Foley Family Wines collection.
The 2006 Estate Sauvignon Blanc shows a bouquet followed by a flavor and mouth feel that might lead you to believe you are drinking Chardonnay. Not so. This is a somewhat unusual Sauvignon Blanc in the Napa Valley in that it was aged in Oak Sur Lie for 8 months, which means is has a creaminess and weight in the mid palate you don't normally find in Napa produced Sauvignon Blancs. Rather than the cut grass and herbaceous flavors you sometimes find with Sauvignon Blancs, this wine is robust with its nutty aromas, almost caramel like which turn to pineapple after the bouquet opens up. This is followed by a smooth palate of pear and apricot flavors with some very nice mineralities.
The 2004 Estate Merlot is 100% varietal well balanced wine. Note the hint of oak and spices especially towards the finish. Our pick is their Estate Cabernet Sauvignon 2004 vintage. The nose hints at a fruit forward wine with elegant well integrated aromas of blackberry, and cherry with a palate that also contains hints of vanilla. The finish is smooth and long.
The 2013 Estate Cabernet Sauvignon reveals an elegant bouquet with notes of chocolate and cherry aromas – tending towards the darker fruits. An earthy characteristic also shows on the bouquet, more muted but there nonetheless. This is an extremely balanced wine for being so young at the time of our tasting – (just released). Mouth watering acidity – lingering flavors of cherries with structurally pleasing somewhat dusty tannins.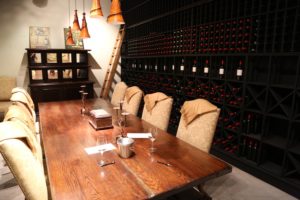 The 2011 Rutherford Petit Verdot (from a small block of this variety on site) shows sweet floral driven aromas interwoven with intriguing fruit including raspberry and blackberry – and a touch of sage. This wine has very good acidity and a noticeable red cherry, red currant tartness that lingers on the finish for some time. The tannins are mouth filling and are also persistent.
They also make what they call the "fun wine" in very small quantities. Its a rosé of Merlot with nice wild strawberry and raspberry flavors on a light to medium bodied palate but with a rather intense finish. This is a good pool and patio sipping wine on hot days.
The wine hosts are friendly, knowledgeable & sincere. This is a tasting room that "cares" and that is big in our books.
Tastings are by appointment only but if you are there during a slow time you may be able to schedule something that day (the regular tasting).
Should you happen to be here during harvest you might even be put to work for a few minutes on on their sorting table, sorting jacks (grape stems) and other debris that don't belong in wine! Total production is relatively small at just over 4000 cases. Check their website for pricing, tasting specials and or discounts.
Foley Wine Society at The Village at Vista Collina
In summer of 2018 a large parcel of land directly to the south and across the street from the Meritage Resort opened as Vista Collina Resort and the next door The Village at Vista Collina – featuring a large green space (with environmentally friendly turf) surrounded by four stories containing 145 Tuscan-styled guest rooms, 9 stand alone tasting rooms on the ground floor, a luxurious Vintner's Room (for special vintner member and other community and private events) and the Village Food & Wine Center where chefs teach a variety of culinary seminars and host other culinary related events. The Village at Vista Collina held its grand opening on August 4, 2018.
And the Fivetown Gourmet Grocery and Deli is an integral part of the The Village experience. Named after the five towns within the Napa Valley including Yountville, Rutherford, Oakville, St. Helena and Calistoga – this upscale market features a variety of farm-fresh local ingredients and home made products. Plenty of seating outside the grocery – one can also picnic on the lawn area.
The 'lawn' area is also ideal for hosting a variety of events including concerts. Umbrellas inserted into the ground can easily be moved and seating arrangements are highly flexible.
The Foley Food & Wine Society tasting room is fairly prominent as compared to several of the other small 9 tasting rooms. The interior is spacious and visually intriguing – with its contemporary look – anchoring one side of the courtyard with its own sizable space. The focus of the tastings here are on select wines from a number of wineries within the Foley Family portfolio including from Napa (ALTVS/Merus, Foley-Johnson and Kuleto Estate), neighboring Sonoma County and Central California.
For more information and to join their wine club, visit: www.foleyjohnsonwines.com
Hospitality

Winery

Winemaker Video