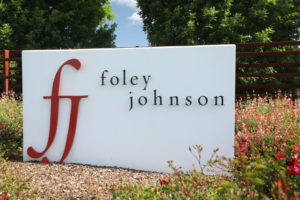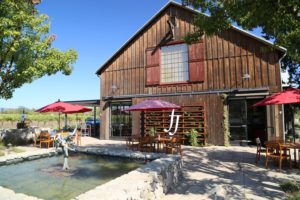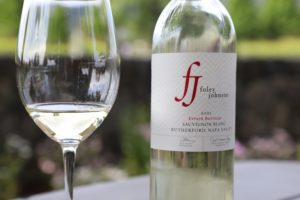 Foley Johnson Winery is one of four Napa Valley based wineries owned under the parent company, Foley Family Wines Holdings, Inc: the others are Kuleto Estate, Merus Winery and Silverado Vineyards. Previously, Foley Wine Estates operated Foley Food & Wine Society tasting room, which was located at the Vista Collina Resort, just south of the city of Napa (but closed in 2021).
Chairman, CEO, President and namesake for his company, Bill Foley II graduated from West Point in 1967 and later earned his law degree from the University of Washington in 1974. Long since invested in a diversity of businesses – wine is only one of his passions. He is also owner and founder of the Las Vegas Golden Knights National Hockey team. In 2018 the team shocked the world of hockey fans by making it all the way to the Stanley Cup Finals in their first year. And in 2023 they won their first title.
Foley Johnson is named for Bill Foley and his wife Carol Johnson Foley. Since the Foley's purchased the property in 2012, the site has had 16 different owners including when it was part of George Yount's original 11,814 acre land grant from 1836. The property was previously home to Sawyer Cellars founded by owners Charles and Joanne (died 2013) Sawyer. The first vintage of Sawyer Cellars was from 1991, merely 120 cases of a Cabernet Sauvignon. They purchased 40 acres on site from long time Napa Valley growers and vintners, the Yaeger family in 1994 and over the next few years, made improvements including renovating the old 1930s era barn, digging an underground barrel room and opening the winery – all in time for the 1999 vintage. The Sawyers sold the winery and surrounding property to Foley Family Wines in 2012. However, they did not sell the Sawyer Cellars label and continue to produce these wines at a business park location south of the city of Napa.
Approximately 42 acres of estate vineyards surround the winery to a diversity of varieties including their only white, Sauvignon Blanc (planted on the east of the property next to the Napa River) and Cabernet Sauvignon, Cabernet Franc, Merlot and Petit Verdot. The nearby 10-acre Peral Vineyard is located a short distance south east of the winery. Walking away from the tasting room and continuing east, one soon reaches the newest part of the winery, a state of the art wine making production facility that was built by Foley Johnson (it was built in stages over the years).
Bill and Carol's son Patrick (Pat) was the winemaker until very sadly, he passed far too young at age 31 in 2018 from a freak accident involving head trauma while in Montana. Patrick's first harvest was in 2011 at Chalk Hill Estate in neighboring Sonoma County. Like other young winemakers in the valley, he had a fair share of international wine making experience with stints in New Zealand and Mendoza, Argentina.
Select Wines
The Foley Johnson wines are crafted where the oak is a complementary piece; by this we mean the barrel aging influences are subtle, leaving the vineyards and the variety to be the star of the show. The wines are primarily 100% varietal, but depending on the vintage may be slightly blended. And the tannins are never heavy or gripping, rather they built to complement rather than overpower the wines, especially in their youth.
The 2021 Foley Johnson Sauvignon Blanc (Rutherford) spent 3 months aging in concrete. This wine is medium yellow in the glass; the initial aromatics we noted were nectarine and white peach along with several floral layers of honeysuckle, jasmine and citrus. It smells like the blossoms in mid spring on the orange tree that grows next to our garden. As this wine evolves in the glass it offers additional scents including green apple and tropical fruits of pineapple, mango, lychee and passion fruit. There is no green or grassy-like aromatics; the ripeness on the bouquet might fool one into thinking the palate will also be a riper showing of this variety. But that is not the case; it offers a bright and balanced, but not tart or green acidity, complemented by a lightly creamy texture. The palate shows flavors of citrus including lime, a note of melon and apple. The finish is energetic with plenty of lasting brightness.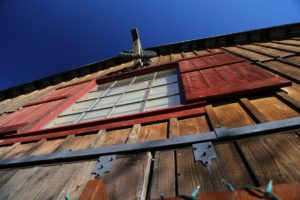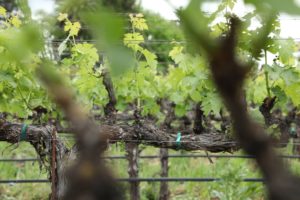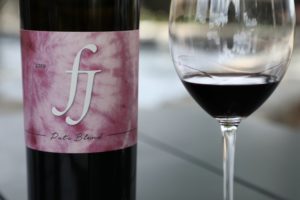 The 2018 Foley Johnson Merlot (Rutherford) is deep ruby in color; initially it offers aromatics of dessert spices including mocha, chocolate, cardamom, nutmeg and clove. But here is plenty of fruit here to including of plum and blackberry. The palate offers flavors of blackberry, plum, cherry and even some notes of blueberry. This Merlot has texture and depth. Immediately noticeable is this wine's plush texture; the tannins are evenly spread out on the palate and feel rounded and slightly silty. This wine linters with a dusty finish, hints of pepper, wood and tobacco spices and dried tobacco leaf.
After winemaker Pat Foley passed in 2018, the inaugural vintage of Pat's Blend was produced in his honor. This blend varies each year but is always dominated by Cabernet Sauvignon. The front label is an image of Tie-dye, one of Pat's favorite fabrics. In fact, he would start every harvest with a white t-shirt, and wear the same shirt until the end of harvest, creating a 'natural' sort of tie-dye. After Pat's passing the Patrick Foley Fields of Opportunity Summer Mentor Program was created by the Napa Valley Farmworker Foundation (FWF) and the Napa Valley Grapegrowers (NVG). This 8-week program prepares Napa County high school students for a diversity of careers in the wine industry.
The 2019 Foley-Johnson Pat's Blend is primarily Cabernet Sauvignon from the Peral Vineyard with a small amount of Petit Verdot. This wine is deep ruby in color; short-lived on the bouquet are initial aromatics of tobacco spice and a light note of jalapeno. The layered bouquet keeps revealing different scents as it opens including of Graham cracker, cassis, dark raspberry, red plum and blackberry. Its final aromatic evolution is simply a purity of fruit. It just takes some time to get there. This wine is bright, balanced and flavorful and drinks very well in its youth (we tasted 4 years post vintage date). If offers flavors of red plum, blackberry and red cherry with red fruits lingering on the finish. The tannins are primarily felt on the front of the palate, are light gravelly in texture and are well-integrated.
The 2013 Foley Johnson Estate Cabernet Sauvignon reveals an elegant bouquet with notes of chocolate and cherry aromas – tending towards the darker fruits. An earthy characteristic also shows on the bouquet, more muted but there, nonetheless. This is an extremely balanced wine for being so young at the time of our tasting – (just released). Mouthwatering acidity with lingering flavors of cherries and structurally pleasing somewhat dusty tannins.
Those who produce a 100% varietal Napa Valley Petit Verdot often like to say their bottling is one of the very few in the valley. While its not a common wine, one might be surprised to discovered a number of Napa Valley based wineries do in fact produce 100% varietal wines of Petit Verdot. The 2019 Foley Johnson Petit Verdot is deep ruby in color with some purplish tinges on the rim; the attractive bouquet offers scents of violets, sage, other dried herbs, blueberry, blackberry and opens to some notes of chocolate. We love how the texture feels across the palate with tannins that are silty, grainy and showing an almost cushiony character. It offers darker fruit flavors including of plum and blackberry and lingers with a light dried tobacco spice. This bottling is among the nicest of the 100% varietal bottlings we have enjoyed the past few years. It was aged for 20 months in 60% new French oak barrels.
The 2011 Foley Johnson Rutherford Petit Verdot (from a small block of this variety on site) shows sweet floral driven aromas interwoven with intriguing fruit including raspberry and blackberry and a touch of sage. This wine has very good acidity and a noticeable red cherry/red currant tartness which lingers on the finish for some time. The tannins are mouth filling and are also persistent.
—
Hospitality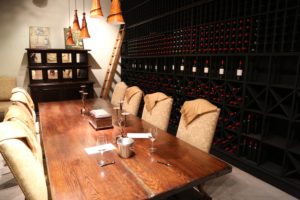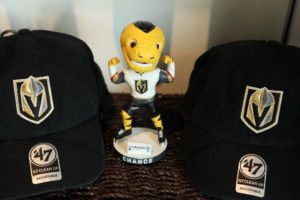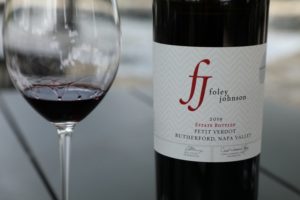 Foley Johnson isn't located directly next to Highway 29 as some of the other nearby wineries so visitors driving by on Highway 29 should keep a close look out when approaching the winery. For reference, the two closest wineries to Foley Johnson are Sequoia Grove (to the south) and St. Supéry Estate Vineyards & Winery (to the north).
As of our latest visit and update to this review, two selections of wines are available for tasting and purchase; Foley Johnson's very limited production Handmade wines, sold through the winery, are made entirely from estate grown grapes (including the neighboring Peral Vineyard) and contain a image of a thumbprint on the front label and Kuleto Estate. The Kuleto property in the hills of the Vaca mountains was significantly damaged in the 2020 fires and remains closed to visitors. A limited selection of Merus wines may also be available for tasting and purchase.
Tastings are by appointment only, but if one visits without an appointment, especially during a slow time, hosts will do all they can to get you seated in a timely fashion. Or they may request you return when they have availability. Experiences offered at Foley Johnson are always evolving. Check their website for the latest offerings.
A number of sit down spaces are available for visitors including weather permitting, the front patio where guests are treated to the sound of the wine train passing during certain times of the day, inside next to the main tasting bar, a smaller room and for larger and private groups, the original barrel room located below the winery/hospitality area. This is one of the few Napa Valley wineries with an elevator; the old barrel room used to use an elevator for transporting barrels between the cellar and the first floor.
The winery is pet and children friendly.
Should you happen to be here during harvest you might even be put to work for a few minutes on on their sorting table, sorting jacks (grape stems) and other debris that don't belong in wine! Total production is relatively small at just over 4,000 cases annually. Check their website for pricing, tasting specials and or discounts.
The wine hosts are friendly, knowledgeable & sincere. This is a tasting room that "cares" and that is big in our books.
Foley Food & Wine Society
As of our latest update to this review, proprietor William Foley II and his wife Carol Johnson Foley own 25 wineries or tasting room spaces in neighboring Sonoma County, Lake County, on California's central coast, in the Pacific Northwest and in New Zealand. Collectively these wineries are under the 'umbrella' of the Foley Food and Wine Society.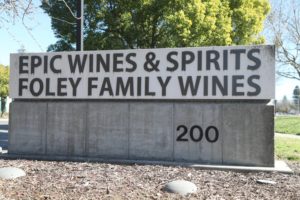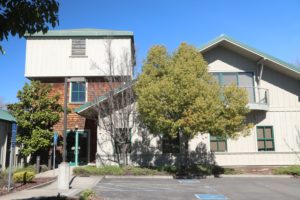 This lifestyle collective combines wine, food and experiences. Members earn points based on how much money spent at any of the Foley properties which can then be redeemed. In addition to wineries, members can enjoy other Foley owned properties including Hôtel Les Mars in Healdsburg, California or Wharekauhau Luxury Country Estate in Palliser Bay, New Zealand, golfing at either Rock Creek Cattle Company in Montana or The Club at Rock Creek, next to Lake Couer d'Alene in Idaho, taking in a Las Vegas Golden Knights game in Las Vegas with premium seating or skiing at Whitefish Mountain Resort in Montana. And the society has arranged partnerships with other select non-owned Foley for members.
Foley also founded and operated Epic Wines & Spirits, headquartered in San Rosa, California until selling in early 2021 to Southern Glazer's. They work with numerous domestic and international brands – distributing their wines, spirits and other alcohol.
For more information and to join their wine club, visit: www.foleyjohnsonwines.com
Hospitality

Winery

As of our latest update to this review the U.S. based Foley Food & Wine Society owned wineries or properties are the following:
SONOMA COUNTY
Banshee
Banshee was formerly located in downtown Healdsburg. At the end of November 2023 Banshee Wines moved into a much larger space in Geyserville. We will visit this space and update our notes and photography accordingly by mid December 2023.
The first vintage of Banshee was produced in 2009 and for several years was made in San Francisco until operations were moved to Healdsburg. The tasting room celebrated their 10 year anniversary in 2023. Caviar and cacao pairings are also offered with select wines. Foley Family Wines purchased Banshee in 2018.
The Society Tasting Room: Healdsburg
Formerly the Banshee tasting room, the space morphed into The Society in early November 2023. It is located in downtown Healdsburg next to the main square. Tastings are hosted indoors or weather permitting directly in front of the tasting room on their small patio. Reservations are accepted but walk-ins hosted first come, first serve. The focus here is on wines in the Foley portfolio from Napa Valley and Sonoma County. As a result of the number and diversity of properties, one has numerous wines to choose from for both tasting and purchasing,.
Chalk Hill Estate Vineyards & Winery
Chalk Hill Estate Vineyards & Winery is located about a 10 minute drive from the town of Windsor. And their driveway is directly across from another Foley owned winery, Roth Estate. This impressive hillside estate is 1,300 acres and features 300 acres of vineyards, the winery and hospitality center, an organic culinary garden (used by their Executive Chef) and an equestrian pavilion. Visitors will drive up the long and scenic driveway before parking in the small parking lot below the visitor's center. The winery offers a number of private experiences.
Chalk Hill Estate was founded in 1972 by Fred Furth who first saw the property from the air while piloting his small plane. Foley Family Wines purchased Chalk Hill Estate in 2010.
Chateau St. Jean
This picturesque winery features beautiful buildings on gorgeous estate grounds. Its slightly elevated perch offers visitors great views of Sonoma Valley. Their approximately 1/3 mile long driveway is on Highway 12, about a 20 minute drive from downtown Santa Rosa. The 1920s chateau was built for a family summer home; today it houses their reserve tasting room. The winery was founded in 1973 and named after Jean Sheffield Merzoian, a family member of the owners.
The first vintage was in 1974 made by a winemaker now synonymous with Sonoma Valley, Dick Arrowood. Features a large gift shop and a more private reserve room tasting. The winery was previously owned by Treasury Wine Estate. Foley Family Wines purchased Chateau St. Jean in 2021.
Ferrari-Carano Vineyards & Winery
This is one of the of the larger wineries in Dry Creek Valley; it is located about a 15 minute drive from central Healdsburg. The beautiful winery and hospitality building is located on a hill overlooking nearby vineyards. The property features well manicured landscaping including the beautiful Villa Fiore Garden somewhat paralleling the main walkway up to the entrance. A bronze sculpture of a boar used to be located on the walkway to the winery – visitors used to touch its snout for good luck.
Worth taking the time, is to make the short walk downstairs to view the wine cellar through the glass doors. The winery was founded by Reno, Nevada natives Don and Rhonda Carano in 1981. They were also owners of Eldorado Casino. The first wines bottled under Ferrari-Carano were a 1986 Fumé Blanc and a 1985 Alexander Valley Chardonnay. Foley Family Wines purchased Ferrari-Carano in 2019.
Foley Sonoma
Foley Sonoma is located on a slight hill above Highway 128 about a 10 minute drive from Geyserville. They offer a spacious tasting room with great views overlooking the picturesque Alexander Valley to the north through the large glass windows overlooking acres and acres of vineyards in all directions. There is also plenty of outdoor tasting on a nearby lawn near the trellis which leads to the main entrance of the tasting room. This was formerly Stryker of Sonoma winery.
Total production each year is between 4,000 and 6,000 cases. Reservations are preferred but walk-ins are accepted especially on slow days. Foley Family Wines purchased what was Stryker Sonoma in 2016 and then renamed the winery.
Lancaster Estate
Lancaster Estate is located on Chalk Hill Road in Alexander Valley about a 20 minute drive to Healdsburg. The property features 53 acres of vineyard and the winery focuses exclusively on Bordeaux varieties. Experiences include a seated tasting outside in the beautiful grove (weather permitting), a cave tour and tasting or a seasonal vineyard tour followed by a tasting.
The winery was founded by Ed Simpkins in 1995 after he purchased the former Maacama Creek Winery. Notable winemakers who have worked here include David Ramey and Jesse Katz. Foley Family Wines purchased Lancaster Estate in 2012.
Roth Estate Winery
Roth Estate was founded in 2001 by Ted Simpkins who named the winery in honor of his mother Rose Roth. Roth Estate produces wines from Sonoma County exclusively from Bordeaux varieties. The winery offers a diversity of fun experiences including a tasting on the terrace, a BBQ lunch plus wines, bocce and a picnic and a tasting inside their cave.
Reservations are preferred but walk-ins are accepted especially on slow days. And their driveway is directly across from another Foley owned winery, Roth Estate. Foley Family Wines purchased Roth Estate in 2012.
Sebastiani Vineyards & Winery
This very historical winery is located about a 15 minute walk east of the main square in the town of Sonoma. The first vineyards (Mission grapes) in Sonoma Valley were planted near here in 1825. Samuele Sebastiani immigrated from Tuscany Italy in 1895 and founded Sebastiani Vineyards & Winery in 1904. The winery offers both bar tastings for walk in visitors and seated tastings. And with a minimum bottle purchase, guests are allowed to bring in their own picnic lunch.
The Sebastini family sold the winery in 2001 to New York based Canandaigua Wine Company (now Constellation Brands). The Sebastiani family is still in the winey business; they operate Don Sebastiani & Sons, a wine negociant company. Foley Family Wines purchased Sebastiani in 2008.
Farmhouse Inn
In September 2023, Foley Entertainment Group acquired the Farmhouse Inn in Forestville from brother and sister Joe and Catherine Bartolomei. The siblings acquired the property in 2001 and developed the Farmhouse Restaurant which earned a Michelin star for 14 years. Incidentally, we grew up several homes from their family in the same neighborhood.
NAPA VALLEY
We have visited and written individual reviews on this website of these following properties.
Foley Johnson | Kuleto Estate | Merus | Silverado Vineyards
CENTRAL COAST, CALIFORNIA
Chalone Vineyard
This was Monterey County's first winery, founded in 1919 and is one of California's more significant viticultural properties. It is located on Highway 146 about a 20 minute drive east of the tiny community of Soledad (along the 101 freeway). Chalone Vineyard is about a 7 minute drive to the entrance of Pinnacles National Park, one of California's least known National Parks. It is the only winery in the Chalone appellation. Several miles before Chalone, the road becomes narrow, rising in elevation and passing through scenic and rolling hills. The winery elevation is about 1,800 feet in the Gavilan Mountain range high above Salinas Valley to the west. Unusual is the fact the grapes grow in limestone based soils.
Prior to reaching the physical winery one will pass by ancient vines on the left of the dirt road; these are Chenin Blanc – the original vines date from 1919. They are among the oldest still commercially producing Chenin Blanc vines in California. This a very tiny block; the entire property is about 1,000 acres with nearly 250 planted to grapes. Foley purchased this historic property in 2016 from Diageo – tastings were conducted on site until February 1, 2023 when the tasting room permanently closed. In late 2023 Chalone opened a tasting room in Carmel-by-the-Sea.
Grapes from Chalone Vineyard were sold to Beaulieu Vineyard in the 1940s. The founder of Napa Valley based Philip Togni Winery made the first wines bottled under Chalone in 1960 in what was an 11×50 foot shed formerly used for raising chickens. In the mid 1960s, winemaker Dick Graff and his mother purchased Chalone Vineyard (Dick died in 1998 in a single-engine plane crash). Their 1974 Chardonnay placed third out of ten white wines at the famous 1976 Paris Tasting. And another Napa Valley vintner and foodie, Narsai David (used to have a printing company), printed the original Chalone wine labels in the 1960s.
We will visit the following properties as time permits.
Firestone Vineyard | Lincourt Vineyards | Foley Estates | The Society: State & Mason
PACIFIC NORTHWEST
We will visit these properties as time permits.
Three Rivers Winery | The Four Graces
NEW ZEALAND + FRANCE + ARGENTINA
Within these three countries, Foley Family Estates currently owns 8 wineries or brands with the majority centered in New Zealand.
And in 2023 Foley Family Wines acquired the former Bently Heritage Estate Distillery in Minden, Nevada; its buildings are listed on the National Register of Historic Places. This continues to add to the Foley list of owned entities in Nevada including the Vegas Golden Knights NHL team, the Henderson Silver Knights American Hockey League team, the Vegas Knight Hawks indoor football team, City National Arena, Lifeguard Arena, The Dollar Loan Center and the Vegas Golden Knights Foundation.
Foley Wine Society at The Village at Vista Collina
NOTE: as of late 2021 this tasting room is now CLOSED. We keep our notes and photographs here for historical reference.
In summer of 2018 a large parcel of land directly to the south and across the street from the Meritage Resort opened as Vista Collina Resort and the next door The Village at Vista Collina – featuring a large green space (with environmentally friendly turf) surrounded by four stories containing 145 Tuscan-styled guest rooms, at the time, 9 stand-alone tasting rooms on the ground floor (most have since vacated), a luxurious Vintner's Room (for special vintner member and other community and private events) and the Village Food & Wine Center where chefs teach a variety of culinary seminars and host other culinary related events. The Village at Vista Collina held its grand opening on August 4, 2018.
And the Fivetown Gourmet Grocery and Deli is still an integral part of the The Village experience. Named after the five towns within the Napa Valley including Yountville, Rutherford, Oakville, St. Helena and Calistoga; this upscale market features a variety of farm-fresh local ingredients and homemade products. There is plenty of seating outside the grocery and one can also picnic on the lawn area.
The 'lawn' area is also ideal for hosting a variety of events including concerts. Umbrellas inserted into the ground can easily be moved and seating arrangements are highly flexible.
The Foley Food & Wine Society tasting room was fairly prominent as compared to several of the other small 9 tasting rooms. The interior was spacious and visually intriguing with its contemporary look, anchoring one side of the courtyard with its own sizable space. The focus of the tastings here were on select wines from a number of wineries within the Foley Family portfolio including from Napa (ALTVS/Merus, Foley-Johnson and Kuleto Estate), neighboring Sonoma County and Central California.