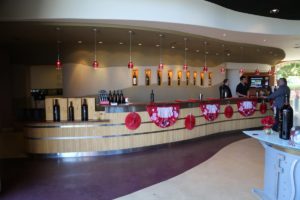 Flora Springs The Room is one of the few wineries up valley (not in one of the towns) that operates a tasting room in part of a shopping center. This is certainly one of the most unique architecturally designed tasting rooms in the valley. Its not easily missed and it simply goes by the mysterious name, "The Room". Tell people are you going to "The Room" and they will wonder what you are talking about. From the outside it almost looks like what was to be the proposed "mini Hall Winery" with its undulating roof (which was to have been designed by architect Frank Geary).
Auspiciously this tasting room opened on 8/8/8 which is a fairly lucky day in some cultures. The tasting room is across the parking lot from the Dean & Deluca wine shop which carries a number of Flora Springs Wines. The actual winery is located south west of The Room – at the west end of Zinfandel Lane. However, this tasting room gives them much more exposure then their winery location. Winery tours at the estate (10 minutes from this location) are available by appointment and last about 90 minutes.
Flora Springs is named after the matriarch of the family, Flora Komes (who died at age 100 in 2012) along with recognizing the natural springs which run on their estate property. Their winery property changed hands several times, closed down during Prohibition and was abandoned by 1977 when the Komes family (Jerry and Flora) purchased 325 acres of land and the the old winery building. At the time of their purchase, the buildings were in bad shape and the original winery still had burn marks from the devastating fire 77 years prior. The first Flora Springs vintage was from 1978.
Today the 2nd and 3rd generations are actively managing the day to day operations at the winery. As of our latest update to this review, Flora Springs owns eight unique and diverse vineyards in the Napa area. Based on this total acreage they have an excess of fruit for their own use and often sell up to 3/4 of their grapes to other wineries.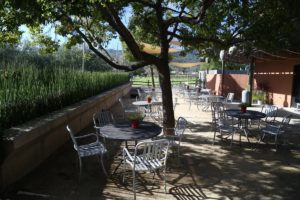 Several different tasting options are provided and Flora Springs offers a healthy collection of different types of wines for all tastes as well as all budgets.
Be sure to try their barrel fermented Chardonnay; they have been producing this since 1980 making them one of the older Chardonnay producers in the valley. This is a very rich wine that sees no malolactic fermentation and shows very concentrated fruit flavors on the palate. White wine lovers should also consider their Solilogy Sauvignon Blanc (if not sold out). We also enjoyed their 2005 Trilogy; this wine is composed of the five primary Bordeaux varietals. It is a rounded full bodied wine with lots of concentrated fruit.
First come first serve picnic tables are available in the back in a beautifully designed courtyard setting. Considering their busy Highway 29 location along a well-visited part of the valley – and being part of this often busy shopping center, the courtyard feels miles away. It backs almost to the vineyards and is a very peaceful area to spend some time tasting wine. In addition to the tastings, they offer food and cheese pairings – ask for details.
Want to see one of the smallest vineyards in the valley?! Check out the 3 rows of vines in the back of the courtyard.
Lastly, Flora Springs is a partner in ReCork America where they recycle any used corks from their winery and this tasting room as well as act as a collection point for consumers who wish to recycle their used corks. Visit: www.florasprings.com
NOTE: this review has been identified as needing a **major** update.