NOTE: since the sale of Flora Springs Winery (but not The Room, tasting room) we have archived this review and updated our primary review of Flora Springs Winery.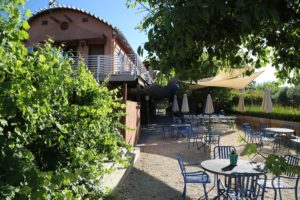 Flora Springs The Room is one of the few wineries up valley (not in one of the towns) that operates a tasting room in part of a shopping center. This is certainly one of the most unique architecturally designed tasting rooms in the valley. Its not easily missed and it simply goes by the mysterious name, "The Room". Tell people are you going to "The Room" and they will wonder what you are talking about. From the outside it almost looks like what was to be the proposed "mini Hall Winery" with its undulating roof (which was to have been designed by architect Frank Geary).
Auspiciously this tasting room opened on 8/8/8 which is a fairly lucky day in some cultures. The tasting room shares part of the parking lot next to the old Dean & Deluca wine shop and Press Restaurant. The actual winery is located south west of The Room – at the west end of Zinfandel Lane. However, this tasting room gives them much more exposure then their winery location. Winery tours at the estate (10 minutes from this location) are available by appointment and last about 90 minutes.
Flora Springs is named after the matriarch of the family, Flora Komes (who died at age 100 in 2012 just one week shy of her 101st birthday) along with recognizing the natural springs which run on their estate property. Their winery property changed hands several times, closed down during Prohibition and was abandoned by 1977 when the Komes family (Jerry and Flora) purchased 325 acres of land and the old stone winery building. At the time of their purchase, the buildings were in bad shape and the original winery still had burn marks from the devastating fire 77 years prior. The first Flora Springs vintage was from 1978.
Jerry and Flora planned to use the site as a retirement property and grow and sell grapes. However, their children, John and Julie soon became interested in resurrecting the old winery and producing their own wine. In 1977, the buildings were in bad shape; the Rennie Brothers Winery still had burn marks from the devastating fire 77 years prior and John recalls the roof was falling apart and the floor was still dirt (common in wineries of this era and earlier). John was involved in construction at the time, focusing on building mausoleums in the San Francisco Bay Area. Eventually he moved his construction business to the Napa Valley and over the years built or remodeled some of Napa's most prominent wineries including Far Niente – along with restoring the stone winery on the Flora Springs property.
The winery is perched slightly above the valley floor on the lower slopes of the Mayacamas mountains (only about a 5 minute drive from The Room). All visits to the winery estate property are by appointment. Their vineyards straddle both the Rutherford and St. Helena appellations. As of our latest update to this review, Flora Springs owns eight unique and diverse vineyards in the Napa area. Based on this total acreage they have an excess of fruit for their own use and often sell up to 3/4 of their grapes to other wineries.
The views on a clear day looking to the east are quintessentially Napa – rows of grapevines stretch out as far as one can see until meeting the slopes of the Vaca mountains. When the Komes purchased the site, the vineyards were planted to varieties not often seen in the Napa Valley today – including Gewürztraminer and Chenin Blanc. Today they own more then 500 acres throughout the valley of which approximately 450 are planted to vines.
Several different tasting options are provided and Flora Springs offers a healthy collection of different types of wines for all tastes as well as all budgets.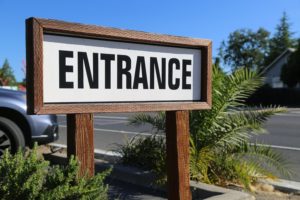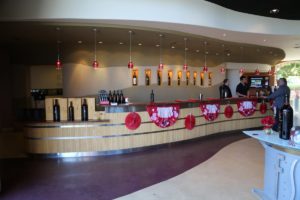 Be sure to try their barrel fermented Chardonnay; they have been producing this since 1980 making them one of the older Chardonnay producers in the valley. This is a big but balanced wine that sees no malolactic fermentation and shows very concentrated fruit flavors on the palate. White wine lovers should also consider their Soliloqy white wine (if not sold out). For a number of years they produced Soliloquy as its own wine, a 100% varietal Sauvignon Blanc. Starting in 2017 they altered the varietal composition of Soliloquy creating a blend of Soliloquy Sauvignon Blanc, Malvasia Bianca (from Sonoma County) and Chardonnay.
After a trip to Saint-Émilion in Bordeaux, John was inspired to produced a Bordeaux styled red blend. Their first vintage was 1984, a blend of Cabernet Sauvignon, Cabernet Franc and Merlot. No longer focusing on just these three varieties, today they produce each vintage of Trilogy from the best possible lots each year.
Their original philosophy of making this wine was to use equal parts of Cabernet Sauvignon, Cabernet Franc and Merlot. Over the years they realized they could make a better by embracing flexibility. Today this wine is made from no set varietal percentage but from whatever the best lots are from a diversity of vineyard sources (always focusing on using Bordeaux red varieties).
The 2015 Flora Springs Trilogy shows a lot of depth on the bouquet with a perceptible sweetness on the bouquet, boysenberry jam, baking spices, bittersweet chocolate and notes of black fig and hints of cedar. Slightly savory. Feels nice on the palate with somewhat dusty well-integrated tannins lingering softy on a pleasing finish. Winemaker Paul Steinauer calls this a "fun wine to make" referring to being able to source from the best blocks in their vineyards and using all the tools he has at his disposal to hand craft this wine.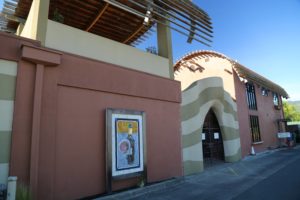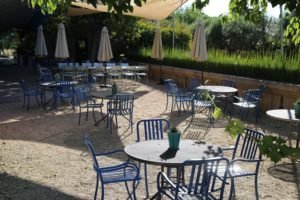 And every early February Flora Springs holds a Trilogy release party – an epic event featuring this wine plus food and music. A gathering of Trilogy enthusiasts if you will.
First come first serve picnic tables are available in the back in a beautifully designed courtyard setting. Considering their busy Highway 29 location along a well-visited part of the valley – and being part of this often busy shopping center, the courtyard feels miles away. It backs almost to the vineyards and is a very peaceful area to spend some time tasting wine. In addition to the tastings, they offer food and cheese pairings – ask for details.
Want to see one of the smallest vineyards in the valley?! Check out the 3 rows of vines in the back of the courtyard.
Lastly, Flora Springs is a partner in ReCork America where they recycle any used corks from their winery and this tasting room as well as act as a collection point for consumers who wish to recycle their used corks. Visit: www.florasprings.com