Faust
, never to be confused with Faust Wine Cellar in the Buda Castle in Budapest Hungary (which we have also personally visited several times) was founded by long time Chilean born vintner Agustin Huneeus. He has spent his entire career in the wine industry with connections to various wine growing regions that span the globe. In the Napa Valley he is most well known for opening the premium winery Quintessa – for many years Faust wine was made at Quintessa.
Faust is part of a winery/brand portfolio owned by Huneeus Vintners including Napa Valley based Quintessa, Illumination (a very limited production Sauvignon Blanc sourced from a tiny block on the Quintessa property), Flowers Vineyards & Winery (a Sonoma County based winery), Leviathan, a Napa Valley brand founded by winemaker Andy Erickson and Willamette Valley, Oregon based Benton-Lane Winery. See our separate review on this site for Quintessa including notes from our visits to their other properties.
Both Agustin and his wife Valeria were born in Chile and are wine industry veterans. Valeria is a microbiologist and viticulturist and was the one who originally discovered the land for sale that is now home to Quintessa. By age 27 in 1960, Agustin was the CEO of Concha y Toro – a small winery at the time that he ultimately helped build into Chile's largest producer. In the early 1970's he worked at Seagram's and oversaw their worldwide operations. Later he became involved in a remarkable number of wine ventures including Franciscan Estate and Flowers Winery and in 1999 founded Huneeus Vintners. Agustin and Valeria's son Agustin Francisco was in charge of their family's wine holdings until he resigned from the company in 2019.
The name Faust is based on an old German legend. The name is a tribute to Dr. Faust, a man described in the German poet Goethes' work. In the story, Dr. Faust was tempted by the Devil to exchange his soul in return for youth, energy and passion.
Throughout Agustin's wine career, and it has been a long one, he has always been associated with wines that showcase great vineyard sites – wines that directly reflect the individual terroir of that specific vineyard's location. However this is not the case with Faust – the premise behind this wine is to ultimately showcase Cabernet Sauvignon from multiple vineyard locations within the Napa Valley.
Select Wines
The majority of grapes are sourced from Huneeus's own vineyards in Rutherford as well as from Coombsville, a slightly cooler growing climate found just east of the town of Napa. The same attention to detail that Huneeus gives his Quintessa wines is bestowed upon the Faust wines in the vineyards and throughout the wine making. Initially Faust specialized in only one wine each year – but over the years their wine portfolio has diversified; today in addition to their flagship, Faust Napa Valley Cabernet Sauvignon, they produce The Pact, The Lure, The Hour and The Damned – these other wines are produced in smaller quantities and highlight Napa Valley grown Cabernet Sauvignon – but all from different sites.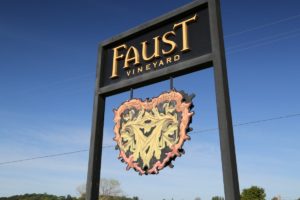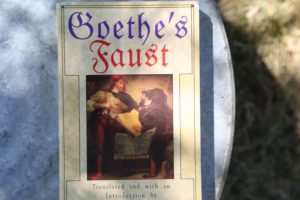 The first vintage ever of Faust was from 2002. We tried the 2005 Faust years ago during one of our earlier visits to Quintessa Winery; this wine is a blend of Cabernet Sauvignon, Merlot and a touch of Cabernet Franc. While the minor blending varieties will change depending on the vintage, Cabernet Sauvignon remains the dominant variety in every Faust wine. As with prior vintages this is a rich complex wine dark in color. Offers an exotic flavor combination of herbs, notes of cedar, blackberries & cherries. This wine is designed to be consumed now and its styled to be paired with food but it can also be aged. The tannins are moderate and do not overwhelm and integrate nicely with darker spices on the very long finish. Wine & Spirits Magazine voted this wine #9 of their best restaurant Cabernet Sauvignon wines in the nation.
The 2015 Faust Napa Valley Cabernet Sauvignon is a combination of both their Rutherford and Coombsville estate vineyards as well as from select vineyard sites on Atlas Peak, Mount Veeder and Howell Mountain. The wine is noticeably dark red in the glass; shows aromas of blackberry and black licorice complemented nicely with some wood spice notes and subtle hints of mocha. As the wine breathes further, shows a sweetness of fruit along with brown chocolate. Very pretty aromatics, mostly dominated by darker fruit. Shows flavors of plum, huckleberry and darker spices including notes of pepper. Framed by slightly dusty tannins that roll over the palate seamlessly, with no harsh edges. Also a nice lift of acidity, especially on the finish – not tart but lively.
Property History
As of mid 2020 the old St. Clement Winery (hospitality center) has finished being remodeled to eventually reopen as the home of Faust Wines. We have heard the opening date is scheduled for sometime in September or October 2020 but this could certainly be pushed back. To date the exterior has been painted a solemn dark color – making the building blend in more with the natural surroundings compared to the previous much brighter look.
NOTE: this review has been identified as needing a *major* update. Once the hospitality center opens, we will visit and will completely update this review including current release tasting notes.
The historic home that one can easily see when looking up while driving by on the highway was built in 1878 by Fritz Rosenbaum (with the proceeds earned from his glass and mirror company based in San Francisco at the time). He called this mansion Johannaberg – named in honor of his wife Johanna. He made lots of wine here (fermenting primarily Riesling and Zinfandel in the basement of the home) but never sold the wine.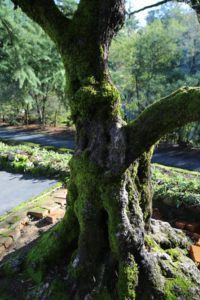 And this was the 'home' for several years of the early Spring Mountain Vineyard wines. Despite getting his winery bond for the old Victorian, Spring Mountain Vineyard founder Mike Robbins did not produce his Spring Mountain Vineyard wines here, because the cellar was so small. Rather he produced his earliest vintages at Heitz Cellars – located at the end of Taplin Road, west of St. Helena. As a side note, interestingly the first vintage of Spring Mountain Vineyards was a non-vintage Cabernet Sauvignon made with grapes from both 1968 and 1969, barrels purchased from Joe Heitz. A small portion of this blend were from the acclaimed Martha's Vineyard in Oakville.
William Casey, an ophthalmologist (who we met years ago at a tasting in St. Helena) founded St. Clement in 1976 and built a winery behind the iconic historic home. He chose the name St. Clement to honor his ancestors who helped found the state of Maryland. He eventually sold St. Clement to the Japanese brewer Sapporo USA in 1987. Treasury Wine Estates was the previous owner – they sold the winery, home, land + vineyard to Huneeus Vintners in late 2016.
—
Prices for Cabernet Sauvignon wines from the Napa Valley continue to soar – however, the Faust Napa Valley Cabernet Sauvignon is moderately priced (a good value to price point wine). As of our latest update to this review, the Faust wines are not available for tasting – until the tasting room opens, the best way to purchase is directly through their website or a number of online retailers. For more information or to join their wine club, visit: www.faustwine.com
Faust Vineyard, Coombsville

Faust Wine Cellar, Buda Castle, Budapest NO relation to Faust Wines.