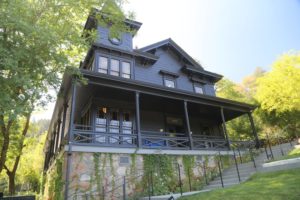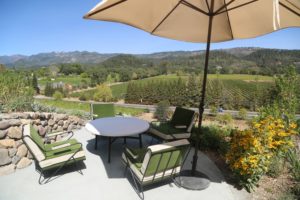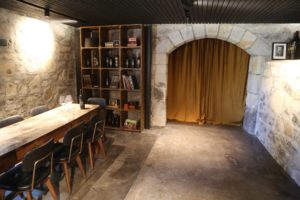 FAUST, not to be confused with Faust Wine Cellar in the Buda Castle in Budapest Hungary (which we have also personally visited several times) was founded by long time Chilean born vintners Agustin Huneeus and his wife Valeria. Agustin has spent his entire career in the wine industry with connections to various wine growing regions that span the globe. In the Napa Valley he is most well-known for opening the premium winery Quintessa – for many years the FAUST wines were made at Quintessa but as of our latest update, the FAUST wines are being produced in neighboring Sonoma County (with plans to eventually make limited production wines on site at their property in St. Helena using the already established winery building).
FAUST is part of a winery/brand portfolio owned by Huneeus Vintners including Napa Valley based Quintessa, Illumination (a very limited production Sauvignon Blanc sourced from a tiny block on the Quintessa property), Flowers Vineyards & Winery (a Sonoma County based winery), Leviathan, a Napa Valley brand founded by winemaker Andy Erickson and Willamette Valley, Oregon based Benton-Lane Winery. See our separate review on this site for Quintessa including notes from our visits to their other properties.
Valeria is a microbiologist and viticulturist and was the one who originally discovered the land for sale that is now home to Quintessa. By age 27 in 1960, Agustin was the CEO of Concha y Toro – a small winery at the time that he ultimately helped build into Chile's largest producer. In the early 1970's he worked at Seagram's and oversaw their worldwide operations. Later he became involved in a remarkable number of wine ventures including Franciscan Estate and Flowers Winery and in 1999 founded Huneeus Vintners. Agustin and Valeria's son Agustin Francisco was in charge of their family's wine holdings until he resigned from the company in 2019.
The name FAUST is based on an old German legend. The name is a tribute to Dr. Faust, a man described in the German poet Goethes' work. In the story, Dr. Faust was tempted by the Devil to exchange his soul in return for youth, energy and passion.
Throughout Agustin's wine career, and it has been a long one, he has always been associated with wines that showcase great vineyard sites – wines that directly reflect the individual terroir of a specific vineyard location. And that is part of the viticulture story of FAUST – to ultimately highlight Cabernet Sauvignon from multiple vineyard locations within the Napa Valley. However, the core vineyard for FAUST is 121 acres in Coombsville off of Coombsville Road – approximately 100 acres planted primarily to Cabernet Sauvignon but with smaller plantings of Merlot, Petit Verdot, Syrah and a tiny block of Sauvignon Blanc. The Huneeus family purchased this property in 1998, formerly the site of Lewis Dairy.
Hospitality
The FAUST property began hosting visitors on Labor Day weekend in September 2020 after a multi-year restoration overseen by San Francisco based architect Aidlin Darling. The high temperatures that weekend ranged from 110 to 115 Fahrenheit throughout the valley and all tastings were only offered outdoors due to county restrictions at that particular time.
Parking is in the lower lot immediately seen to the left as visitors pull in the driveway. During a visit we overheard one guest say something like, "we were ready to call an Uber to drive us up to the tasting room after we parked"! In reality the distance is not that far – accessed via a pleasant path that passes next to a tiny vineyard.
The exterior has been painted a solemn dark color – making the building blend in more with the natural surroundings compared to the previous much brighter look. After several years of renovations, the property shows wonderfully. A number of outdoor tables are used for hosting small groups. One doesn't need to be very high above the valley floor for excellent views – and many of the tables offer birds eye views of the northern part of the Napa Valley. And despite being so close to Highway 128, the noise from passing cars below is not very noticeable.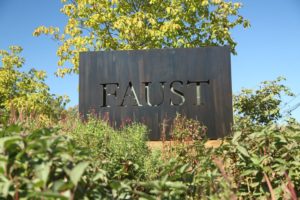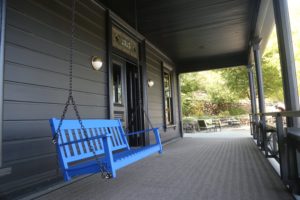 As of our latest update to this review, tastings are available in one of two flights, Act 1 features current release wines and Act 2 features older vintages. The FAUST Black Box is used to serve a variety of delicious small bites (during our visit prepared by employees in their prep-kitchen located to the rear of the house).
The property is only 4 acres of which under an acre is planted to Cabernet Sauvignon – on the hill just below the old house (Riesling and Zinfandel used to be planted on the property). New wineries built in the Napa Valley must be on a parcel size of at least 10 acres. This winery was built before that ordinance went into effect. As a result of being an older winery, the property also comes with some coveted permits including being able to host select events (often combining wine with art or photography exhibits, hosted in the upstairs space), ability to serve wines by the glass or bottle and being allowed to serve hard liquor but unable to sell it on premise.
Visitors should take some time to explore the old house; smartly decorated, the interior contains old photographs, wine related books, soil samples from the Faust Vineyard and several spaces for relaxing including The Study and Library rooms. FAUST often highlights talented artists with select works displayed within the house. And don't miss the old stone cellar – formerly used as a speak easy during Prohibition.
Select Wines
Their vineyard focus is on their property in Coombsville (a cooler growing part of the Napa Valley, located slightly east of the town of Napa), but grapes are also used from Huneeus's own vineyards in Rutherford as well as from select other sites in the Napa Valley. The same attention to detail that Huneeus gives Quintessa wines is bestowed upon the FAUST wines both in the vineyards and in the cellar. Initially FAUST specialized in only one wine each year – but over the years their wine portfolio has diversified; today in addition to their flagship, FAUST Napa Valley Cabernet Sauvignon, they produce THE PACT, THE LURE, THE HOUR and THE DAMNED – these other wines are produced in very small quantities (often several hundred cases) and highlight Napa Valley grown Cabernet Sauvignon – but all from different sites.
The 2019 FAUST Sauvignon Blanc is their first ever vintage of a wine made from this variety. Over the years we have noticed that in general, the Napa Valley has become settled into its own 'style' of Sauvignon Blanc. Producers are creating refined and sophisticated wines from this variety with a style that is balanced between the greener and leaner New Zealand styled offerings and richer riper Sauvignon Blanc from warmer climates. The FAUST bottling is a perfect example of this style – one that winemaker David Jelinek calls, "key lime meets creme brule". The 2019 FAUST Sauvignon Blanc shows the color of straw in the glass with a distinctive floral note to the bouquet including sweet aromas of honeysuckle and jasmine. The palate offers mineralities and flavors of lemon/lime. Very nicely balanced – crisp, but not overtly so. The finish is bright and lively and leaves one wanting another sip.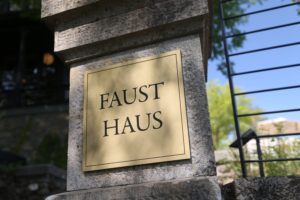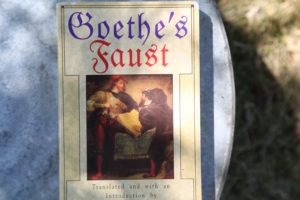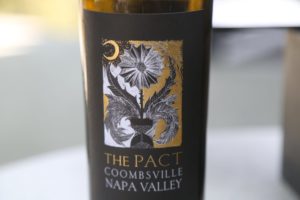 The first vintage ever of FAUST was from 2002. We tried the 2005 FAUST years ago during one of our earlier visits to Quintessa Winery; this vintage was a blend of Cabernet Sauvignon, Merlot and a touch of Cabernet Franc. While the minor blending varieties will change depending on the vintage, Cabernet Sauvignon remains the dominant variety in every FAUST wine. As with prior vintages this is a rich complex wine dark in color. Offers an exotic flavor combination of herbs, notes of cedar, blackberries & cherries. This wine is designed to be consumed now and its styled to be paired with food but it can also be aged. The tannins are moderate and do not overwhelm and integrate nicely with darker spices on the very long finish. Wine & Spirits Magazine voted this wine #9 of their best restaurant Cabernet Sauvignon wines in the nation.
The 2015 FAUST Napa Valley Cabernet Sauvignon is a combination of both their Rutherford and Coombsville estate vineyards as well as from select vineyard sites on Atlas Peak, Mount Veeder and Howell Mountain. The wine is noticeably dark red in the glass; shows aromas of blackberry and black licorice complemented nicely with some wood spice notes and subtle hints of mocha. As the wine breathes further, shows a sweetness of fruit along with brown chocolate. Very pretty aromatics, mostly dominated by darker fruit. The palate shows flavors of plum, huckleberry and darker spices including notes of pepper. This wine is framed by slightly dusty tannins that roll over the palate seamlessly, with no harsh edges. There is also a nice lift of acidity, especially on the finish; it is not tart but lively.
The 2018 FAUST Cabernet Sauvignon is dark purple in color; it immediately offers spicy aromatics including cedar and hints of tobacco leaf. But there are also fruit aromatics including dark cherry. Juicy across the palate with the spices showing on the bouquet also showing towards the finish. Cracked peppercorn. Lingers slightly savory. The tannins are well managed and nicely integrated into the finish. It is balanced and approachable for such a young wine at the time of our tasting.
The 2016 FAUST THE HOUR is a red blend of Merlot, Malbec and Syrah. A nice aromatic fusion of both blue and black fruits along with some cardamom spice. Offers primarily darker fruits on the palate including plum and dark cherry. This wine sports a lovely texture with an appealing density. Also notes of leather and black olive; lingers with some darker spices including cedar and pepper. Fairly rounded tannins lead a smooth finish.
The 2017 FAUST THE PACT, their most premium Cabernet Sauvignon is dark purple in color. The aromatics are appealing and layered including darker fruit along with notes of dried herbs, violets and as the wine further opens, aromas of caramel and toffee. Offers plenty of depth and richness across the palate with flavors of plum and darker cherry. The tannins are firm and still a bit tightly wound – they are readily felt but are not course in their feel. Also, some lingering notes of darker spices.
And the beautiful labels were designed by Napa Valley based and talented designer, Michael McDermott.
Property History
The historic home that one can easily see when looking up while driving by on the highway was completed in 1878 by Fritz Rosenbaum (with the proceeds earned from his glass and mirror company based in San Francisco at the time). He called this mansion Johannaberg – named in honor of his wife Johanna. He made lots of wine here (fermenting primarily Riesling and Zinfandel in the basement of the home) but never sold the wine. His son August unfortunately dealt with bouts of insanity and wandered off on foot from the property one day in 1889, eventually to be found dead near St. Helena, presumably from exposure.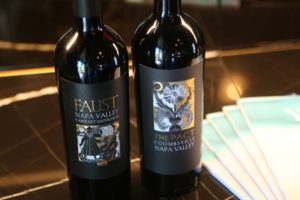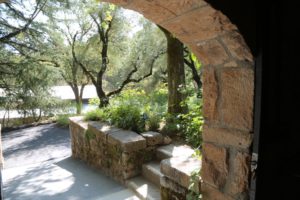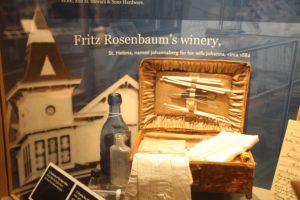 And this was the 'home' for several years of the early Spring Mountain Vineyard wines. Despite getting his winery bond for the old Victorian, Spring Mountain Vineyard founder Mike Robbins did not produce his Spring Mountain Vineyard wines here, because the cellar was so small (and the physical winery was not yet built). Rather he produced his earliest vintages at Heitz Cellars – located at the end of Taplin Road, west of St. Helena. As a side note, interestingly the first vintage of Spring Mountain Vineyards was a non-vintage Cabernet Sauvignon made with grapes from both 1968 and 1969, barrels purchased from Joe Heitz. A small portion of this blend were from the acclaimed Martha's Vineyard in Oakville.
William Casey, an ophthalmologist (who we met years ago at a tasting in St. Helena) founded St. Clement in 1976 and built a small stone winery behind the iconic historic home. He chose the name St. Clement to honor his ancestors who helped found the state of Maryland. William eventually sold St. Clement to the Japanese brewer Sapporo USA in 1987. Treasury Wine Estates was the previous owner and used the lower floor of the old house for St. Clement's tasting room. They sold the winery, home, land + vineyard (but not the brand) to Huneeus Vintners in late 2016.
—
Prices for Cabernet Sauvignon wines from the Napa Valley continue to soar – however, the FAUST Napa Valley Cabernet Sauvignon is moderately priced (a good value to price point wine). Total production varies each year, but usually runs between 40,000 and 45,000 cases with the majority by far being the FAUST Cabernet Sauvignon. Cleverly named, several wine club offerings are part of their membership-based Pact Society. For more information or to schedule an appointment, visit: www.faustwine.com
Winery

Old Cellar

Faust Haus

Miscellaneous Property

FAUST Vineyard, Coombsville

Faust Wine Cellar, Buda Castle, Budapest NO relation to FAUST Wines.