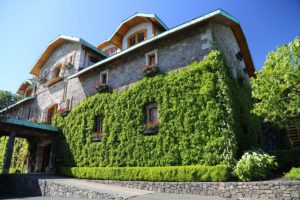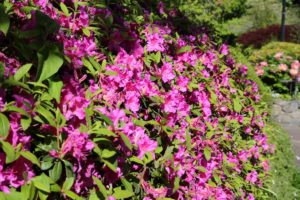 Far Niente Winery (the original stone winery was established 1885) went out of business during Prohibition and sat dormant for some 60 years. In 1979 by Gil Nickel, his wife Beth and partners purchased the winery and property and spent significant time restoring it. Today it is a beautiful winery and grounds that opened its doors to the public in 2004 for tastings and tours by appointment only.
Gil was born and raised in Oklahoma – he worked for his family business, Greenleaf Nursery – and eventually he became President of the company for 8 years before he moved to the Napa Valley. Incidentally, Greenleaf has become the nation's second largest, family owned wholesale nursery. Gil attended (UC Davis) to learn more about wine making after becoming smitten with wine when he was already in his 30's. He passed on far to young (at age 64) in 2003.
As of mid 2008 they installed solar cells to power much of the winery operations. Both land based and floating solar panels have been installed. You definitely won't see floating solar panels at any other Napa winery. The Far Niente property is listed on the National Register of Historic Places. This winery sits on 13 acres with landscaping that is styled after part of the Southern USA. Over 9000 azalea plants grace this property and April is truly the time of year to be here to see the gardens ablaze in a sea of pink.
Far Niente is located at the end of a long tree lined driveway on top of a small hill just off of the Oakville Grade near the famed Harlan Estate. The tour starts in the great hall; when you arrive you will see your name on a plaque with the other tour guests. This is of course a good spot to take a photo.
Tours then head downstairs to the fermentation area and into their over 40,000 square feet of tunnels. The caves are also built with incredible acoustics, in certain places the person speaking sounds exactly like they are using a microphone. Everything is absolutely immaculate in these tunnels including the perfectly stained wine barrels. Workers even run a string along the wine barrels to make sure all the barrels are in a straight line! Their wine library contains bottles of every vintage of their Chardonnay dating back to 1979 and vintages of their Cabernet Sauvignon dating back to 1982.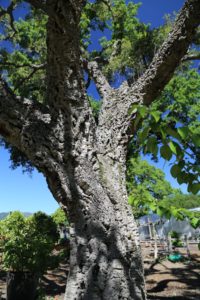 The tour continues into the classic car collection; if you know your classic cars you certainly be highly intrigued by your visit here. It is one of two best collections of old, expensive and rare antique cars that we know of in Napa. Gil Nickel used to race cars, his son Jeremy has his own racing team and one of Jeremy's cars is on display along with expensive one of a kind Ferrari's, Porche racing vehicles, and other premium automobiles.
After the car museum you are then treated to the actual wines in the Founder's Room. This tiny tasting room accommodates about 10 people at the long table. Upon arrival following your tour of the property, the wines are already poured in your glasses. With the tutelage of your host, you will work your way through the Chardonnay, Cabernet Sauvignon and then finish with their Dolce dessert wine.
Dolce is a proprietary winery within Far Niente – they have their own wine cave and specialize in just one type of wine, a Sautern style late harvest white wine blend. This wine is the "nectar of Far Niente" and you will never believe from its wonderful taste that the grapes used to make it are in various stages of ugly Botrytis rot when they are harvested!
Several other wineries are part of their overall 'collection' including Nickel & Nickel, Enroute and Bella Union.
The primary wines at Far Niente are the Chardonnay, Cabernet Sauvignon and the Dolce late harvest blend. These are well-crafted wines; sourced from premium Napa vineyards and the price is reflective of this. Several wine clubs are available. For more information visit: www.farniente.com
NOTE: this review has been identified as needing a major update.