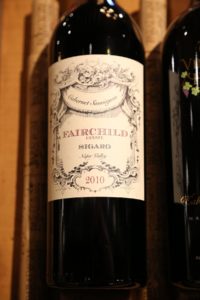 Fairchild Wines is a high quality producer of very limited premium red wines. They currently focus on estate grown Cabernet Sauvignon. In 1999 Larry Fairchild and his wife purchased premium land just above Lake Hennessy in the eastern hills above Napa Valley.
Larry has a long history of building start-ups and managing entrepreneurial businesses including at one point an online company to facilitate the needs of wineries with suppliers of winery related products. This area is probably Napa's most sought after terroir that isn't yet an officially recognized sub appellation. It is in the Pritchard Hill area which is home to two of Napa's generally recognized seven cult wineries – these two are Colgin and Bryant Family.
Fairchild's first release was in 2001. This is a unique location home to several other very premium vineyards and wineries. The lake provides a very unique moderating growing climate especially in the summer during the afternoons when the rest of this area is much warmer. This is a steep hillside vineyard planted to Cabernet Sauvignon clone 7 located in an area known to produce complex wines with intense flavors.
The old adage that the majority of wine making takes place in the vineyard is very true and maybe even more so in the case of a small vineyard focusing on premium wines such as Fairchild. The vineyard is small and so is the total yield with a typical year coming in around merely 1.5 tons/acre. As a result this is one of the smaller Napa producers that we have met with on this project. Each wine is typically only produced in a quantity of merely 90 cases each vintage. That's not much!
Larry has two very highly regarded people in the wine industry on his team; Jim Barbour provides all the hands on vineyard management and Paul Hobbs is the winemaker. Hobbs has a long history in the Napa area back to the early 1980's when he worked with Opus One and today he consults for local and International wineries and his wines are extremely sought after.
During harvest, the grapes are all hand sorted, indigenous yeast is used during fermentation and no pumps are used as gravity flow is how the juice is moved into the actual fermentation tanks. Their philosophy is to manipulate the wine as little as possible both during fermentation as well as during its aging. Attention to detail is key during the winemaking – hand picked French Oak barrels are used and the wines are bottled unfined and unfiltered for maximum flavors.
We met Larry at lunch in St. Helena and tried his 2005 Estate vineyard Cabernet Sauvignon (Sigaro). If you are looking for a premium elegant Bordeaux style wine, this is an excellent choice. It is a wine that contains a powerful nose of leather, a smokiness (think cedar) and black cherry. On the palate it reveals several depths of flavor including black cherry, black currant and undertones of vanilla. It contains a pleasant smokiness that lingers long after you swallow.
Fairchild also makes another wine, the Estate Napa Valley Cabernet Sauvignon. This wine differentiates itself from the single vineyard Sigaro in that it is blended with valley floor fruit. Visit: www.fairchildwines.com