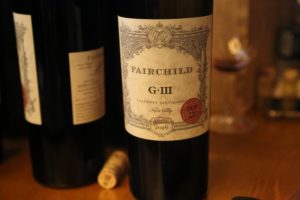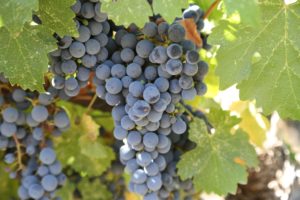 Fairchild Wines is a premium producer of extremely limited production wines from some of the Napa Valley's finest vineyard sites. Founder, Lawrence Fairchild (originally from Nebraska and an Agriculture major at the University of Nebraska) has a long history of building start-ups and managing entrepreneurial businesses including at one point an online company to facilitate the needs of wineries with suppliers of winery related products.
In 1999 Lawrence purchased property (the Sigaro Vineyard) in the hills of the Vaca mountain range above and north of Lake Hennessy. One of his closest vineyard neighbors is a vineyard that BOND sources fruit from. This location is not far as the crow flies from Pritchard Hill, a part of the Napa Valley that Lawrence also purchases grapes from through a long term lease. Pritchard Hill has been called the 'Rodeo Drive" of the Napa Valley referencing its premium vineyard sites and iconic wineries including producers such as Colgin Estate and Bryant Family (two of the Napa Valley generally most highly regarded wineries).
Located within close proximity to Lake Hennessy provides a very unique moderating growing climate especially in the summer during the afternoons when the rest of the surrounding eastern slopes are much warmer. The Sigaro Vineyard is located on steep hillsides planted to Cabernet Sauvignon clone 7. The vineyard is farmed by hand as organically as possible. The fruit from these vines is low yielding (often only around 1.5 tons per acre) and intense in flavor, producing wines that are dark and well-structured.
Fairchild's first vintage was in 2001. Production currently focuses on several red wines including Sigaro (the estate Cabernet Sauvignon), the Beckstoffer Georges III Vineyard (the G-III Cabernet Sauvignon) and several iterations of their Stone series collector wines (first introduced in 2011). The wines are hand-crafted from both vineyards owned by Fairchild as well as from select other Napa Valley vineyards that Lawrence has long term leases with. Other vineyard sources include the Tench Vineyard (borders Screaming Eagle's property) and Las Piedras vineyard in St. Helena.
While production has grown slowly over the years – Fairchild maintains an unwavering focus on quality.
Lawrence collects a diversity of art including masks from around the world and graffiti style works of art, among other unique pieces. The labels for the Stone series are hand-illustrated and hand-pressed in France.
Over the years some of his wines have taken on a more artistic feel, including extremely unique packaging such as the first Fairchild Perrarus from 2015 (one of Napa Valley's most expensive bottles of wine) bottled in hand-blown customized glass bottles with one of the Napa Valley's most unique labels – a golden clock that actually rotates. Perrarus in Latin refers to rare or exceptional; this wine includes the best of the best from Fairchild including from one of Beckstoffer's heritage vineyards and from a site on Pritchard Hill. With such a limited production of this coveted wine (only 300 Magnum bottles), it is only available to members who request one – and is allocated to a single bottle per member.
Lawrence works closely with two very highly regarded individuals; Jim Barbour provides all the hands on vineyard management and Philippe Melka is the winemaker (Paul Hobbs was their founding winemaker). Philippe grew up in Bordeaux, earned his degree in Geology at the University of Bordeaux and later his Master's degree in Agronomy and Enology. His first wine job was at Château Haut Brion in Bordeaux. His first introduction to the Napa Valley came in 1991 as an intern with Christian Moueix, proprietor of Chateau Petrus in Bordeaux and Dominus in Napa Valley. Philippe came to Dominus to study soils – then spent a few years as a traveling winemaker and ultimately settled in the Napa Valley in 1994.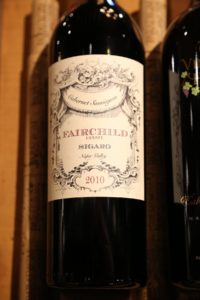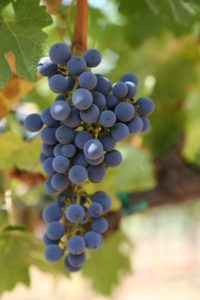 In what would become the start of a long and successful wine making career, his first two wine making / consulting jobs were in 1995 at Seavey Vineyards and at Lail Vineyards (both of whom he is still involved with today). He also began Atelier Melka in 1995, a wine consulting company specializing in creating limited production premium wines for a variety of well regarded brands – mostly based in the Napa Valley. Atelier in French means an artist's studio or workroom (where specific skills are taught and passed down). But today he has plenty of help; Atelier Melka employs several accomplished winemakers.
He is careful about who he works with, valuing both the relationships of the clients and premium vineyard sites. His father was a physician and Philippe remembers being impressed at a young age by the personal relationships his dad developed with his clients when making house calls. The relationships he maintains and the constant communication with clients is an extremely important part of his toolbox.
The list of Napa wineries that Philippe has worked with over the years reads like a whose whose list of the valley – Alejandro Bulgheroni Estate, Brand, Bryant Family, Dana Estates, Lail, Hundred Acre and Tusk Estate (unlike all his other clients, he is a partner in Tusk) among many other well-regarded brands.
During harvest, the grapes are all hand sorted, indigenous yeast is used during fermentation and no pumps are used as gravity flow is how the juice is moved into the actual fermentation tanks. Fairchild's philosophy is to manipulate the wine as little as possible both during fermentation as well as during its aging. Attention to detail is key during the winemaking – hand picked French oak barrels are used and the wines are bottled unfined and unfiltered for maximum flavors.
We originally met Lawrence for lunch in St. Helena (although we later visited with Larry at his property in the hills on the way up to Howell Mountain) and sampled the 2005 Fairchild Estate Vineyard Cabernet Sauvignon (Sigaro). This is an elegant Bordeaux-style red wine. The bouquet contains powerful aromas of leather, a smokiness (old cedar box) and black cherry. On the palate it reveals layers of flavor including black cherry, black currant and undertones of vanilla. The finish contains a pleasant smokiness with darker spices that persist for quite some time.
Select Wines
We require a revisit to taste some of the current release Fairchild wines. Look for tasting notes here by the end of 2023.
None of the Fairchild wines are distributed – these wines are not found in restaurants or retail locations. They are sold direct through a membership allocation list – Lawrence has met most of his customers, often through referrals. Larry hosts annual wine tastings in select cities including Houston, Texas. For more information, visit: www.fairchildwines.com