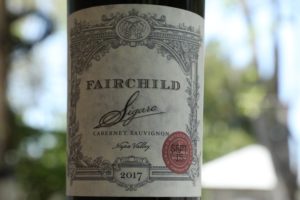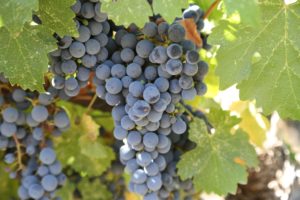 Fairchild Wines is a premium producer of extremely limited production wines from some of the Napa Valley's finest vineyard sites. Founder, Lawrence Fairchild (originally from Nebraska and an Agriculture major at the University of Nebraska) spent part of his career working on Capitol Hill in Washington DC during part of the Reagan administration. He has a long history of building start-ups and managing entrepreneurial businesses including launching, eVine.com, a local early wine sales company in 2000. The team for eVine also included Susan Boswell (Chateau Boswell) and Shannon Salvestrin (Salvestrin Winery); this business to business website listed over 5,000 products from winery supply companies from more than 200 suppliers.
In 1999 Lawrence purchased property (the Sigaro Vineyard) in the hills of the Vaca mountain range above and north of Lake Hennessy. One of his closest vineyard neighbors is a vineyard that BOND sources fruit from. This location is not far as the crow flies from Pritchard Hill, a part of Napa Valley that Lawrence also purchases grapes from through a long-term lease. Pritchard Hill has been called the 'Rodeo Drive" of the Napa Valley referencing its premium vineyard sites and iconic wineries including producers such as Colgin Estate and Bryant Family, two of Napa Valley's generally most highly regarded wineries.
Located within close proximity to Lake Hennessy provides a very unique moderating growing climate especially in the summer during the afternoons when the rest of the surrounding eastern slopes are much warmer. The Sigaro Vineyard is located on steep hillsides planted to Cabernet Sauvignon clone 7. The vineyard is farmed by hand as organically as possible. The fruit from these vines is low yielding (often only around 1.5 tons per acre) and intense in flavor, producing wines that are dark and well-structured.
Fairchild's first production was in 2001 and his first commercial bottling was in 2005. Production currently focuses on several red wines including Sigaro (the estate Cabernet Sauvignon), the Beckstoffer Georges III Vineyard (the G-III Cabernet Sauvignon) and several iterations of their Stone series collector wines (first introduced in 2011). The wines are hand-crafted from both vineyards owned by Fairchild as well as from select other Napa Valley vineyards that Lawrence has long term leases with. Other vineyard sources include the Tench Vineyard (borders Screaming Eagle's property) and Las Piedras vineyard in St. Helena.
While production has grown slowly over the years – Fairchild continues to maintain an unwavering focus on quality.
Lawrence collects a diversity of art including masks from around the world and graffiti style works of art, among other unique pieces. The labels for the Stone series are hand-illustrated and hand-pressed in France.
Over the years some of his wines have taken on a more artistic feel, including extremely unique packaging such as the first Fairchild Perrarus from 2015 (one of Napa Valley's most expensive bottles of wine) bottled in hand-blown customized glass bottles with one of the Napa Valley's most unique labels – a golden clock that actually rotates. Perrarus in Latin refers to rare or exceptional; this wine includes the best of the best from Fairchild including from one of Beckstoffer's heritage vineyards and from a site on Pritchard Hill. With such a limited production of this coveted wine (only 300 Magnum bottles of the first Perrarus was produced), it is only available to members who request one and is allocated to a single bottle per member.
Perrarus continues to be crafted; each iteration is an art form in and of itself. Perrarus 3: The Museum Series is bottled in replica hand-blown bottles modeled after ancient Greek amphoras. These are among, if not the most expensive Napa wine produced. A single wine is priced at $11,500/ bottle. And another Perrarus is called The Travel Series, is equally as coveted. Invitation to have the opportunity to purchase these rare wines is through a lottery. For more details, visit the www.houseofperrarus.com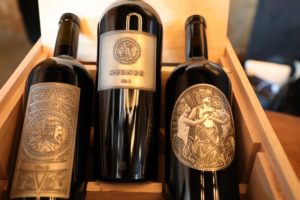 Lawrence works closely with two very highly regarded individuals; Jim Barbour provides all the hands-on vineyard management and Philippe Melka is the winemaker (Paul Hobbs was their founding winemaker). Philippe grew up in Bordeaux, earned his degree in Geology at the University of Bordeaux and later his master's degree in agronomy and enology. His first wine job was at Château Haut Brion in Bordeaux. His first introduction to Napa Valley came in 1991 as an intern with Christian Moueix, proprietor of Chateau Petrus in Bordeaux and Dominus in Napa Valley. Philippe came to Dominus to study soils and then spent a few years as a traveling winemaker and ultimately settled in Napa Valley in 1994.
In what would become the start of a long and successful wine making career, his first two wine making / consulting jobs were in 1995 at Seavey Vineyards and at Lail Vineyards (both of whom he is still involved with today). He also began Atelier Melka in 1995, a wine consulting company specializing in creating limited production premium wines for a variety of well-regarded brands – mostly based in Napa Valley. Atelier in French means an artist's studio or workroom (where specific skills are taught and passed down). But today he has plenty of help; Atelier Melka employs several accomplished winemakers.
He is careful about who he works with, valuing both the relationships of the clients and premium vineyard sites. His father was a physician and Philippe remembers being impressed at a young age by the personal relationships his dad developed with his clients when making house calls. The relationships he maintains and the constant communication with clients is an extremely important part of his toolbox.
The list of Napa wineries that Philippe has worked with over the years reads like a who's who list of the valley and includes Alejandro Bulgheroni Estate, Brand, Bryant Family, Dana Estates, Lail, Hundred Acre and Tusk Estate (unlike all his other clients, he is a partner in Tusk) among many other well-regarded brands.
During harvest, the grapes are all hand sorted, indigenous yeast is used during fermentation and no pumps are used as gravity flow is how the juice is moved into the actual fermentation tanks. Fairchild's philosophy is to manipulate the wine as little as possible both during fermentation as well as during its aging. Attention to detail is key during the winemaking including handpicking French oak barrels bottling the wines unfined and unfiltered for maximum flavors.
Select Wines
Stones
The 2018 Fairchild Stones Longitude Latitude is 70% Cabernet Sauvignon and 30% Cabernet Franc. This wine is deep ruby in color; the bouquet is dark with notes of dark plum, bramble, dried sage, forest floor, a hint of mushroom, sweaty leather (made us think of the aromas of old baseball mitt being used on a warm day), dark tobacco and old cedar box. Its aromatics are layered and diverse. Balanced across the palate, this wine offers rich flavors of dark plum, blackberry, dark cherry and tobacco spices.
Its textural feel is compelling and is almost cushiony, with lightly grainy but well-integrated tannins supporting a dark fruited, savory, drying and bright toned finish. And to honor its name, the label features the latitude and longitude of each of the vineyard blocks used to produce the grapes for this wine. This wine spent 22 months aging in new French oak barrels and is housed in a handsome and graceful looking standout bottle.
The 2018 Stones No. 3 is 100% varietal Napa Valley Cabernet Sauvignon sourced from the Perrarus Block 3 in Tench Vineyard in Oakville is deep ruby in color. The bouquet offers some darker characters to the bouquet and initially is slightly brooding before it evolves in the glass, with the fruit becoming more expressive. Be patient with the bouquet, you will be rewarded. It shows scents of dark plum, blackberry, violets, crushed dried peppercorn, a light note of leather (probably will develop more of this character as its ages), tobacco spice and some baking spice influence. The palate is dark fruited, big but balanced and reveals flavors of plum, black currant, dark cherry, crushed rock and pencil lead. The finish features grainy, dry and moderately gripping tannins, is savory and lingers with a persistent woodsy and earthy spice. This is prime Oakville terroir; Tench Vineyard stands on its own for quality of grapes produced from this coveted site, but sometimes its also fun to mention that Screaming Eagle is one of their immediate neighbors.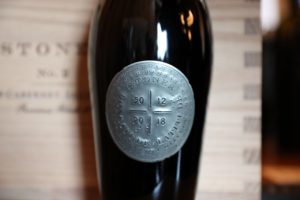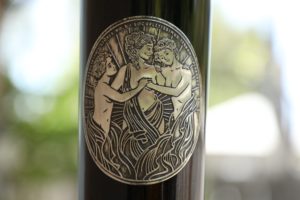 The 2019 Stones No. 1 is a 100% varietal Cabernet Sauvignon from both a vineyard in St. Helena and on Pritchard Hill. This wine is dark ruby in color and nearly opaque; the aromatics are immediately enticing including of blackberry, boysenberry, dark chocolate, dark baking spices and a hint of Graham cracker and old cedar box. This wine offers a nice balance between oak and fruit on the bouquet. The oak is more noticeable on the palate than the bouquet which also includes flavors of blackberry, dark cherry and black currant. The texture is noticeable with its still tightly woven grip but it doesn't dominate the wine due to the finer-grained feel of the tannins. This wine was aged for 22 months in 100% new French oak barrels.
The 2019 Stones No. 2 is also 100% varietal Cabernet Sauvignon (several clones), entirely from Pritchard Hill. This wine is dark and opaque; the bouquet is more about the fruit rather than influences from barrel. It offers scents of blackberry, blackberry pie, some floral notes including violets, milk chocolate and hints of old cedar wood. This is a robust mountain wine with dark fruit flavors including plum, a variety of spices, white pepper and tobacco. It finish lightly savory with a woodsy note. This wine is rich and full-bodied anchored by long lasting tannins which cast a greater textural feel than the Stones 1 bottling.
Fairchild
The 2017 Fairchild Sigaro Cabernet Sauvignon Napa Valley is deep ruby and opaque in the glass; the bouquet is an appealing union of both darker fruits and secondary influences from its barrel aging. It offers expressive and ripe aromas of blackberry, blackberry pie, boysenberry and mulberry with accompanying notes of mocha, espresso, milk chocolate and fresh coffee brewing. The palate reveals flavors of dark plum, blackberry and a dark and savory woodsy spice along with notes of dried peppercorn. The finish lingers with grainy tannins sporting a noticeable dry character which continues to hold on to the palate for a very long time after the fruit has dissipated along with a lingering note of dried tobacco leaf. We could see drinking this wine in a dark lounge somewhere in Cartagena, smoking a fine Cuban in the company of international jet setters.
We originally met Lawrence for lunch in St. Helena, although we later visited with him at his property in the hills on the way up to Howell Mountain and sampled the 2005 Fairchild Estate Vineyard Cabernet Sauvignon (Sigaro). This is an elegant Bordeaux-style red wine. The bouquet contains powerful aromas of leather, a smokiness (old cedar box) and black cherry. On the palate it reveals layers of flavor including black cherry, black currant and undertones of vanilla. The finish contains a pleasant smokiness with darker spices persisting for quite some time.
—
For many years none of the Fairchild wines were distributed and were not found in restaurants or retail locations. However, more recently a very limited number of bottlings are available to select spaces within a limited number of domestic and international locations. The wines are primarily sold direct through a membership allocation list. Lawrence has met most of his customers, often through referrals. He hosts annual wine tastings in select cities including Houston, Texas and a very limited number of trade focused events. For more information, visit: www.stoneswines.com