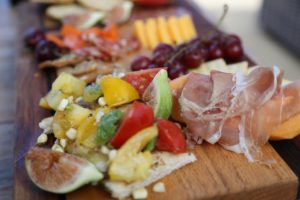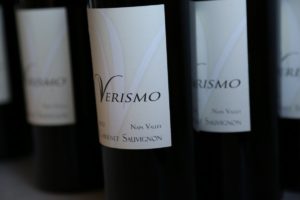 Essere Franco Wines (formerly Verismo Wines) was founded by the D'Ambrosio Family, long time entrepreneurs and grape growers in the Napa Valley. The family business for many years has been New York Style Sausage Company – based in Sunnyvale and started by the family patriarch Frank D'Ambrosio Sr in 1951. Frank Sr acquired a restaurant in the San Jose area, and after a family transition in ownership he acquired it again and then sold it to his children for $6,000, at which point they borrowed $8,000 from their mother and were soon the proud owners of what was a somewhat struggling restaurant.
With an eye for detail and an attention focused on quality – they began to turn this restaurant around and soon it became a very popular place to eat in the Silicon Valley. Details such as simply slicing Pepperoni thicker, hand making the pizza dough and using fresh ingredients, combined with a personal family style feel, were the ingredients for a successful "recipe".
One restaurant grew into several, all under the name Franky, Johnny and Luigis Too! – soon they managed a number of these restaurants in the San Jose area and at one point opened one in Yountville (since closed). In the early 1980's Franki D'Ambrosio Jr came to the Napa Valley to in part diversify their family business. He purchased planted commercially producing vineyard acreage in the range of $18 to $20,000 per acre. Today in Napa, those numbers are in the several hundred thousand dollar range. After accumulating a significant amount of vineyard land (both planted and non planted) from American Canyon to Calistoga – he sold off some of his holdings many years later when vineyard land was much more expensive – thus eliminating all of his early loans and now allowing the family to own all their vineyards outright.
Today the D'Ambrosio's own and manage over 125 acres of vineyards in the Napa Valley separated into 5 unique vineyards. Their focus is on micromanagement of the vineyards, separating out individual blocks within each vineyard and then managing these blocks as needed based on specific soil characteristics, vines, slope, drainage and a number of other characteristics. Their focus is to bring out the full expression of fruit from each grapevine. Unlike a majority of the vineyards in Napa these days that are managed by vineyard management companies, the D'Ambrosio's employ their own in house vineyard management team.
For many years the D'Ambrosio Family concentrated on growing the best quality grapes possible and selling the fruit to other area vintners – many of which are well established premium wineries. Frank had no interest in starting winery and making his own wine. However, with an at the time cruel Hollywood twist of fate, the movie Sideways was released in 2004 – a line in the film was highly detrimental to this variety despite this particular wine being Merlot based. The D'Ambrosio's soon found themselves without contracts for Merlot (which formed a large amount of their production at the time).
Seeing this, they decided to crush this Merlot themselves and a friend at St. Supery allowed them to run their first harvest in that winery. This was the first wine they made; but in ensuing years began to make wine from a number of varieties. Their first release was this Merlot in 2006.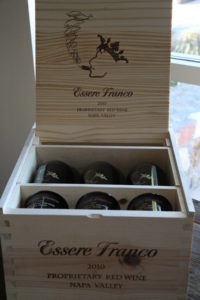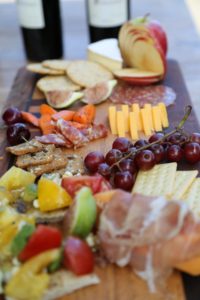 For two years they maintained a tasting room in a complex of buildings that Frank owned in Yountville. Upon selling this, they closed the tasting room. Following this, they opened a physical winery called Chateau Lane in 2013 in one of Coombsville's numerous "hidden corners" (this sub appellation is located just east of the city of Napa). They have since sold this winery. Of note during our visit when this winery was open, we noticed a very unique punch down tool for their tanks – having never seen a punch-down tool for a sizable tank before. Frank Jr imported a unique punch down tool specialized for his tanks – it does gentle punch downs while the tool spins as it descends. Very unique. Other winemakers in the valley were by to see this.
Today their wines are sourced mostly from the southern part of the Napa Valley including Coombsville up to Yountville. Two whites and several reds. All Essere Franco/Verismo wines are made in very limited quantities, typically under 500 cases. Their wines are priced well by Napa standards; the Stretto label are wines that are made to typically drink soon while the Verismo wines were more age worthy.
Stylistically, they enjoy a California influenced Sauvignon blanc rather than the the more acidic grassy characteristics you might find from a New Zealand wine of this variety. The 2012 Sauvignon blanc immediately reveals pleasing tropical notes on the bouquet – pineapple guava and honeysuckle. Bright lively fruit shows on the palate – it has rich aromatics and intensity of flavor without being viscous or heavy on the palate.
The 2010 Chardonnay is sourced from Coombsville – it has a generous mouth feel but with out the characteristics often associated with a wine that has gone through secondary fermentation (not oily or buttery). This wine only went through partial secondary fermentation (maloactic fermentation). The wine shows a deep gold color – with aromas of pear, red apple, baked apple and some lingering baking spices.
The 2010 Cabernet Sauvignon initially shows slight herbal notes on the nose, an earthy quality and a bit of smoke. Hints of chocolate show. Like a prior vintage we tried, this is not a huge wine, rather its more refined with a smooth entry and soft supple tannins on the finish. The mouth feel is delicate – the wine is soft on the palate but certainly delivers plenty of flavor.
The 2008 Verismo Merlot has small amounts of Malbec, Cabernet Sauvignon, and Syrah. Aromatically this wine is powerful showing both red and black fruit – with a bit of spice, tobacco and delicate pepper showing. The mouth feel is rounded and soft.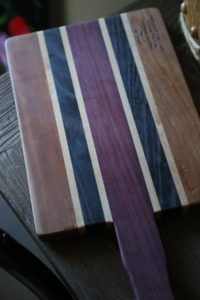 It is admirable that Essere Franco made their flagship wine a 100% varietal Malbec. Very few Napa vintners make a 100% varietal Malbec. This is the biggest of the red wines we tasted in their portfolio. Visually it is dark and inky. Aromatically it is big with ripe fruit forward aromatics that seemingly become even more aromatically riper as the wine breathes. Dusty Blackberry, black cherry, dark liqueur, black fig and hints of chocolate show as the wine breathes all are a part of this pretty and inviting nose – dessert in a glass if you will.
Frank is a man of many talents – not only has he been long involved in the culinary and wine business but he is an expert craftsman. He sources unique woods from around the world and creates a number of cutting boards – the colors of this wood are all natural and range from a variety of browns to purple. These are for sale. Perhaps Frank should also explore his creative writing talents. While trying to decide on what to write for the back label of his Essere Franco wine he called one of his long time employees to dictate the prose for this. Without revealing to much it, the description details a random meeting at a bar between a man and woman, a kiss and a bottle of Essere Franco wine.
The name Verismo is Italian and translates into "absolute truth" or the "truth" in wine. As the D'Ambrosio's say, "Our wines embody the passionate relationship between the vineyard and the winery and all who contribute to the making of this wine." For more information, visit: www.esserefranco.com
NOTE: Verismo has sold their Chateau Lane Winery property in Coombsville and are no longer taking tastings on this property. To make an appointment for a tasting, please contact them directly. Also note their wines have also transitioned from the name Verismo to Essere Franco Wines.
The last we heard they were in the process of creating a new tasting experience for visitors. Plans are underway for a tasting room next to Rebel Vintners in downtown Napa near the intersection of First and Main Streets.
We will make a major update to this review once we have additional information.