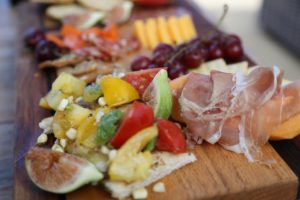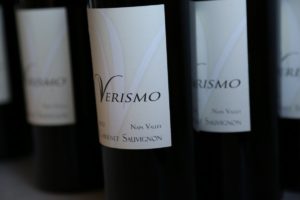 Essere Franco Wines (formerly Verismo Wines) was founded by the D'Ambrosio family, long time entrepreneurs, restaurateurs and grape growers in the Napa Valley. Essere Franco is the Italian verb for 'to be'. The family business for many years has been and still is the New York Style Sausage Company – based in Sunnyvale and started by family patriarch Frank D'Ambrosio Sr and his wife Tina in 1951. The success of the sausage business eventually led Frank and Tina to get into the restaurant business. Along with another couple, they acquired Giorgio's Pizza House in 1959 in the Willow Glen neighborhood, only about a 10 minute drive to downtown San Jose. After a family transition in ownership Frank later acquired this restaurant again and then sold it to his four children for $6,000, at which point they borrowed $8,000 from their mother and were soon the proud owners of what was a somewhat struggling restaurant at the time.
With an eye for detail and an attention focused on quality – the children began to turn this restaurant around and soon it became a very popular place to eat in the Silicon Valley. Details such as simply slicing pepperoni thicker, hand making the pizza dough and using fresh ingredients, combined with a personal family style feel, were the ingredients for a successful "recipe".
Today the family owns two Giorgio's Italian Food restaurants in the San Jose Bay Area – their original location in Willow Glen and a second one in Milpitas. And their other restaurant is Frankie, Johnnie & Luigi Too!, also with two locations; one in Mountain View and one in Dublin, CA. At one point the family operated a restaurant in Yountville (since closed). See our notes and photographs at the bottom of this review for details on each restaurant.
—
In the early 1980's Frank D'Ambrosio Jr came to the Napa Valley to in part diversify their family business. He purchased already planted commercially producing vineyard acreage in the range of $18,000 to $20,000 per acre. Today in the Napa Valley, those numbers are in the several hundred thousand dollar range. After accumulating a significant amount of vineyard land (both planted and non planted) from American Canyon to Calistoga – he sold off some of his holdings many years later when vineyard land was much more expensive – thus eliminating all of his early loans and allowing the family to own all their vineyards outright.
Today the D'Ambrosio's own and manage over 70 acres of vineyards in the Napa Valley separated into several unique vineyards (primarily in the southern part of the Napa Valley). Their focus is on micromanagement of the vineyards, separating out individual blocks within each vineyard and then managing these blocks as needed based on specific soil characteristics, vines, slope, drainage and a number of other characteristics. Their focus is to bring out the full expression of fruit from each grapevine. Unlike a majority of the vineyards in Napa these days that are managed by vineyard management companies, the D'Ambrosio's employ their own in house vineyard management team.
For many years the D'Ambrosio family concentrated on growing the best quality grapes possible and selling the fruit to other area vintners – many of which are well established premium wineries. Frank had no interest in starting a winery and making his own wine. However, with an at the time cruel Hollywood twist of fate, the movie Sideways was released in 2004 – a line in the film was highly detrimental to this variety despite this particular wine being Merlot based. The D'Ambrosio's soon found themselves without contracts for Merlot (which formed a large amount of their production at the time).
Seeing this, they decided to crush Merlot themselves and a friend at St. Supéry Estate Vineyards & Winery allowed them to operate their first harvest in that winery. This was the first wine they made; but in ensuing years began to make wine from a number of varieties. Their first vintage was Merlot in 2006.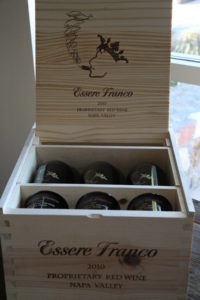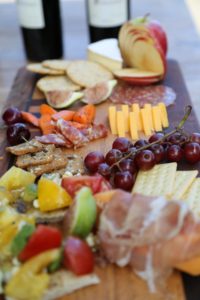 For two years they maintained a tasting room in a complex of buildings that Frank owned in Yountville. Upon selling this, they closed the tasting room. Following this, they opened a physical winery called Chateau Lane in 2013 in one of Coombsville's numerous "hidden corners" (this sub appellation is located just east of the city of Napa). They have since sold this winery. Of note during our visit when this winery was open, we noticed a very unique punch down tool for their tanks – having never seen a punch-down tool for a sizable tank before. Frank Jr imported a unique punch down tool specialized for his tanks – it does gentle punch downs while the tool spins as it descends. Very unique. Other winemakers in the valley stopped by to see this.
Today their wines are sourced mostly from the southern part of the Napa Valley including Coombsville up to Oak Knoll both several whites and reds. All Essere Franco wines are made in very limited quantities, typically under 500 cases. Their wines are priced well by Napa Valley standards; two labels possibly no longer active include Stretto (wines that are made to typically drink young) while the Verismo wines were more age worthy.
Select Wines
Stylistically, their Sauvignon Blanc is California influenced rather than the more acidic grassy characteristics one might find from a New Zealand wine of this variety. The 2012 Sauvignon Blanc immediately reveals pleasing tropical notes on the bouquet – pineapple guava and honeysuckle. Bright lively fruit shows on the palate – it has rich aromatics and intensity of flavor without being viscous or heavy on the palate.
The 2010 Verismo Chardonnay was sourced from Coombsville – it has a generous mouth feel but with out the characteristics often associated with a wine that has gone through secondary fermentation (not oily or buttery). This wine only went through partial secondary fermentation (malolactic fermentation). The wine shows a deep gold color – with aromas of pear, red apple, baked apple and some lingering baking spices.
The 2010 Verismo Cabernet Sauvignon initially shows slight herbal notes on the nose, an earthy quality and a bit of smoke. Hints of chocolate also. Like a prior vintage we tried, this is not a huge wine, rather its more refined with a smooth entry and soft supple tannins on the finish. The mouth feel is delicate – the wine is soft on the palate but certainly delivers plenty of flavor.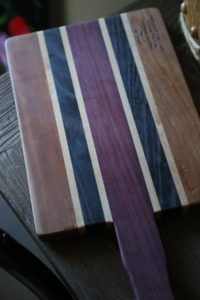 The 2008 Verismo Merlot has small amounts of Malbec, Cabernet Sauvignon, and Syrah. Aromatically this wine is powerful showing both red and black fruit – with a bit of spice, tobacco and delicate pepper showing. The mouth feel is rounded and soft.
It is admirable that Essere Franco made their flagship wine a 100% varietal Malbec. Very few Napa vintners make a 100% varietal Malbec. This is the biggest of the red wines we tasted in their portfolio. Visually it is dark and inky. Aromatically it is big with ripe fruit forward aromatics that seemingly become even more aromatically riper as the wine breathes. Dusty blackberry, black cherry, dark liqueur, black fig and hints of chocolate show as the wine breathes all are a part of this pretty and inviting nose – dessert in a glass if you will.
—
Frank is a man of many talents – not only has he been long involved in the culinary and wine business but he is an expert craftsman. He sources unique woods from around the world and creates a number of cutting boards – the colors of this wood are all natural and range from a variety of browns to purple. Perhaps Frank should also explore his creative writing talents. While trying to decide on what to write for the back label of his Essere Franco wine he called one of his long time employees to dictate the prose for this. Without revealing to much it, the description details a random meeting at a bar between a man and woman, a kiss and a bottle of Essere Franco wine.
NOTE: Additional partners have been brought on board since the Coombsville based Chateau Lane property was sold, allowing Frank to focus his time on being a grower and oversee his vineyard holdings in the valley. Shaun Mesher (involved in the oil industry) and his wife Stephanie (PR & communications), both live in Canada and are one of the partners (the Mesher's also own Napa Valley based Wolfs Head Wines).
While Essere Franco does not own a physical winery – as of our latest update to this review, they produce their wines at Laird Family Estate, one of the Napa Valley's premiere custom crush wineries.
Mia Carta, Wine Lounge
Essere Franco is part of a small collective of Napa Valley based wineries tastings their wines at Mia Carta Wine Lounge in downtown Napa. Thhis tasting room at 1209 1st Street next to Rebel Vintners near the intersection of 1st and Coombs Streets opened to the public on May 14, 2021. The name of this tasting space ties in well with the name of their Mia Carta wine brand.
In addition to the Essere Franco wines, this space houses several premium boutique Napa Valley producers including Arthouse Wines, Ilsley Family, Rarecat, Redmon Wines and Sciandri Family. NOTE: we will visit and update our notes for all 6 producers represented here by mid June after we have returned from yet another Napa Valley in Europe trip!!
The interior design was overseen by INTERSTICE Architects, a San Francisco based architectural firm. The building that houses this tasting room was originally the tallest building in downtown Napa when it was built in 1914. Parking is curbside on neighboring streets – or at the Pearl Street Parking Garage – within a several minute walk of this tasting room. For those into wine, it is easy to spend an afternoon in this part of downtown Napa – numerous tasting rooms are within a several block radius of Mia Carta. For more details about this space, visit: www.miacartanapa.com
—
RESTAURANTS
Frankie, Johnnie & Luigi Too!, Mountain View
This is as old school Italian-American cuisine as one can find in the San Jose Bay Area. From red and white checkboard table cloths to the requisite pizza and pasta, to the garlic bread served prior to meals. Portions are sizable and when not busy, service is extremely fast. Located directly next to Highway 82 (El Camino Real), this part of this historical route features a highly annoying amount of stop lights for miles. Not the only Napa Valley winery connection here – about 3 miles away is an Ernie's Liquor (part of the original ownership of Round Hill and Rutherford Ranch Winery).
Parking is located curbside on El Camino Real or in a side parking lot right next to the restaurant on the south side. Features plenty of indoor space including a separate room with a full bar.
Frankie Johnnie & Luigi Too!, Dublin
This restaurant is located in Dublin near the intersection of the 580 and 680 freeways – it is a stand alone restaurant like their other Frankie Johnnie & Luigi Too! in Mountain View – and not part of a greater shopping complex. Offers a variety of favorite Italian dishes ranging from pizzas, salads and various pastas. Plenty of surrounding parking.
In addition to hosting patrons, they also offer a variety of catering services and can reserve the restaurant for private events.
Giorgio's Italian Food & Pizzeria, San Jose
This is the original Giorgio's Restaurant – located in the Foxworthy Shopping Center in the community of Willow Glen (interestingly enough when we drove into this neighborhood for the first time in several decades we immediately recognized the shopping center and nearby streets as our aunt and uncle lived here for years). This restaurant originally opened in 1959 as Giorgio's Pizza House – the original owners sold after a year to Anthony and Louise D'Ambrosia – a cousin of the current owners. Anthony and Louise sold the restaurant in 1968 to the current ownership, four brothers Don, Nick, Frank and John.
Very old school feel – very comfortable in side with old timers/repeat patrons from the area often frequenting. Dining is either inside (plenty of space) or semi covered in the back next to a tiny alleyway across from several small service style shops – or in a small patio area next to the side of the building. The inside is decorated with several colorful murals of presumably guests and or family members. One of their slogans is, "a taste of Italy right in your own backyard".
Giorgio's Italian Food & Pizzeria, Milpitas
This more modern of the two Giorgio's is located in the contemporary Milpitas Town Center at 643 E. Calaveras Boulevard a short distance from the 680 freeway. Look for the tower marking the front of the restaurant – plenty of parking across from and along the edge of the building that houses the restaurant. This restaurant is remarkably large with several dining rooms – one cannot tell the scope of the interior space from the outside. Weather permitting, a limited number of tables are also located outside next to the parking lot curb. This restaurant dates from 1997; with no traffic it is only about a 20 minute drive from the Giorgio's in San Jose.
Features an open kitchen that greets patrons as soon as they walk inside. Couple favorites here are the home made Minestrone Soup and the seasonal Caprese with fresh tomatoes and basil. Like at the other Giorgio's – freshly baked bread is provided with all meals.
New York Style Sausage Co, Sunnyvale
This now very successful sausage factory, similar to a number of tech companies in the area, had its beginnings in a garage. Founders Frank and Tina D'Ambrosio began the company when Frank became unhappy with the quality of sausages that Tina was bringing back from local markets. Frank ground and mixed them by hand at his house – and soon began offering them to local restaurants. Eventually he purchased equipment and founded the company in 1951. Today this is the largest wholesale manufacturer of fresh sausages in northern California with distribution in a variety of large well known markets including Costco, Vons, Walmart and Target among many others.
As the D'Ambrosio's say, "Our wines embody the passionate relationship between the vineyard and the winery and all who contribute to the making of this wine." For more information, or to join their wine club, visit: www.esserefranco.com