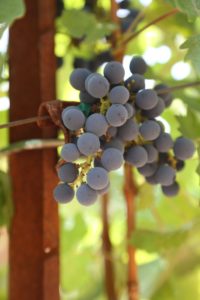 Eponymous Wine was founded by long time Napa winemaker Robert Pepi (Bob). Eponymous means "given as a name, or giving one's name to something" and as Bob likes to say this name is "a play on words by one who is unable to use his family name on his own bottle of wine".
A little history is in order regarding this. Bob's father purchased a vineyard in Oakville in the 1960's and along with his father founded a winery in 1980 and began selling Robert Pepi wines. They ran Robert Pepi Winery for many years, along the way earning accolades and excellent scores for their wine. They sold to Jackson Family Estates (Kendall Jackson) in 1994 and this winery site became the home to Cardinale Winery.
Bob is a well-known consultant winemaker in the Napa area and has also consulted for an Argentinean winery for many years. As a result every year Bob experiences two harvests. Not a bad gig at all for a winemaker. In fact we caught up with him one afternoon just before he was flying down to Argentina.
Ever since selling his original winery he always wanted to have his own label again and an opportunity to work with select Napa hillside vineyards. Bob released the first Eponymous wine in 2003 from the 2000 vintage. As of our latest update to this review, he makes his wine at one of the most historical custom crush facilities in the valley (Napa Wine Co) and the grapes are sourced from two premium vineyards, one on the slopes of Mt. Veeder on the Sonoma County side of the Mayacamas mountain range and the other at the entrance to Soda Canyon.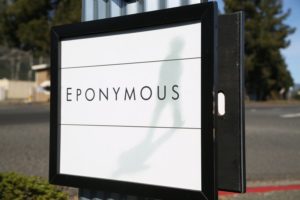 The Mt. Veeder vineyard has a history of producing excellent Cabernet Franc; it can be difficult to find premium hillside vineyards in the valley for this varietal. Bob recognized early on the potential for this vineyard and locked up the fruit in a longer term contract.
Currently Eponymous makes two wines, their red blend and a 100% varietal Cabernet Sauvignon. We tried several individual components from barrel that will be used for blending in the 2007 MacAllister Mt. Veeder Vineyard red Meritage including the Merlot, Cabernet Franc and the Cabernet Sauvignon. These wines while very young were already showing good balance and well roundedness. We then tried the current release, the 2004 vintage. It is always interesting to see how each component taken by itself does not have the power and richness found in the final wine. The 2004 version is a very elegant polished wine. It is smooth on the palate; the Cabernet Franc really helps complement the other varietals – with plenty of fruit immediately showing. The finish is long with well-structured tannins. Touches of chocolate and rhubarb round out this complex palate.
The total production of Eponymous is about 1200 cases, however the wines are distributed in very select markets in about 25 states. With over 50 harvests under his belt Bob has a rich perspective on wine making. We often find some of our most educational wine knowledge is from spending several hours with veteran winemakers such as Bob.
You can find the wine locally at Whole Foods in the town of Napa. And visitors to the valley can taste his wines at Napa Wine Co (in their Cult Room). For more information and or to join the mailing list, visit: www.eponymouswines.com
NOTE: this review has been identified as needing a major update.