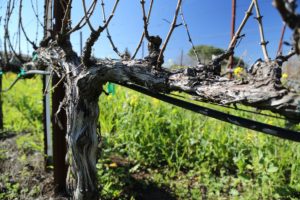 Encanto Vineyards focuses on single variety, single vineyard wines and is owned by first generation Mexican American vintner Rosaura Segura and her husband Enrique (who we met with). The story of their life in the Napa Valley begins with Rosaura's father Don Enrique in 1946 when he decided to move to the United States. He signed up for the "Bracero" program – an agreement between Mexico and the United States which at the time was a controversial program formed to provide temporary contract laborers from Mexico. Don Enrique moved north from Zacatecas Mexico. He was a migrant farm worker – spending time seasonally in various parts of the USA depending on where and when crops were ready to harvest.
Don Enrique ultimately settled in the Napa Valley in the early 1950's and was one of the earliest Mexican American farm workers and vineyard managers. There weren't that many wineries in the Napa Valley in the 1950's – he started as a field worker with Beringer and then moved to Charles Krug where he stayed for many years.
Over time as he was able to save from his income working in the vineyards, he brought family members to Napa in the 1960's and by the early 1970's his entire immediate family was living in the Napa Valley. Rosaura remembers helping harvest a number of vintages during the 1970's.
Later she become involved in increasing social awareness for migrant farm workers as well as providing farm worker housing (with the passage of measure L) which allowed farm worker housing to be built on land zoned for agriculture.
Rosaura is one of the founding members and current secretary of the Napa Sonoma Mexican American Vintners Association. This organization was formed after a number of vintners poured their wines in Mexico at the Michoacán State Fair and collaboratively recognized the need to have an organization that would promote their own wines, support Mexican Americans in the wine industry and provide wine education.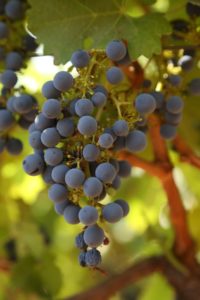 In 2002 the Segura's purchased land in Lake County (to the north of Napa County) and planted 20 acres of Sauvignon blanc. This region is now in the Big Valley appellation which is becoming better known for its Sauvignon blanc. They sold all the fruit (and continue to sell the majority) but in 2008 released their first wine under the Encanto label. A Napa Carneros Pinot noir was later added and a 2010 Rutherford Cabernet Sauvignon will be their first Cabernet released.
Their estate 2010 Sauvignon Blanc saw mostly stainless steel during fermentation and aging with just a kiss of neutral oak. The nose shows juicy fruit – more tropical in aroma than citrus like. Stone fruit aromas are present including white peach and white nectarine as well as hints of lemon grass. This wine has great acidity and a mid palate that shows flavors of pomelo. Good mineralties are present on the finish with a touch of graphite – it is lean and clean on the palate – a balanced wine.
Enrique runs a vineyard management company and manages vineyards from Carneros in the south to Calistoga in the north. As a result he has plenty of perspective into the valley's sweet vineyard spots and with his connections in the industry can source premium fruit for Encanto.
The 2008 Pinot Noir from the Napa side of Carneros reveals a wide breadth of aromatics on the bouquet. It is elegant, slightly floral yet at the same time shows earthy characteristics and a touch of pepper. Holiday spices and a faint trace of browned sugar linger. The palate shows a wide richness of flavor and complexity including some influence of oak with baking spices and hints of toffee. The mouth feel is rounded upon entry but quickly gains layers of flavor with a lingering intensity of fruit that completes the pleasing finish.
Encanto means enchantment in Spanish and is a name that represents a number of facets in the wine industry. Their wine and name are Rosaura and her husband's tribute to their family, their hard work in the vineyards and all farm workers who are the backbone of this industry. It is their work that directly contributes to the beauty of the Napa Valley and its "enchantment" that this special region has on so many people.
With such a small production (between approximately 100 and 200 cases per each wine) – most of their wines are only available direct through their mailing list. Encanto has very select distribution in Boston and Dallas and locally you can find the Pinot Noir at Press Restaurant in St. Helena. For more information visit:
www.encantovineyards.com