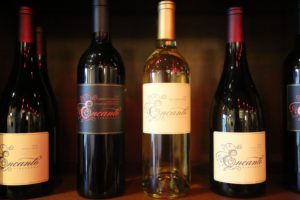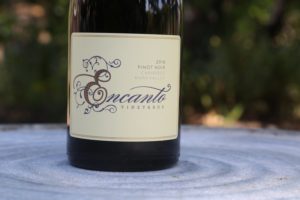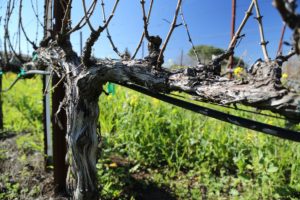 Encanto Vineyards focuses on single variety, single vineyard wines and is owned by first generation Mexican American vintner Enrique Lopez. Enrique was born in a small village, El Espiritu in Michoacan Mexico. He is the youngest of 14 children; the only vintner in Napa Valley who has more siblings is Stephanie Trotter of her appropriately labeled wine brand, Trotter 1/16th. Enrique first came to the United States at age 11 and began helping his family harvest crops -starting with garlic in Nevada. Returning to Mexico, he graduated with a degree in chemical engineering from the University of Morelia Michoacan and then immediately came back to California and soon worked for Warren Winiarski at Stag's Leap Wine Cellars.
In 2000 he founded St. Helena based Servin-Lopez Vineyard Management Company overseeing vineyards mostly in Napa Valley.
Encanto Vineyards is one of the founding members of what was called the Napa Sonoma Mexican American Vintners Association; now called The Mexican American Vintners Association (MAVA). This group was formed after a number of Napa and Sonoma based vintners poured their wines in Mexico at the Michoacán State Fair and collaboratively recognized the need to have an organization that would promote their own wines, support Mexican Americans in the wine industry and provide wine education.
Today MAVA hosts several events each year, provides scholarships to Latino youth and provides other support to Mexican Americans in the wine industry.
Winemaker
Rudy Zuidema has crafted every vintage of Encanto Vineyards. He was born in Sacramento but grew up in nearby Davis, a town known for its university. Conveniently Rudy was accepted to UC Davis where he spent three years studying photography and design with the intent to eventually create logos and designs for sports equipment. However, he eventually discovered this was not a career field he was passionate about. He became intrigued with the world of wine while taking an introductory course to viticulture which inspired him to switch majors to Plant Science and Viticulture. Graduating in 1991 he moved to Napa; his first job in the valley was working in retail at the Oakville Grocery (back when Joseph Phelps owned this iconic purveyor).
He would often taste up to 300 wines per month; one of these wines was from St. Clement which he was happy to sell and promote at Oakville Grocery. But after being told to replace those wines with some of the Phelps offerings he quit and decided to pursue winemaking. He showed up at St. Clement unannounced and spoke to their winemaker at the time, Dennis Johns. Rudy quickly reminded him that he was the guy helping to sell all that St. Clement wine at the Oakville Grocery and then asked Dennis if he needed any winemaking help. Dennis soon hired him; this was Rudy's first winemaking job in Napa Valley.
Today along with Encanto Vineyards, Rudy consults for a handful of premium wine producers and operates his own brand, Zuidema focusing entirely on Grenache.
Encanto means enchantment in Spanish and is a name that represents a number of facets in the wine industry. The wines are Enrique's tribute to his family, their hard work in the vineyards and all farm workers who are the backbone of this industry. It is their work that directly contributes to the beauty of Napa Valley and its "enchantment" that this special region has on so many people.
Select Wines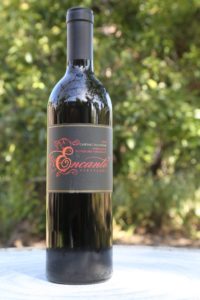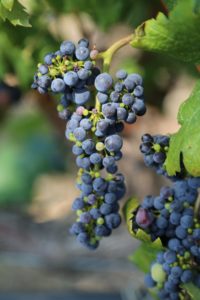 In 2002 the Segura family (Rosaura, who is no longer involved with Encanto Vineyards) purchased land in Lake County (to the north of Napa County) and planted 20 acres of Sauvignon Blanc. This region is now in the Big Valley appellation which is becoming better known for its Sauvignon Blanc. Initially they sold all the fruit (and continue to sell the majority) but now produce a Sauvignon Blanc and also a late harvest wine from this variety.
Their first vintage bottled under Encanto Vineyards was in 2008, a Rutherford Cabernet Sauvignon. A Napa Valley Carneros Pinot Noir was later added. The focus of their production is on single vineyard and single varietal wines.
The 2016 Encanto Pinot Noir (Pommard clone) offers an intensity of aroma framed around the fruit but with plenty of secondary aromas as well. Blackberry, raspberry, boysenberry and cherry cola show along with cedar, truffle, and darker notes including black pepper and tar. As the wine breathes, reveals additional nuances of cocoa powder. The bouquet is savory. On the palate, the entry is gentle with a slight creamy texture from start to finish. Lingers with notes of mocha, dried berry fruits, red licorice and a cigar like spice. This wine packs plenty of flavor.
The 2015 Encanto Vineyards Cabernet Sauvignon Usibelli Ranch, Rutherford, Napa Valley (to be be confused with the Usibelli Vineyards in Pope Valley) offers darker fruit driven aromatics including boysenberry, blackberry and plum with an initial very subtle hint of jalapeno pepper opening to toasted cedar, olive, tobacco leaf and brown chocolate. Darker spices. Flavors of blackberry and plum with some darker spices towards the back of the palate. The texture is an appealing characteristic – granular tannins with a medium grip. Not course in their feel but long lasting.
Usibelli Ranch

The Encanto Vineyards Estate 2010 Sauvignon Blanc saw mostly stainless-steel during fermentation and aging with just a kiss of neutral oak. The nose shows juicy fruit which are more tropical in their aromas than citrus like. Stone fruit aromas are present including white peach and white nectarine as well as hints of lemon grass. This wine has great acidity and a mid-palate that shows flavors of pomelo. Pleasing mineralties are present on the finish with a touch of graphite; it is lean and clean on the palate – this is a balanced wine.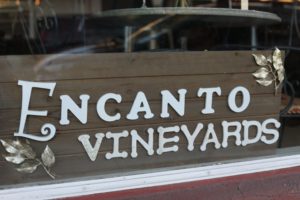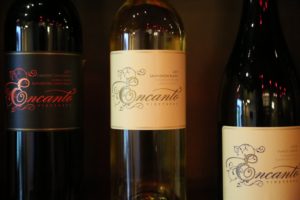 Through his vineyard management company, Enrique manages vineyards from Carneros in the south to Calistoga in the north. As a result, he has plenty of perspective into the valley's sweet vineyard spots and with his connections in the industry can source premium fruit for Encanto.
The 2008 Encanto Vineyards Pinot Noir from the Napa side of Carneros reveals a wide breadth of aromatics on the bouquet. It is elegant, slightly floral yet at the same time shows earthy characteristics and a touch of pepper. Holiday spices and a faint trace of browned sugar linger. The palate shows a wide richness of flavor and complexity including some influence of oak with baking spices and hints of toffee. The mouth feel is rounded upon entry but quickly gains layers of flavor with a lingering intensity of fruit that completes the pleasing finish.
—
With such a small production (between approximately 100 and 200 cases per each wine) – most of their wines are only available direct through their mailing list. Encanto has very select distribution in Boston and Dallas and locally one can find the Pinot Noir at Press Restaurant in St. Helena. As of our latest update to this review, tastings are by appointment and are held at the Gustavo Wines tasting room across from Oxbow Public Market in downtown Napa. Parking is curbside if available or in one of the nearby public open-air lots. Note that parking can be difficult to find here on certain days especially Friday evenings and weekends and if there is a concert being held at the nearby Oxbow commons stage.
For more information, to schedule a tasting or to order current release wines, visit: www.encantovineyards.com