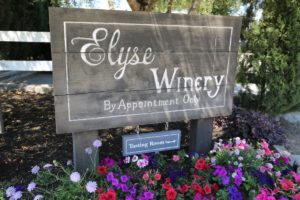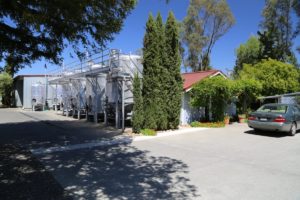 Elyse Winery makes some terrific "juice" specializing in Vineyard Designate red wines. This is entirely family owned and operated and their children are also involved in some of the day to day operations. Their wines have their own individual taste – the fruit flavors are the dominating factors and this is good. Typical serious wine loving tourists will unfortunately never find this gem of a winery even though it sits merely 1/2 mile west of Highway 29 on Hoffman Lane and is an easy 30 second drive from the highway.
The tasting room is simple and uncluttered – unless fundraising for charities, their tasting sheet says "No hats, no T-shirts, cave tours or openers". True to this, a tasting here is about the wine, but at the same time is relaxed helped in part by the friendly and knowledgeable staff.
Founder and winemaker Ray Coursen, is a self-taught vintner who grew up on a farm in rural New Jersey. Ray has lived a diverse life over the years including spending two years in Vietnam during the Vietnam War, traveling the world for a year visiting Europe and Africa and working at Bauer Wine and Spirits, a fine wine shop in Boston. One day he and his wife Nancy packed everything up and headed to California to learn the winemaking business. Other then taking some very short courses, Ray has learned his winemaking skills doing doing – on the job. He worked one harvest picking grapes and digging ditches at Mt. Eden Vineyards in Saratoga and then picked up invaluable viticultural knowledge by working for a local vineyard management company.
Ray's next job was actually as a tasting room staff at Whitehall Lane Winery. Talk about an interesting way to get your foot in the door to be a winemaker. Fortunately his passion for being a winemaker showed through and he wasn't long for the tasting room. He was moved to the cellar where he learned wine making skills and eventually became head winemaker for Whitehall Lane.
After 10 years of renting space at other wineries to make the wine, he purchased land and a winery in 1997 (today home of Elyse Winery). Elyse is named after his daughter. He later had a son Jake who when was in 4th grade started complaining that he did not have a wine label named after himself! ….so his father Ray produced a second wine label called Jacob Franklin and you can also find these wines in the tasting room. Only in Napa Valley…right?
Look for the wine dogs typically lounging around the tasting room entrance, they have been featured in the Wine Dogs of Napa Valley Book. As of our latest update to this review, Elyse produces a remarkable variety of premium wines – at the time of our first visit, 27 different wines. Wow. With the exception of their high end Cabernet Sauvignons (priced accordingly for a Napa wine of this varietal), all their wines are priced very decently.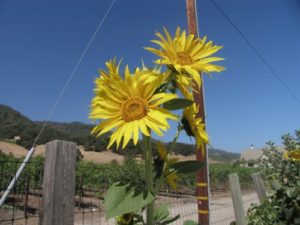 A typical tasting is quite generous (5 different wines) and is part of the spirit that comes with producing such a large number of wines. Several of these wines feature extremely unique blends as well as rare varietals not often used by Napa wineries. In order to acquire these varietals they source from various locations in California including the Sierra foothills. But most of their vineyard sources are from premium vineyards in the Napa Valley. However they do own a small vineyard next to the winery, planted to Cabernet Sauvignon.
One of these is their 2006 L'Ingenue which is their Rhone varietal white wine blended with Marsanne, Roussanne, Viognier and Grenache Blanc. In part the Roussanne contributes a nice viscous creamy weighty mouth feel. Ripe pear and apple show well on the mid palate with nuances of fig and apricot towards the finish. The 2005 C'est Si Bon is composed of 7 different Rhone varietals, some of which you will never find in Napa and as a result the grapes for this wine are again sourced from the Sierra foothills. Tasting notes aside, this wine "is good" – which the name in French translates to "its so good".
Elyse makes several different style of Zinfandels. The 2006 Elyse Korte Ranch is a leaner style with lots of white pepper in the bouquet which follows onto the palate. Zinfandel fruit lovers take note of the 2005 Elyse Morisoli Vineyard Zinfandel. If you had to smell this wine blind, you would swear you had a Zinfandel Port in front of you. The aromas are of very ripe fruit followed by rich flavors of blackberry, raspberry and hints of mocha. This was also the vineyard that Ray originally began Elyse with.
The 2006 Elyse Petite Sirah (with some Zinfandel and a splash of Viognier) is interesting in that most of the fruit hits your palate towards the finish. Enjoy a slightly sweet white wine? Try the 2006 Elyse La Peche a blend of Chenin Blanc, Viognier and Malvasia Bianca. Just the right amount of sugar versus fruit makes this a very well balanced wine with fruity notes of pear intermingled with almost a cinnamon aroma – leading to a palate with nuances of very red ripe apples…a delicious not quite dessert wine.
Their Petite Sirah Port-style wine is equally tasty. With a production of so many wines we have only highlighted a few that we have tasted. Most others are available through their website. Ray is also involved with Purple Heart Wine.
For more information or to join their mailing list or wine club, visit: www.elysewinery.com