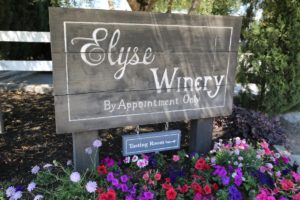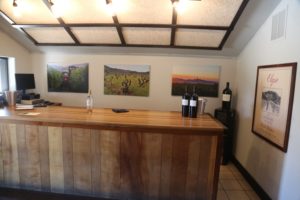 Elyse Winery specializes primarily in vineyard designate red wines. Founder and original winemaker Ray Coursen, is a self-taught vintner who grew up on a farm in rural New Jersey. Ray has lived a diverse life including spending two years in Vietnam during the Vietnam War, traveling the world for a year visiting Europe and Africa and working at Bauer Wine and Spirits, a fine wine shop in Boston that was founded in 1960 – focusing on both European and domestic wines. We visited this shop with the sole purpose to see where Ray worked for a period of time – see our photos at the end of this review.
One day he and his wife Nancy packed everything up and headed to California to learn the winemaking business. Other then taking some very short courses, Ray has learned his winemaking skills by doing – on the job. He worked one harvest picking grapes and digging ditches at Mt. Eden Vineyards in Saratoga and then picked up invaluable viticultural knowledge by working for a local vineyard management company.
Ray's next job was as a tasting room staff at Whitehall Lane Winery. Not always the most common path to become a winemaker but not the first. Fortunately his passion for making wine was quickly evident and he did not work in the tasting room for very long. He was moved to the cellar where he learned wine making skills and eventually became head winemaker for Whitehall Lane Winery.
After 10 years of renting space at other wineries to make the Elyse wines, Ray purchased land and a winery in 1997 (today home of Elyse Winery). A number of improvements to the infrastructure on site have been made over the years – the tasting room adjoins what was a horse barn and the guest cottage used to be a chicken coop. Elyse is named after Ray and Nancy's daughter. They later had a son Jake who while in 4th grade began complaining that he did not have a wine label named after himself … so Ray produced a second wine label called Jacob Franklin; for many years these wines were also available in the tasting room. Only in wine country…right?
Their wines are not cookie cutter; the wines in general that we have tried over the years have been about the fruit, not about the oak characteristics. Despite being well-established, wine enthusiasts visiting the valley often will never hear of Elyse even though the winery is located only 1/2 mile west of Highway 29 on Hoffman Lane and is an easy 30 second drive from the highway. Elyse has quietly been making excellent wines for many years and perhaps has preferred to remain under the radar.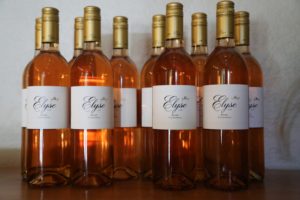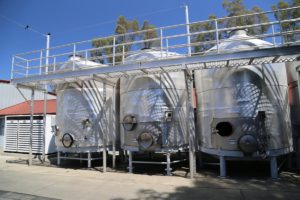 In early fall 2018, Ray and Nancy sold Elyse to Napa wine veteran, Josh Peeples and his business partner, Cheryl Foil. We originally met Josh when he was working at Chateau Boswell – he is originally from Hilton Head Island, South Carolina. He graduated from the College of Charleston and then took a trip to California. He spent some time working for a startup software company during the dot com boom and would visit the Napa Valley on the weekends eventually moving to the valley and directing sales and marking for several luxury wine brands.
During his long time in the valley he has met numerous winemakers including Russell Bevan who he works with on several projects. Josh is a partner in the following brands; Addax, Standard Deviation Wines, Institution and Out East (a Provence grown and produced rosé). Since the change in ownership, Josh has moved the winemaking for several of these brands on site and will be renaming Elyse Winery to The Institution. The Elyse wines will continue to be produced on site.
Cheryl is a computer engineer with a degree from William & Mary – she is a principal at Kiddar Capital, a global asset management firm.
Not setup to take large groups, tastings are typically hosted at tiny bar in a cozy, clean and uncluttered room. A private lounge space is also available for members. A tasting here is about the wine, but at the same time is relaxed helped in part by friendly and very knowledgeable staff.
As of our latest update to this review, Elyse produces a remarkable variety of premium wines – during our first visit many years ago, 27 different wines were listed on their price list – in more recent years, the amount of wines produced here has been reduced. Regardless of production, all of their wines are priced extremely well for Napa Valley standards – even their premium reserve Cabernet Sauvignon (which is not made every year). Some nearly 18,000 cases were being produced at the peak of their production – today they produce around 7,000 cases annually.
A typical tasting includes 5 different wines. Several of these wines feature extremely unique blends as well as rare varieties not often produced by Napa Valley based wineries. In order to acquire these varieties they source from various locations in California including neighboring Sonoma County and the Sierra foothills. But most of their vineyard sources are from premium vineyards in the Napa Valley including from their own tiny 1.5 acres next to the winery, planted entirely to Cabernet Sauvignon.
A small number of brands produce their wines here as part of the 2100 Hoffman Lane Collection. Wines from these brands are also tasted on site by appointment. As of our latest update to this review, these brands are Addax, Morgado and Institution.
Select Wines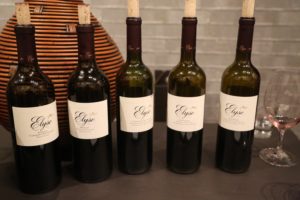 The 2006 Elyse L'Ingenue is a Rhone inspired white wine, a blend of Marsanne, Roussanne, Viognier and Grenache Blanc. In part the Roussanne contributes a pleasing viscous, creamy and weighty mouth feel. Ripe pear and apple show well on the mid palate with nuances of fig and apricot towards the finish. The 2005 Elyse C'est Si Bon is composed of 7 different Rhone varieties, some of which are not grown in the Napa Valley and as a result the grapes for this wine are sourced from the Sierra foothills. Tasting notes aside, this wine is good – the name in French translates to "its so good".
Elyse makes several different style of Zinfandels and has done so for many years. The 2006 Elyse Korte Ranch (sourced from vines around 80 years of age) is a leaner style Zinfandel with notes of white pepper on the bouquet some of which shows on the palate. This wine displays a freshness and a liveliness that one does not always associate with wine made from this variety grown in warm California conditions.
Zinfandel fruit lovers take note of the Elyse Morisoli Vineyard designate Zinfandel. If one were to smell this wine blind, one might think it was a Zinfandel Port-style wine. The 2005 Elyse Morisoli Vineyard Zinfandel offers very ripe fruit aromas followed by rich flavors of blackberry, raspberry and hints of mocha. This was also the vineyard that Ray originally began Elyse with in the late 1980s (merely several hundred cases of Zinfandel at that time). Elyse continues to have exclusive access to the oldest vines in the Morisoli Vineyard – the approximately 100 year old Zinfandel. Because the vines are so old – there is also a small percentage of other red varieties in this wine. Ray and Nancy used to live in a guest house at this vineyard and over the years became very attuned to the site's nuances including noticing that when a single Black Muscat vine ripened – it was time to harvest the old-vine Zinfandel.
The 2006 Elyse Petite Sirah (with some Zinfandel and a splash of Viognier) is interesting in that most of the fruit hits the palate towards the finish. Enjoy a slightly sweet white wine? The 2006 Elyse La Peche a blend of Chenin Blanc, Viognier and Malvasia Bianca. Just the right amount of sugar versus fruit makes this a very well balanced wine with fruity notes of pear intermingled with almost a cinnamon aroma – leading to a palate with nuances of very red ripe apples…a delicious not quite dessert wine.
2013 was the first year that Elyse produced a Reserve Cabernet Sauvignon. This vintage was aged in 80% new French oak and spent 3 years in barrel before being bottled. The 2013 Elyse Reserve Cabernet Sauvignon offers an intriguing menthol sweetness of aromatics with ripe blackberry and notes of a chocolate brownie and as the wine opens further – espresso and mocha. Quite layered on the palate there is a noticeable density of fruit from start to finish. There is plenty of weight but without robust structure – with tannins still showing plenty of grip but not in a coarse way.
Ray is a Vietnam War veteran and was the founding winemaker for Purple Heart Wines beginning with their inaugural vintage in 2013. As of 2017 Ray is no longer winemaker here although these wines continue to be produced. General proceeds from the sales of the wines are donated to the Purple Heart Foundation – an organization that works to secure benefits for veterans including service dogs, education opportunities, helping with brain injury recovery and other war injuries.
For more information or to join the Elyse mailing list or wine club, visit: www.elysewinery.com.
NOTE: since the transition in ownership, this review has been identified as needing an update. A number of changes have been made to the property since the transition in ownership. We will revisit again in 2022 to significantly update this review.
Winery + Tasting Room

Bauer Wine + Spirits, Boston (where Ray used to work)