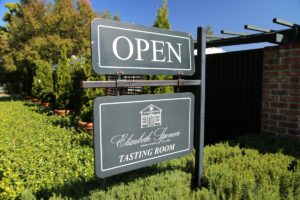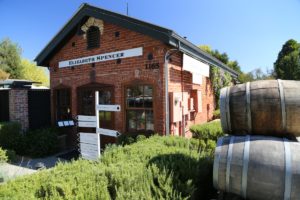 Elizabeth Spencer Winery is located in one of the smallest buildings in the valley. This building was built in 1872 and served as the original post office for the town of Rutherford. Despite the winery name, there is no actual Elizabeth Spencer. Rather the winery is a partnership and the name comes from combining the owner's first names.
Elizabeth Pressler spent many years working at select Napa Wineries; she first came to the Napa Valley in 1978 as a tour guide for Joseph Phelps winery. In later years she became involved with marketing and advancing what are now some of Napa's most prestigious limited production labels.
Spencer Graham has been involved in the wine industry for his entire working life as a chef, sommelier and then later owning his own wine distribution business. Both Elizabeth and Spencer share the actual wine making duties with their primary winemaker. The small one room tasting room is located right across from the Rutherford Grill Restaurant and Beaulieu Vineyard; what a contrast in winery sizes!
They do have a tent outside which can seat 30 to 40 people and is a nice place to taste wine weather permitting. Typically that is reserved for wine club members, large groups who have made advance notice for tasting or for their Appellation tasting. This particular tasting is held once a day in the morning and tastes four wines from completely different growing regions within the Napa Valley. These wines are paired with select cheeses and your host will discuss how the differences in soil and climate help create such unique wines. For a small winery they make a large number of various wines from Napa fruit as well as from nearby counties.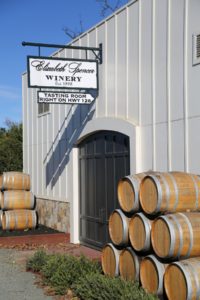 They have established long term relationships with various vineyards ensuring that they know the type of high quality fruit they receive as well as ensuring consistency in their wines. When we visited they had just recently started pouring a very light easy to drink Rose of Pinot Noir (which you won't often find in the Napa wine scene). Also be sure to try their amazing Cabernet Sauvignon from Mt. Veeder (available in limited quantities). Because they have such a variety of wines to choose from their tasting options vary from time to time. A tasting typically includes four of their wines. If you are lucky you may happen to bump into either Elizabeth or Spencer as they will drop by from time to time.
The tasting room is tiny and intimate – however if the weather is decent as it usually is in Napa (other than El Nino winters) – they maintain plenty of outdoor seating directly behind the tasting room building. During spring a tasting out here is an excellent place to smell the wonderful aromas of the Meyer Lemons in bloom. An outdoor tasting is also a great break from the nearly always hectic pace of nearby Highway 29 and the busy Highway 128 intersection.
For more information visit: www.elizabethspencerwines.com
NOTE: this review has been identified as needing a major update.