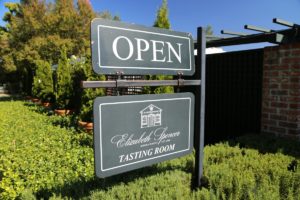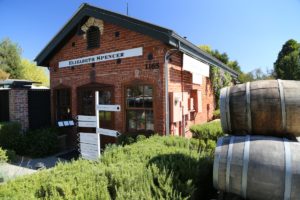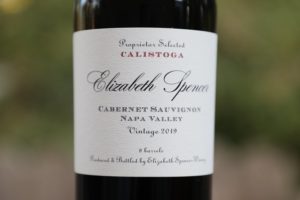 Elizabeth Spencer Winery is located in one of the smallest buildings in the valley; it was built in 1872 and served as the original post office for the town of Rutherford. Despite the winery name, there is no actual Elizabeth Spencer. Rather the winery is a partnership, and the name comes from combining the founder's first names.
Elizabeth Pressler spent many years working at Napa Valley wineries; she first came to Napa Valley in 1978, and in her late 20s began working as a tour guide for Joseph Phelps winery. Following her time at Phelps, she became involved with marketing including in 1983 at what was Donna Maria Vineyards in Healdsburg (Chalk Hill Vineyards) and later helped grow what are now some of Napa Valley's most prestigious and well-known brands including Hess Collection Winery (Hess Persson Estate). Spencer Graham has been involved in the wine industry for his entire working life as a chef, sommelier and then later owning his own wine distribution business. During their ownership, Elizabeth and Spencer shared the actual wine making duties with their primary winemaker.
In December 2021, Elizabeth Spencer Winery (the brand including the wines and the tasting room) was sold to Boisset Collection. As of our latest notes to this review, the Boisset Collection owns 19 different brands or physical wineries in California (including numerous spaces in Napa Valley), one in England, one in India and 17 in France.
Elizabeth Spencer does not own any vineyards or a physical winery – rather they have established long term relationships with growers and make their wine at a custom crush winery just north of the city of Napa.
The tiny one-room tasting room first opened in 2006 and is one of the smallest tasting rooms in all of Napa Valley, although not much guest tasting actually occurs inside this space due to the spacious grounds and other buildings on the property which are used for hosting visitors. It is located directly across from the Rutherford Grill Restaurant (incidentally home of the best grilled artichoke when in season), Beaulieu Vineyard and the current Rutherford post office. Elizabeth Spencer maintains their own parking lot located right next to the tasting room, although a limited number of curbside parking spots may also be available on Rutherford Cross Road.
Arrive guests are typically greeted with one of their lighter styled wines. If the weather is decent as it usually is in Napa Valley (other than El Nino winters), plenty of outdoor seating is available directly next to the tasting room. During spring a tasting out here is an excellent place to smell the wonderful aromas of the nearby Meyer Lemons in bloom. And with plenty of greenery and a flower bed surrounding the tasting area (despite being so close to the almost always hectic Highway 29 and Highway 128 intersection), this is a very relaxing place to enjoy their wines.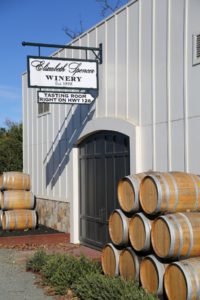 Because they offer such a variety of wines to choose from, the wines featured on the tasting menu change regularly as do sometimes the types of tastings offered. As of our latest update to this review, Elizabeth Spencer several tastings, each flight typically showcasing four or five wines. The Signature Tasting highlights some of their most popular white and red wines and Reserve Tasting highlights some of their most premium and limited production wines focusing on 100% varietal limited production single appellation red wines.
Since the Boisset Collection acquired the property, numerous changes have been made. Seven pavilions surround what the staff refers to as the Rutherford Green and can be reserved for private parties and are often used for small corporates events, birthday or anniversary celebrations. Pairings of select seasonal Oakville Grocery offerings are also provided. Four marble sculptures are located around the green – each one represents one of the seasons. And weather permitting, guests can enjoy fun games of cornhole or croquet.
And worth mentioning is the Boutique de Souvenirs, a small and cute space next to some of the outdoor tables, offering a variety of wine country mementos including pottery, stemware, scarves, wine related items and bottles of Elizabeth Spencer olive oil. The only thing it is missing, is its name written in pretty pink or blue lettering above the doors.
Select Wines
Current production as of our last update is around 15,000 cases annually. Considered slightly larger than a boutique winery, they produce an impressive lineup of wines from Napa Valley as well as Mendocino and Sonoma County and wines from varieties not often crafted by a Napa producer including Riesling and a Grenache (non-Napa Valley sources). A large percentage of their production is sold through distribution (restaurants and retail wine shops) while the remainder is sold on site and to their wine clubs. Elizabeth Spencer produced their first vintage in 1998, a Cabernet Sauvignon; they celebrated their milestone 20th vintage in 2018.
The Elizabeth Spencer wines focus on the characteristics of the varieties and rather than using lots of new oak they tend to exercise restraint when it comes to barrel aging; usually the majority of the wine's aging is in used or neutral barrels. And their wines are typically 100% varietal.
The ExS Elizabeth Spencer label are reserve wines which are not distributed and are only sold on premise, through the website and are available for club members. These wines tend to spend more time aging in oak barrels and are small production bottlings. Elizabeth designed the logo, creating an image of two swords crossing with a mirror image of two small red hearts. The design represents going into business with one's spouse; it won't always go smoothly but should also be a relationship anchored by love and respect.
The 2019 Elizabeth Spencer ExS Pinot Noir Sonoma Coast is medium ruby in color; the bouquet offers aromas of spices, but they are more subtle in nature and include some darker baking spices and a light earthiness. The fruit scents need time to open and evolve in the glass, but when they do, offer notes of red cherry and red licorice. A noticeable softness of texture glides across the palate, with lingering flavors of cherry, red plum and a hint of dried tobacco leaf and some subtle spice notes. The tannins are seamlessly integrated into the finish.
The 2019 Elizabeth Spencer Cabernet Sauvignon is deep ruby in color; the nose is dark fruited including aromas of plum, black licorice, dark raspberry, blueberry, a hint of old cedar and cherry fruit roll ups. This latter aromatic nostalgically reminded us when we were a child and used to wrap this candy around our forefinger and slowly lick away at its deliciousness. There are also more subtle notes of cinnamon and cardamom found deeper in the bouquet and as the wine continues to breath it reveals a note of mocha. This wines' balance is its hallmark with just the right amount of intensity of flavor, brightness of acidity and texture. The palate offers flavors of plum, cherry and raspberry. The tannins show a light grainy profile and are well integrated into the fruit filled finish. It drinks easily in its youth. Only 8 barrels were produced.
One of the first blends that Elizabeth Spencer produced was a 50% blend of Cabernet Sauvignon with 50% Syrah. The winery continues to produce this wine with roughly similar percentages of each variety but sometimes with small amounts of other Bordeaux red varieties. The name Hunt is in tribute to Hunt Avenue in nearby St. Helena where Elizabeth used to live before she was married (although note that the name used on the label is Hunt Street). The 2018 Elizabeth Spencer ExS Hunt Street Cuvee is dark ruby in color; the Syrah certainly adds a darker note to the aromatics but by no means are the scents brooding like some of the stand along meatier Syrah's we have enjoyed over the years. The bouquet is elegant showing plenty of fruit including red plums and a hint of dried herbs. The palate offers flavors of blueberry, cherry and red plum. This wine carries plenty of richness but is fairly approachable because the lightly gritty textured tannins are not course, nor do they have any harsh edges. Lingers with a light savory quality including a brightness of primarily red fruits along with a darker spice note. Medium acidity.
The 2018 Elizabeth Spencer Yountville Cabernet Sauvignon is dark ruby in color with purplish tines on the edges of the rim in the glass; the bouquet offers a pleasing union of both darker spices and fruit. It shows notes of tobacco spice, an earthy nuance including dust and white pepper. This bottling tastes fresh across the palate, showcasing its bright acidity along with flavors of cranberry and pomegranate. The tannic grips is robust, dark, dusty and earthy, showing a gravelly type of texture. The drying finish lingers with dried tobacco leaf which continues to persist for quite some time. And there is also a hint of dried herbs. This wine has plenty of octane in its youth but also a simultaneous restraint; this should go another 15-20 years.
The 2018 Elizabeth Spencer Mount Veeder Cabernet Sauvignon (from the historic Brandlin Vineyard) is generally harvested fairly late in the season due to the slow ripening of the grapes on this particular mountain site. This wine is dark ruby and almost opaque in color. The fruit is clearly the star of the show here both on the bouquet and palate. It offers aromas of black plum, bramble, violets, dark cherry and crushed peppercorn. The tannins are ripe, rounded and fairly well-resolved (we tasted this wine 4 years post vintage date). They broadly fill out the finish and linger with a note of dust and flavors of blackberry and cherry along with a burst of brightness from the acidity. This is a well-layered wine which delivers plenty of complexities and should be on the list of any serious Napa Valley Cabernet Sauvignon enthusiast and or collector.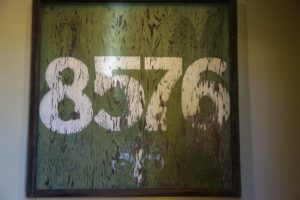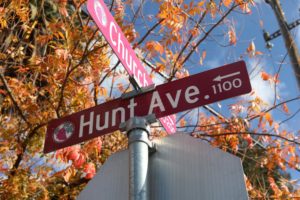 The 2016 Elizabeth Spencer Petit Verdot is 75% varietal with the remainder being Cabernet Franc and Merlot. This wine is dark ruby in color; it initially offers distinctive aromatics including of dried meats, matchstick, blackberry, a hint of leather and a light woodsy spice. The bouquet really takes its time to evolve for the fruit to open. This bottling features dense tannins with an astringent grip; these characteristics become especially noticeable on the finish. This wine showcases a simultaneous bright acidity with darker fruit and dark spices. It lingers with pepper notes, spicy plum skin, dried herbs, and dried tobacco. We tasted this 6 years post vintage; this wine has plenty of life ahead of it.
The 2016 Elizabeth Spencer Rutherford Cabernet Franc offers an elegant forward fruit bouquet – including aromas of blackberry and plum along with a more subtle darker spice note. The feel of this wine on the palate is nice – everything is in balance with no sharp edges. The texture is pleasing with polished fine-grained tannins lingering softly along with a hint of tobacco on the finish. This is a riper expression of this variety both on the bouquet and on the palate.
The 2016 Elizabeth Spencer Rutherford Cabernet Sauvignon is immediately an aromatically intriguing; this wine is simply fun to smell. The bouquet offers a wide range of aromas including dessert spices, toasted cedar, mocha and espresso, dry dust and a sweeter more subtle thread of fruit. Layered but well-balanced on the palate, its texture is well integrated, lingering with a slightly dusty character. This wine is well worth seeking out.
The 2013 Elizabeth Spencer Mt. Veeder Cabernet Sauvignon is an opulent showing of this variety; it features ripe black fruit including blackberry along with blueberry and a darker 5-star Asian spice note on the bouquet. Layered in flavor, it offers a richness and intensity which persists across the palate. The palate reveals flavors of dark cherry and blackberry. The finish is memorable showing muscular and long lasting somewhat chewy tannins. We tried this wine 6 years after the vintage date and at that time, this wine still had plenty of age left ahead and was drinking like a younger wine – a product of the particular fruit and this particular vintage.
Kathleen Thompson Hill Kitchen Memories Collection
In 2017 the Elizabeth Spencer Studio opened with the entrance located in the back southwest corner of their parking lot. This building was formerly a photography studio. Initially, Elizabeth Spencer used the space for private tastings and hosting larger groups. In 2022 the space was converted into a permanent culinary museum, focusing on the impressive collection of Sonoma based travel, wine and food author and culinary historian, Kathleen Thompson Hill. Jean Charles Boisset acquired her entire collection which Hill estimates to range somewhere between 3,000 to 4,000 items. As a result of its size, not all of the collection is able to be displayed at one time inside the museum space.
At the time of our visit, the only access to the museum through booking a tasting, although eventually (especially during the winter months), tastings will be hosted inside. Visitors enter the museum past a number of memorable culinary quotes including one by Jean Charles Boisset and two of our favorites, People who love to eat are always the best people by Julia Child and, Your body is not a temple, it's an amusement park. Enjoy the ride by Anthony Bourdain.
During Hill's travels she amassed a remarkable collection of culinary items (primarily kitchen utensils) ranging from the oldest items (1820s) to more contemporary. An exhibit of her items is displayed at Elizabeth Spencer, available for viewing combined with a wine tasting, by appointment only. And during our visit, we enjoyed a private curated tour by local historian, Michelle Greer who refers to Jean Charles Boisset as a 'human sparkler', bringing light and life everywhere he goes. And Boisset's creativity is certainly on display with not only this space (both indoors and outdoors) but all properties under his ownership.
Hill began her collection by acquiring old kitchen utensils on a strict budget, primarily from antique shops as gifts for her mother. There are loads of highlights housed inside; some include their toaster exhibit including the world's first pop up toaster and a rare Toast-O-Lator produced only in 1948 which moves the toast slowly on a conveyor belt which can be seen through a round glass circle built within the device, waffle makers including one which used to be housed in the foyer of Ramekins Culinary School in Sonoma, a wine room containing a type writer in which guests can type short notes, Julia's corner contains a number of whisks (this device popularized by Julia Child), a section of ice cream scoops and their evolution in design over the years starting with conical shaped designs created post Civil War, cheese graters, old milk bottles, butter molds and numerous other objects.
Another room contains a number of framed Alice Waters' recipes hanging on the walls, with lithograph illustrations by artist, David Lance Goines. Visitors can participate in the museum in a variety of ways, by watching several video screens located throughout the exhibit, scanning QR codes on their phones for more information, enjoying a curated tour. And before guests depart, they can write culinary related notes on cards and hang them on the wall next to the main entrance.
The exterior of the museum is remarkably large featuring an outdoor patio area which extends all the way to the fence at the edge of Highway 29, exterior seating and a dark red painted house which will eventually be used for hosting guests and perhaps showcase some distilled products. More sculptures are located back here, primarily from Mexico.
Stellar Cellar Sale
Several wineries in the Boisset Collection hold what is called the Stellar Cellar Sale at least once a year (including Elizabeth Spencer Winery). Club members are given priority to the heavily discounted items, followed by a later admission for the general public. Items for sale at each of the respective wineries often include older large format bottles, other older bottlings, stemware and other wine related items. The discounts can be quite significant at times.
Before the winery was sold, Elizabeth and Spencer were often on site and would sometimes drop by to visit with guests. Magnums of older vintages are available for purchase. Joining their wine club gives significant discounts on the normal bottle pricing and access to wines only available at the tasting room or to members. For more information, to purchase wine, to schedule a tasting or to join one of their several 'garden' wine clubs, visit: www.elizabethspencerwinery.com
Tasting Room/Grounds

The Studio (photos kept for historical purposes)