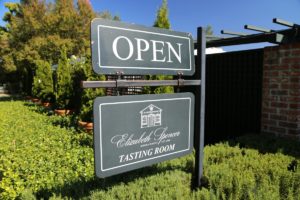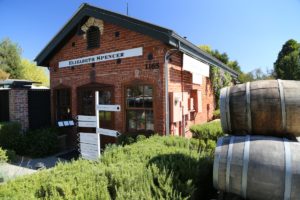 Elizabeth Spencer Winery is located in one of the smallest buildings in the valley. This building was built in 1872 and served as the original post office for the town of Rutherford. Despite the winery name, there is no actual Elizabeth Spencer. Rather the winery is a partnership and the name comes from combining the founder's first names.
Elizabeth Pressler spent many years working at select Napa Valley wineries; she first came to the Napa Valley in 1978, working as a tour guide for Joseph Phelps winery. In later years she became involved with marketing and advancing what are now some of Napa's most prestigious limited production labels. Spencer Graham has been involved in the wine industry for his entire working life as a chef, sommelier and then later owning his own wine distribution business. Both Elizabeth and Spencer share the actual wine making duties with their primary winemaker.
In December 2021, Elizabeth Spencer Winery (the brand including the wines and the tasting room) was sold to Boisset Collection. As of our latest notes to this review, the Boisset Collection owns 19 different brands or physical wineries in California (including numerous spaces in Napa Valley), one in England, one in India and 17 in France.
Elizabeth Spencer does not own any vineyards or a physical winery – rather they have established long term relationships with growers and make their wine at a custom crush winery just north of the city of Napa.
The tiny one-room tasting room is one of the smallest tasting rooms in all of the Napa Valley. It is located directly across from the Rutherford Grill Restaurant and Beaulieu Vineyard – guests are typically greeted here with a rosé welcome wine. If the weather is decent as it usually is in Napa (other than El Nino winters), plenty of outdoor seating is available directly next to the tasting room. During spring a tasting out here is an excellent place to smell the wonderful aromas of the Meyer Lemons in bloom. And with plenty of greenery and raised planter beds surrounding the tasting area (despite being so close to the almost always hectic Highway 29 and Highway 128 intersection) this is a very relaxing place to enjoy their wines.
In 2017 the Elizabeth Spencer Studio opened on site with the entrance located in the back southwest corner of their parking lot. This building was formerly a photography studio. Elizabeth Spencer uses the space for private tastings and hosting larger groups and it is not always open for walk-in tastings. A sizable patio/garden area in the back extends all the way to the fence at the edge of Highway 29.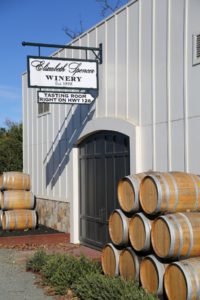 Because they offer such a variety of wines to choose from, the wines featured on the tasting menu change regularly. Elizabeth Spencer offers two tastings each featuring four wines. The Charter Tasting features current release red and white wines (larger production wines) and the Cellar tasting focuses on 100% varietal limited production single appellation red wines.
In addition to their general tastings, two more intimate tastings can be reserved within at least 24 hours notice. One, a Blind Tasting is both an educational experience (information is provided on how to evaluate wines) and a fun experience. To some groups it becomes a competitive gathering. And the Appellation Tasting focuses on wines from select sub-appellations within the Napa Valley. This particular tasting features 4 to 6 wines sourced from completely different growing regions. These wines are paired with select cheeses while a host discusses how differences in how soil and climate help create different characteristics in the wines. Wines from the same vintages are usually offered.
Select Wines
Current production as of our last update is around 15,000 cases annually. Considered slightly larger then a boutique winery, they produce an impressive lineup of wines from the Napa Valley as well as Mendocino and Sonoma County. And wines from varieties you don't often see from a Napa producer including a Riesling and a Grenache (non Napa sources). A large percentage of their production is sold through distribution (restaurants and retail wine shops) while the remainder is sold on site and to the wine clubs. The winery celebrated its milestone 20th vintage in 2018.
The Elizabeth Spencer wines focus on the characteristics of the varieties – and rather then using lots of new oak they tend to exercise restraint when it comes to barrel aging – usually the majority of the wine's aging is in used or neutral barrels. And their wines are typically 100% varietal.
The 2016 Elizabeth Spencer Rutherford Cabernet Franc offers an elegant forward fruit bouquet – including aromas of blackberry and plum along with a more subtle darker spice note. The feel of this wine on the palate is nice – everything is in balance with no sharp edges. The texture is pleasing with polished fine-grained tannins lingering softly along with a hint of tobacco on the finish. This is a riper expression of this variety both on the bouquet and on the palate.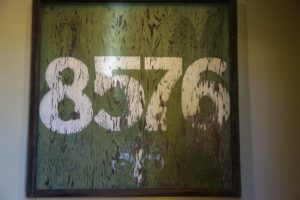 The 2016 Elizabeth Spencer Rutherford Cabernet Sauvignon is immediately aromatically intriguing – this wine is simply fun to smell. Offers a wide range of aromas including dessert spices, toasted cedar, mocha and espresso, dry dust and a sweeter more subtle thread of fruit. Layered but well-balanced on the palate features complex, slightly dusty but wholly integrated tannins. This is a wine well worth seeking out.
The 2013 Elizabeth Spencer Mt. Veeder Cabernet Sauvignon is an opulent showing of this variety – featuring ripe black fruit including blackberry along with blueberry and a darker 5-star Asian spice note on the bouquet. Layered in flavor with a richness and intensity that persists across the palate. Flavors of dark cherry and blackberry. A memorable finish showing muscular and long lasting somewhat chewy tannins. We tried this wine 6 years after the vintage date – at that time, this wine still had plenty of age left ahead and was drinking like a younger wine – a product of the particular fruit and this particular vintage.
—
Elizabeth or Spencer are often on site and sometimes they will drop by to visit with guests. Magnums of older vintages are available for purchase. Joining their wine club gives significant discounts on the normal bottle pricing and access to wines only available at the tasting room or to members. For more information or to join one of their wine clubs, visit: www.elizabethspencerwinery.com
NOTE: this review has been identified as needing a *major* update.
Tasting Room/Grounds

The Studio