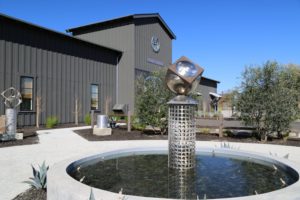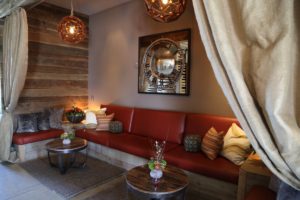 Eleven Eleven Wines held their grand opening on March 21, 2015 at 11:11am in the old Barrel Stop Winery on Trancas Ave which is located just outside of the Napa City limits. Eleven Eleven took over this location after the previous owners declared Chapter 11 bankruptcy.
Co owners Ellie Anest and Aurelien Roulin fortuitously met on a flight from Paris to Los Angeles back in 2010. They started talking and discovered a shared interest over food and wine as well as real estate. A long 11+ hour flight became shorter as they started talking. Who keeps in contact much less starts a business together from conversation on flights?! What they have accomplished over this random meeting since is quite impressive.
They purchased both the winery (along with some equipment left over from the previous ownership) and the adjoining property – vines surround the winery. There is something to be said for purchasing winery property after it has already been developed when those who developed the property run into financial problems and are forced to sell. Eleven Eleven was able to purchase this developed property for a similar cost to what the prior owners purchased just the land.
Not only is this winery home to their own wines but a number of other producers make their wine here (similar to how the winery was run prior to their ownership). However the interior of the winery has undergone a complete makeover – one side of the winery houses their barrels and the other side is for hospitality.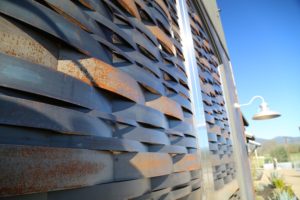 Their Napa vineyard sources are from two pieces of property they purchased – one is a 3.5 acre vineyard off of El Centro Ave in Napa and the other is a 16 acre piece in the Oak Knoll District.
The 2013 Estate rosé of Syrah is from their Oak Knoll vineyard; it reveals an elegant nose – inviting and light aromas of raspberry and red cherry. The wine is fresh and clean on the palate with crisp acidity balanced by the nice fruit. The finish is rather long for a wine of this style.
The 2012 Estate Syrah (also sourced from their Oak Knoll Vineyard) shows notes of white pepper on the nose – as the wine breathes the spicier notes dissipate and a really appealing bouquet focusing on the fruit is revealed. The bouquet is not over ripe – showing more red fruit than dark including plum, and red cherry. The wine has very good acidity with a tartness on the finish.
The 2012 Estate Cabernet Sauvignon shows a pleasing dusty component on the bouquet and darker fruit aromas – blackberry. The palate shows some spice. The tannins are fairly fine grained and linger more on the front of the palate than the back for some time. Notes of vanilla spice also show on the finish.
They also source fruit from Sonoma County for both a Chardonnay and a Pinot noir.
Visits are by appointment – the tastings are sit down, relaxed and paired with a variety of artisan cheeses.
Since their opening, Eleven Eleven has built an impressive winery facility located behind (to the north) of their main hospitality center. This state of the art production facility is now home to a number of boutique brands who make their wine here. It also includes a private tasting room upstairs.
For more information and to make an appointment, visit: www.elevenelevenwines.com
NOTE: This review has been identified as needing a major update.