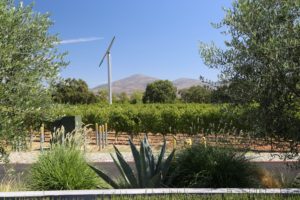 Eleven Eleven Wines held their grand opening on March 21, 2015 at 11:11am in the old Barrel Stop Winery on Trancas Ave which is located just outside of the Napa City limits (the dividing line in this part of Napa between the county and the city is Trancas Avenue). Eleven Eleven took over this location after the previous owners declared a bankruptcy.
Co-owners and original founders Ellie Anest and Aurelien Roulin fortuitously met on an Air France flight from Paris to Los Angeles back in 2010. They started talking and discovered a shared interest over food and wine as well as real estate. A long 11+ hour flight became shorter as they continued to explore mutual interests. Who keeps in contact much less starts a business together from a conversation on a flight?! What they have accomplished since this random meeting is extremely impressive.
Ellie comes from a long career in the world of finance – for five years she operated her own financial consulting firm, Anest Financial Solutions and more recently, prior to Eleven Eleven wines was with RGP, a financial and accounting firm based in Irvine, California. European born, Aurelien owns Del'A'Rue Entertainment in West Hollywood and is a super talented performer – as an actor, a model and aerial acrobatics. He is also a producer.
Later one of Ellie's longtime friends from San Diego, Carol Vassiliadis was brought on as a third partner and investor. Carol is a well-respected philanthropist who gifted major financial support to the UC San Diego Jacobs Medical Center now home of the A. Vassiliadis Family Hospital for Advanced Surgery.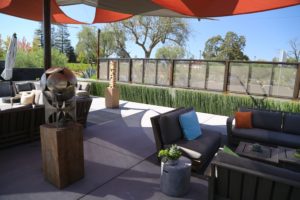 The partners purchased both the winery (along with some equipment left over from the previous ownership) and the adjoining property in late 2013 including the surrounding vineyards. Eleven Eleven was able to acquire this developed property for a similar cost to what the prior owners previously purchased the land only.
Based on their chance meeting on the airplane, Ellie and Aurelien decided to choose the name Eleven Eleven, reflecting on life's randomness and coincidental events. In numerology, some believe that seeing 11:11 on a clock is a favorable sign. One doesn't have to look far when visiting the winery to see 11:11 and regardless of the time of day you visit, the clock on the exterior of their hospitality center is always locked into 11:11. And honoring life's random occurrences, the winery has embraced the hashtag, #makeyourmoment.
Visitors to the old Barrel Stop Winery would not even recognize the property today. Since the transition in ownership, the interior of the winery has undergone a complete makeover – one side of the winery houses their barrels, and the other side is for hospitality.
Select Wines
Much of their Napa produced wines are sourced from two vineyards they own – slightly to the north of the winery in the Oak Knoll District. One is a 3.5-acre vineyard off of El Centro Ave in Napa called Laki's Vineyard (planted entirely to Cabernet Sauvignon) and the other is the Destin Vineyard, 16 acres planted to Syrah, Riesling, Merlot and Malbec. Aurelien met winemaker Kirk Venge at a function, and casually mentioned a vineyard that he and Ellie had purchased – Kirk offered to come by to see the vines. He did so and liked what he saw – and he encouraged Aurelien to make wine from their vineyard. Ultimately Aurlien and Ellie hired Kirk as their winemaker (coincidentally his 11th consulting client), and he has made their wines since the inaugural vintage in 2012.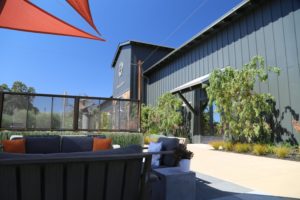 The 2013 Eleven Eleven Estate Rosé of Syrah is from their Oak Knoll Destin vineyard; it reveals an elegant nose – inviting and light aromas of raspberry and red cherry. The wine is fresh and clean on the palate with crisp acidity balanced by the nice fruit. The finish is rather long for a wine of this style.
The 2016 Eleven Eleven Sauvignon Blanc offers a sweetness of fruit on the bouquet including ripe pineapple along with pretty floral aromas. Also accents of graphite/pencil shavings. Clean and easy to drink – the wine shows a diversity of both tropical flavors complemented by citrus flavors (lemon/lime). Mango, kiwi and pineapple. Not heavy on the palate – shows a pleasing lingering acidity and a slight tartness.
The 2012 Eleven Eleven Estate Syrah (also sourced from the Destin Vineyard) shows notes of white pepper on the nose – as the wine breathes the spicier notes dissipate and a really appealing bouquet focusing on the fruit is revealed. The bouquet is not over ripe – showing more red fruit than dark including plum, and red cherry. The wine has very good acidity with a tartness on the finish.
The 2012 Eleven Eleven Estate Laki's Vineyard Cabernet Sauvignon offers a pleasing dusty component on the bouquet along with darker fruit aromas, namely blackberry. The palate shows some spice. The tannins are fairly fine grained and linger more on the front of the palate than the back for some time. Notes of vanilla spice also show on the finish.
The 2014 Eleven Eleven Estate Laki's Vineyard Cabernet Sauvignon reveals a noticeable sweetness of lively ripe fruit on the bouquet including plum. Also notes of blackberry, toasted oak and cedar box. The aromas are opulent and fruit forward. Feels plush on the palate, with the sweetness of aromas continuing on the palate as sweetness of fruit as flavors. Ripe blackberry. A bit smoky with nuances of leather on the firm and structured finish.
They also source fruit from Sonoma County for both a Chardonnay and a Pinot Noir.
—
Visits are by appointment – the tastings are seated, relaxed and very personalized. Several tasting options are offered including The 11:11 Experience (a private tasting of some of their premium wines), The Copper Experience (a private tour and tasting paired with a variety of artisan cheese and charcuterie) and The Make Your Moment Experience held in their barrel room. Weather permitting (despite being so close to the Napa city limits and just off of busy Trancas Avenue) – the outdoor seating lounge is a rather quiet and relaxing place to enjoy a tasting (the nearby vineyards when leafed out and the surrounding tiny olive trees help block the noise from the nearby streets).
Since their opening, Eleven Eleven has built an impressive winery facility located behind (to the north) of their main hospitality center. This state of the art production facility is now home to a number of boutique brands who make their wine here (as of last count, some 30 producers). It also includes a private tasting room upstairs.
And visitors to the valley can reserve the Laki Vineyard House (named in honor of Carol's husband who passed away from cancer in 2002) located only a several minute drive north of the winery. Club 11:11 members have special access to stays here. The home is 2,500 square feet – a French inspired country house which sleeps up to six spread over three and a half bedrooms. Also a private pool and a hot tub.
For more information, to join their wine club or to make an appointment at the winery, visit: www.elevenelevenwines.com
Exterior

Interior

Laki Vineyard House

Video by 1111 Wines