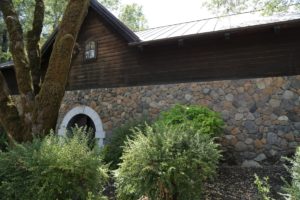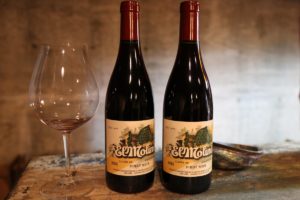 El Molino Winery is located on the site of an old Ghost Winery founded in 1871 – when you refer to dates in the early 1870's you are among a very exclusive short list of Napa wineries. As a result, the original El Molino Winery was one of the earliest wineries founded in the Napa Valley. It operated until prohibition and was completely restored in 1981.
The first vintages under modern ownership are from the 1980's (the property, winery and their Rutherford Vineyards have been under the same family ownership since 1938). The winery itself is located off of Highway 29/128 (north of the town of St. Helena) via a short gravel road. Despite being so close to Highway 29/128, once you reach the winery it feels like you are really in the country – the winery backs right up against several thousand acres of native forestland.
The name El Molino in Spanish means "The Mill" which makes sense considering their "neighbor" is the nearby Bale Grist Mill (a water-powered mill built in 1846 originally used for grinding corn and wheat into flour – it is one of only two water-driven mills still in existence west of the Mississippi River).
The vineyards are family owned and operated and are located about 25 minutes to the south in Rutherford. These vineyards were originally planted in 1978 – El Molino only sources a small section of the overall vineyard – the rest of the fruit is sold to area wineries. Lily Oliver and her husband Jon are the owners and winemakers. A tour/tasting typically takes 45 minutes to an hour. You will be shown their two wine making/storage facilities, one for their Pinot Noir and one for the Chardonnay.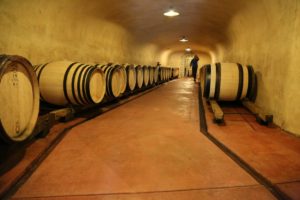 They focus on only two varietals – Chardonnay and a Pinot Noir, Burgundian varietals that Lily's father enjoyed drinking and making. They employ a minimalist approach to wine making – using small tanks, whole cluster fermentation (the stems are lignified – which means they are brown and also "ripe" so you do not get any "green" characteristics in the wine), foot treading for the initial punch-downs and fermenting using yeasts already present on the grapes when they come in to the winery (no commercial yeasts).
Chardonnay and Pinot Noir are not usually found in the Rutherford appellation and in in fact, their Pinot noir grapes are the only vineyard that we know of planted to this varietal in Rutherford. Aside from the high land value to varietal income ratio, perhaps more wineries would start to take note of using Rutherford for high end Pinot noir after trying El Molino's wine.
The original winery has been restored into a house and an original hand dug tunnel leads from one of their barrel rooms to this house. Another structure on the property was built in the 1940's and remnants of the Asian influenced garden can still be seen.
They still have an El Molino bottle of wine which dates from around 1900; it still contains the original label. Their current label is based almost exactly on the original label's design.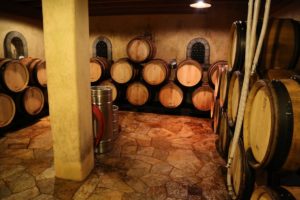 We tried the 2005 vintage, its color is consistent with previous vintages of this wine. It is very dark red in color with nuances of cherry on the bouquet with additional cherry notes on the palate. This is a rich, layered in flavor Pinot noir with nice spices and good structure anchoring the very long finish.
The several Chardonnay's we have tried have all been balanced with pleasing rounded mouth feels. They are a beautiful golden color almost looking like some of the aged Rieslings we have tried; the bouquet's have been slightly tropical with honeysuckle and floral aromas. The palate's are rich with notes of ginger, lime and additional honey nuances.
After many years of making just the two wines – in 2012 they released a Pinot Noir blended from Sonoma Coast fruit and fruit from their Rutherford vineyard. This is a delicious wine – nicely balanced with the acid from the cooler weather Sonoma Coast Pinot as well as the structure from their Rutherford fruit.
These wines drink nicely when young but they also age well – Jon enjoys drinking both their wines after about 10 years.
As of the time of this review, the total production is about 1200 cases of each wine. They maintain a mailing list; if you enjoy a excellent Pinot & Chardonnay we encourage you to signup via their website.
Visit: www.elmolinowinery.com