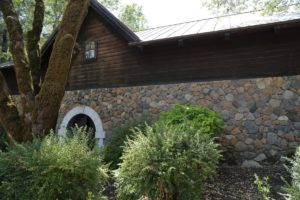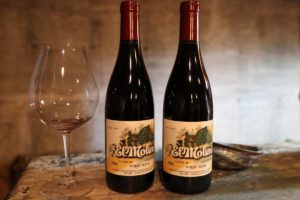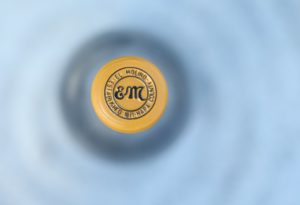 El Molino Winery is located on the site of an old ghost winery founded in 1871 – when referring to Napa Valley wineries built in the early 1870's or before, this list is an extremely exclusive one. As a result, the original El Molino Winery was one of the earlier wineries founded in the Napa Valley. The winery was completely restored in 1981.
This site is closely tied to the historic Bale Grist Mill located slightly to the north. A gentleman by the name of Florentine Erwin Kellogg moved to California in 1846, just crossing the Sierra Nevada mountains as the snow was starting to fall, crossing a few days before the Donner Party became trapped by the early snowstorms that year. He moved to what is now the site of El Molino Winery, taking work 'next door' at the Bale Grist Mill – creating all the iron work on the original grist mill in 1846 and 1847 for its namesake, Dr. Bale. This water-powered mill built in 1846 was originally used for grinding corn and wheat into flour – it is one of only two water-driven mills still in existence west of the Mississippi River.
Napa Valley was not planted to many grapes in the 1840s but in 1848, Kellogg planted 2 acres of Mission grapes on his land (some of the early vineyard plantings in the valley). George Yount (the namesake of Yountville) is credited with planting the first grapes in the Napa Valley in 1838/1839 near a small town which was at that time called Sebastopol, later changed to its current name, Yountville.
In 1871 Colonel W. W. Lyman purchased the Bale Grist Mill from the current owner at that time, Captain W. Sawyard. The winery was completed in time for that year's harvest. With the help of Chinese workers, in 1897 a tunnel was hand-dug into the side of the hillside used for aging wines. The winery operated until around 1910 before closing due to phyloxxera infestation in their vineyards. Before closing they were bottling wines labeled as Zinfandel, Riesling, Napa Claret and Bale Red. Vineyards in those days were not planted to the obligatory Cabernet Sauvignon that Napa is now known for. The family grew both table grapes and wine grapes – with the wine varieties planted to Green Hungarian, Burger, Golden Chasselas, Muscatel and the red grapes mostly to Zinfandel.
The property and winery have been under the same family ownership since 1938. In 1978 Reginald (died 2005) and Marie Oliver purchased the winery and the surrounding land (from Reginald's aunt Nancy who used to help with sales and marketing for Louis Martini Winery). In nearly all cases when a winery is put up for sale the new owners are not family related.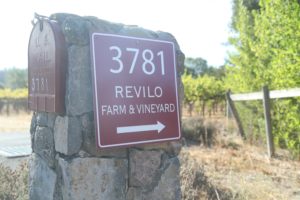 Reginald then moved his family from New York City to this rural property in 1981 – and soon began making home wine. The same year that the first commercial vintage of El Molino was produced (1987) he also purchased the 68-acre Star Vineyard in Rutherford. In addition, he owned the Revilo Vineyard near Meadowood Resort – its name came from spelling Reg's last name of Oliver backwards. After Reginald passed away in 2005 his daughter, Lily Oliver and her husband Jon (from South Africa) took ownership, and both continue to oversee the property and share the winemaking duties. Both have extensive backgrounds of making wine at a number of wineries, both domestically and abroad.
Bale Grist Mill

Star Vineyard in Rutherford is located about 25 minutes to the south of the winery – Rutherford tends to be Cabernet Sauvignon country – but remarkably, their vineyard is planted to Chardonnay and Pinot Noir. Reginald chose to plant Pinot Noir after talking to André Tchelistcheff who informed him that the site of the Star Vineyard used to be planted to Pinot Noir in the 1930s. The first Chardonnay was planted in 1978 and the Pinot Noir in 1991. El Molino only sources a small section of the overall vineyard – the rest of the fruit is sold to area wineries.
The winery itself is located off of Highway 29/128 (north of the town of St. Helena) via a short, gated driveway. Despite being so close to Highway 29/128, once you reach the winery it feels like you are really in the country – the winery backs right up against several thousand acres of native forestland.
The name El Molino in Spanish means "The Mill" which makes sense considering their proximity to the Bale Grist Mill. And their wine label is from the original design from the winery's first vintage back in 1871 (featuring an image of the grist mill). An original El Molino bottle of wine dating from around 1900 is stored on site – and still contains the original label.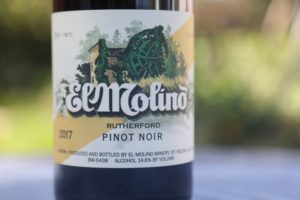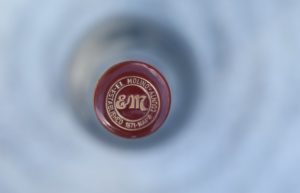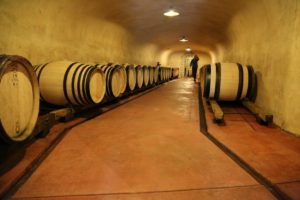 They focus on only two varieties – Chardonnay and a Pinot Noir, Burgundian varieties that Lily's father enjoyed drinking and making. They employ a minimalist approach to wine making – using small tanks, whole cluster fermentation (the stems are lignified – which means they are brown and also "ripe", so you do not get any "green" characteristics in the wine), foot treading for the initial punch-downs and fermenting using yeasts already present on the grapes when they come into the winery (no inoculation is done using commercial yeasts). Their Chardonnay does not go through any malolactic fermentation.
Chardonnay and Pinot Noir are not usually found in the Rutherford appellation and in fact, their Pinot Noir grapes are in the only vineyard that we know of planted to this variety in Rutherford. Aside from the high land value to variety income ratio, perhaps more wineries would start to take note of using Rutherford for premium Pinot Noir after trying El Molino's wine.
The original winery has been restored into a house and the original hand dug tunnel leads from one of their barrel rooms to this house. Another structure on the property was built in the 1940's and remnants of an Asian influenced garden can still be seen.
Select Wines
The 2018 El Molino Rutherford Chardonnay shows deep gold in color; offers layers of ripe fruit aromatics including of dried mango, yellow pineapple, orange blossom, along with a sweet caramel, vanilla and other dessert spice influences – which continues to linger. Also, some toasted notes of oak (which dissipates as the wine breathes) and popcorn butter. Sports a very appealing bouquet. A rich and very flavorful showing across the palate with flavors of melon and pineapple. Long lingering on the finish with a crème Brule, lemon drop nuance. Also, a pleasing slightly oily quality to the mouth feel. Only about 10% of the total wine went through secondary fermentation. Doesn't need any food – drinks quite well by itself. Most people drink wines of this varietal fairly young – this one has the stuffing to potentially develop additional complexities and continue to evolve in a good way with several years of age. Was barrel fermented and then barrel aged sur-lie for 11 months. 850 cases were produced.
The 2017 El Molino Pinot Noir Rutherford is a very thoughtfully made wine from this varietal including 10 different clones of Pinot Noir, all picked separately but several were co-fermented. 70% of the wine was whole cluster fermented. The wine is medium to deep ruby in color with darker fruit aromatics including plum, dried berry, raspberry, dried rose petal and a noticeable sandal wood, cedar box and an earthy influence. As the wine continues to breathe, shows hints of mocha on the bouquet and more fruit. The palate shows less influence from the oak then the bouquet – with flavors of red cherry, currant and dried berries. A fruit sweetness and an herbal note linger for some time on the finish. Flavorful until the very end – with the fruit flavors persisting but with a very light influence of tannins. 600 cases produced.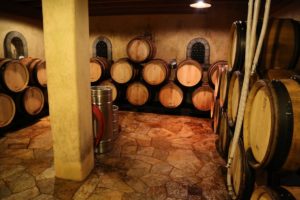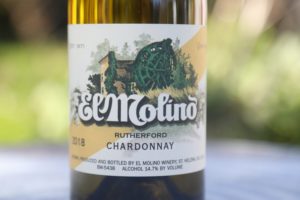 The 2005 El Molino Pinot Noir shows a color consistent with previous vintages of this wine. It is very dark red with nuances of cherry on the bouquet followed by additional cherry notes on the palate. This is a rich, layered in flavor Pinot Noir with appealing spices and good structure anchoring the very long finish.
The several El Molino Chardonnay wines we have tried have all been balanced with pleasing rounded mouth feels. They are a beautiful golden color almost looking like some of the aged white wines from the Napa Valley that we have tried over the years; the bouquets have been slightly tropical with honeysuckle and floral aromas. The palate's, regardless of vintage has always been richly flavored with long finishes.
After many years of making just the two wines – in 2012 they released a Pinot Noir blended from Sonoma Coast fruit and fruit from their Rutherford vineyard. This is a delicious wine – nicely balanced with the acid from the cooler weather Sonoma Coast Pinot complementing the structure from their Rutherford fruit.
These wines drink nicely when young, but they also age well – Jon told us that he enjoys drinking both their wines after about 10 years.
—
The winery sees guests on a limited basis (built around their schedules). A tour/tasting typically takes 45 minutes to an hour. Visitors will be shown their two separate wine making/storage facilities, one dedicated to the Pinot Noir and the other one for the Chardonnay. As of the time of this review, the total production is about 1200 cases of each wine. They maintain a mailing list; if you enjoy excellent Pinot & Chardonnay, we encourage you to signup via their website.
And El Molino Winery in the Napa Valley is in no way connected or should be confused with Bodega El Molino, a wine brand produced in Mendoza, Argentina.
For more information about this treasured and historical estate, visit: www.elmolinowinery.com