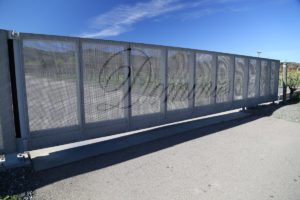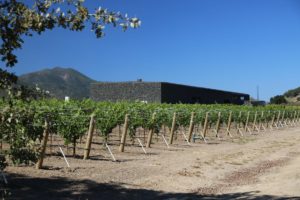 Dominus Estate is owned and operated by Christian Moueix who first came to California from France when he was in his 20's. He studied viticulture and enology at UC Davis in the late 1960's. This was shortly after several of Napa's early wine pioneers had graduated from Davis – most notably industry pioneer Napa winemakers including Justin Meyer (Silver Oak Cellars), Rick Forman (Forman Vineyards) and Nils Venge. However, it wasn't until 1982 when he was able to purchase the Napanook vineyard with Robin Lail and Marcia Smith (daughters of John Daniel of Inglenook Winery).
Today Christian is the sole owner and as well as running Dominus he is also general manager for the famed Chateau Petrus in France's well-known Pomerol (Merlot) region. He built a home surrounded by vineyards just west of the actual winery. Dominus Estate is an intriguing piece of property both for the quality of terroir, the historical aspects and the very unique winery architecture. Historical records show that George Yount (for whom Yountville takes its name) planted the first grape vines in the Napa Valley in 1836 on what is now the Dominus Napanook Vineyard.
The building is stunning yet at the same time a humble testament to Christian's desire to build a winery that that does not destroy the natural beauty of the land. The exterior walls are called Gabions which are essentially galvanized steel cages containing natural rock. This basalt rock was mined from nearby American Canyon and sits loosely in the cages providing protection from the heat of the summer as well as allowing natural light to shine through during the day. Both barrel rooms, main tank facility and offices are contained within this one building.
This was the first winery design as well as project within the United States for the Swiss architectural firm of Jacques Herzog and Pierre de Meuron. Not a bad way to get noticed at all. This firm has since designed the M.H. de Young Museum in San Francisco, the Tate Gallery in London, as well as the Beijing Summer Olympics stadium in China. Pretty heady stuff for a firm that wasn't even on the International radar 10 years ago!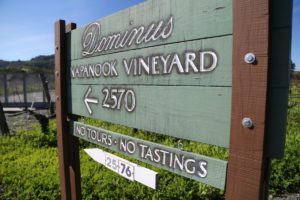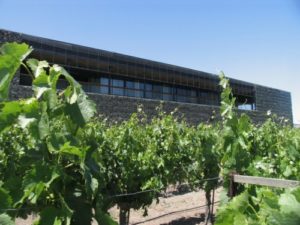 When you are making world-class wines incredible attention to detail is given to the vineyards. Since Christian divides his time between France and California – his time here is mostly spent in the vineyards. Part of the vineyards are dry farmed, only the highest quality clusters are left to fully ripen, the grapes are washed of dust during the dry season to ensure better maturation, clusters are separated from each other to help soften tannins and a number of other meticulous details are conducted. Dominus specializes in two wines each vintage; the Dominus and Napanook – both of which are predominately Cabernet Sauvignon blends which differ in blend percentages each year.
There are some notable differences between the two wines. The Bordeaux style Dominus has very long ageability (20+ years), the vines are typically older and are dry farmed – this wine tends to have earthy qualities so representative of its unique terroir. The Napanook on the other hand is a different styled wine. It is very much food friendly meant to be consumed earlier than the Dominus – with bright lively fruit and refined tannins. The 2005 Napanook with 76% Cabernet Sauvignon, 14% Cabernet Franc and 10% Petit Verdot is a very dark wine rich in aroma with subtle earth driven undertones. This is a well balanced wine with a rounded mouth feel. The palate is full of cherry and other blackberry flavors complemented with herbs and spices with a nice slightly smoky finish.
A Dominus saying is "Napa terroir, Bordeaux Spirit". This motto well describes their Dominus wine. We tried the 2005 vintage only days after release (92% Cabernet Sauvignon, 5% Cabernet Franc & 3% Petit Verdot). This is a Bordeaux styled wine, again very dark in color (thank the Petit Verdot in part for that contribution). However, you cannot help but notice the beautiful Napa fruit as soon as you smell the elegant nose which shows ripe blackberry and blueberry aromas leading to rich fruit flavors on the full bodied palate. The finish is like a crescendo in a Beethoven symphony – long, elegant, and inspirational, leaving you wanting more. A wine like this should be left to open up or decanted; it will respond wonderfully to just several years of aging, although it can certainly be laid down for much longer.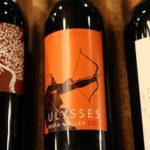 In 2016 Dominus released it's first ever vintage (the 2012) of the ULYSSES wine from their Ulysses Vineyard along the western bench land of Oakville – at the base of the Mayacamas Mountains.
Dominus is a private wine estate and is not open for tours or tastings.
You can find their wine locally at Backroom Wines in Napa and also nearby V Wine Cellar in Yountville. Visit: www.dominusestate.com
We took the following two photos at Chateau Petrus in tiny Pomerol (Bordeaux). Petrus has a remarkable reputation among serious wine enthusiasts and collectors worldwide – but the estate is remarkably small.
Photos of Dominus