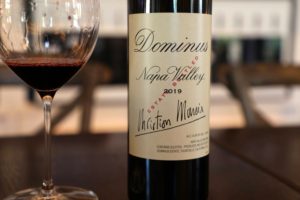 Dominus Estate is owned and operated by Christian Moueix who first came to California from France when he was in his 20s. He studied viticulture and enology at UC Davis in the late 1960s and was introduced to Napa Valley at this time. This was shortly after several of Napa's early wine pioneers had graduated from Davis – most notably industry pioneer Napa winemakers including Justin Meyer (Silver Oak Cellars), Ric Forman (Forman Vineyards) and Nils Venge.
Wanting to invest in Napa Valley, Christian was introduced by Robert Mondavi to sisters Robin Lail and Marcia Smith who jointly owned the Napanook Vineyard near the town of Yountville. Robin and Marcia were daughters of well-known vintner, John Daniel; Robin was working for Bill Harlan at the time but had also previously worked as Robert Mondavi's personal assistant. Daniel, the wine architect of so many of Inglenook's great wines, previously owned the Napanook Vineyard having purchased it in 1946 from Louis Stralla. Louis was a prominent vintner (not a winemaker) and one of the early proponents in 1943 of a vintner organization that would ultimately lead to the formation of the Napa Valley Vintners Association. He also leased Charles Krug Winery for a time and in 1954 was mayor of St. Helena.
But back to the story. Grapes from Napanook were integral to Inglenook's wines from between 1946 to 1964. After the sale of Inglenook to United Vintners in 1964, Daniel kept the Napanook vineyard which eventually was transferred to his daughters.
In 1982 Christian entered into a partnership with Robin and Marcia calling it the John Daniel Society. They remained partners until 1995 when both Robin and Marcia sold Napanook to Christian. Today he is the sole proprietor; in addition to Dominus he also oversees Château La Fleur-Pétrus in France's well-known Pomerol region (Merlot) among other wineries under family ownership. Perhaps not following his own advice to never live within a vineyard, he built and owns a home surrounded by vineyards just west of the actual winery.
Dominus Estate is an intriguing piece of property both for the quality of terroir, the historical aspects and the very unique winery architecture. Historical records show that the Dominus Napanook vineyard was originally part of the Hopper Ranch – first planted in the 1850s.
Most sources indicate George Yount (Napa Valley's first grape grower) planted the first vines in the Napa Valley in 1838/1839. Some sources indicate those first vines were planted on what is now the Napanook vineyard/Dominus Winery. However, according to wine historian Charles Sullivan in his book Napa Wine, A History and other sources, Yount planted his first grapes across what is now Highway 29 near the Napa River in proximity of Yount Mill Road next to his small adobe house (also reference California Registered Historical Landmark No 564 located at the corner of Yount Mill Road and Cook Road). And from personally speaking to the Hoxey family, their Ghostblock vineyard is on site of Yount's original adobe house and original vineyard plantings.
Until the physical winery was built in 1997 the first vintages were made at Rombauer Winery which at the time was a popular place for select brands without physical wineries to produce their own wines (by renting space). The first vintage of Dominus was 1983 although a vintage was made in 1982 but sold off as bulk wine and not bottled under Dominus.
A number of prominent winemakers have spent part of their careers at Dominus including Daniel Baron (Silver Oak Cellars/Twomey), Chris Phelps (Swanson Vineyards), David Ramey (Ramey Vineyards) and Philippe Melka (Melka Vineyards).
Napanook has been planted to numerous varieties over the years; today the focus is much tighter with only Cabernet Sauvignon, Cabernet Franc and Petit Verdot growing. Approximately 102 of the 134-acre site is planted to Cabernet Sauvignon, Cabernet Franc and Petit Verdot. These vines are dry farmed, which can be challenging during periods of extreme heat such as sustained high temperatures experienced sometimes around Labor Day weekend during certain years. Napanook is also organically farmed; from 2018 through 2022 Dominus earned several distinctions from Napa Green, (a sustainable and certification winegrowing program) including Napa Green Land, Napa Green Winery, Organic Certification and most recently, Napa Green Vineyard.
The Winery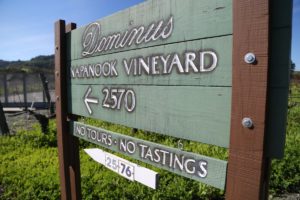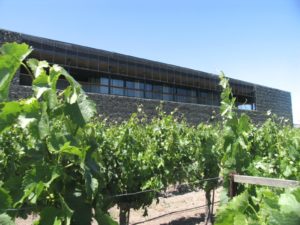 The building is stunning yet at the same time a humble testament to Christian's desire to build a winery that that does not destroy the natural beauty of the land. The exterior walls, called Gabions are essentially galvanized steel cages containing natural rock. This basalt rock was mined from nearby American Canyon and sits loosely in the cages providing protection from the heat of the summer as well as allowing natural light to shine through during the day. The smaller stones re located on the lower reaches of the walls (as the lower interior space requires more insulation). Both barrel rooms, main tank facility and offices are contained within its walls. The building was completed in 1997.
This was the first winery design as well as project within the United States for the Swiss architectural firm of Jacques Herzog and Pierre de Meuron. Not a bad way to get noticed at all. This firm has since designed the M.H. de Young Museum in San Francisco, the Tate Gallery in London, as well as the Beijing Summer Olympics stadium in China. Pretty heady stuff for a firm that wasn't even on the international radar 10 years ago.
French Roots
Établissements Jean-Pierre Moueix was founded by Christian's father, Jean-Pierre Moueix in 1937. Jean lived to be 90 (1913-2003); today the company he founded in the town of Liborne has become the largest wine merchant on the Right Bank. Jean-Pierre purchased his first vineyard estate, Château La Fleur-Pétrus in Pomerol in 1950.
He also purchased Château Petrus. Today Petrus has a remarkable reputation among serious wine enthusiasts and collectors worldwide – but the estate is remarkably small at only 11.4 hectares. Along with the nearby much smaller Château Le Pin, the Petrus wines are among the most expensive wines being produced in Pomerol. Christian was the General Manager for nearly 40 years – ultimately Jean-Pierre gave Petrus to his oldest son, Jean-François Moueix who continues to own and oversee the estate.
In addition, Établissements Jean-Pierre Moueix also owns two more properties in Pomerol: Château Trotanoy and Château Hosanna (formerly Château Certan-Giraud) and Château Bélair-Monange Premier Grand Cru Classé Saint-Émilion.
Select Wines
When one's focus is on producing world-class wines a remarkable attention to detail is given to the vineyards. Since Christian divides his time between France and California – his time here is mainly spent in the vineyards. Their vineyards are dry farmed, only the highest quality clusters are left to fully ripen, the grapes are washed of dust during the dry season to ensure better maturation, clusters are separated from each other to help soften tannins and a number of other meticulous details are conducted.
Dominus specializes in two wines each vintage; the Dominus and Napanook – both of which are predominately Cabernet Sauvignon blends which differ in blend percentages each year.
There are some notable differences between the two wines (including price). The Bordeaux style Dominus has very long ageability (20+ years), the vines are typically older and are dry farmed; this wine tends to have earthy qualities representative of its unique terroir. The Napanook on the other hand is a different styled wine. It is very much food friendly meant to be consumed earlier than the Dominus – although the several vintages we have tried of Napanook certainly are built to age at least 10 years with bright lively fruit, lively acidity and a lighter structural build than the Dominus.
A Dominus saying is "Napa terroir, Bordeaux Spirit". This motto well describes their Dominus wine.
Dominus
The 2019 Dominus is a blend of blend of 90% Cabernet Sauvignon, 6% Petit Verdot and 4% Cabernet Franc. It was aged in 40% new French oak. This wine is deep ruby in color; the aromatics are more red fruited than dark and include plum, cherry and pomegranate. The oak clearly takes the backseat, a restrained and polite passenger rather than a backseat driver. A sweet scent is woven across the bouquet of red licorice and raspberry, complemented with a note of Graham cracker. The aromatics are highly appealing on this vintage. The palate showcases bright red fruits including cherry, currant and cranberry. The fine-grained and well-integrated tannins are broadly distributed across the palate with a finish that lingers somewhat savory accompanied by a lingering light dryness. This is a very balanced bottling with lots of life ahead of it with proper cellar aging.
The 2018 Dominus was named the number one wine of the year by the Wine Spectator. Unlike some producers in Napa Valley due to issues with smoke taint, Dominus produced a 2020 vintage.
The 2015 Dominus was rated 100 points by the Wine Advocate and received some highly regarded press by other wine publications; one buys this wine with the future in mind as it is built to age. It shows a rich bouquet that is well layered with notes of sage, thyme and blackberry with aromas that keep changing wonderfully in the glass. It is also well layered on the palate showcasing rich fruit along with firm long lasting tannins. This wine is a perfect showcase of the style that Dominus produces each year, a big but balanced wine with lots of depth and character.
The 2005 Dominus is 92% Cabernet Sauvignon, 5% Cabernet Franc & 3% Petit Verdot. We tasted this vintage mere days after its release; this is a Bordeaux styled wine, again very dark in color (thanks to the Petit Verdot in part for that contribution). However, one cannot help but immediately notice the beautiful fruit upon smelling the elegant bouquet; it offers ripe blackberry and blueberry aromas leading to rich fruit flavors on the full-bodied palate. The finish is like a crescendo in a Beethoven symphony – long, elegant, and inspirational, leaving one wanting more. A wine like this should be left to open up or decanted; it will respond wonderfully to just several years of aging, although it can certainly be laid down for much longer than that.
Napanook
The 2005 Napanook with 76% Cabernet Sauvignon, 14% Cabernet Franc and 10% Petit Verdot is a very dark wine rich in aroma with subtle earth driven undertones. This is a well-balanced bottling with a rounded mouth feel. Flavors of cherry and other blackberry notes are complemented with herbs and spices completed by slightly dusty finish.
ULYSSES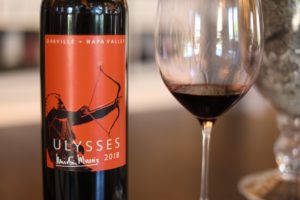 Ulysses Vineyard was purchased by Christian in 2008 from Clark Swanson (former proprietor of Swanson Vineyards). In 2016 Dominus released its first ever vintage (the 2012) of the ULYSSES wine from the Ulysses Vineyard located along the western bench lands of Oakville – at the base of the Mayacamas mountains. This vineyard is only about a mile north of Dominus. It is dry farmed and farmed organically (having received its CCOF certification in 2001). The wines are made at Dominus; however, the Ulysses wines are not sold direct to consumer, rather are available through select retail and online outlets. Locally one can often find select vintages at the Oakville Grocery and the neighboring Oakville Wine Merchant.
The 2018 Ulysses is medium to dark ruby in color; the bouquet offers aromas of blackberry, dark fig, dark tea leaf and as the wine opens in the glass, it reveals some subtle hints of mocha and chocolate. One can also smell the soils in the bouquet. This wine stands out because of its simultaneous depth and balance. The palate offers flavors of black currant and blackberry with a lingering note of dried tobacco leaf and leather. The tannins are earthy, chalky and almost dusty. They are dense but not heavy and this is an important distinction as they do not mask the lively fruit. This wine is extremely enjoyable in its youth but has all the hallmarks to be able to age gracefully for years.
—
Dominus is a private wine estate and is not open for tours or tastings.
Their wines are sometimes available locally at Backroom Wines in the city of Napa and also the nearby V Wine Cellar in Yountville. For more information or to join their mailing list, visit: www.dominusestate.com
Napanook Vineyard

Dominus, Winery/Grounds

FRANCE PROPERTIES
Château Bélair-Monange

Château Hosanna/Château Certan-Giraud

Château La Fleur-Pétrus

Château Petrus

Château Trotanoy