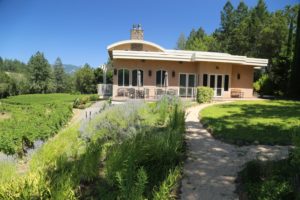 Diamond Creek Vineyards is one of Napa's venerable historic wineries having been founded in 1968 by Al and Boots Brounstein (both deceased). Their first commercial vintage was from 1972, although they did make a little wine at what was the nearby Cuvaison Winery at the time from the 1971 crop. This is California's first winery estate dedicated to a single variety – Cabernet Sauvignon and arguably they helped set the stage for what would eventually be numerous Napa Valley based wineries focusing on small lot limited production wines.
Al was born in a tiny town (Runnymeade) in Saskatchewan, Canada in 1920 and grew up in Minnesota. Runnymeade is still small – its latest census shows only 15 people. After college, work took him to Los Angeles. At age 30, Al started a proprietary drug business called Standard Brand Company in Los Angeles and built this into a very successful business. He enjoyed art (took classes at the University of Sorbonne in France), was a private pilot, spoke a number of languages and enjoyed cooking. His interest in wine, however came later. In 1960 he wanted to take a class at UCLA in French literature but the only class offered was French Wine Appreciation. During the class they sampled high end French wine at $20/bottle and Al soon realized it was time to reassess his ideas about wine.
Al's friends owned Ridge Vineyard – in Cupertino, San Jose and Al spent a few years working harvest to get some hands on experience in the wine industry. During the 1960's much of the Napa Valley floor was still dedicated to cattle and or planted to walnut and other fruit crops. Those getting into wine were not quite yet "heading for the hills".
Diamond Mountain at this time was virgin ground for vineyards and what is now Diamond Creek was part of a much larger ranch. Al heard that a number of acres were for sale. Worried that the property would be too cool for growing Cabernet Sauvignon, Al wanted some "experts" to walk the property with him. He brought along some friends – Louis Martini and famed viticulture expert André Tchelistcheff. Their advice was to plant Cabernet Sauvignon – it is interesting to note that at this time there were less than 1000 acres of Cabernet Sauvignon in the entire state of California.
Like a number of other vintners in Napa Al's foray into the wine industry came later in life. He was 47 when he purchased the nearly 80 acre property in 1967 for a little over $100,000 – currently in the Napa Valley – prices in contemporary Napa Valley are now three and four times++ that price for a single acre of a commercially producing vineyard land. At this time, the property was planted to some old prune trees and was covered various native vegetation including plenty of manzanita bushes. Al quickly planted parts of the property in 1968. Despite what the "experts" said about which root stocks to use – Al chose to plant all his vines on St. George root stock for several reasons. This was because he wanted to honor heritage, it is a root stock known for its proven and reliable history, especially in the mountains, its drought resistant qualities, and at the time there was a long waiting list to get AXR because demand for it was so high.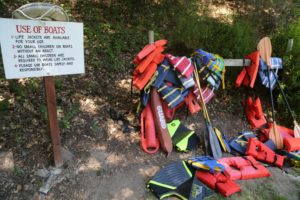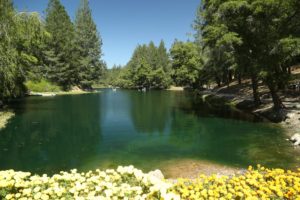 This ultimately was a wise decision as their vineyards were never replanted due to the outbreak of Phyloxera in the 1980's. While over the years parts of their vineyards have expanded and replants have been made, however a number of their original Cabernet Sauvignon vines are still producing grapes. As a result, these are some of the older Cabernet Vines in the valley and the dramatic size of the trunks prove it!
Al was not happy with the clones being used in California in the 1960's – he went to Bordeaux and tried to get appointments with some of the First Growth wineries. He was denied at each attempt – fortunately he spoke fluent French and ended up talking to the workers in the fields at some of these prominent wineries. Management finally heard of his interest of starting a Cabernet Sauvignon vineyard in California and granted him several appointments. Al asked for some cuttings and was surprised when two of the First Growth wineries consented; perhaps they didn't take him seriously at the time.
Al was not able to ship the vines directly to the USA because any organic material needs to be quarantined for a certain amount of time and Al wanted to get these cuttings grafted soon. Rather, he shipped them to Rosarita Beach in Baja California – close to the border. Al, being a pilot – flew his plane down there and picked up the cuttings and brought them back to Napa – probably one of first to define the term, "suitcase" cuttings. And vineyard manager and vintner, Dick Steltzner who has certainly left his mark on this valley, helped plant the original vineyards here.
The vineyard sites are unique – other then visually being one of the most impressive vineyard estates in the Napa Valley – three distinctive soils are found here. Their three wines are from three primary vineyards each of which grow in a unique type of soil. The 5 acres of vineyards named Gravelly Meadow grow in old alluvial shallow soils – workers have even found marine related fossils in the soil here. Volcanic Hill's 8 acres contain light dusty ash based soil. Red Rock Terrace is 7 acres of iron rich red rocky soils – on a steep hillside. The vineyards range in elevation from 400 to 800 feet. And the temperatures fluctuate between each vineyard site – parts of Volcanic Hill (south facing) and Red Rock Terrace tend to be among the warmest sites on the property. The coolest is the tiny less then an acre Lake Vineyard. Wine from this vineyard is not produced every year – only during exceptional years when the fruit reaches full maturity.
With these three unique soils initially Al reflected on what the French would do – blend or make separate wines. Wanting to find out, he barrel aged them separately from one another. Noticing the unique differences between each vineyard he bottled each one as its own wine. In the the 1960's and 1970's much of the California wine was found in retail shops – rather than restaurants which often carried French wines.
When Al went to retail shops to try and sell his wine – a single vineyard wine from California in the 1960's and 1970's as expected was a hard sell. One prominent wine shop owner told him his wines would sell better if he blended all three vineyards together. Al's response was something like, "when three of the best Burgundian wineries start blending their flagship single vineyard wines together, than I will consider it!"
An interesting part of the property is on Diamond Creek below the winery where all three vineyards and soil profiles come to within merely 60 feet of each other.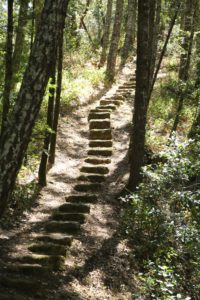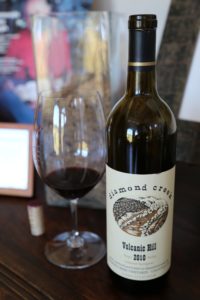 In 1970 Al put in a beautiful lake centered on Diamond Creek – he cleared the land himself which included burning back the underbrush. Unfortunately his "managed" fire got out of control but eventually was contained. Old timers in the valley still remember this fire and how much worse it could have been.
Most Napa wineries seem to change winemakers every few years but not so with Diamond Creek. Since 1968 they have had only two winemakers. Current winemaker Phil Steinschriber has been making Diamond Creek's wine for over 20 years.
Harvest can run 6 weeks on the property – honoring the properties' individual microclimates rather than picking each vineyard at once, the grapes are selectively picked as they ripen. This can often mean up to 20 different "mini" harvests each year. Their overall production is very low – dropping all but the healthiest of the grapes each year – leaving between 1.5 and 2 tons per acre.
Diamond Creek's wines have always been focused on quality and about showcasing the individual terroir on the estate. Their earliest releases were priced under $10/bottle which was considered very expensive at the time. One of their earlier releases actually retailed for $100/bottle which at the time was the most expensive 750ml current release in California. Their wine set the bar high in the second annual Napa Valley Wine Auction when a case went for $5400 – many years later at the same annual auction a lot of Diamond Creek went for over $120,000.
As expected due to the individual microclimates and soil types each of the wines shows distinctive differences. However, all of their wines show excellent acidity and a reasonable tannin backbone anchoring the finishes. These are wines that can easily age for several decades and they have the earlier vintages to prove this. We have had several vintages and each wine tastes exceptional at a young age – but has the acidity, fruit and backbone to age for many years.
Select Wines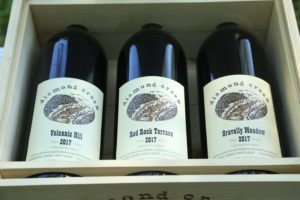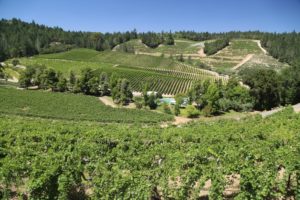 The 2012 Diamond Creek Vineyards Gravelly Meadow (their lowest yielding vineyard) shows lively and fresh fruit aromas including black fig, a dried rose petal component and an earthy note. It is dark in the glass. It is round on the palate, full-bodied with good acidity to temper the depth of fruit. Long lasting finished with well defined tannins.
The 2012 Diamond Creek Vineyards Red Rock Cabernet Sauvignon shows aromas of blackberry and a browned sugar note on the bouquet. It is well-layered on the palate with a memorable intensity of darker fruit notes. The tannins last for significant time and are somewhat chalky and texturally soft in nature.
The 2012 Diamond Creek Vineyards Volcanic Meadow shows a perceptible sweet note to the bouquet with nuances of baking spices and floral notes. On the palate it is gentle, soft and subtle showing black fruit, balanced between fruit acidity and structure. Still, this vintage and vineyard shows a voluptuousness that is highly appealing. The tannins are delicate and are well integrated.
The wine is difficult to procure as production is extremely low – they make about 500 cases from each of their three vineyards – for a total of about 1500 cases annually.
Every summer the property opens several times to those on their mailing list (there is absolutely nothing else like this in the Napa Valley); this is a unique and rare opportunity to not only enjoy the beautiful grounds and vineyards but also to taste barrel samples of their three vineyards and purchase coveted older releases (we have seen wines up to 18 years old available for sale). Some families have been coming to these "picnics" for several decades and have their own special spots on the grounds staked out.
Guests have access to most of the property – this special slice of the Napa Valley is truly magical – the hillside vineyards combined with plenty of water features including man-made creeks, waterfalls, little pathways, swimming holes and an idyllic pond. Boots's son Phil Ross always leads a one hour guided very informative tour of the property in the afternoon and the day culminates with a rare tasting of three of their current release wines.
NOTE: in late winter 2020, Diamond Creek Vineyards sold to Louis Roederer (owned by the Rouzaud family). This Champagne, France based company was founded in 1776. Louis Roederer owns a number of wineries in Europe including Louis Roederer in Champagne, Ramos Pinto, Champagne Deutz, Delas Frères, Château de Pez, Domaines Ott and Château Pichon Longueville Comtesse de Lalande, among others. At last count we heard they owned a portfolio of 10+ winery/vineyard properties.
The company also owns Maisons Marques & Domaines USA, Inc., founded in 1987 to promote, distribute and market wines from Champagne Louis Roederer and Roederer Estate. Over the years this company has grown and now represents and distributes wines from other Roderer owned wineries as well as wines from select non family owned wineries.
In California the company owns Merry Edwards in Sonoma County and in Mendocino County, Domaine Anderson, Roederer Estate and Scharffenberger Cellars.
Domaine Anderson, Philo
Visit, photos & notes coming by end of 2020.
Merry Edwards, Sebastopol
Visit, photos & notes coming by end of 2020.

Roederer Estate, Philo
Visit, photos & notes coming by end of 2020.

Scharffenberger Cellars, Philo
Visit, photos & notes coming by end of 2020.
—
Because of the demand and limited production, the Diamond Creek Vineyard wines are very selectively distributed. Visits are for collectors and extremely serious wine enthusiasts – small tasty hand-prepared bites are paired with several of their more recent vintages. For more information visit: www.diamondcreekvineyards.com
Winery/Hospitality

Vineyards

Miscellaneous Property