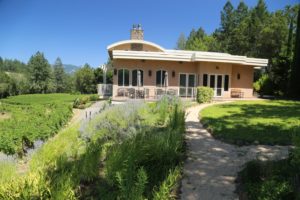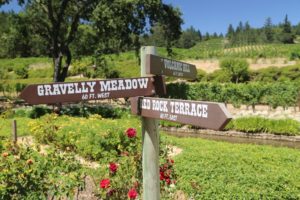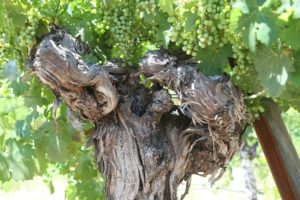 Diamond Creek Vineyards is one of Napa's venerable historic wineries having been founded in 1968 by Al and Boots Brounstein (both deceased). Their first commercial vintage was from 1972, although they did make a little wine at what was the nearby Cuvaison Winery at the time from the 1971 crop. This is California's first winery estate dedicated to a single variety (Cabernet Sauvignon), and arguably they helped set the stage for what would eventually be numerous Napa Valley based wineries focusing on small lot limited production wines.
Al was born in a tiny town (Runnymeade) in Saskatchewan, Canada in 1920 and grew up in Minnesota. Runnymeade is still small – its latest census shows only 15 people. After college, work took him to Los Angeles. At age 30, Al started a proprietary drug business called Standard Brand Company in Los Angeles and built this into a very successful business. He enjoyed art (took classes at the University of Sorbonne in France), was a private pilot, spoke a number of languages and enjoyed cooking. His interest in wine, however, came later. In 1960 he wanted to take a class at UCLA in French literature, but the only class offered was French Wine Appreciation. During the class they sampled high end French wine at $20/bottle and Al soon realized it was time to reassess his ideas about wine.
Al's friends owned Ridge Vineyard – in Cupertino, San Jose and Al spent a few years working harvest to get some hands-on experience in the wine industry. During the 1960's much of the Napa Valley floor was still dedicated to cattle and or planted to walnut and other fruit crops. Those getting into wine were not quite yet "heading for the hills".
Diamond Mountain at this time was virgin ground for vineyards and what is now Diamond Creek was part of a much larger ranch. Al heard that a number of acres were for sale. Worried that the property would be too cool for growing Cabernet Sauvignon, Al wanted some "experts" to walk the property with him. He brought along some friends – Louis Martini and famed viticulture expert André Tchelistcheff. Their advice was to plant Cabernet Sauvignon – it is interesting to note that at this time there were less than 1000 acres of Cabernet Sauvignon in the entire state of California.
Like a number of other vintners in Napa Al's foray into the wine industry came later in life. He was 47 when he purchased the nearly 80-acre property in 1967 for a little over $100,000 – currently in the Napa Valley – prices in contemporary Napa Valley are now three and four times++ that price for a single acre of a commercially producing vineyard land. At this time, the property was planted to some old prune trees and was covered various native vegetation including plenty of manzanita bushes. Al quickly planted parts of the property in 1968. Despite what the "experts" said about which root stocks to use – Al chose to plant all his vines on St. George root stock for several reasons. This was because he wanted to honor heritage, it is a root stock known for its proven and reliable history, especially in the mountains, its drought resistant qualities, and at the time there was a long waiting list to get AXR because demand for it was so high.
And Al chose the name Diamond Creek in homage to the pieces of quartz and quartz crystals he initially found glittering in the water of the stream that flowed through the property.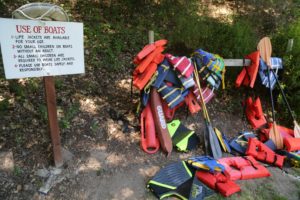 This ultimately was a wise decision as their vineyards were never replanted due to the outbreak of Phyloxera in the 1980s. While over the years parts of their vineyards have expanded and replants have been made, however a number of their original Cabernet Sauvignon vines were still producing grapes after the change in ownership. As a result, these were some of the older Cabernet Sauvignon vines in the valley and the dramatic size of the trunks proved it! However, as of 2022 these original vines have been removed as following the change in ownership, the property underwent significant replanting.
Al was not happy with the clones being used in California in the 1960s – he went to Bordeaux and tried to get appointments with some of the First Growth wineries. He was denied at each attempt – fortunately he spoke fluent French and ended up talking to the workers in the fields at some of these prominent wineries. Management finally heard of his interest of starting a Cabernet Sauvignon vineyard in California and granted him several appointments. Al asked for some cuttings and was surprised when two of the First Growth wineries consented; perhaps they didn't take him seriously at the time.
Al was not able to ship the vines directly to the USA because any organic material needs to be quarantined for a certain amount of time and Al wanted to get these cuttings grafted soon. Rather, he shipped them to Rosarita Beach in Baja California – close to the border. Al, being a pilot – flew his plane down there and picked up the cuttings and brought them back to Napa – probably one of first to define the term, "suitcase" cuttings. And vineyard manager and vintner, Dick Steltzner who has certainly left his mark on this valley, helped plant the original vineyards here.
Vineyards

Miscellaneous Property

The vineyard sites are unique; other than visually being one of the most impressive vineyard estates in Napa Valley – three distinctive soils are found here. Their three wines are from three primary vineyards each of which grow in a unique type of soil. The 5 acres of vineyards named Gravelly Meadow grow in old alluvial shallow soils – workers have even found marine related fossils in the soil here. Volcanic Hill's 8 acres contain light dusty ash-based soil. Red Rock Terrace is 7 acres of iron rich red rocky soils – on a steep hillside. The vineyards range in elevation from 400 to 800 feet. And the temperatures fluctuate between each vineyard site – parts of Volcanic Hill (south facing) and Red Rock Terrace tend to be among the warmest sites on the property. The coolest is the tiny less than an acre Lake Vineyard. Wine from this vineyard is not produced every year – only during exceptional years when the fruit reaches full maturity.
With these three unique soils initially, Al reflected on what the French would do – blend or make separate wines. Wanting to find out, he barrel aged them separately from one another. Noticing the unique differences between each vineyard he bottled each one as its own wine. In the 1960s and 1970s much of the California wine was found in retail shops – rather than restaurants which often carried French wines.
When Al went to retail shops to try and sell his wine – a single vineyard wine from California in the 1960's and 1970's as expected was a hard sell. One prominent wine shop owner told him his wines would sell better if he blended all three vineyards together. Al's response was something like, "when three of the best Burgundian wineries start blending their flagship single vineyard wines together, than I will consider it!"
An interesting part of the property is on Diamond Creek below the winery where all three vineyards and soil profiles come to within merely 60 feet of each other.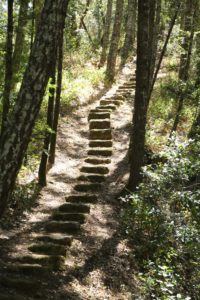 In 1970 Al put in a beautiful lake centered on Diamond Creek – he cleared the land himself which included burning back the underbrush. Unfortunately, his "managed" fire got out of control but eventually was contained. Old timers in the valley still remember this fire and how much worse it could have been.
Most Napa wineries seem to change winemakers every few years but not so with Diamond Creek. Since 1968 they have had only several winemakers. Winemaker before the sale to Louis Roederer, was Phil Steinschriber who made Diamond Creek's wine for over 20 years.
Harvest can run 6 weeks on the property – honoring the properties' individual microclimates rather than picking each vineyard at once, the grapes are selectively picked as they ripen. This can often mean up to 20 different "mini" harvests each year. Their overall production is very low – dropping all but the healthiest of the grapes each year – leaving between 1.5 and 2 tons per acre.
Diamond Creek's wines have always been focused on quality and about showcasing the individual terroir on the estate. Their earliest releases were priced under $10/bottle which was considered very expensive at the time. One of their earlier releases actually retailed for $100/bottle which at the time was the most expensive 750ml current release in California. Their wine set the bar high in the second annual Napa Valley Wine Auction when a case went for $5400 – many years later at the same annual auction a lot of Diamond Creek went for over $120,000.
As expected, due to the individual microclimates and soil types each of the wines shows distinctive differences. However, all of their wines show excellent acidity and a reasonable tannin backbone anchoring the finishes. These are wines that can easily age for several decades, and they have the earlier vintages to prove this. We have had several vintages and each wine tastes exceptional at a young age – but has the acidity, fruit and backbone to age for many years.
Select Wines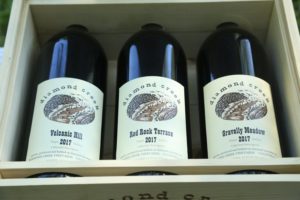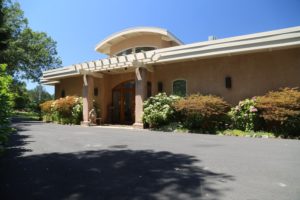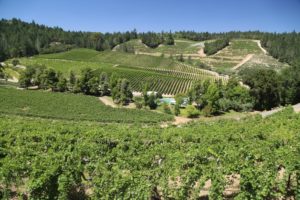 The 2012 Diamond Creek Vineyards Gravelly Meadow (their lowest yielding vineyard) shows lively and fresh fruit aromas including black fig, a dried rose petal component and an earthy note. It is dark in the glass. It is round on the palate, full-bodied with good acidity to temper the depth of fruit. Long lasting finished with well-defined tannins.
The 2012 Diamond Creek Vineyards Red Rock Cabernet Sauvignon shows aromas of blackberry and a browned sugar note on the bouquet. It is well-layered on the palate with a memorable intensity of darker fruit notes. The tannins last for significant time and are somewhat chalky and texturally soft in nature.
The 2012 Diamond Creek Vineyards Volcanic Meadow shows a perceptible sweet note to the bouquet with nuances of baking spices and floral notes. On the palate it is gentle, soft and subtle showing black fruit, balanced between fruit acidity and structure. Still, this vintage and vineyard shows a voluptuousness that is highly appealing. The tannins are delicate and are well integrated.
The wine is difficult to procure as production is extremely low; they make about 500 cases from each of their three vineyards for a total of about 1500 cases annually.
Summer Open House (no longer offered)
Every summer for decades, the property opened several times to those on their mailing list (there is absolutely *nothing else like this in Napa Valley*); this was a unique and rare opportunity to not only enjoy the beautiful grounds and vineyards but also to taste barrel samples of their three vineyards and purchase coveted older releases (we have seen wines up to 18 years old available for sale). Some families have been coming to these "picnics" for several decades and have their own special spots on the grounds staked out.
Guests have access to most of the property; this special slice of Napa Valley is truly magical – the hillside vineyards combined with plenty of water features including man-made creeks, waterfalls, little pathways, swimming holes and an idyllic pond. Boots's son Phil Ross used to always lead a one hour guided very informative tour of the property in the afternoon and the day culminates with a rare tasting of three of their current release wines.
An old article dated October 20, 1977, described these early gatherings. "His sales methods are unusual, consisting of inviting customers to the place for picnicking, swimming, boating and tasting. He provides personal tours of the vineyards and explains the distinctive properties".
As of our latest update to this review, Diamond Creek Vineyards no longer offers these summer open house experiences.
Winery/Hospitality

Louis Roederer
In March 2020, Diamond Creek Vineyards sold to Louis Roederer (Rouzaud family); both families had known each other for many years prior to this sale. A Champagne based company called Dubois Père et Fils was acquired by a Nicolas-Henri Schreider. He hired his nephew Louis Roederer in 1827, and the company changed its name in 1833 to Louis Roederer after his uncle Schreider passed away. Remarkably, the company is still 100% family owned, all these years later (extremely rare among the large Champagne houses).
Louis Roederer owns a number of wineries in Europe including Louis Roederer in Champagne, Ramos Pinto, Champagne Deutz, Delas Frères, Château de Pez, Domaines Ott and Château Pichon Longueville Comtesse de Lalande, among others. At last, count their European portfolio contains more than 10 winery/vineyard properties.
Their most well-known product is Cristal, having been produced since 1876 initially at the request of Tsar Alexander II of Russia.
The company also owns Maisons Marques & Domaines USA, Inc., founded in 1987 to promote, distribute and market wines from Champagne Louis Roederer and Roederer Estate. Over the years this company has grown and now represents and distributes wines from other Roderer owned wineries as well as wines from select nonfamily owned wineries.
In California, including Diamond Creek Vineyards, Louis Roederer owns five physical wineries: Merry Edwards in Sonoma County and in Anderson Valley, Mendocino County – Domaine Anderson, Roederer Estate and Scharffenberger Cellars. All three Anderson Valley wineries are located within very short drives of each other – all are normally open by walk-in (no reservations needed). And also under their ownership, the artisan-crafted négociant label, Carpe Diem uses fruit from both Napa Valley and Anderson Valley.
Louis Roederer Headquarters, Reims France

The headquarters are located in the center of Reims which is about a 90-to-120-minute drive from either central Paris or Charles De Gaulle Airport (CDG). This is 'ground zero' for some of the world's greatest Champagne houses; walking through this section of town is a who's who of Champagne with nearby neighbors including Krug, G.H. Mumm and Champagne Palmer among others.
The Louis Roederer headquarters building was constructed between 1852-1854 with design plans created by architect Édouard Thiérot. The complex resembles a palace with four main buildings surrounding an inner courtyard (seen only from the 'back'/staff entrance).
And special mention should be given regarding the Louis Roederer International Wine Writers' Awards. Created in 2004 these awards honor top wine journalists, authors, bloggers, artists and photographers. Wine communicators are encouraged to submit selected works free of charge to be judged by accomplished individuals who work in the wine industry. The awards are given once a year and attract entries from around the globe ranging from those who have made wine communication a profession to those just beginning their wine journey.
—
Domaine Anderson, Philo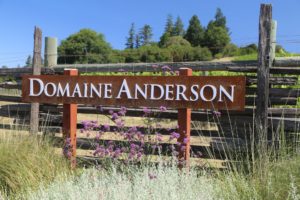 The short driveway to Domaine Anderson is located directly across Highway 128 from Goldeneye Vineyards (another Napa Valley connected property – the Duckhorn Group). What is now the property for Domaine Anderson has changed ownership several times in the past 20+ years – the previous owner built and named the winery after himself, Jim Ball Vineyards at the Four Dog Ranch Vineyard. And then Louis Roederer acquired the surrounding land and winery in 2011.
The property is about 40 acres of which approximately 14 acres are planted to Pinot Noir and 2 acres to Chardonnay. What is now called the Dach Vineyard surrounds much of the winery – ascending onto the gently sloping hills to the immediate east of the winery. In the ensuing years after their purchase, their in-house vineyard management team began farming the property organically and eventually biodynamically. The Dach Vineyard is now certified both organic and biodynamic (only the 2nd vineyard in the Anderson Valley to be certified biodynamic).
Domain Anderson focuses on premium and thoughtfully made Chardonnay and Pinot Noir. They produce several food friendly Chardonnays including their Estate bottling and a Dach Vineyard designate.
Every one of their Pinot Noir estate wines are produced in extremely tiny quantities, usually 50 to 100 cases per wine. And all are unique and elegant with their own characteristics.
The 2017 Domaine Anderson Walraven Vineyard (from a vineyard south of the winery near Highway 128) is from a hillside block planted to Pinot Noir clones 114 and 667 – the site is chalky and dusty with an abundance of Pennyroyal growing (flowering plants in the mint family).
The wine shows a very elegant bouquet – immediately opening to and dominated by aromatically appealing bright fruits including red cherry and raspberry. The aromatics are diverse and change over time – as the wine opens shows notes of menthol and an herbal nuance. It is intriguing to see how the wine has perhaps captured some of the more subtle characteristics of the Pennyroyal. Very balanced across the palate while straddling a nice line between richness and lightness of texture and flavor. Offers flavors of pomegranate and cherry and hints of white pepper on the finish. A beautiful showing.
The 2017 Domaine Anderson Pinoli Vineyard is from a site located in what is referred to as the 'deep end' of the Anderson Valley – to the north, closer to the ocean and closer to where redwoods begin dominating the landscape. In contrast to their other 2017 Pinot Noir wines, the bouquet on this wine is decidedly savory with notes of forest floor, truffle oil, dried herbs and old cedar chest. As the wine breathes further, reveals notes of brown chocolate. Seamless on the palate with flavors of red cherry and tart blackberry. Very long finish with excellent acidity. Should be a fun wine to watch over the next few years.
Visits are casual with tastings either inside their contemporary tasting room or weather permitting, outside on the patio. Serious Napa Valley wine enthusiasts perhaps might recognize the design and darker look of the winery and hospitality buildings. These buildings were designed by well-known architect, Howard Backen (most noted for his Napa Valley winery designs including Harlan Estate, The Napa Valley Reserve and Dana Estate, among many others).
Merry Edwards, Sebastopol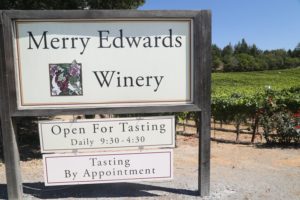 The winery takes its name from its founder, Meredith Edwards. Known for their excellent Pinot Noir with a focus on grapes from the Russian River, the first vintage produced from Merry Edwards was in 1997. Over the years Merry Edwards has acquired vineyard property and also works with select growers, typically in long term leases. Coopersmith Vineyard is home to the winery (formerly an apple orchard) – built in 2007 and opened to visitors in 2008.
Merry has spent decades in the wine industry; she graduated from UC Davis in 1973 with a master's degree in food science (concentrating on Enology). In 1974 she became winemaker at Mount Eden Vineyards and by 1977 began what would be a long and accomplished career in Sonoma County. She was founding winemaker at Matanzas Creek Winery in 1977 – by the mid 1980s was consulting and began a small winery called Merry Vintners (on site of what is present day Benovia Winery). In 2013 Merry was inducted into the Culinary Institute of America's Vintners Hall of Fame.
In 2015 winemaker Heidi von der Mehden joined the team and became head winemaker in 2018 (to date, the only other winemaker besides Merry). She continues to produce balanced wines and emulate the style that Merry established while continuing to work very closely with their vineyards. Incidentally we grew up in the same neighborhood, several homes down from the von der Mehden family.
The 2017 Merry Edwards Olivet Lane Chardonnay was barrel fermented and stirred on the lees twice a week. Golden in the glass – shows some pretty aromas including influence from the oak, not overt but more subtle. Dessert spices, hints of lemongrass, peach, citrus blossom and yellow pineapple. Went through 100% malolactic fermentation. Rounded across the palate but with an absence of the buttery flavors often found in Chardonnays that go through full secondary fermentation. The winemaking team uses a yeast which doesn't generate as much diacetyl, the organic compound that imparts buttery aromas and flavor. Drinks very nicely by itself – a very balanced showing.
The 2017 Merry Edwards Flax Vineyard Pinot Noir (Pommard clone) offers a brightness on the bouquet including red cherry, licorice and floral note. Also, a sweeter note including baking spices and as the wine opens, hints of mocha. This wine has depth and character on the palate showing flavors of currant and cranberry – a flavorful union that results in a higher-toned tartness, especially on the finish. At the time of our tasting (3 years post vintage date), the tannins show youthful with a surprising grip that persists for quite some time. Also, darker spices including peppercorn. This is the most robust of the Pinot Noirs we tried during our tasting.
The 2018 Merry Edwards Sauvignon Blanc is a blend of both Sauvignon Blanc and 42% Sauvignon Musqué. It was aged in French oak barrels, 18% new oak and lees stirring was done 2/week for 6 months. This is the antithesis of a leaner greener Sauvignon Blanc. This wine opens with pretty aromatics which are both floral and fruit driven. Shows an initial sweetness of honeysuckle, yellow pineapple and as it opens aromas of jasmine and citrus blossom. On the palate a subtle hint of sweetness with flavors of passion fruit, apricot and mandarin. The density and mouth feel are noteworthy – creamy, the wine glides smoothly across the palate. Lingers with a nice 'ripe brightness' if you will, a combination of both fruit and acid. Drinks very well by itself.
With no traffic, the winery is located less than a 15-minute drive downtown Santa Rosa or about 5 minutes from the center of Sebastopol. Visits are relaxing and informative with a focus on tasting several Pinot Noir wines; normally walk-ins are ok. Total production each year runs between 20,000 and 30,000 cases.
Roederer Estate, Philo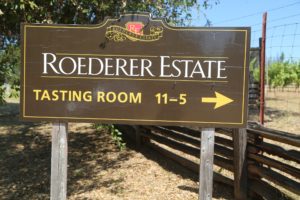 Now the largest vineyard landholder in the Anderson Valley (Mendocino County), the Rouzaud family first purchased land here in 1981. Of their 5 California wineries, this is the only one they founded rather than purchasing existing wineries. Today they farm approximately 600 estate acres of vineyards in Anderson Valley – the majority of which is Roederer Estate. This property is planted primarily to Chardonnay and Pinot Noir and a small amount of Pinot Meunier.
And while by far the focus and passion of their production is on sparkling wines, Roederer Estate also produces a tiny selection of still wines including Chardonnay and Pinot Noir (typically only available for purchase or tasting at the winery or through their wine club membership).
The 2016 Roederer Estate Pinot Noir offers aromas of rose hips, dried rose petal, cranberry, currant and hints of old cedar box. Very balanced across the palate with cardamom and white pepper along with red fruit flavors. Features bright acidity with very lightly toned tannins that linger softly. Also on the finish, notes of truffle oil and cranberry. We were told this wine is only about 13% alcohol. Drinking this wine on a hot day? Chill it slightly.
Visitors to the property drive past rows of vines on the way up to the winery which is perched on the edge of a hill. From the top, there are excellent views overlooking parts of the valley and vineyards below. Tastings are either indoors at tables or their wine bar or weather permitting, outside on the patio. A flight of their sparkling wines is served, typically beginning with their most produced wine – as of our latest update to this review, nearly 90,000 cases of Brut Multi-Vintage. Guests visiting the property may also purchase select wines imported from other Louis Roederer owned properties including from Europe.
Scharffenberger Cellars, Philo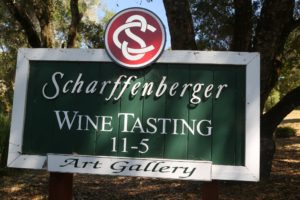 Founded by John Scharffenberger in the early 1980s (John would later go on to co-found SCHARFFEN BERGER Chocolate in San Francisco in 1997), the winery and property (120 acres of vineyards) was purchased by Louis Roederer in 2004. Located only about a minute drive north of Domain Anderson. The tasting room is intimate and cute and features rotating art from various artists. The focus of Scharffenberger Cellars is on sparkling wines with two primary offerings: Brut Excellence Non-Vintage and the Brut Rosé Excellence Non-Vintage along with several much more limited productions which are available at the tasting room. Tastings are either indoors or outside weather permitting, relaxing under the shade of nearby trees among their gardens.
Prior to Louis Roederer acquiring Diamond Creek Vineyards – they already had an association with the Napa Valley through their Cabernet Sauvignon produced and bottled at Dominus Winery under their negociant label, Carpe Diem (never to be confused with the wine bar/restaurant of the same name in downtown Napa). The Carpe Diem wines are sold through the Maisons Marques & Domaines website but can also be tasted at Scharffenberger Cellars upon request.
Carpe Diem produces three wines, a Chardonnay and a Pinot Noir from Anderson Valley and a Cabernet Sauvignon. Based on the vineyard sources, all three wines are priced very reasonably. The Cabernet Sauvignon is perhaps one of the best value wines coming from the Napa Valley based on the pedigree of the property and the winemaking team. In addition to this wine being produced at Dominus Winery, rumor has it that the grapes sourced are at least in part if not entirely are from the storied Napanook Vineyard in Yountville. The Carpe Diem wines are generally distributed to restaurants and larger stores nationally.
—
Because of the demand and limited production, the Diamond Creek Vineyard wines are very selectively distributed. Visits are for collectors and extremely serious wine enthusiasts – small, tasty hand-prepared bites are paired with several of their more recent vintages. For more information visit: www.diamondcreekvineyards.com