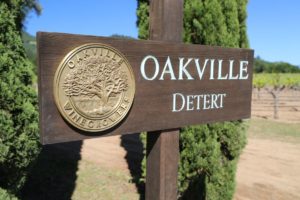 Detert Family Vineyards are located on the coveted western bench-land of the Mayacamas mountains in the heart of the Oakville appellation. This is very much a family operation. Two brothers Tom Garrett (winemaker) and John Garrett (Sales & Marketing) are involved with their partner Bill Cover. We first tasted their Cabernet Franc at the Taste of Oakville where we were initially impressed with the wines' elegance.
Tom and John's relative William Ferdinand Detert came to the United States in 1866 from Germany – he became involved in California gold mining (having owned and operated the Argonaut Mine in Jackson, California – the nearby WF Detert park is also named in his honor). Detert Park is a sometimes popular gathering spot for the local community of Jackson including an Earth Day celebration as well as select other events. William was one of the relatively few who made good money from the actual mines. Between the Argonaut, Eureka and the nearby Kennedy Mine some 4.5 million ounces of gold was extracted from the ground (in gold rush era prices, this was equivalent to 105 million dollars). After selling the Argonaut Mine in 1912 he converted the proceeds of that sale into ranchland and other mining ventures. He also owned 22,000 acres to the north in Lake County (the Guenoc Ranch), other ranches in Amador and El Dorado Counties and the Mayflower Gold Mine in Placer County.
And of historical note, the Argonaut Mine was the scene to a tragic mining disaster in 1922 (some 10 years after Detert sold the mine) when 47 miners perished after being trapped in a fire some 4,600+ feet below the surface. Remarkably the mining shaft descended over a mile below the surface.
Tom and John's great-grandfather Richard came to the United States from Germany in 1923 to help manage his uncle William's holdings. Richard's wife, Hedwig would often travel with her husband through the Napa Valley on the way to Lake County – following her love of the Napa area they eventually settled in the Napa Valley.
Tom and John's grandfather Gunther who had a successful career in law knew little about the wine industry but soon found himself managing the vineyards.
What would become a prominent Napa winery was still 13 years away when Robert Mondavi entered a handshake agreement with Detert to purchase their fruit. At the time Mondavi was working for his family at Charles Krug Winery and when he left to start his own winery in 1966 he carried their agreement over. Today nearby Mondavi winery still purchases fruit from Detert with the original agreement lasting over 50 years. Both Detert's Cabernet Franc and Cabernet Sauvignon were used in Mondavi's first reserve Cabernet. Detert's grapes are also used in Opus One's wine.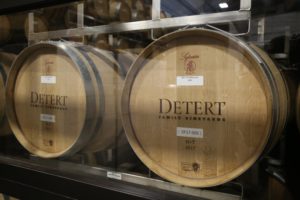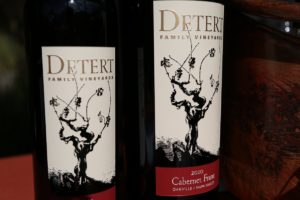 Eighteen vineyard acres are planted, surprisingly to 17 acres of Cabernet Franc and 1 acre of Cabernet Sauvignon (the opposite ratio of what you would commonly find in Oakville). Oakville is an appellation certainly known for its premium Cabernet Sauvignon but its terroir is also ideally suited for Cabernet Franc.
The earliest vineyard plantings on the Detert property date to the 1870's but the modern day plantings are from 1949. The site used to also be home to a cherry orchard which was common in the Napa Valley before vineyards dominated. In fact this is the oldest known Cabernet Franc vineyard in Napa Valley. George Yount's grandson (the town of Yountville takes its name from the Yount name) used to own the property and the vineyards were at one point part of the historical To Kalon Vineyard. Nearby neighbors include Emilio's Terrace, Far Niente, Harlan Estate, and Robert Mondavi Winery.
For a number of years, Tom was the assistant winemaker to Heidi Peterson Barrett at Revana Family Vineyards and also Revana's General Manager. Today while continuing to produce the Detert Family wines, he also operates and makes the wines for Dakota Shy Winery (with his business partners). He has been Detert's winemaker since their first vintage. While Tom's major in college was Journalism he has had the wine bug for many years, helped by growing up around his family's vineyard and harvest. He started working at the Wine Spectator where he was able to learn more about California's wine industry. One of the perks of the job involved tasting a wide variety of wine from California producers. Later he worked at Turley Wine Cellars, Joseph Phelps and as expected, Robert Mondavi Winery. Tom's focus on the winemaking is on showcasing the varietal characteristics of his vineyards' fruit.
The Deterts' sold all their fruit every year up until 2000 when they released their first vintage. Even today most of their fruit goes to nearby Mondavi winery. We had the unique opportunity to taste their current release along side their first release. The 2000 Detert Family Vineyards Cabernet Franc is a wine that has aged very well. 2000 was a cool year – this vintage is more "old world" but with the nuances of Napa fruit. The bouquet is decidedly elegant, red fruits, bittersweet chocolate and just a hint of an herbal note. Talk about a balanced wine, this is it! The palate shows more red fruit than dark fruit and the finish is smooth and delicate.
In comparison is the 2006 vintage – the 2006 Detert Family Vineyards Cabernet Franc is a darker wine with less bottle age and has a richer flavor profile. As Tom says, "a Cabernet Franc should smell and taste like a Cabernet Franc" – there are of course different styles one can create with this varietal – their style is a food friendly wine showing the best of the varietal characteristics. While still a young wine, it is still very balanced. The finish is lengthy and layered with broad but delicate tannins. Their Cabernet Francs do not have the "green" characteristic that you might find from this varietal growing in a slightly cooler region, rather they exhibit a pleasant herbal note, more like sage.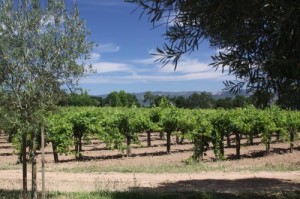 The 2006 Detert Family Vineyards Cabernet Sauvignon is a rich wine which immediately shows darker fruits on the nose as well as black liqueur and dark chocolate. The entry is soft and supple – the mouth feel is firm with concentrated dark fruit flavors, layer upon layer – showing that characteristic Oakville richness. The structured broad tannins linger for some time and are slightly dusty.
Always in demand Mike Wolfe has been their vineyard manager for the past several years. He calls the Detert Vineyard the fastest earliest drying vineyard (in Spring) of any that he manages in the Napa Valley. The soils are rich, deep and very well drained based on their composition coming from an alluvial fan that runs down from the Mayacamas mountains.
The wines are always bottle aged at least a year before being released. Production is limited, usually under 600 cases between the two wines and the best way to acquire the wine is direct through their website. You can also find their wine locally at select restaurants and wine wine shops including Backroom Wines in Napa & Enoteca in Calistoga.
It is obvious the brothers have a passion for wine, their vineyards and sharing their story with others. Tastings are for serious wine enthusiasts on a limited basis. For more information visit: www.detert.com
Argonaut Mine, Jackson

Detert Park, Jackson