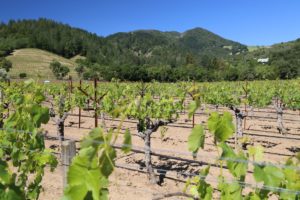 Detert Family Vineyards are located on the coveted eastern bench-land of the Mayacamas mountains in the heart of the Oakville appellation. This is very much a family operation. Two brothers Tom Garrett (winemaker) and John Garrett (Sales & Marketing) are involved with their partner Bill Cover. We first tasted their Cabernet Franc many years ago at the Taste of Oakville (an annual trade tasting held at Robert Mondavi Winery showcasing Oakville producers).
Tom and John's relative William Ferdinand Detert came to the United States in 1866 from Germany – he became involved in California gold mining, having owned and operated the Argonaut Mine in Jackson, California; nearby WF Detert park is also named in his honor. Detert Park is a sometimes-popular gathering spot for the local community of Jackson including hosting an Earth Day celebration as well as select other events.
William was one of the relatively few who made good money from the actual mines. Between the Argonaut, Eureka and the nearby Kennedy Mine some 4.5 million ounces of gold was extracted from the ground (in gold rush era prices, this was equivalent to 105 million dollars). After selling the Argonaut Mine in 1912 he converted the proceeds of that sale into ranch land and other mining ventures.
And of historical note, the Argonaut Mine was the scene to a tragic mining disaster in 1922 (some 10 years after Detert sold the mine) when 47 miners perished after being trapped in a fire some 4,600+ feet below the surface. Remarkably the mining shaft descended over a mile below the surface.
Argonaut Mine, Jackson

Detert Park, Jackson

He also owned 22,000 acres to the north in Lake County (the Guenoc Ranch) including what is now called the Detert Reservoir that William constructed around 1925; the family sold this ranch in 1952 to Woodland Farms. Of historical note is the actress Lillie Langtry used to own part of the Guenoc Ranch. William also owned other ranches in Amador and El Dorado Counties and was a partner in the Mayflower Gold Mine in Placer County (at about 3,000 feet) – not to be confused with other mines of the same name in California, Nevada and Utah. Unlike the Argonaut Mine which was a deep ore mine (crystalline gold), the Mayflower Mine was a hydraulic and drift mine in which alluvial deposits were mined used high power water cannons to collect the material for processing. The gold found here was generally well rounded due to ancient rivers.
Detert Reservoir, Guenoc Ranch Lake County

Today the Mayflower Mine is privately owned but is surrounded by BLM land. We have detected at numerous old hydraulic mines around the state of California over the decades and never once did we have a personal connection to the men who mined these lands, generally in the 1850s and 1860s. Therefore during a recent visit to the Mayflower Mine it was pretty cool to stand at the edges of the scarred hillsides and reflect on William Detert's time overseeing the mining here.
Mayflower Gold Mine, Placer County

Tom and John's great-grandfather Richard came to the United States from Germany in 1909 to help manage his uncle William's holdings. Richard's wife, Hedwig Detert would often travel with her husband through Napa Valley on the way to the large family ranch in Lake County – following her love of the Napa area they eventually settled in Napa Valley.
In 1954, Hedwig purchased 50 acres of land including a house, a 40-acre cherry orchard and some still growing grapevines from Caroline Stelling whose husband Martin Stelling (a San Francisco real estate investor) owned this property and nearly 2,000 acres in Napa Valley at the time of his untimely death at age 47 from a car accident in 1950 in which he crashed his vehicle into a phone pole near Yountville. In the 1950s the property was split between Hedwig's son Gunther Detert and her son-in-law. This other property is now owned by the Detert's second cousins the MacDonald's, founders of MACDONALD wines.
Incidentally, the old house on the Detert property dates from 1904 and is considered the oldest structure still within the confines of To Kalon Vineyard.
One of the Detert's close friends, Walter Sullivan, conveniently was a real estate agent who had married into the de Latour family (Beaulieu Vineyard). It was Walter who connected them with Martin's widow Caroline Stelling.
The earliest vineyard plantings on the Detert property were in the 1870s. George Yount's grandson E.L Sullivan (the town of Yountville takes its name from George's surname) used to own the property. In 1891 when Hamilton Crabb (founder of To Kalon Vineyards) purchased additional land including the Detert site, this property became part of his To Kalon Vineyard. And records show that grapes from this site were going into his wines – made at his sizable Hermosa Vineyards Winery which burned down in 1939. Today nearby neighbors include Emilio's Terrace (no longer producing), Far Niente, Harlan Estate, and Robert Mondavi Winery.
The first Cabernet Franc vineyard of some size possibly ever planted in Napa Valley went into the ground in 1949 by Stelling who acquired the property in 1943. This was replanted in 1979 by the Detert's using cuttings from the original plantings and are now some of the oldest Cabernet Franc vines still growing in Napa Valley. Stelling also simultaneously planted other varieties including Cabernet Sauvignon, Johannesburg Riesling and Chenin Blanc (the latter two whites are unheard today in Oakville and rarely planted throughout the valley as a whole).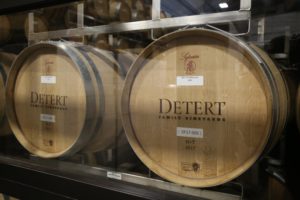 Tom and John's grandfather Gunther (Hedwig's son), inherited the property. He had a successful career in law but knew little about the wine industry – however, he soon found himself trying to learn as much as possible about growing grapes and managing the vineyards.
What would become a prominent Napa winery was still 13 years away when Robert Mondavi entered a handshake agreement with Detert to purchase their fruit. At the time Mondavi was working for his family at Charles Krug Winery and when he left to start his own winery in 1966, he carried their agreement over and the Detert family began also selling to Robert Mondavi. Today nearby Robert Mondavi winery still purchases fruit from Detert with the original agreement lasting over 50 years. Both Detert's Cabernet Franc and Cabernet Sauvignon were used in Mondavi's first reserve Cabernet. Detert's grapes are also used in Opus One's wine.
Eighteen vineyard acres are planted, surprisingly to 17 acres of Cabernet Franc and 1 acre of Cabernet Sauvignon (the opposite ratio of what one would commonly find in Oakville). Oakville is an appellation certainly known for its premium Cabernet Sauvignon, but its terroir is also ideally suited for Cabernet Franc.
For a number of years, Tom was the assistant winemaker to Heidi Peterson Barrett at Revana Family Vineyards and also Revana's General Manager. Today while continuing to produce the Detert Family wines, he also operates and makes the wines for Dakota Shy Winery (with his business partners). He has been Detert's winemaker since their first vintage. While Tom's major in college was Journalism, he has nurtured the wine bug for many years, helped by growing up around his family's vineyard and harvest. He started working at the Wine Spectator where he was able to learn more about California's wine industry. One of the perks of the job involved tasting a wide variety of wine from California producers. Later he worked at Turley Wine Cellars, Joseph Phelps and perhaps as expected, Robert Mondavi Winery.
Tom's focus on the winemaking is on showcasing the varietal characteristics of their vineyards' fruit.
Select Wines

The Deterts' sold all their fruit every year up until 2000 when they released their first vintage, although the family made home wine starting many years prior. Even today most of their fruit goes to nearby Robert Mondavi winery.
The 2019 Detert Cabernet Sauvignon is deep ruby and opaque in the glass; the bouquet is complex and deeply layered with darker fruited aromatics including plum, blackberry and boysenberry. These aromas are accompanied by dark chocolate, expresso, coffee bean and deep in the notes and more subtle are notes of clove, nutmeg and sage. We also noted its overall light brooding character. The tannins are grainy, somewhat chewy and long lasting; they show more on the front of the palate. This wine lingers savory with flavors of plum, red cherry, blackberry, dust, a light pepper note and lightly toasted oak. A freshness across the palate is appealing culminating in a mouth watering finish. Tasting this reminded us somehow of attending a late summer afternoon summer BBQ years ago at the Detert property, hanging out by the pool. This wine would pair nicely with tri tip or lamb.
The 2019 Detert Cabernet Franc Oakville is deep ruby in color; the aromatics are attractive and diverse showing a light kiss of tobacco spice, white pepper, dust and darker fruited scents including plum. It also offers notes of violets and as the wine continues to evolve in the glass, some sweeter fruited notes of raspberry and blackberry. The entry is soft with tannins starting to show mid palate and lingering with a rounded and chalky/dusty character. This wine reveals flavors of cherry, plum, a light oak nuance and dried tobacco leaf, especially on the finish. Not one aspect of the palate dominates and that is the hallmark characteristic of balance. This wine drinks very well in its youth.
The 2008 Detert Cabernet Franc Oakville was tasted 14 years post vintage date. This wine is dark ruby/garnet in color; the bouquet initially offers aromas of mushroom, forest floor and a meaty/savory component along. Give it time to evolve in the glass and additional aromatics will soon displace the initial aromas, including a briary/brambly component and light notes of Jalapeno pepper. This bottling is still very fresh on the palate, anchored by its lively acidity and still plenty of fruit. It offers flavors of red cherry, raspberry and red plum. The tannins are very well-integrated, showing a light to moderate chalky and dusty grip. This wine was probably very balanced upon release and is still quite so. And we might add, it shows younger than its actual vintage.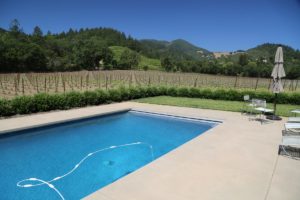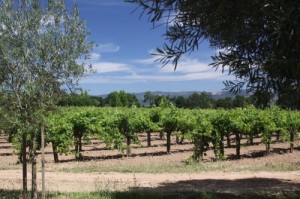 During our first visit with Tom, we tried what was the current release at the time (2006) alongside their inaugural release (2000). The 2000 Detert Family Vineyards Cabernet Franc is a wine that has aged very well. 2000 was a cool year; this vintage is more "old world" but with the nuances of Napa Valley fruit. The bouquet is decidedly elegant, showing red fruits, bittersweet chocolate and a slight herbal hint. Talk about a balanced wine, this is it. The palate shows more red fruit than dark fruit and the finish is smooth and delicate.
In comparison is the 2006 vintage; the 2006 Detert Family Vineyards Cabernet Franc is a darker wine with less bottle age and has a richer flavor profile. As Tom says, "a Cabernet Franc should smell and taste like a Cabernet Franc" – there are of course different styles one can create with this varietal; their style is a food friendly wine showing the best of the varietal characteristics. While still a young wine, it is still very balanced. The finish is lengthy and layered with broad but delicate tannins. Their Cabernet Francs do not have the "green" characteristic that one might find from this varietal growing in a slightly cooler region, rather they exhibit a pleasant herbal note, more like sage.
The 2006 Detert Family Vineyards Cabernet Sauvignon is a rich wine which immediately shows darker fruits on the nose as well as black liqueur and dark chocolate. The entry is soft and supple – the mouth feel is firm with concentrated dark fruit flavors, layer upon layer showing that characteristic Oakville richness. The structured broad tannins linger for some time and are slightly dusty.
—
Always in demand Mike Wolfe has been their vineyard manager for many years. He calls the Detert Vineyard the fastest earliest drying vineyard (in Spring) of any that he manages in Napa Valley. The soils are rich, deep and very well drained based on their composition coming from an alluvial fan that runs down from the Mayacamas mountains. Speaking of water, after the Napa based earthquake in August of 2014, the nearby dry creek bed began running for weeks afterwards with cold clear water, apparently coming from a rupture in the hills caused by the quake.
The wines are always bottle aged at least a year before being released. Production is limited, usually under 600 cases between the two wines and the best way to acquire the wine is direct through their website. One can also find their wine locally at select restaurants and wine shops including Backroom Wines in downtown Napa.
It is obvious the brothers have a passion for wine, the history of their vineyards and sharing their story with others. Vineyard visits are for serious wine enthusiasts on a limited basis. For more information or to join their mailing list, visit: www.detert.com