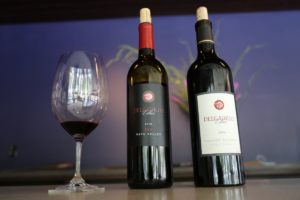 Delgadillo Cellars is owned by the father son team, Ignacio Sr. and Ignacio Jr. Their partnership is ideal as Ignacio Sr. handles all the vineyard management duties as well as winemaking and Ignacio Jr. handles the marking and business side of the operations. Ignacio Sr. first came to the Napa Valley in 1972 from Jalisco Mexico and started working in vineyards in Rutherford. He then worked at Freemark Abbey and became their cellar master during the 1980's when they started earning a stellar reputation for their Cabernet Sauvignon Bosché, one of California's first vineyard designated wines. Over the years Ignacio developed a palate for older Cabernet Sauvignons but was not able to find a Napa Cabernet that specifically matched his palate.
Often winemakers who have small productions will produce wines they enjoy to drink and then their customer base often has similar tastes. Ignacio loves drinking older wines and decided to create a wine that would be aged before being released to the consumer, a wine that was smooth and elegant upon release.
Delgadillo's first release is a 2001 Cabernet Sauvignon making this the oldest current release of any producer we have met with on this project. This wine spent 3 years in oak and then another 5 years in bottle before being released. As a result this wine has significant bottle age giving the consumer who is interested in aged wines an alternative to most wineries' much newer first releases. Wines from their first few vintages came from the Mill Creek Vineyard located between St. Helena and Calistoga; the vines were mostly budded over from the famed Nathan Fay's Stag's Leap Vineyard (an integral vineyard for Stag's Leap Wine Cellars). Later vintages have came from a vineyard in the Coombsville region much further south and just east of the town of Napa. Their releases each year are always 100% varietal Cabernet Sauvignon.
Ignacio's expertise is among the vineyards and he carefully manages each vineyard they source fruit from. He has been the winemaker since the first vintage.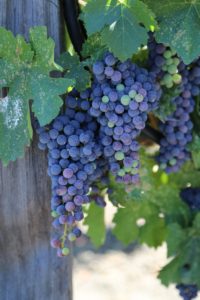 The 2001 vintage has achieved the smoothness that Ignacio desires in his wines. Despite the additional aging this wine shows lots of fruit, almost as if it were a younger wine. It is a higher alcohol wine coming in at just over 15%. The bouquet shows some floral notes as well as hints of graphite and vanilla leading to an entry that is extremely soft and lush (shows plum and red cherry flavors) which carries throughout the palate. The finish is smooth and long and shows velvety tannins.
We also had a chance to try several barrel samples of what will become their 2007 vintage. The vineyard they source from in Coombsville produces extremely concentrated dark black inky fruit and it will be very interesting to see how this wine develops considering that while being such a young wine it already has complex flavors.
Ignacio is also a founder of Wine Country Cases a premiere custom wood box and packaging company for shipping wine bottles. When he was working at Freemark Abbey the market for wooden shipping boxes was geared to larger companies and there wasn't an option for smaller made to order custom boxes. Seeing a need for this, Ignacio and his partner started hand crafting boxes on a small scale. Today, more than 20 years since this company was founded they employ a number of people and produce over 50 different styled boxes – mostly for the wine industry but also for the food industry and other retailers. Visit: www.winecountrycases.com for more information.
As expected, their wines are packed in custom wooden boxes.
Delgadillo's wine is currently cellared in one of their warehouses on a 12 acre site between Calistoga and St. Helena. They have plantable vineyard land here and have plans to develop a small vineyard which will ultimately produce the fruit for their single vineyard Cabernet Sauvignons.
At the time of this review the only way to acquire their wine is via their mailing list as they are not currently sold in any retail locations. For a small producer the personal relationships with their customers are extremely important and its no different with Delgadillo Cellars. This is a unique opportunity to taste hand crafted wines from someone who manages the vineyards and makes the wine (somewhat rare in the valley to have the same person doing both) and to have a wine that is truly aged upon release. Their production is so limited and definitely varies depending on the vintage and fruit sources (2002 saw only 92 cases) that their distribution, once in place, will be limited to just a number of high end retailers and restaurants. For more information visit: www.dcellars.com
As of July 2015 Delgadillo Cellars offers their wines in a tasting room called The Wine Thief that features small production Napa based vintners. This tasting room is located on the corner of 1st and McKinstry Streets directly across from Gott's Roadside Hamburgers and the Oxbow Public Market.
Wines are available for tasting by walk-in at the tasting counter, or from one of two automatic dispenser wine stations (by the taste, by the half glass or by the glass). Appointments can also be made to try the current release of their wines in one of the two private rooms on site.
Video by Cellar Angels: